Hi ~ Hope everyone had a good August. Last four months of the year coming up, but what a first eight months, eh?!

I spent part of August collating ideas for Green Finance to submit to the government. Several of you contributed to the work, so thank you once again for that help. Hopefully it will also be a source document for policy ideas (across the political spectrum). Let me know if you'd like to view a copy.
Arts-wise, I'm slowly continuing my project on "How We Die". I'm still in the research phase where I am trying to answer questions of how we used to pass and how we pass now at the population level - but also collect personal stories like the type of music I want at my funeral or the casket (eg bamboo is more sustainable). If death rituals or mortality or you have a story here, let me know? I'm also still collecting music or readings you'd have at your funeral.

We will be performing our performance lecture Thinking Bigly for the Collisions festival at Central School of Speech and Drama on September 30, at 3.30pm. I think I might have some external invites so let me know if you haven't seen it already and would like to. This one will be more theatre-meta than some others.
I'm involved in a project to re-imagine Piccadilly Circus in the medium and far future especially with a view to sustainability and technology for good. (Via Chatham House)
My contribution is the idea of a story bench where can sit and listen to stories and also record your own story. I am going to be writing something with a view to a story set on 2035. Any thoughts on this, do let me know?

We took a day trip to Margate (where we went last year as well, short blog last year on why Margate is a Brexit town).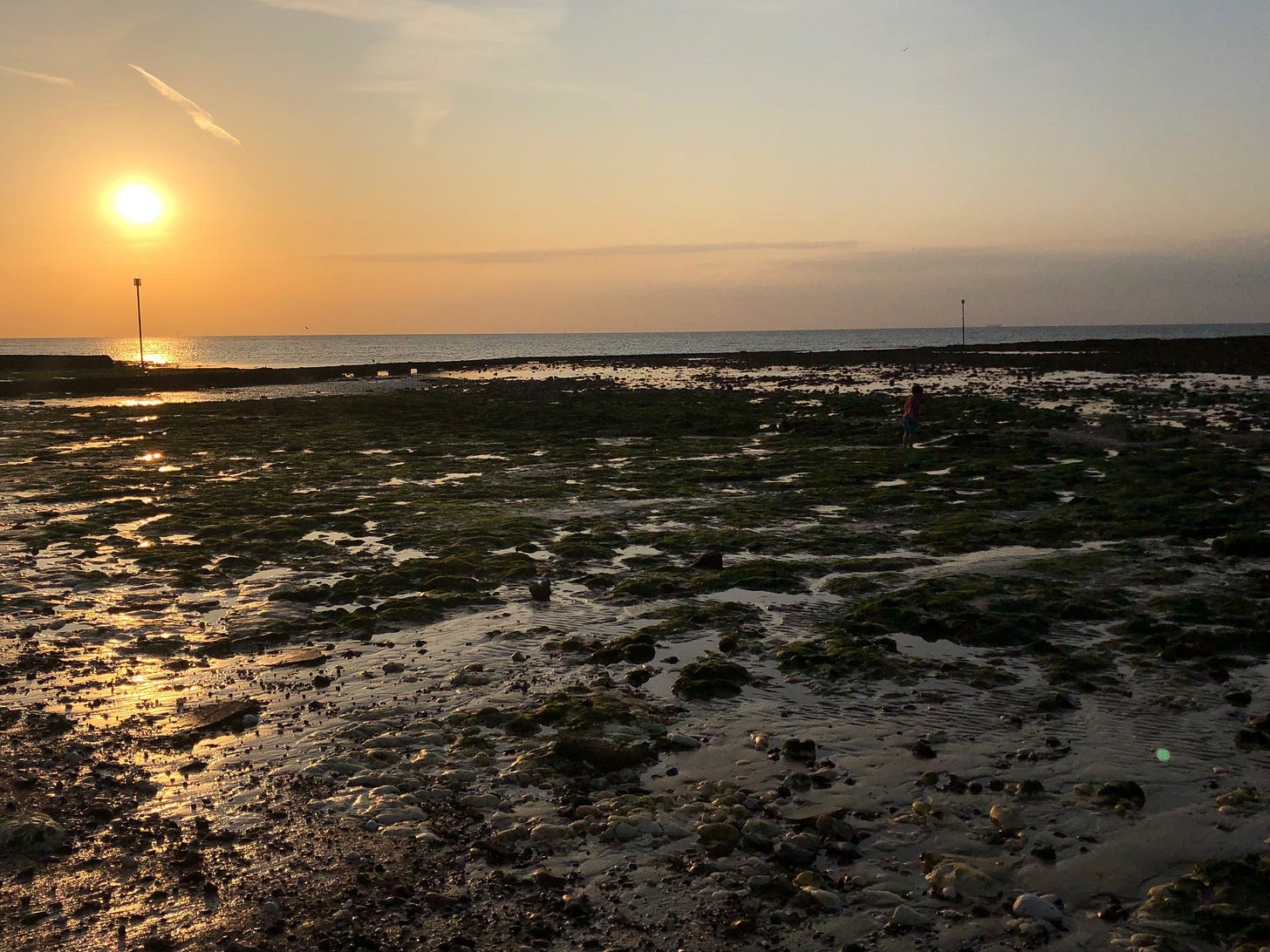 Swinging by the Turner gallery, there was an exhibition on Black Art and protest. I learnt 4 things.

The slaves had a folk law legend of John the Slave who was a type of trickster god who played havoc on their masters.

There is a tradition of Yard Art. Where the artist puts objects often found but also made in thier front yard space making political statements or observations about the environment or commentary on their life or for art. I found some of this very moving. Read about Emmer Sewell.

There's a whole line of work springing from quilts. One area had its ferry cut off, so that people could not travel to vote. I had not fully appreciated the history and attempts to cut people off from voting in the US. Wiki on the quilts of Gee's Bend.

There's an artistic consideration to the power of the walk as a form of protest. This is obvious in protest marches but less obvious in the power of simply walking. It chimes with what I know of the UK theatre piece, Black Men Walking.
**
My friend Chi Thai is looking for sponsors or colloborators on her new film The Promise. The Promise is animated film coming to the BBC in October.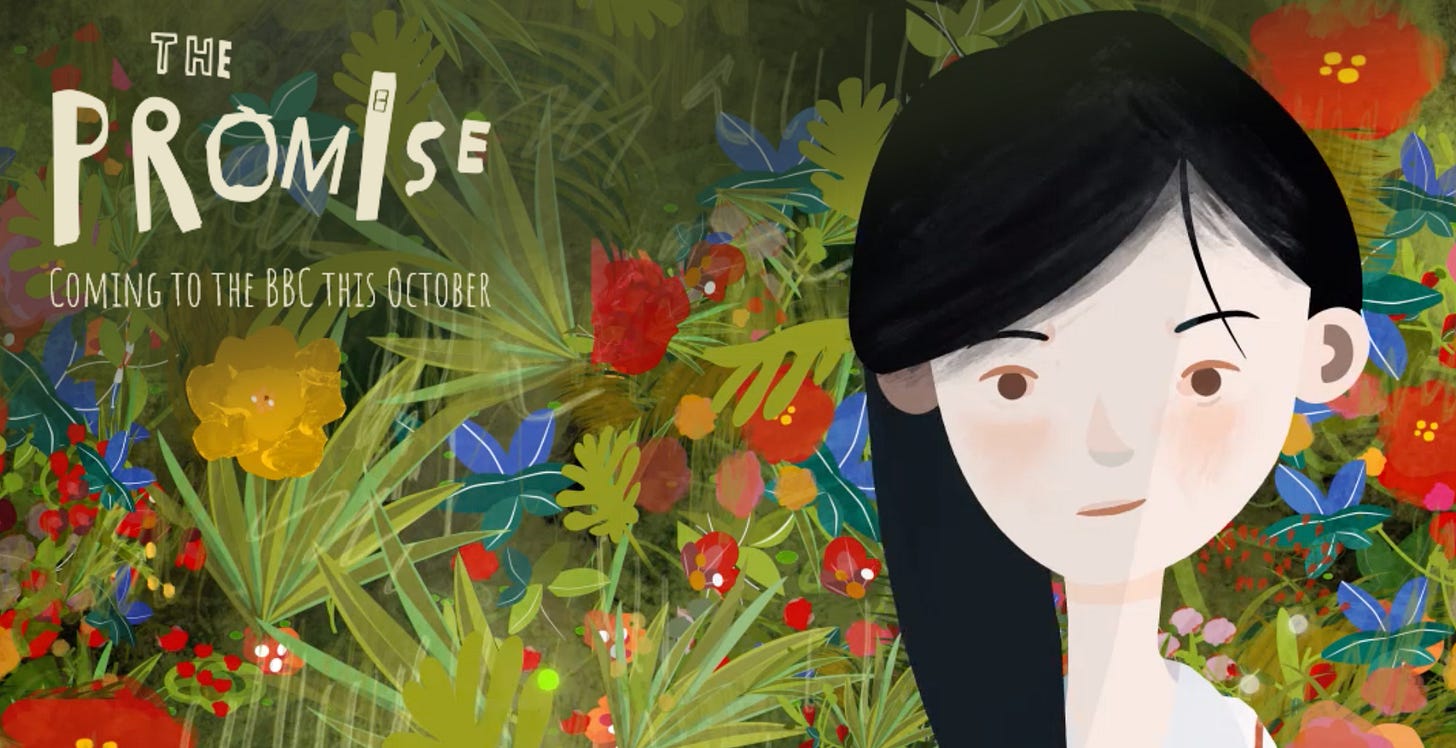 The film is an adaptation of the award winning picture book by Nicola Davies and Laura Carlin, which explores climate action through re-wilding for families with young children.

The project is running a pilot impact campaign. There are three ways to get involved:

1) As a school or parent looking to engage with film to open up fun and educational activities. A special screening kit will be made freely availably alongside lesson plans and more. To find out more and to sign up, please email hello@thepromise.earth and visit https://www.thepromise.earth/

2) A community group or organisation working with nature, planting and families, especially those in urban areas who would like to use the film to generate new means of engaging with their community. To find out more and to sign up, please email hello@thepromise.earth and visit https://www.thepromise.earth/

3) Funding partners who would like to invest in The Promise as a social tool that empowers marginalised communities to redistribute green spaces to their nature deprived spaces. To find out more email the producer, Chi Thai on chithai@me.com

**

I'm now up to date on the micro grants applications so you should have heard back now if you applied. If you didn't succeed they are still open for new ideas. I have co-sponsors who are also picking up on a few ideas I passed on.
**
I've also taken a look at a plausible optimistic scenario of COVID vaccines. The % chance of approval of a vaccine is complex but I think due to political pressures and the likely continuing positive data that there is an 80% chance of some vaccine approved in Q4 2020 (in the US under emergency authorisation) and if so, there's a good chance that the US could be covered by vaccinations by mid 2021. The assumptions and calculations are here.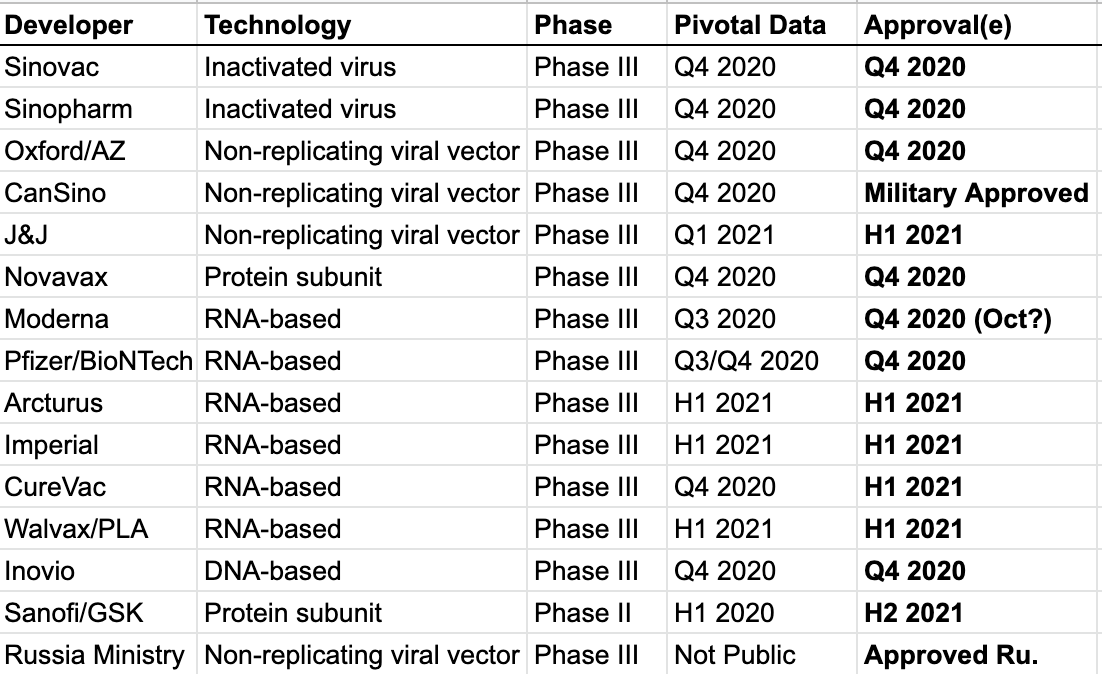 "...There are previous papers on biopharma probability of success. And while certain technology is new eg mRNA-based vaccines, much of the expertise on coronavirus and vaccine understanding has a high degree of understanding. Severe side effects (or long-term side effects) are risks (particularly from our understanding of side effects from previous RSV vaccines) but current data from multiple trials are not yet picking up a nasty effect. Although the trials are small, and many are across different products, the fact that there are multiple trials running across different geographies and populations gives statistical strength to the net probability of success. (See my primer on forecasting).

(Table above has heavy estimates, so caveats apply etc.) Some vaccines will fail. Some supply bottlenecks will materialize. New bottlenecks, so far undiscovered will appear. But the net effect of so many shots on goal is that a first wave of vaccinations can be done in the US by mid 2021 (and if this is the case then...) and quite likely globally by end 2021 / early 2022. The stated capacity up to 1bn doses of many of the possible successes balances out those vaccines that will fail...."

Much more on this in this blog. Typical caveats apply etc.
**
I've been asked what are some of my impact investments. We are quite far away from standard financial advice (Previous blog on this non-standard advice)
That's because we weight "assets" like social and intellectual capital and we try and "hedge" our life choices risk. (You want investments which are very different from your main line of work or life) We've also instinctive weighed to this maxim:
Increased efficiency (or efficient return) comes with increased fragility (cf. Nassim Taleb)
You can see this with COVID and supply chains and other areas where inefficiency and "redundancy" has now become an insurance or resilience. (Think engineering safety for bridges).
The insight here seems to be that you can't increase returns easily without increasing fragility. It's not only that increasing return comes with increasing risk.
So although the vast quantity of my wealth is tied up in my own investment fund. My other impact investments are small pieces of a little different types of start-up and small business. A few of them are here and some are via the Green Angel Syndicate. If you want an introduction to the syndicate I am happy to do so. Just shout. It's UK based.
Green Angel Syndicate: UK based syndicate looking at private impact investments.
Wholegood. A sustainable fruit, vegetables and organics product wholesaler. Supplier to major grocery retailers, some direct to consumer. Packing, waste, travel etc. are all looked at sustainably. If you are in the UK, try them out! You can try them via Ocado, FarmDrop or a London delivery.
Thrift+. High-end second-hand clothes and goods shop (online). The social venture has positive purpose and charity partners.
Storm Harvester. Environmental and water management. StormHarvester links civil infrastructure such as valves, pumps and floodgates to a highly accurate short to medium term rainfall runoff prediction. Improves management of water systems.
Hypo-Stream. Orphan Drug treatment for severe burns. Phase 2 trials suggests treatment improves mortality of severe burns patients.
Golden Carousel + Hot Knife: Media and Animation productions with a focus on stories from untold voices. Run by Chi Thai.
UnBound: Crowd sourced books with a direct publishing model. Enables minority voices easier access to publishing (eg Good Immigrant) as well as trending on the passion economy.
Cuckoo: Simple, cost effective broadband access in the UK. No contract. Simple Switching. If you are in the UK and thinking of switching this is a simple no ties solution, in what turns out to be an incumbent market with poor customer service.
LeafWild Cafe (investment loan closed out): Vegetarian local, west London Cafe. Helped provide bridging finance for a local cafe run on sustainability principles.
Interintellect (pending): Salon hosting network with a focus on a new generation of public and private intellectuals.
**

Thanks for reading. Feel free to forward this letter to anyone you think might be interested in signing up.

Archive and repeat words below. Stay well, Stay safe, Ben


**
Micro-grants. £10K for positive impact people.


➳Me on ESG investing / YouTube CFA UK
➳Micro-grants. £10K for positive impact people.


***
A 2 min view clip of Thinking Bigly you can now see here.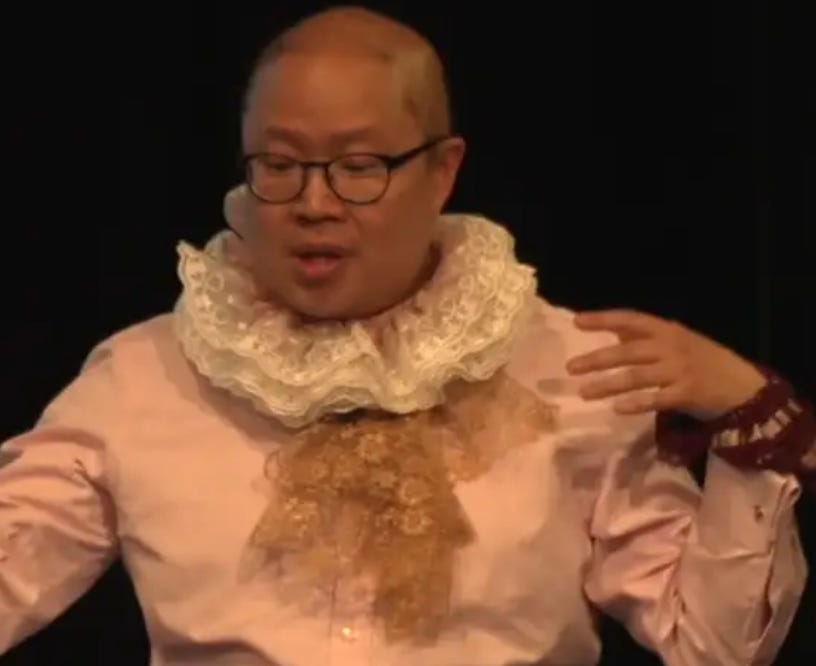 * ☪ *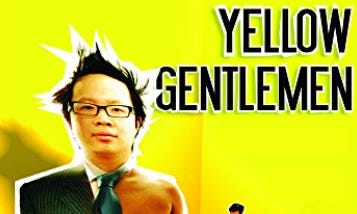 I've re-issued my 2006 play, Yellow Gentlemen (4 stars in Time Out and is one of my more personal works about the night immigrant Tommy Lee is dying). Buy it for laughs on Kindle for the price of a coffee. All profits to charity. I've only sold a few copies at the price of a coffee - 1.99.

* ☪ *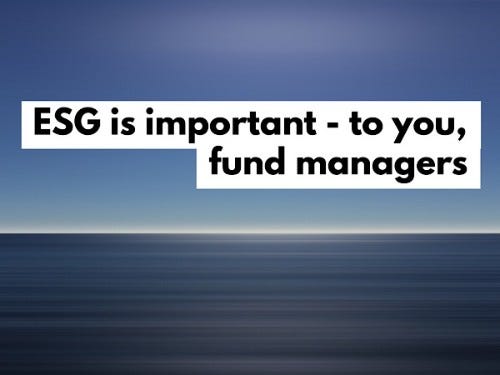 "...Through a long-term orientation and stewardship, this is the time for active investment managers to show their worth. It starts with asking the right long-term business questions. Some companies are giving us answers, but are we really listening?"
My full opinion article in the FT. (3 mins, behind paywall, but you get a free article or email me and I can send you a copy)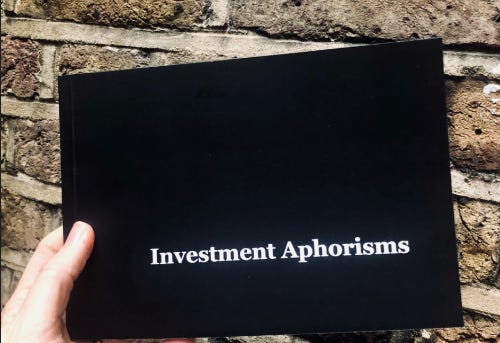 Find out more about my aphorism book and contact me for a copy.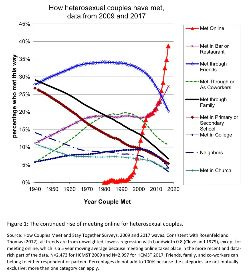 The move to online dating has potentially empowered women as the cost to ghosting is so low.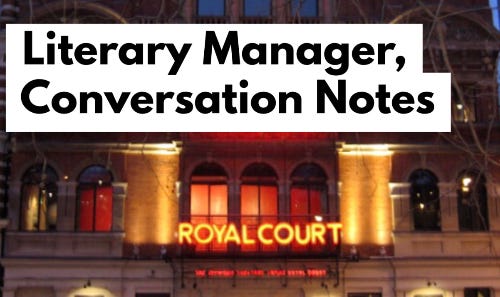 Notes from a conversation with former Royal Court Lit. Manager.