Hi ~ London is super hot and I'm going to Brighton for a few days on holiday (will take any recommendations). If you want one small different thing this week, check out Anoushka's experience with JP and egg time. This fortnight:
➳UK Green Finance ideas wanted
➳Egg Time, AutismAware
➳COVID + Climate lessons
➳UK Planning shake up
➳How should a charity invest?
➳Jeff Besos on Amazon
➳BP new strategy
➳UK Arts Boards + Diversity
➳Passion Economy
I'm co-ordinating a response on green finance in the UK. If you have any good ideas in response to these questions please let me know. Or papers I should look at:
➳Should the Treasury's support package to business distinguish between companies based on how much they pollute?
➳Should the Treasury be directly funding Green infrastructure as part of its Coronavirus spending package?
➳Are there any green related policies that the Treasury should change or commence due to the Coronavirus in order to facilitate the transition to meeting Net Zero?
➳In which ways will the new economy post-Coronavirus allow the Government to change the way it finances meeting the Net Zero Target?
➳Are there outcomes from the Coronavirus that will enable the Treasury and HMRC to meet the Net Zero target more easily?
https://committees.parliament.uk/call-for-evidence/67/decarbonisation-and-green-finance/

**
From "Egg Time", over on Anoushka's blog:

Spike climbs on to a stool next to me at the counter, spreading his palms on the cool, stainless steel surface. The grill cooks are murmuring to each other with uncertain expressions, pointing at buns and plates. Finally, an egg is slid onto a brown paper plate and pushed across the counter. It sits between us, glistening and cyclopic.
"It's an egg," remarks Spike, slightly thrown by its appearance in front of him." Anoushka's blog.

**

I've now read a few pieces on COVID + Climate and what can learned. I'm even in the process of writing my own piece. But Tim Harford in the FT and Bill Gates offer two pieces. Both argue that de-growth will not be enough. Arguing that the massive de-growth we saw in Q1 2020 hardly impacted our carbon trajectory and therefore innovation (and perhaps adaptation and mitigation) is the critical tool.
Harford: https://www.ft.com/content/0b171892-8afd-11ea-9dcb-fe6871f4145a
Gates: https://www.gatesnotes.com/Energy/Climate-and-COVID-19
As an aside, if you believe that then having children and teaching them to be sustainability inventors would be a solution to pursue rather than worrying about having children adding to the sustainability challenge, dwell on that one.
If you are interested in the debates around carbon transition, you must take a look at BP's latest slides and strategy. Believe in the viability or not, its lower carbon transition strategy must be seriously considered. Check it out here.

**
UK Planning is having a major shake up. I am still trying to get my head around it as the accompanying papers seem to be written only for planners and much of the commentary so far is high level.
But, it could be far reaching so if you even have a passing interest in design or land use (and, really, I think everyone in the UK should?!) then it's worth a look.
FT think the proposals miss the point.
This planning lawyer gives an overview (H/T Hana Loftus)
Here is the overall consultation.
Here is Sam Bowman on why housing is a supply side problem in his view

**
I was made aware (H/T Dominic Burke) of a recent UK charity commission call out for how charities should invest. UK charity Lankelly Chase gave a thoughtful response.
This is debate now in full blossom. The original position (say of the 1960s into the 1990s) is that a charity invests to maximise its financial objectives and uses that cash to maximise its charitable objectives.
Another - newer - position suggests that investments can also be "mission aligned" such that investing can also go some way to meeting charitable objectives as well as financial objectives. This means it's not only grant making that meets a charities aim. (And before that charities were some of the first to ensure their investments were not misaligned, eg a quit smoking charity investing in tobacco would likely be viewed as misaligned).
Well-considered charities eg Bill and Melinda Gates still use the original position (and have invested well to then meet their objectives) but many foundations/charities are now considering the idea of mission-aligned investment. There are also regulatory hurdles because of the ideas of prudent people wanting to maximise risk-adjusted returns.
It's an argument that has only recently started to be debated at trustee level and I think will run for some time. Any thoughts, let me know.
Lankelly Chase on thinking about investing aligned with its purpose.

**

I thought Jeff Besos gave a very good statement, if a little advertorial in places, to the US House of Reps committee. He starts:
"…My mom, Jackie, had me when she was a 17-year-old high school student in Albuquerque, New Mexico. Being pregnant in high school was not popular in Albuquerque in 1964. It was difficult for her. When they tried to kick her out of school, my grandfather went to bat for her. After some negotiation, the principal said, "OK, she can stay and finish high school, but she can't do any extracurricular activities, and she can't have a locker." My grandfather took the deal, and my mother finished high school, though she wasn't allowed to walk across the stage with her classmates to get her diploma. Determined to keep up with her education, she enrolled in night school, picking classes led by professors who would let her bring an infant to class. She would show up with two duffel bags—one full of textbooks, and one packed with diapers, bottles, and anything that would keep me interested and quiet for a few minutes…."
**
Arts & Diversity. Theatre and performing arts trustees from a range of ethnic backgrounds are gathering for vide chats. Let me know if you'd like to be involved.
I'm also having a think about this blog by Li Jin, an investor in the passion economy on having 100 true fans as a model. It's made me think a lot about these passion economy aggregators (Patreon and the like, Udemy, Teachable) - in the new age of newsletters - where substack seems to be king (yes, I know this is still on MailChimp) it's worth thinking on:
https://a16z.com/2020/02/06/100-true-fans/
"More than a decade ago, Wired editor Kevin Kelly wrote an essay called "1,000 True Fans," predicting that the internet would allow large swaths of people to make a living off their creations, whether an artist, musician, author, or entrepreneur. Rather than pursuing widespread celebrity, he argued, creators only needed to engage a modest base of "true fans"—those who will "buy anything you produce"—to the tune of $100 per fan, per year (for a total annual income of $100,000). By embracing online networks, he believed creators could bypass traditional gatekeepers and middlemen, get paid directly by a smaller base of fans, and live comfortably off the spoils.
Today, that idea is as salient as ever—but I propose taking it a step further. As the Passion Economy grows, more people are monetizing what they love. The global adoption of social platforms like Facebook and YouTube, the mainstreaming of the influencer model, and the rise of new creator tools has shifted the threshold for success. I believe that creators need to amass only 100 True Fans—not 1,000—paying them $1,000 a year, not $100. Today, creators can effectively make more money off fewer fans…."


Thanks for reading. Feel free to forward this letter to anyone you think might be interested in signing up.

Archive and repeat words below. Stay well, Stay safe, Ben


**

Microgrants. I've had 100+ submissions and have backlog of 50+. Sorry if you are waiting for a response, I'm caught up to approx end Feb. Micro-grants. £10K for positive impact people.


➳Me on ESG investing / YouTube CFA UK
➳Micro-grants. £10K for positive impact people.


***
A 2 min view clip of Thinking Bigly you can now see here.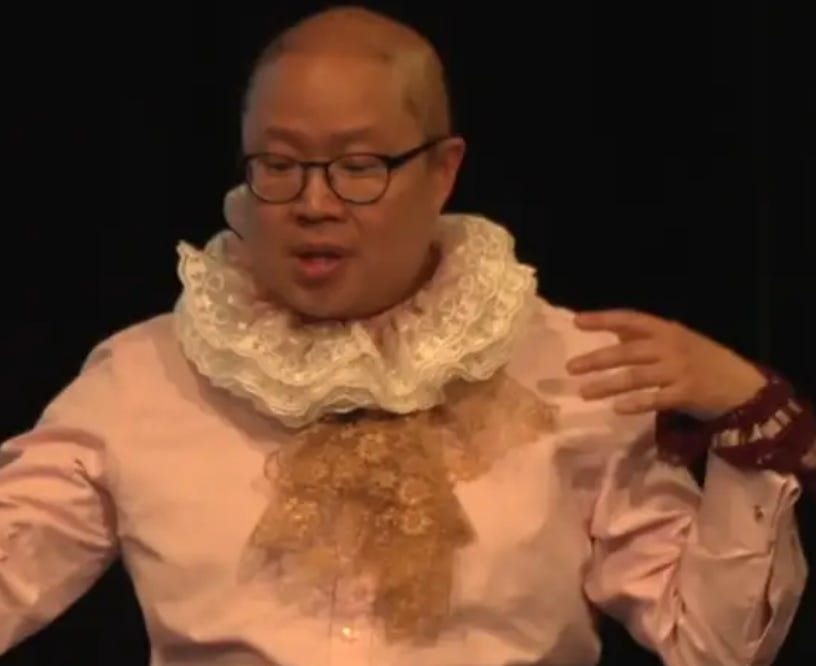 * ☪ *
I've re-issued my 2006 play, Yellow Gentlemen (4 stars in Time Out and is one of my more personal works about the night immigrant Tommy Lee is dying). Buy it for laughs on Kindle for the price of a coffee. All profits to charity. I've only sold a few copies at the price of a coffee - 1.99.

* ☪ *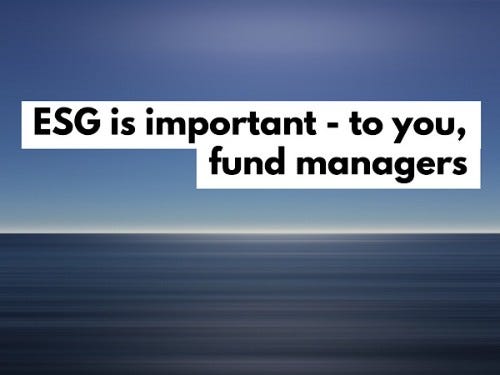 "...Through a long-term orientation and stewardship, this is the time for active investment managers to show their worth. It starts with asking the right long-term business questions. Some companies are giving us answers, but are we really listening?"
My full opinion article in the FT. (3 mins, behind paywall, but you get a free article or email me and I can send you a copy)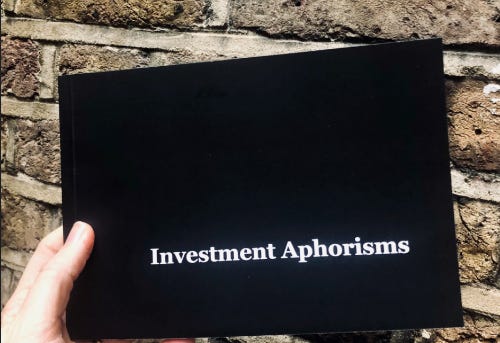 Find out more about my aphorism book and contact me for a copy.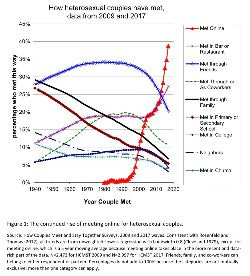 The move to online dating has potentially empowered women as the cost to ghosting is so low.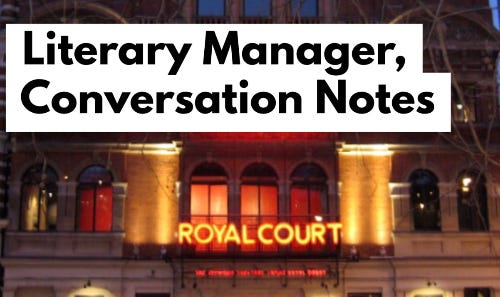 Notes from a conversation with former Royal Court Lit. Manager.