UK Deaths 5 year low | Octopus as alien |  AI intelligence  | Arts Vouchers | Climate trajectory | Google Game

Hi ~ Thanks for everyone who came to Thinking Bigly this week. It was great to have you and feedback was super.
This last fortnight:
➳Worse + Best Case climate scenarios unlikely
➳GPT-3 has tech and AI alight
➳Octopuses as aliens
➳James Lovelock interview (Via Michael Baptista)
➳Art Vouchers as a scheme (Tyler Cowen); Plus UK arts funding notes
➳On-line communities: light and dark (via Anna Gat)
➳Paul Graham on (non) Conformity
➳The US UFO programme
➳UK All cause death rate below five year average
➳Google auto-complete game - drunk to taste chicken + turnt up.
My tech twitter feed is all akimbo over GPT-3.
The non-tech explanation is:
"GPT stands for "generative pre-training transformer", a language model which can generate world knowledge by training on a diverse corpus of text. GPT-3 is the third iteration of this model. It's basically a language predictor: you feed it some content, and it guesses what should come next."
Tyler Cowen's column on it here but note his blog reader on the over-hyped nature of the tech news. That said some of the things GPT-3 based models can do are fairly amazing. Follow Sam Altman (OpenAI, former Y-combinator) if you want to track this area.
**
"A major new study of the relationship between carbon dioxide and global warming lowers the odds on worst-case climate change scenarios while also ruling out the most optimistic estimates nations have been counting on as they attempt to implement the Paris Agreement.
A group of 25 leading scientists now conclude that catastrophic warming is almost inevitable if emissions continue at their current rate, even if there's less reason to anticipate a totally uninhabitable Earth in coming centuries. The research narrows the answer to a question that's as old as climate science itself: How much would the planet warm if humanity doubled the amount of CO₂ in the atmosphere?
That number, known as "equilibrium climate sensitivity," is typically expressed as a range. The scientists behind this new study have narrowed the climate-sensitivity window to between 2.6° Celsius and 3.9°C."

BY: The worse case 4c + scenarios are now looking unlikely. But so is sub 2.5c. This still argues for action to limit warming to - say - 3c. But it likely means adapatation/mitigation along with innovation could be higher priorities (not that this area is really on govt agendas at all). Link to blog + paper here.
**
James Lovelock is famous for Gaia Theory - a holistic view of the planet as a whole organism or engineering system. Lovelock is an environmentalist but decidedly not alarmist (at least that's what he says now vs earlier positions he took and is Anti the Al Gore approach (also see Hans Rausling on this), pro-nuclear and considers himself an independent minded inventor. This recent interview touches on much of that and as a thoughtful counterpoint to the more extreme climate views out there. One of his inventions and subsequent studies revealed the importance of plankton, sulphur and its balance to feed systems and climate systems.

Lovelock interview on his 101st birthday (via Michael Baptista).
**
The UK arts has its rescue package although details of how it will be funded are still being worked out. But notes that I have (much communicated via ACE) are:
Indicative timetable; guidance published end of July/early August, application period August, decisions from early October (very much still tbc)

likely that loans would have a commercial sector focus, grants (some administered via ACE) a not for profit focus – although not fixed.

likely that money will be for survival and support cash flow, not making work

money is for current financial year (ACE's own grant not confirmed beyond April 2021, a comprehensive spending review in autumn '20)

recovery fund is being administrated by ACE on behalf of DCMS and will reflect Government priorities

there will not be enough to rescue everyone and costs savings will still need to be made.
On this note, one populist package that could be enacted has been outlined by Tyler Cowen. This essentially is an arts voucher programme given to everyone to spend on the arts - that way the public can choose what to spend their money on - and it is not decided by any one institution or body.
I think this could work if a wide definition of arts were to be used and could also be popular.
**
I was impressed by Amia Srinivasan (philosopher, holds Oxford Uni philospher chair) thoughts on pronouns last fortnight so I looked up more of her work. This piece on the octopus was very thought provoking.
I knew octopus were intelligent but the high degree and alien nature of that intelligence I had not fathomed.
Why do they play with their colours? Does part of their "brain" live in their tentacles which can make independent decisions ? The ways they try and escape labs ? They are so far away from our understanding that AS suggests it might be like communicating with an intelligent alien.

"The logic of aquariums, as with zoos, is the logic of conservation: individual animals must sacrifice their freedom so that the species as a whole can be protected. (As the philosopher Robert Nozick put it, 'utilitarianism for animals, Kantianism for humans.') The conservationist logic is at its most compelling at an aquarium like Monterey, with its state of the art research centre, environmental policy unit, and public education programmes. Plenty of its creatures seem delighted to be there, as far as one can tell, and others seem perfectly unaware of where they are. No doubt many of these animals live longer and healthier lives than they would in the ocean. Yet ethical questions remain, raised by creatures, like the octopus, which so clearly yearn for freedom. Perhaps from our perspective the life of a wild octopus is already a tragic thing: sociality without society, speaking without being heard, a life-world without longevity. An alien. If only the octopus were more like us, we might be better at leaving it alone."
**
As I've mentioned, I'm involved with several communities which live much of their life on-line. Like many human tools they can be used creatively or destructively.
The one Anoushka set up, Transport Sparks for autistic young people with transport special interests could not easily have happened in a world Pre-Facebook. It's brought a lot of community and social value together. We may laugh or be cynical about Zuck's assertions about the power of connections and Facebook's mission, but I observe truth to that.
This long form William Davies (Guardian, H/T Anna Gat) looks at the dark side of WhatsApp groups. Where Transport Sparks brings light, Davies highlights how private groups can breed hate and conspiracy.
One aspect of some successful communities is while there may be a strong on-line component and in fact the group might not survive without a sustaining online platform there is also a real world meet-up component or at least - in COVID times - a video meet-up. The group doesn't remain solely hidden and anonymous, it acts as a catalyst for real world meetups. My own Mingle was a little like that as well.
Anna Gat's Interintellect has salons as a pivotal focus. Transport Sparks have transport meet-ups. Climate Action Tech has meet-ups real world and now online as well. British American Project thrives on its conference.
That said, some gaming communities are almost all on-line. The MiiVerse community was a wonderful community. Sadly, there was little money in it - only social value, and it was decommissioned by Nintendo.
On balance, I remain positive on humans. From this flows my net positivity about social media, platforms and communities, and I feel positive about free speech and sharing ideas - even bad ones (thoughtful articulation of this importance by recent Paul Graham essay on conformity here) - as I think on balance we can add up to a better world despite all the challenges. Perhaps that's one theme you can find from Thinking Bigly too.
**

The US really has funded research into UFOs with prominent people suggesting that material has been found that can not be explained as human made… NYT article here. https://www.nytimes.com/2020/07/23/us/politics/pentagon-ufo-harry-reid-navy.html
**
UK all cause death now below 5 year average. (Still some COVID deaths offset by fewer non-COVID deaths).



You can see the approx trend (ofc certain problems with data) on COVID deaths here from World in Data.



This implies non-COVID deaths are down. This - at least in the short term - suggest lockdown and perhaps certain areas of activity are positive for death rate eg accidents, maybe drugs + alcohol ?

I wonder about long-term eg diet and exercise? But, actually enforced home stay --> more home cooking --> healthier ? And maybe exercise is possibly over-rated??? (Maybe wishful thinking here!). Short blog here.

**

Both funny, sinister and very human this Google auto-complete game challenges you to complete the search query with the most searched for phrases…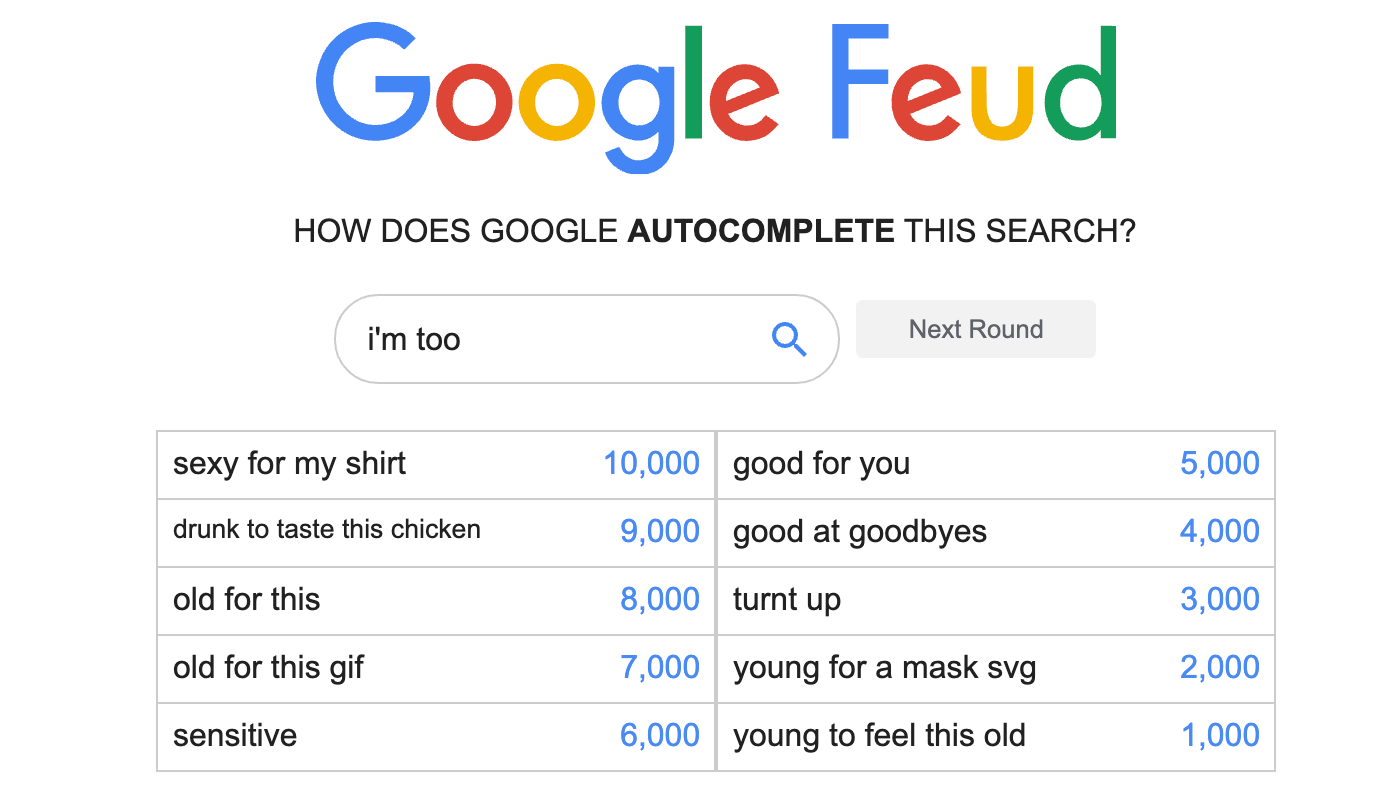 The 8 year old found it hilarious.
I had to google what "Turnt" meant, as I'm sure most of you might need to.
**
Microgrants. I've had 100+ submissions and have backlog of 50+. Sorry if you are waiting for a response, I'm caught up to approx end Feb. Micro-grants. £10K for positive impact people.

➳UK Science: Where did it go? Can ARPA save it?
➳Me on ESG investing / YouTube CFA UK
➳Micro-grants. £10K for positive impact people.


***
A 2 min view clip of Thinking Bigly you can now see here.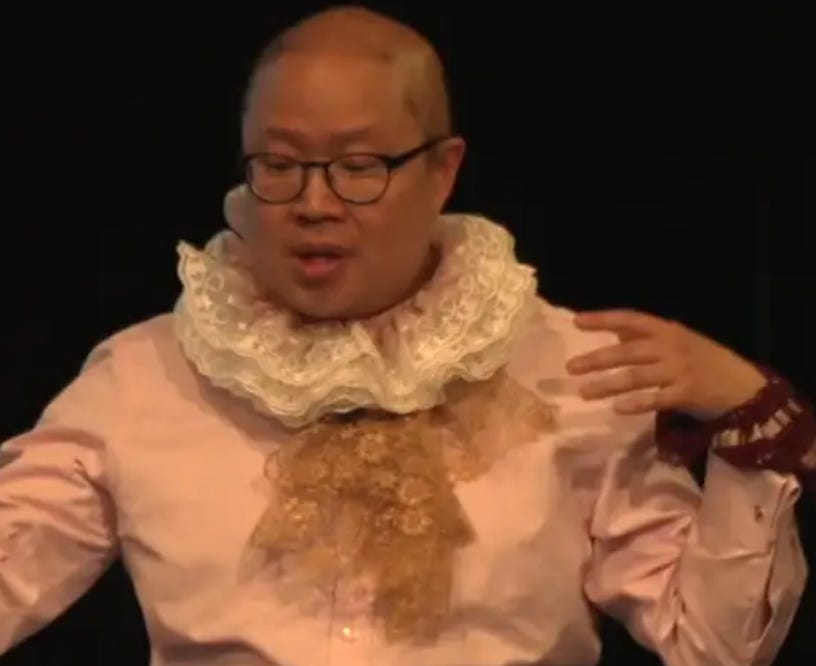 * ☪ *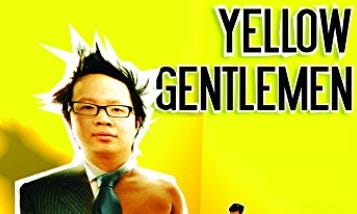 I've re-issued my 2006 play, Yellow Gentlemen (4 stars in Time Out and is one of my more personal works about the night immigrant Tommy Lee is dying). Buy it for laughs on Kindle for the price of a coffee. All profits to charity. I've only sold a few copies at the price of a coffee - 1.99.

* ☪ *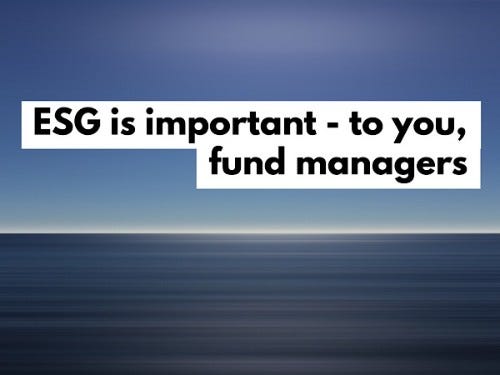 "...Through a long-term orientation and stewardship, this is the time for active investment managers to show their worth. It starts with asking the right long-term business questions. Some companies are giving us answers, but are we really listening?"
My full opinion article in the FT. (3 mins, behind paywall, but you get a free article or email me and I can send you a copy)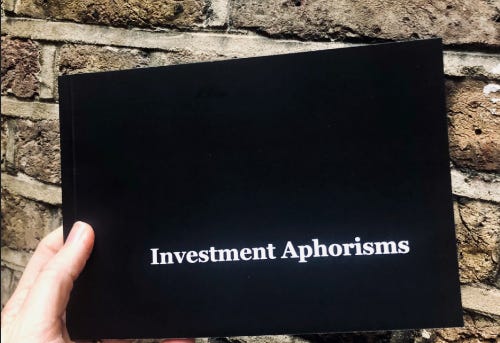 Find out more about my aphorism book and contact me for a copy.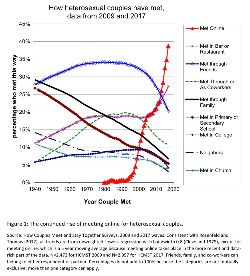 The move to online dating has potentially empowered women as the cost to ghosting is so low.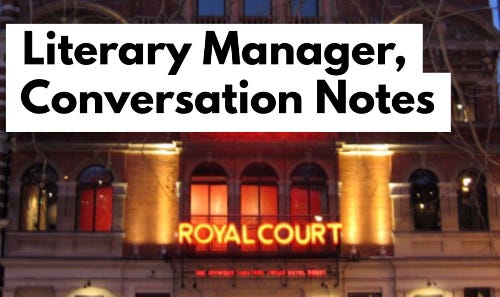 Notes from a conversation with former Royal Court Lit. Manager.