Hi ~ I've still not been feeling 100% well (work, insomnia child, high pollen count) but doing mostly OK and still working on many ideas. This week:

-Whales: a tale of humanity as seen through whales
-Race blogs: Baldwin, Black hair, why black ppl tired of speaking about race
-Quiz (Online) coming up: 18 June, Register
-Thinking Bigly (Online) coming up, 17 June, Register
-Guest lecture at London Business School
-Pandemic, corporate reporting, Responsible Investing fireside chat (Me)
Quiz Bigly! Join us in an unwinnable quiz. Comedy, jokes, sustainability, koalas, UFOs promised. Ideas on how to save the world, optional. Think: Have I Got News For You: Sustainable Investment Edition. As part of Fringe, RI Digifest: 6pm, Thu 18 June (UK time) FREE - register here: https://na.eventscloud.com/website/12675/fringe/

Quiz teams = Catherine Howarth, Ana Yang, Cary Krosinsky, Michael Capppucci + Audience Team.
**
I'm still doing (too) much talking on video and phone, so not feeling 100% - mainly voice strain and pollen. But, I managed to read my friend Rebecca Gigg's books on whales, Fathoms. It's one blog to read + my poem in "found style" made by using her words - below.
"...I have three thoughts amongst many to share on Rebbeca Gigg's new book, Fathoms: The World in the Whale. The power of three has been with us for centuries so I shall stick with the threes.
The work is beautiful

The book tells you about whales but in doing so tells you what it means to be human

To me, this is a tale of hope and a tale of catastrophe - which is part of the story of humans and of whales and of our earth and our time on it. …"
Blog on Whales + Life (4 mins)

**
I gave part of a guest lecture for the LBS course on Responsible Investing. Great to see so many of the next generation engaged in thinking about what long-term investment and business might mean. The first part was based on my ESG talk for CFA here: ESG investing / YouTube CFA UK

I was part of a Zoom call group of performing arts Chairs discussing the future of arts post COVID and funding. I've not as yet heard too much about the impact on certain sectors, for what will last another 1 to 2 years more possibly. My friend who runs a hospice group has similar thoughts about the difficulties and challenges the charity sector will face.
Here are a few notes, in the UK viable ideas are:
Pay forward / restructure of theatre tax credit

Making the case for our "impact" as a wider umbrella group (or groups)

Advance of ACE and other funding to pay forward (cf. Universities) - vouchers?

An ask for a "Bond" / impact bond (economic / social)or some other loan which we pay back (either open to public or govt backed. cf. Nesta)
Many thoughts on (i) reset (not business as usual going forward), (ii) diversity, (iii) vulnerable groups (iv) education work (v) difficulty of change spaces / live event venues. (vi) different funding models (cf. reset) (vii) taking care of arts makers (who are leaving sector).
There's a big submission from SOLT that's gone to DCMS although not fully published if you have any thoughts/ideas/comments/input to a cohesive industry response: ceooffice@soltukt.co.uk
is the email. The group is looking to expand to freelancers and other organisations not just ACE funded organisations. So I can put you in touch.
And from a friend on charities and what post-COVID might look like:
"...a number of charities and broadly social-oriented organisations are in the same boat, facing a twin demand and financial crisis. Most charities working with people are going to see a greater demand for services, ...eg mental health, poverty, food banks, those working with vulnerable children/families, domestic abuse etc etc as well as all the health care charities, which are either direct providers... or working with people whose risks and conditions have been pushed out by covid. They will be facing significant income loss from fundraising events being cancelled, shops being closed etc.
There is a much broader issue about what kind of world we want to see post covid - who provides and who pays for it.
Arguably, those most hit will be local authorities - already weakened after 10 years of horrendous cuts in the UK. But few care about councils - and yet they provide or are responsible for some of the most vital services for the most vulnerable: social care, child protection, homelessness, refuges etc. So charities step in too - but they will also be weakened with loss of funds. You have some reserves as a charity but not enough to weather a storm like this. But govt doesn't want to bail out either - and actually, there's some sympathy with not bailing out charities. ...
You could make the same argument - what kind of world - about the cultural sector, which really cannot survive while social distancing is in place. One of the really good things about the last 20-30 years has been the growth in the cultural sector and recognition that Arts are not an add-on - as they were seen in the 1980s…."
**
On race, I'm not suggesting new commentary here but refer you to pieces back in 2017 and 2018 I wrote and lots out there. These challenges have been with us for some time - acutely in the US - but really everywhere and through a long time in history.
Take a look at James Baldwin in 1968 in Q&A on race, interviewed by Esquire:
ESQ: How can we get the black people to cool it?
JAMES BALDWIN: It is not for us to cool it.
ESQ: But aren't you the ones who are getting hurt the most?
JAMES BALDWIN: No, we are only the ones who are dying fastest.
https://www.esquire.com/news-politics/a23960/james-baldwin-cool-it/
This was me on losing my hair, but really it was about how many people don't understand the challenges that black women face with their hair. My hair loss pales in comparison to the challenges of the female black hair experience. https://www.thendobetter.com/blog/2018/2/15/hair-loss-black-hair-experience
This was a blog on Eddo-Lodge on Why She Does Not Talk to White People about Race - which is contrarily all about her conversations with white people about race.
"...I'm no longer engaging with white people on the topic of race. Not all white people, just the vast majority who refuse to accept the legitimacy of structural racism and its symptoms. I can no longer engage with the gulf of an emotional disconnect that white people display when a person of colour articulates their experience. You can see their eyes shut down and harden. It's like treacle is poured into their ears, blocking up their ear canals. It's like they can no longer hear us. …"
https://www.thendobetter.com/arts/2018/5/16/eddo-lodge-why-i-am-no-longer-talking-to-white-people-about-race
And this was a piece on Ta-Nehisi Coates and his powerful set of letters about the risk of the black American body and Rick Riordan's reaction to it. This is a recommended blog for those of you who want to have an insight into more of this. https://www.thendobetter.com/arts/2017/8/8/blackamerican
"...From Riordan "This is not a book written to explain the African American experience to white people (or as Coates likes to say, people who believe they are white.) As a middle-aged white guy, I am in no way the intended audience for this book. Perhaps that's what made it such an enlightening read for me. There was no sugar-coating, no careful racial diplomacy, no worry about mediating opinions to cater to what white people might be able to hear. It was just a heartfelt, raw, painful and honest letter from a father to a son, laying plain Coates' worry, anger, frustration, and fear for his son's future in light of Coates' own past and the world his son will grow up in. (There again: I almost said 'the world he will inherit,' but Coates would be quick to point out that this is white thinking. We grow up believing we can inherit the future of our country, whereas African Americans grow up hearing a very different message.)

Coates' most powerful assertion: doing violence to the African American body is an American legacy and tradition. It is not a failure of the system. It is part of the system. As much as may have changed in the past decades, the past centuries, the basic fear of African American parents remains: that their children can be snatched away, brutalized, killed for the smallest of reasons or no reason at all, and too often this violence is never addressed as anything more than an unavoidable force of nature like a hurricane. ..."
...a blog covering this https://www.thendobetter.com/arts/2017/8/8/blackamerican

**
And more on Fathoms - I made this poem usings Rebecca Gigg's words. A form of verbatim found poetry style.
I helped push a beached
humpback whale back
out into the sea
only to witness it return and expire
under its own weight on the shoreline
For the three days that it died
the whale was a public attraction
People would stand in the surf
wave babies in pastel rompers over the whale
as if to catch the drift of
an evaporating myth
The whale was black
piano wood
still young
pink in the joints
under its fins
Waves burst
behind it sending spray over its back
Every few minutes the whale slammed its flukes
against the wet sand
At first the mood was festive
People cheered
What the whale inspired was
wonderment
a dilation of the ordinary
Everyone was talking about it on buses in kiosks.
By sunrise, a part of the whale that ought not
to be outside of it
was outside of it
A digestive organ
frilled and bluish
The whale's billiard-ball eyes tumbled in its head.
I palmed an unremarkable
shell that sat for months afterwards
furred with dust on a ledge in my room
until it was lost.
**

I've had 100+ submissions and have backlog of 50+. Sorry if you are waiting for a response, I'm caught up to approx end Jan. Micro-grants. £10K for positive impact people.

➳UK Science: Where did it go? Can ARPA save it?
➳Me on ESG investing / YouTube CFA UK
➳Micro-grants. £10K for positive impact people.


***
A 2 min view clip of Thinking Bigly you can now see here.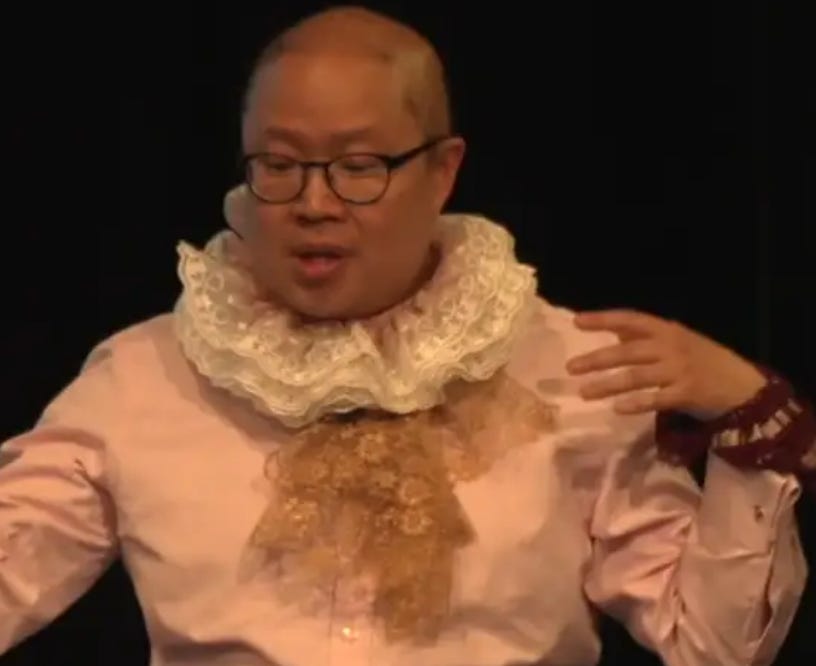 * ☪ *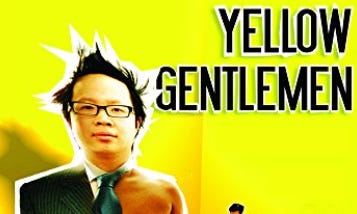 I've re-issued my 2006 play, Yellow Gentlemen (4 stars in Time Out and is one of my more personal works about the night immigrant Tommy Lee is dying). Buy it for laughs on Kindle for the price of a coffee. All profits to charity. I've only sold a few copies at the price of a coffee - 1.99.

* ☪ *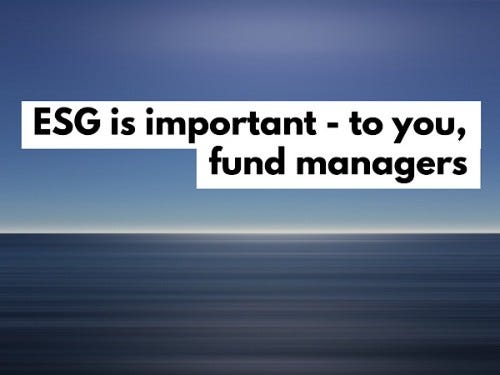 "...Through a long-term orientation and stewardship, this is the time for active investment managers to show their worth. It starts with asking the right long-term business questions. Some companies are giving us answers, but are we really listening?"
My full opinion article in the FT. (3 mins, behind paywall, but you get a free article or email me and I can send you a copy)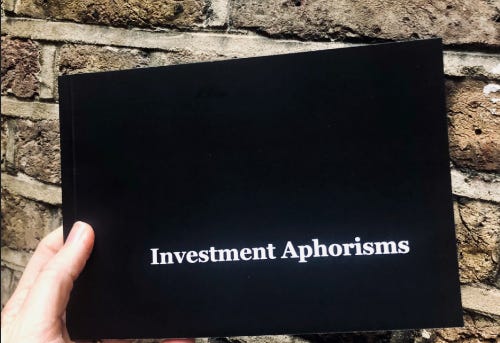 Find out more about my aphorism book and contact me for a copy.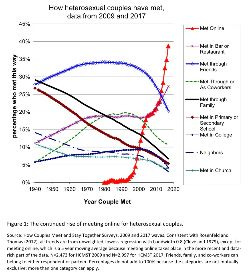 The move to online dating has potentially empowered women as the cost to ghosting is so low.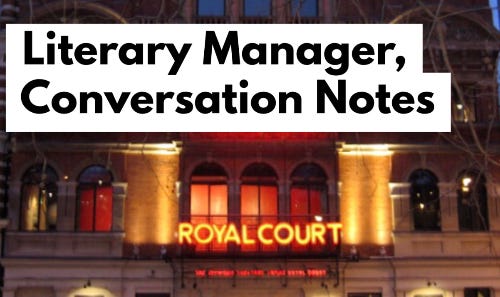 Notes from a conversation with former Royal Court Lit. Manager.