Toilets! | The Successes of Woke and PC | Sustainable Cities | Managing Email | Black American playwriting

Hi ~
Top of mind - this letter is going to have lots on toilets. Again. Yes. Recall, approx 2.3 billion people - ⅓ population - don't have access to decent toilet sanitation. Riffing on, Anoushka has a memoire piece on her experience of our son's autistic special interest in toilets/hand dryers. Toilets are also a centre piece in the rich peoples' world's identity battles. Huh. They really do reflect the world.

This is off the back of my poem-essay on the same theme: Zen and the Art of Toilets. Last Month.
I'm between travel from Copenhagen (C40, Sustainable Cities) to Miami (ICGN)/Boston/NYC so this letter is a little more thrown together.

You are going to be bored of this promotion alert, but seriously, do come and see Thinking Bigly 13/14 Nov (12.30pm/6.30pm). When we sell out and you don't have a ticket, you can't say I didn't tell you. Plus I have a NYC edition on Fri 18 Oct, let me know if you want an invite.

➳Public Performances of Thinking Bigly, Nov 13/14 at Theatre Deli, Broadgate London
➳Next Mingle 14 Nov, Theatre Deli, 7.30pm
➳Alex Edmans on email management and modern business skills
➳Microsoft: Purpose and Culture
➳Toilets: A special interest
➳C40: Sustainable Cities
➳Goldmans Sachs: Climate & Cities
➳Theatre: Q&A With Sheila Nortley / Dutchman, Play

Links: (end)
Theatre: Maddy Costa/Caridad Svich on Tim Crouch
BMJ: On Improving, the improvement of healthcare
Grantham Institute: Just Transistion Think Paper
Amber Massier-Blomfield on the Old Vic toilets fallout.
Thinking Bigly is going public.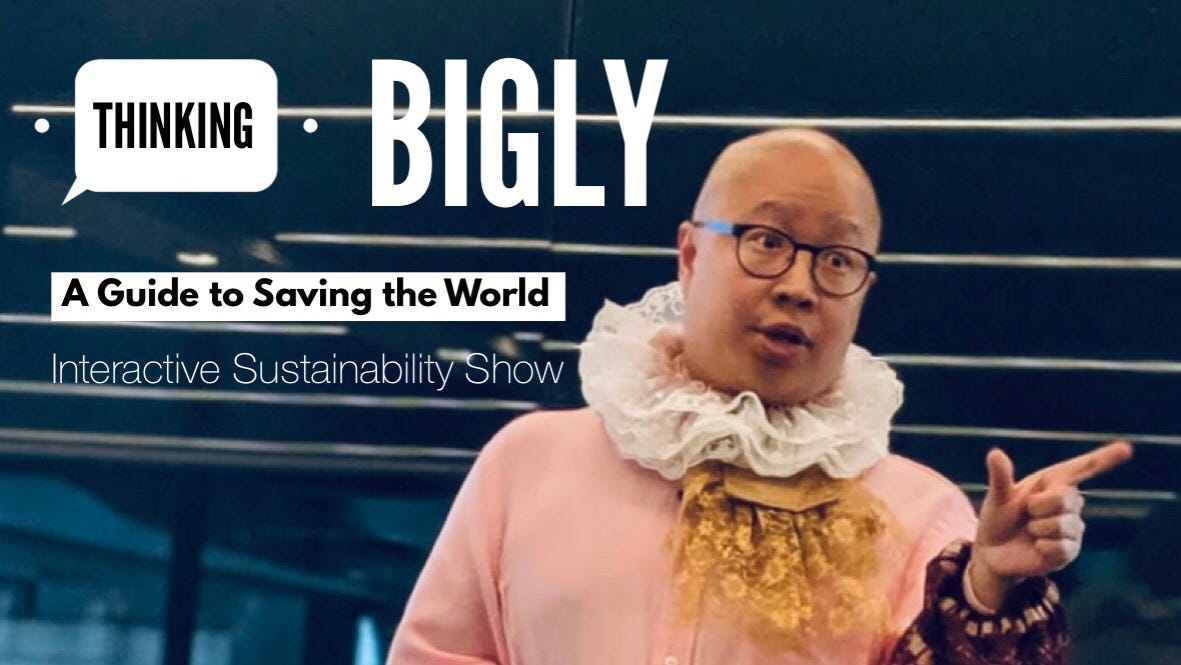 You can catch it booking: Thinking Bigly, Nov 13/14 at Theatre Deli, Broadgate London.
If you can't make it, still come and book the mingle on 14 Nov at 7.30pm. Please come!
***
I went to the major Microsoft London event (Future Decoded). Very notable what management put up as keynotes.

Purpose. Ethical AI. Environment. And AI For good Start up programme plug.

Super interesting to hear about how the "cultural joinery has worked too". Slides here.
MSFT have been ahead on climate solutions, and it's notable to see their Seattle rivals, Amazon, now pivot to a more sustainable strategy.

Prof Alex Edmans gave the first in his series of Gresham lectures on Modern day business skills. He writes this on email management:

"....First, interrupting a task to check email and then resuming the task leads to major inefficiencies, because it takes a while to get back into the swing of things. A study found that it takes 23 minutes and 15 seconds to resume a task after interrupting it (and that workers stay on a task for only 3 minutes and 5 seconds). Rather than checking email each time a new one is received, it's much more efficient to "batch-process" email…."
This chimes a lot with what I have had to say on email – blog post here and here. And it's from Alex's talk on time management/business skills (Gresham) – complete talk available here – write up here.

Tyler Cowen has a piece on what the "politically correct" crowd have managed to achieve in the last 50 years and makes a call that part of a long-termism strategy is the propagation of ideas.
Cowen gives much more credit to PC than I thought he would, and puts the more recent rise in "identity wars" in a longer run context. He's very fair, consciously not commentating on the PC excess that he would also see.

"...The political correctness movement is also notable for its female leadership. Its single most important intellectual force has probably been Catharine MacKinnon, a law professor the University of Michigan and Harvard. She promotes the notion that words can do harm and that free-speech rights are not absolute, and has suggested that pornography should be subject to tougher regulation. Those are not new ideas, but they re-emerged in a new framework and have become more influential...."

That brings me to toilets again, I feel sympathetic to where Amber Massie-Blomfeld (my blog on her theatre book: Love Letter to Theatres) has ended up, where her piece mostly defending the Old Vic decision on toilets was pulled from the Stage. (Her blog on it here)
There's an interesting chime here as to how minorities can dictate a certain way of being - but not necessarily in a bad way.
Disabled toilets - of which we are a big user - are a good case. Mostly everyone can use them, with priority to disabled - the presence benefits everyone at no cost to anyone.
Although applying that idea to the toilet-identity wars would suggest having this third identity of toilets. As you don't want to take away the space for female toilets. The disabled-accessible toilet in many spaces already is this third identity.
I do recall having to explain to a mother of a physically-disabled youth that not all disabilities are visible. That felt strange and troubling to me for reasons, I've never quite explained.
Tyler Cowen on PC (Bloomberg OP column)
Blog on Massie-Blomfled theatre book: Love Letter to Theatres

On to Purpose. I now have heard the four Ps. Purpose. Planet. People. Profit along with the four R. Re-Think. Reduce. Reuse. Recycle... An increasing amount this year.
I can report that influencers of the highest level are thinking on this. I was at a dinner at the Bank of England, convened by the Purposeful Company and more or less all we talked about was purpose and how that notion may help corporations.
At another event by PwC, this time on public trust awards (I was a judge) and helping to build it through more transparent reporting and the like. A senior partner at PwC spoke about how important purpose and trust was in attracting younger people to work at PwC. And the wider importance of purpose.
It's one of the narratives we tell ourselves to bind us in our humanity.
That brings me to the C40 conference in Copenhagen. There's a lot of positive things to say about how Cities and Mayors of Cities are taking a lead on climate and also thinking about social inequity. (The C40 Cities Climate Leadership Group (C40) is a group of 94 cities around the world focused on tackling climate change and driving urban action - notes it's now 94 cities, not 40...)
As I've blogged previously, cities are on the front line, as the majority of humans live in them and they are the cause of about 60 to 70% of today's carbon impact. That also makes cities a vital part of the solution. Positive solutions created in cities can have spillover to other cities which can copy these ideas.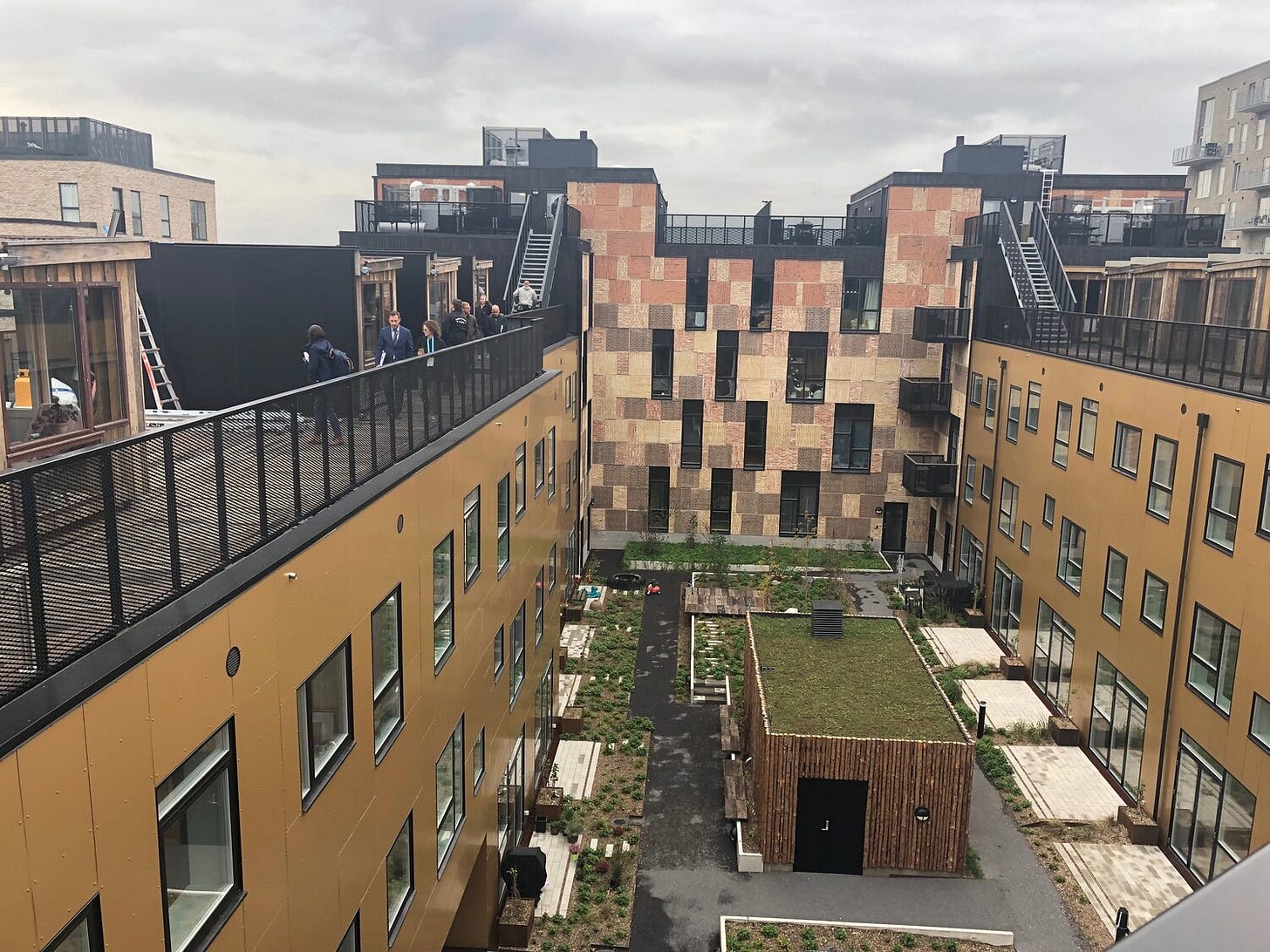 To this extent I was impressed with this housing development that uses upcycled waste material as its source material, thus reducing impact in construction by 70%. It's currently running at 50% better energy efficiency, partly due to very good (upcycled) windows and a big mass of (reused) concrete.
A mini blog (1 min) on this here, also with ref to Rural Studio.
I have to admit, I was less impressed by Al Gore speaking. I agree with the late Hans Rosling on his assessment of Gore. Gore's rhetoric on creating fear, is not the best path IMO. 1 min on Rosling on Gore. I've heard Gore on political will being a renewable source, quite a few times already.... I did like the youth speakers - they spoke very authentically. AOC was also better than Gore.

If I was to do a moderate re-imagining of this conference, I would have a lot more non-white people about - OK - it's Denmark. That's going to constrain you (and there were a small bunch of us, non-whities), and the Danish Prime Minister - lady - was suitably on point, although stressing her social democrat credentials before her green credentials in a case for social equity.
I would have also let in the culture makers to a wider degree. There were a couple of installations that I saw no delegates interact with. The culture stuff was shunted around the city at the side events. I made it to one on a bicycle (when in Denmark, do as the Danes). Bring the makers into the tent. I'm fiercely biased of course having a side gig as a maker - but you need them in the room. I'd also say the same for business.
The Danish business leaders - and I had the honour of speaking with some - are 100% behind Denmark's net zero carbon ambition. They had their own side conference, a 20 minute walk away (6 min on bike! which I hired to confirm the timings) I guess logisitics made it hard to be in the same space, but I think the cross-silo thinking of mixing arts/business/policy is invaluable - and yes - that is a major impulse behind the Mingle. One can't only complain, you have to get up and do.
The Chair of Carlsberg demonstrated a glued together beer 6-pack which is going to reduce single use plastic in holding the 6-pack together. Few mayors saw that. I'd have swapped him for Gore, more authentic and driven by data.
The Chinese city contingent also seemed to be mainly on a side pitch. Partly language is a difficultly, but I would have made one of those more centre stage. (There was a talk from Hong Kong and another on an Asian city, so there was some). I could only snatch a small amount at the side stage, but it seemed interesting. The chat between a young African activist and a former female Malaysian mayor, now at the UN, was a highlight to me too.
I'm afraid I didn't get a lot out of the sustainable investing / divest-invest session. I am probably too close to it. I should have gone to hear Kate Raworth again.
She very effectively used a ring representing a donut, and a hose pipe that turns from linear to circular to make her points. I think I might have to steal that somehow in a show one day.
I'm still unconvinced by the core of the de-growth economists' ideas, although when I look at the housing development based on more circular economy ideas, I can see that working - it's still growth though. I've started on Vaclav Smil's new work and the Guardian interview made it seem like he is saying if you are growing, no amount of technology will save you from the consequences of that growth - which would put him much closer to Raworth than I would have expected.
So…. more non-white; asian, african; more artists/makers; more business all in the mix and keep striving forward.
On C40 - I will leave the last word to AOC also at C40. "...Climate change is not a coincidence. It is a consequence… we can mobilise on a vast scale for war… can we do that for anything else..?"

Goldman Sachs think tank part-wrote this on Climate Change and Cities recently - short blog here with link to paper. "...the timing, scope and magnitude of the consequences of global warming remain uncertain, the potential risks are significant. Attention has focused on the need to reduce greenhouse gas emissions, and far more work will be needed here. Even as this work progresses, however, there will also be a need for adaptation efforts that can help the world withstand the potential effects of climate change. Climate change could reshape the earth…."
Last item on purpose - I did also spend 2 hours with the C-suite of a major Danish company, talking about purpose and long-termism; and all the associated challenges such as reporting, incentives, climate resiliency, short term vs long term, extra-financials and the like. Don't say, it's not happening. It's happening.
I also hosted some asset owners and mid ranking corporate officers to also talk about long term sustainability. We are doing.
Pivoting to art, from the reading shelf:
Novelist Cormac McCarthy on writing a science paper. Good on subtle aspects such as clauses and emphasises clarity.

Read this in NY about Black American play writing and discover some thoughts about Tyler Perry and a few younger playwrights.
https://www.nytimes.com/interactive/2019/10/09/magazine/tyler-perry-black-theater.html
https://www.nytimes.com/2019/04/25/theater/black-playwrights-theater.html
Susan Sontag and John Berger influenced by reading of critics and indeed my way of seeing art and reading books. This NYT piece on Sontag resonated: https://www.nytimes.com/interactive/2019/10/08/magazine/susan-sontag.html

Theatre: Maddy Costa on Tim Crouch: https://medium.com/department-of-feminist-conversations/in-conversation-with-total-immediate-collective-imminent-terrestrial-salvation-by-tim-crouch-438eeec92108

BMJ: On Improving, the improvement of healthcare: https://www.bmj.com/content/367/bmj.l5514
Grantham Institute: Just Transition Think Paper.
Amber Massier-Blomfield on the Old Vic toilets fallout. https://www.ambermassieblomfield.com/post/that-piece-that-the-stage-took-down
Sheila Nortley is the associate director for the DUTCHMAN by Amiri Baraka, presented by Outer Gaea Company and Théâtre Libre 8th - 26th October, Tristan Bates Theatre. Tickets and info here. Here's some Q and A with Sheila.
***
A 2 min view clip of Thinking Bigly you can now see here.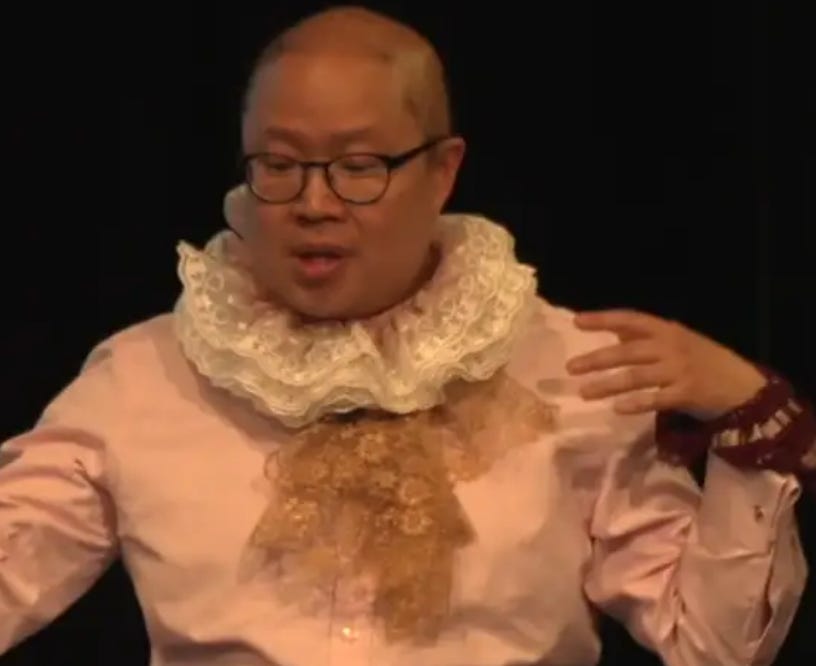 * ☪ *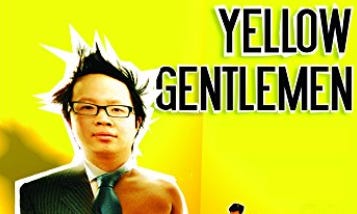 I've re-issued my 2006 play, Yellow Gentlemen (4 stars in Time Out and is one of my more personal works about the night immigrant Tommy Lee is dying). Buy it for laughs on Kindle for the price of a coffee. All profits to charity. I've only sold a few copies at the price of a coffee - 1.99.

* ☪ *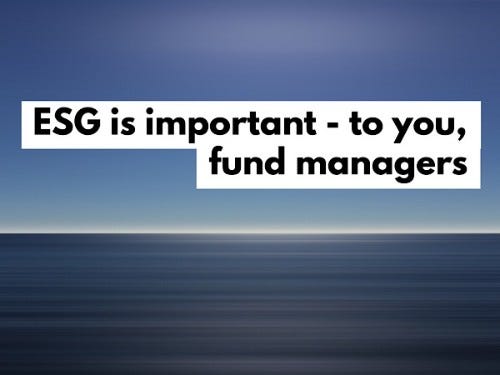 "...Through a long-term orientation and stewardship, this is the time for active investment managers to show their worth. It starts with asking the right long-term business questions. Some companies are giving us answers, but are we really listening?"
My full opinion article in the FT. (3 mins, behind paywall, but you get a free article or email me and I can send you a copy)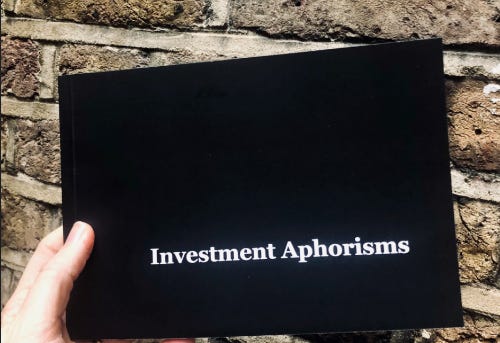 Find out more about my aphorism book and contact me for a copy.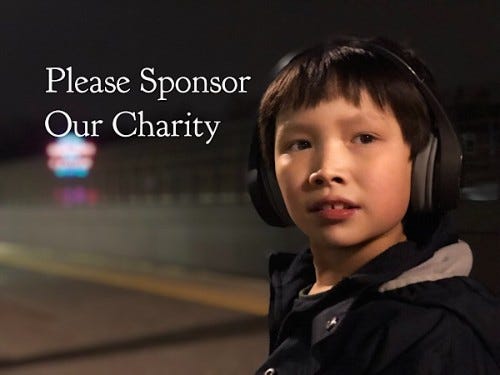 We've help found Focus West London, a Saturday club for autistic children. Children learn vital play, social and language skills in a fun and child-centred environment. Every child is provided with a volunteer therapist trained in a highly effective behavioural intervention. It's a difficult climate for charitable organisations like Focus, so your donation really matters.

Details are here. THANK YOU!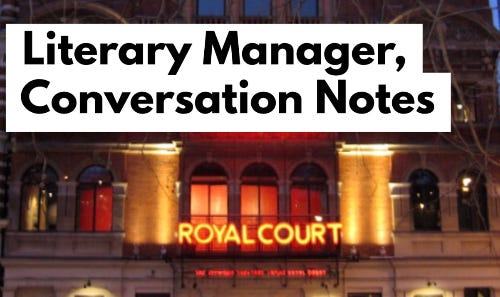 Notes from a conversation with former Royal Court Lit. Manager.