Hi ~
Top of mind - this poem-essay on the experience I now have when going to the toilet - and what an autism lens has brought me. Zen and the Art of Toilets.
This essay memoir from Anoushka on the remarkable history of a Farnham workhouse and hospital. "The land that lies to the west of the estate I grew up on, has long been in service to the poor and the infirm."
I didn't understand too much of the latest Caryl Churchill plays. I hope I am allowed to admit that. Still I found them exquisite and thought provoking and had a set of thoughts on fragility and humanity.
Do sign up to come to Thinking Bigly (13/14 Nov) and the Mingle (14 Nov). Would be great to have you there.

➳Public Performances of Thinking Bigly, Nov 13/14 at Theatre Deli, Broadgate London
➳Next Mingle 14 Nov, Theatre Deli, 7.30pm
➳A look at sensory processing disorder (autism aware)
➳Anoushka Memoir essay on Farnham Hospital -
➳Poem-Essay + Toilet Photos: Zen and the Art of Toilets -
➳Glass. Kill. Bluebeard. Imp. New Churchill plays, a reflection -
➳Joy and unease at climate strikes
➳WeWork and leadership (fail) -
➳New pay guidance from CII (specialist ESG only)
➳Spending $15bn on NetFlix content, what about green tech? -
➳Joy and unease at climate strikes
➳New pay guidance from CII (specialist ESG only)
➳Spending $15bn on NetFlix content, what about green tech?
Links (end):
➳Alex Edmans mostly supporting sharebuy backs
➳Cormac McCarthy on writing science papers - but really on writing in general.
➳Quantum Computing. Real or snake oil.
➳To all the men who didn't assault me
➳Competitive moats
Some great theatre pieces on making work:
➳Rajni Shah speaking with Demi Nandhra
➳Oladipo (Dipo) speaking with Matilda Ibini
Thinking Bigly is going public.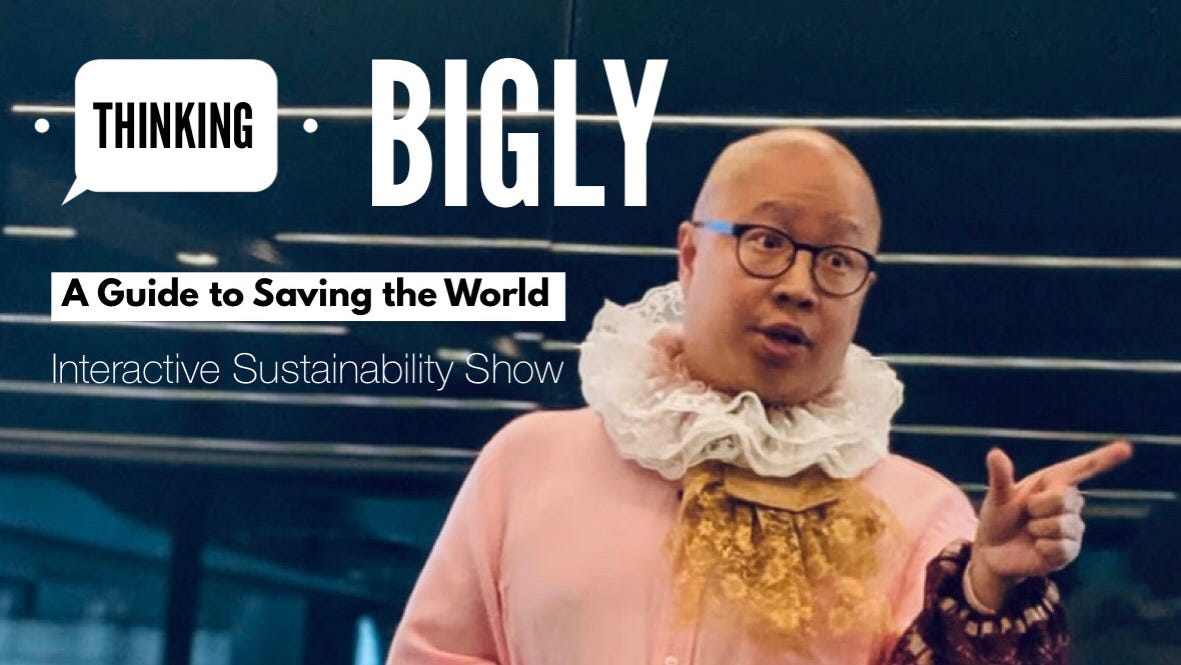 You can catch it booking: Thinking Bigly, Nov 13/14 at Theatre Deli, Broadgate London.
If you can't make it, still come and book the mingle on 14 Nov at 7.30pm. Please come!
***
Conference season is upon my world. This has me diving in out of lecture spaces and meeting rooms. Hearing the CEO of major healthcare companies talking about the future of healthcare, regulation and innovation. There was an investor conference (Bernstein) dedicated to climate change (although I was left a little bit less hopeful after it).
Investors (Asset Managers) are oddly privileged to be able to hold CEOs to account. Or at least they should be. (My FT op-ed was a partial critique of what investors do here). Still there is something rather amazing discussing the state of the world with some of the leading stewards of the most impactful global companies.
In between times, I made it to see the new Caryl Churchhill plays, which I admit I think I only partially understood. I also ducked out to go on my first ever "strike".
Joy and unease at the "climate strike"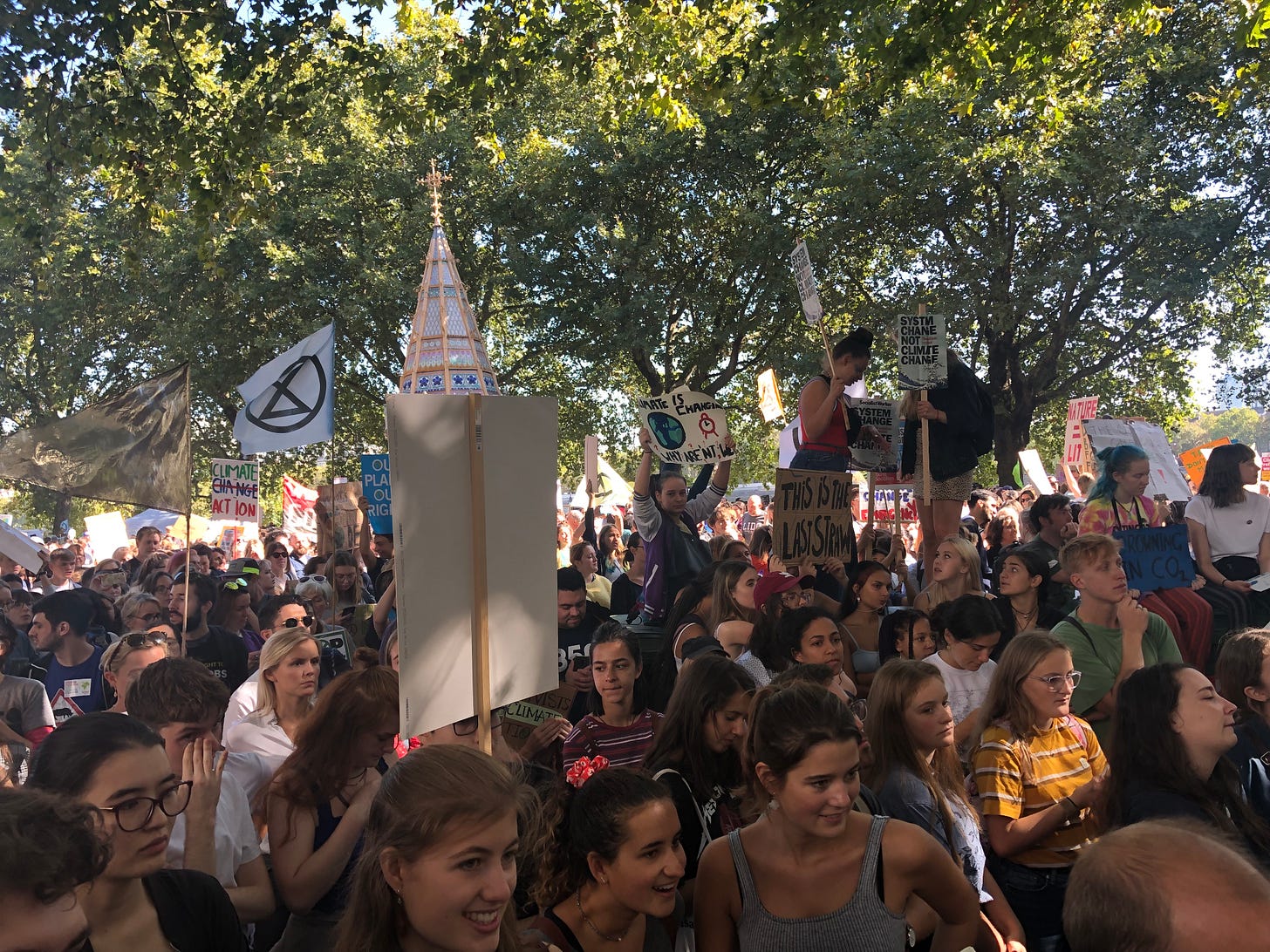 I hope I am also allowed to express joy and unease being at the protests. Joy because the connections and energy and spirit of the occasion did celebrate some of the best bits of being human and the large dose of children gave the festival quality something other.
But, the actual speakers I was listening to were dealing in complex matters and I wasn't always in agreement. It's up to us to go and listen, assess and try our best.
Here's my reflection on the morning. I stand with our children. (3 min blog)
***
A reflection on the Caryl Churchil plays
It's fair to say there is quite a lot I don't comprehend about Carly Churchill's latest four plays.
I consider her one of the greatest - if not the greatest living British playwright - so I place it more in myself that I don't understand.
The incomprehension seems to be a reflection of where we are in Britain. To me, Churchill has written of the times we are in and reflected that - often through a socio-political lens and typically a feminist and socialist one.
The actors are serious. Their words and intentions seem serious to me. Their execution is exquisite.
There is a fragility present. A fragility embodied in the first play Glass and continuing through out. The fragility is direct in Glass from the moment you figure out the conceit of what the actors are playing until the shattering end.
"There should be no attempt to make the glass girl look as if she is made of glass. No effort making her seem invisible etc. She looks like people look." (Stage direction)
This seems an instruction that suggests directly the fragility of humans. …. Is it clear to me ? No. But the tangled threads reflects how I don't understand a lot of what I see around me. That feels true. A 2 min blog on Churchill.
***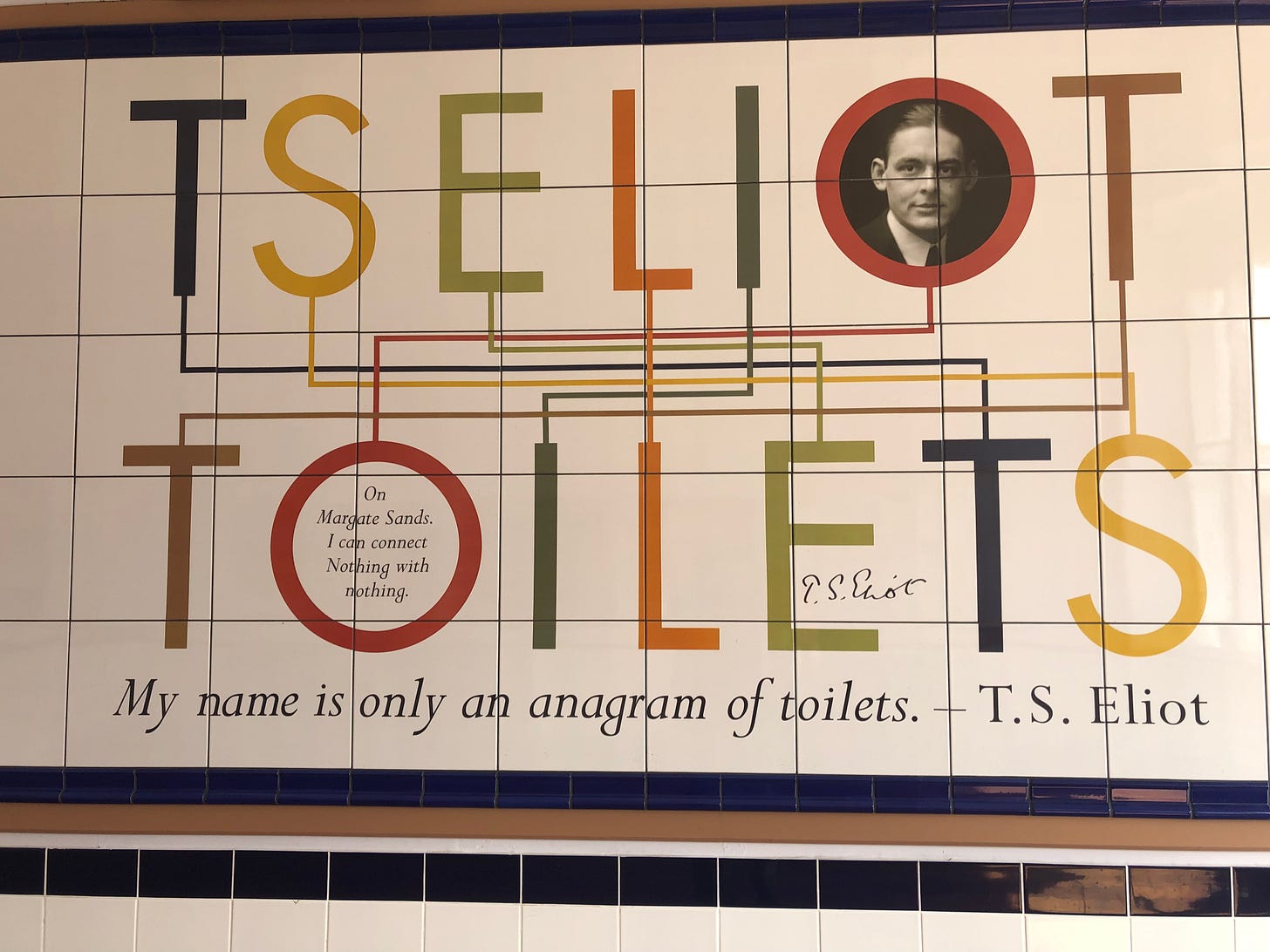 I really like this piece I wrote. It's an odd form. Part poem. Part photos. Part the experience of all the toilets and hand dryers I now go to.
A glimpse into what autism gives us and the atypical efforts involved.
We can share the will to share
Seeing us dance you can share
In our humanness but we fail to share
The meaning of the hand dryer
We can laugh or cry at it all.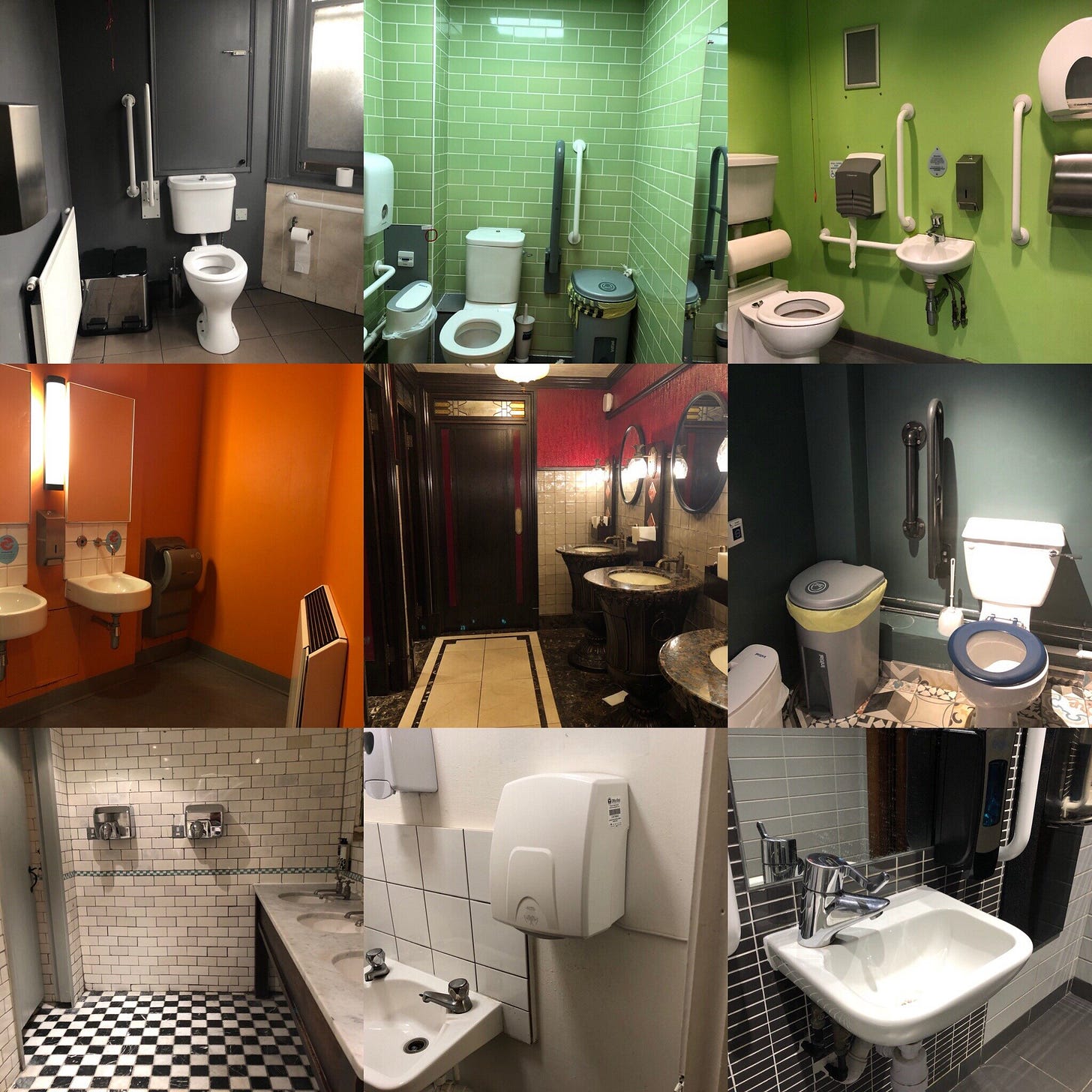 "When one of his Western students was having trouble cleaning toilets, Zen teacher Suzuki suggested she speak to the toilets as if they were her friends, telling them how happy she was to get the chance to look after them. It worked."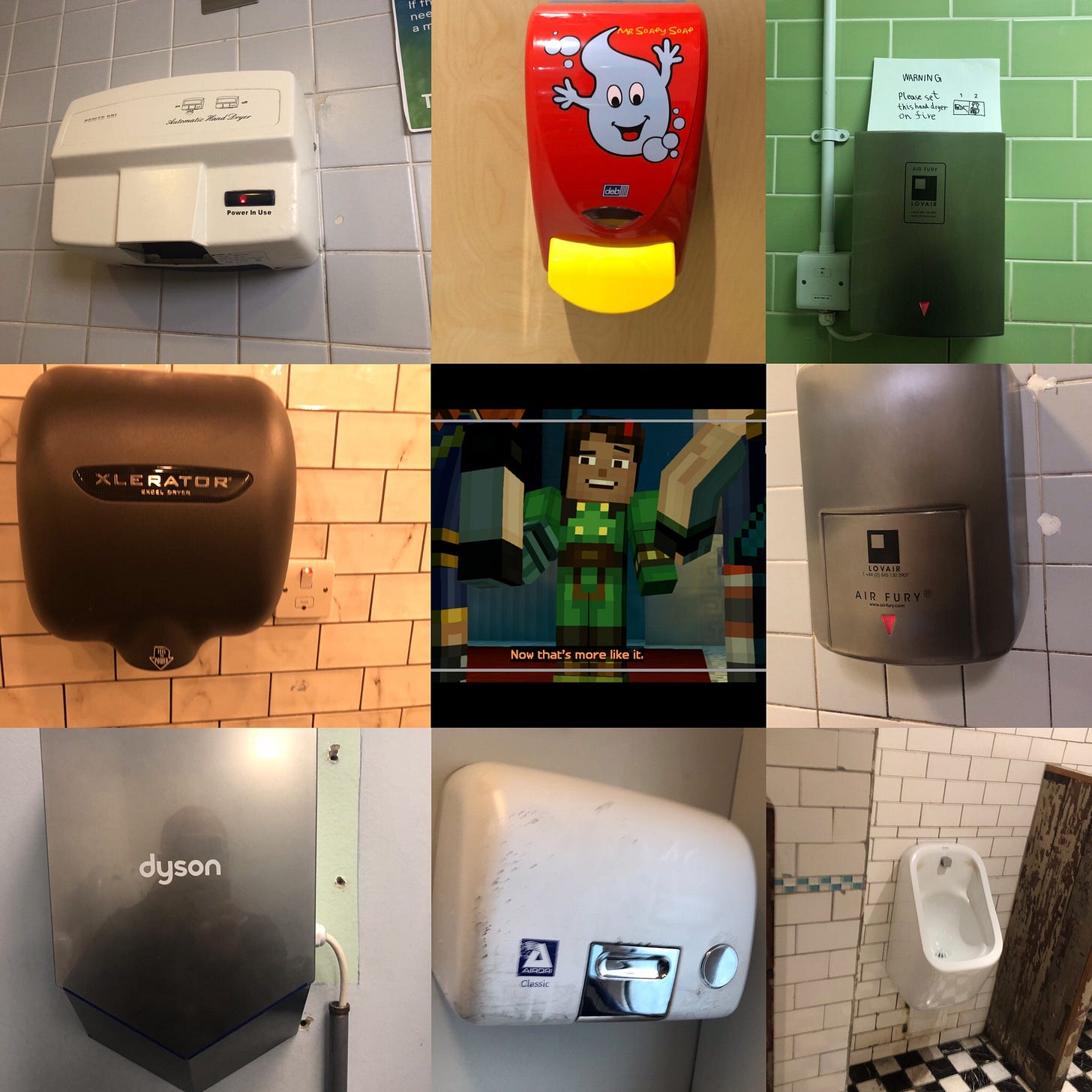 A 4 min read on toilets. (Link)

***
Anoushka: The land that lies to the west of the estate I grew up on, has long been in service to the poor and the infirm. A workhouse stood on the site from the late 1700s and had the dubious fame of being the focus of a Lancet campaign, in 1867, condemning the poor state of the nation's workhouse infirmaries. The Lancet described the institution as "a perfect marvel of bad construction for any purpose" - and their assessment went downhill from there. ... One of the striking laments of the scathing Lancet article was the assignment of only a single nurse to the piteous workhouse infirmary ward ("a good and skilful woman, but not capable of ubiquity"). Fast-forward more than 100 years and my mother, also a "good and skilful" nurse, was smoothing crisp bed linen into the neat pleats and tucks of a hospital corner, in the same building illuminated by the Lady of the Lamp. I remember her uniform: a prim, cotton dress with a revere collar, elasticated belt and a pristine, white origami paper hat, securely pinned to her blonde hair with kirby grips...." A lovely piece of memoir with a link to the Lancet Archive. (4 mins)
***
We are underspending in innovation
Spend:
US Military R&D Only $78bn
US Govt Green Tech $3bn
UK Govt Green Tech $0.8bn* (£1bn more comitted)
AstraZeneca Pharma R&D $6bn
Apple, new TV content $6bn
Netflix, new TV content $15bn
Shell - R&D, $1bn
Netflix is going to spend $15 billion that is 15,000,000,000 dollars on new content this year.
Assuming you could spare 2 hours a day, every day of your life to watch Netflix.
It would take around 49 years to watch the entire catalogue currently.
Apple is spending $6bn. And how much is being spent on energy technology….? Shell manages $1bn. The UK government has unveiled a £1bn commitment.
It's mind boggling to me we will spend £12 a month on Netflix and they will spend $15bn on content and we can hardly manage a fraction for the energy and sustainable (fertilizer, steel, cement etc.) innovations we need. Of course there's more indirect support but still. We are orders of magnitude out. A 3 min short blog on some innovation spend numbers

***
I wrote a blog on WeWork and leadership and as I finished it. The CEO resigned…
I make the case that we do look for "higher purpose" in our leaders, but when that seems to clash with their personal actions. It doesn't go well.
2 min blog on WeWork and leadership.
***
Those interested in pay incentives. New pay guidance from CII - (everyone else avoid.)
From the reading shelf:
Recommended for theatre peeps:
Theatre: Rajni Shah and Demi Nandhra on twitter, free writing, performance, trauma and protecting yourself. https://howlround.com/bring-conversation
Theatre: Oladipo (Dipo) speaking with Matilda Ibini. Two black writers making interesting work, also interested in disability. Afrofuturism. Crowdfunding. Minorities. https://howlround.com/you-must-kick-fuss
Remarks by Mark Carney given during the UN Secretary General's Climate Action Summit 2019
https://www.bankofengland.co.uk/speech/2019/mark-carney-remarks-at-united-nations-climate-action-summit-2019?sf109498465=1
Quantum Computing breakthrough? It's beyond me, but this guy is an expert and is somewhat hopeful. https://www.scottaaronson.com/blog/?p=4317
To all the men who didn't assault me. A hopeful counterpoint take to MeToo. https://www.vox.com/first-person/2018/10/4/17933530/sexual-assault-me-too
A long read on what makes competitive moats with a big doses of thinking on innovation (20 mins) http://reactionwheel.net/2019/09/a-taxonomy-of-moats.html

Novelist Cormac McCarthy on writing a science paper. Good on subtle aspects such as clauses and emphasises clarity. https://www.nature.com/articles/d41586-019-02918-5

Alex Edmans: Sharebuybacks don't seem to crowd out investment. https://www.london.edu/news-and-events/news/share-buybacks-1680
***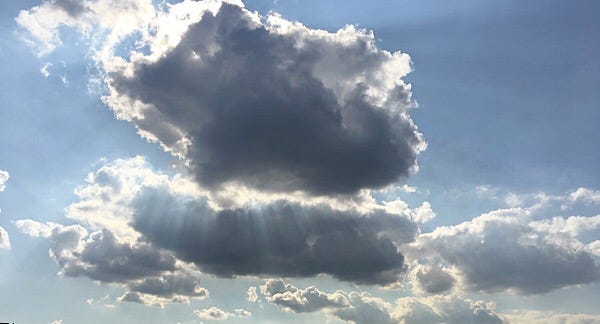 "....As a small baby, the shard of light on the living room wall captivated him. His gaze would slide over my face (which all the books told me he would find captivating) as he craned his neck to see the light play on the magnolia. He had trouble settling for naps, however soothing I made his environment. He would quickly become wired - torn between the physiological pull of sleep and the demanding sights and sounds of his little world. Only rapid rocking and long, looping lullabies sung until my voice cracked would eventually cut through the noise in his brain, providing a lifeline along which he could haul himself to the relief of sleep. Our quiet, orderly home, with no siblings seemed to exhaust him, and when he did finally nap, it would be for hours...." On sensory disorders here 4 min blog. (Really good read on this)
***
A 2 min view clip of Thinking Bigly you can now see here.

* ☪ *
I've re-issued my 2006 play, Yellow Gentlemen (4 stars in Time Out and is one of my more personal works about the night immigrant Tommy Lee is dying). Buy it for laughs on Kindle for the price of a coffee. All profits to charity. I've only sold a few copies at the price of a coffee - 1.99.

* ☪ *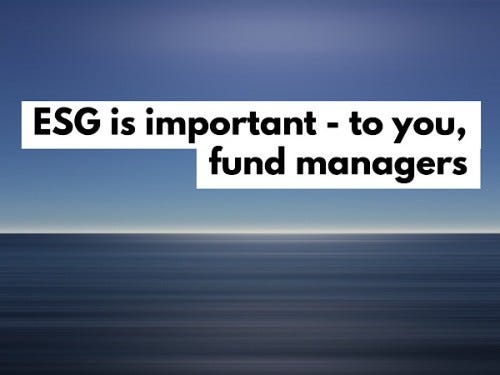 "...Through a long-term orientation and stewardship, this is the time for active investment managers to show their worth. It starts with asking the right long-term business questions. Some companies are giving us answers, but are we really listening?"
My full opinion article in the FT. (3 mins, behind paywall, but you get a free article or email me and I can send you a copy)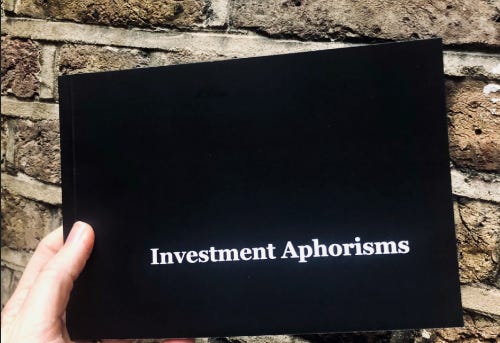 Find out more about my aphorism book and contact me for a copy.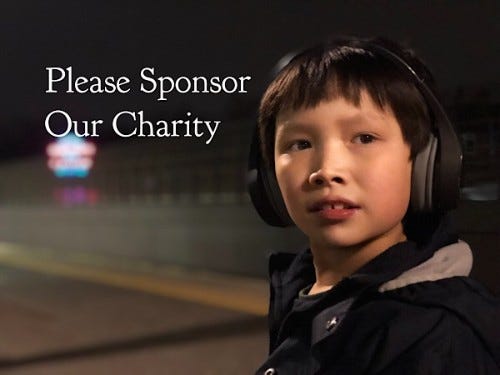 We've help found Focus West London, a Saturday club for autistic children. Children learn vital play, social and language skills in a fun and child-centred environment. Every child is provided with a volunteer therapist trained in a highly effective behavioural intervention. It's a difficult climate for charitable organisations like Focus, so your donation really matters.

Details are here. THANK YOU!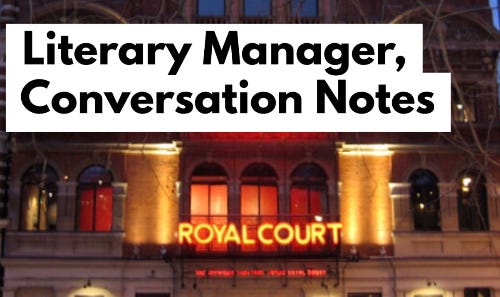 Notes from a conversation with former Royal Court Lit. Manager.