Hi ~ If you only want one read this week: me marking my departure from the City (same job, new office) by taking a few moments to go beach combing on the River Thames by my old work building.
If you saw Thinking Bigly and think it might work well in your office café or lecture space, let me know. I'm keen to bring it to other non-conventional spaces to raise the debate on climate. I have a video of Thinking Bigly. Message me if you'd like an e-copy (some audience reviews at end of this post).
➳Farewell City: bone, pot and pipe - I leave my area of work after 20 years
➳The importance of (semi) random challenges or the benefits of being "Messy"
➳The difference between real-world behavior and surveys
➳Honesty: When do we hand back wallets, with money or no-money
➳The difference between social human behaviors vs physical laws
➳Our over-estimation for things we think we know (and don't really)
➳Climate week next week, lots of free events in London
➳I'm hosting a lunch, 4 July, with an expert (CFO, Ryo Yanagi) on Japanese ESG plus the integrated reporting council. Message me if you'd like to come.
***
Farewell City. After about 20 years, I'm leaving the City and moving to Mayfair for work. Apart from a short gap at Canary Wharf, my 20 year working life has been in the City.
Despite the build and re-build of the City over the years to me it remains a human scale place. A plethora of curvy lanes with names going back hundreds of years pertaining to bread, milk and silk. Churches and guild halls. Ancient stone and modern glass.
To mark this farewell, I took a little time to be slow.
I took out my new license to explore the foreshore of the Thames.


As a sign of the times (a reflection of the current tide in the City in more ways than one) of regulatory creep and litigation protection, you need a license to pick items along father Thames now.
These are some of the objects I found mudlarking.

A short reflection of mudlarking on the Thames, where I sift through the river foreshore.
***
I'm browsing through lots of interesting work and books about some of the pet ideas, I advocate.

Starting with the overestimation of what we know. I find this fascinating in the context of Brexit. Most of my friends (the 30 or so I have asked) whether Remain or Leave – have not read Article 50, nor can most of them explain the difference between a customs union or any other sort of union. They don't know anything about international trade (neither do I). What's more worrying is many politicians don't seem to either – but in any case, while people may not trust "experts", they certainly don't know themselves.

But many of my friends / person in the street also can not explain most of the every day:
-How a fridge works
-Why the sky is blue
-How a hard disk works, or a computer
-How a flush toilet works, or why we have a U-bend in them
That's why we have plumbers – and experts – and why we listen to them.
(Incidentally, I've asked those questions at University interview and practice)

In performing Thinking Bigly, it's clear to me that we (ie my friends as sample) don't know the positive long way we have come in many important ways eg women's vote, life expectancy or childhood cancer - and why. (These are points that Hans Rosling and Steven Pinker make). That's the positive stuff.

Nor, that in the climate change challenges, the carbon impact from land use/food is about the same as the challenge from energy/electricity use (about 20 to 25% of the problem each). Where most of the challenges lie and what approzxmately are the leading policies. As in, most of us have barely put our minds around the root causes of the challenges. That's on the negative stuff.

Still, skepticism on "experts" as regards to complex systems and human behaviour is warranted.

Take this recent rather amazing real world experiment on returning wallets.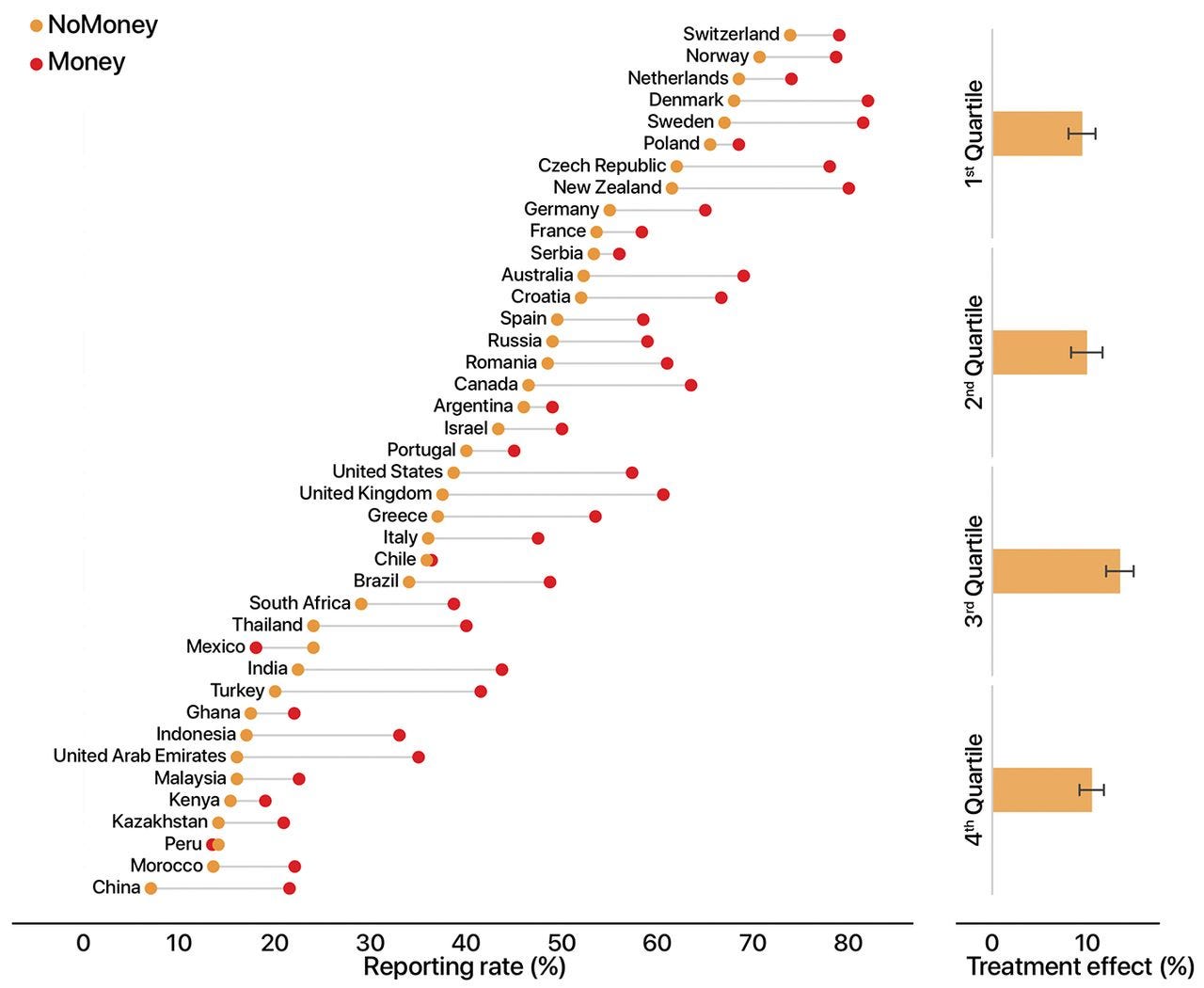 Most experts (economist in this case, but not all, with a good 3/10 being right) predicted that it was more likely that wallets with no money would be returned vs wallets with some money in them. (This is what non-expert thought too).
The results across almost every country is that it's much more likely to have your wallet returned if you had money in it.
This is an example that we are not good at predicting human behavior (although it seems some of us can eg superforecasters or the 3/10). I expect the real life data is also very different to how we would respond in a survey.

We can predict the movement of a coment every 85 years, but not the madness (or the everyday) of man.
Increasingly, I put limited weight on lab-based social science experiments. They simply don't apply in the real world.
Short blog on the civic honesty experiment here (1 min).

***
I've started reading Messy by Tim Harford H/T Michael Baptista.
Harford emphasizes what works in creativity and a lot of it centres around the addition of randomness, and what I call focused serendipity. It expands on his articles on Flow and Slow-Motion multi-tasking – which I am a fan of. [see previous blog:https://www.thendobetter.com/arts/2019/1/27/creativity-be-a-slow-motion-multi-tasker ]
This might be expected of someone like me who writes plays, has produced a performance lecture work, invests in healthcare and is trying to turn having an ASD child in my life, into (unexpected) positives.
It's a parallel thread on being anti-fragile (cf. Nassim Taleb) over even being "resilient", it turns dead-ends and randomness into strengths.
Like the people who had to change commuting routes due to a strike, but then decided there was a better way and didn't go back to their normal route.
Recommended.
Link to book here: https://amzn.to/2Yr7sYc
Short blog on the commuters here: https://www.thendobetter.com/investing/2019/6/24/messy
**
Also recommended is Rory Sutherland (advertising exec, Oligivy) on his book exploring similar themes on why human stuff works often "illogically". For instance, we brush our teeth to feel/look good, not to fight decay. We buy more stuff some times when prices go up. That we are really not "rational" most of the time.
His rules...RORY'S RULES OF ALCHEMY:
➳The opposite of a good idea can also be a good idea. Don't design for average.
➳It doesn't pay to be logical if everyone else is being logical.
➳The nature of our attention affects the nature of our experience. A flower is simply a weed with an advertising budget.
➳The problem with logic is that it kills off magic.
➳A good guess which stands up to observation is still science. So is a lucky accident.
➳Test counterintuitive things only because no one else will.
➳Solving problems using rationality is like playing golf with only one club.
➳Dare to be trivial.
➳If there were a logical answer, we would have found it.
Thanks for staying in touch.

Next week time to see what the streets of Mayfair have to offer. Plus see what climate week in the UK has to offer - check out the vast number of events happening.

From the archive, Elon Musk on Productivity: https://www.thendobetter.com/investing/2018/5/21/elon-musk-productivity
☪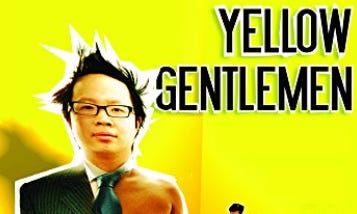 I've re-issued my 2006 play, Yellow Gentlemen (4 stars in Time Out and is one of my more personal works about the night immigrant Tommy Lee is dying). Buy it for laughs on Kindle for the price of a coffee. All profits to charity. I've only sold a few copies at the price of a coffee - 1.99.

☪
The Places in Between is a travel narrative by British writer and (as of 2019) UK Member of Parliament (and PM hopeful) Rory Stewart, detailing his solo walk across north-central Afghanistan in 2002. The below is the Minaret of Jam that he came across. You can listen to my 45 min radio play based on his book here: www.thendobetter.com/places-in-between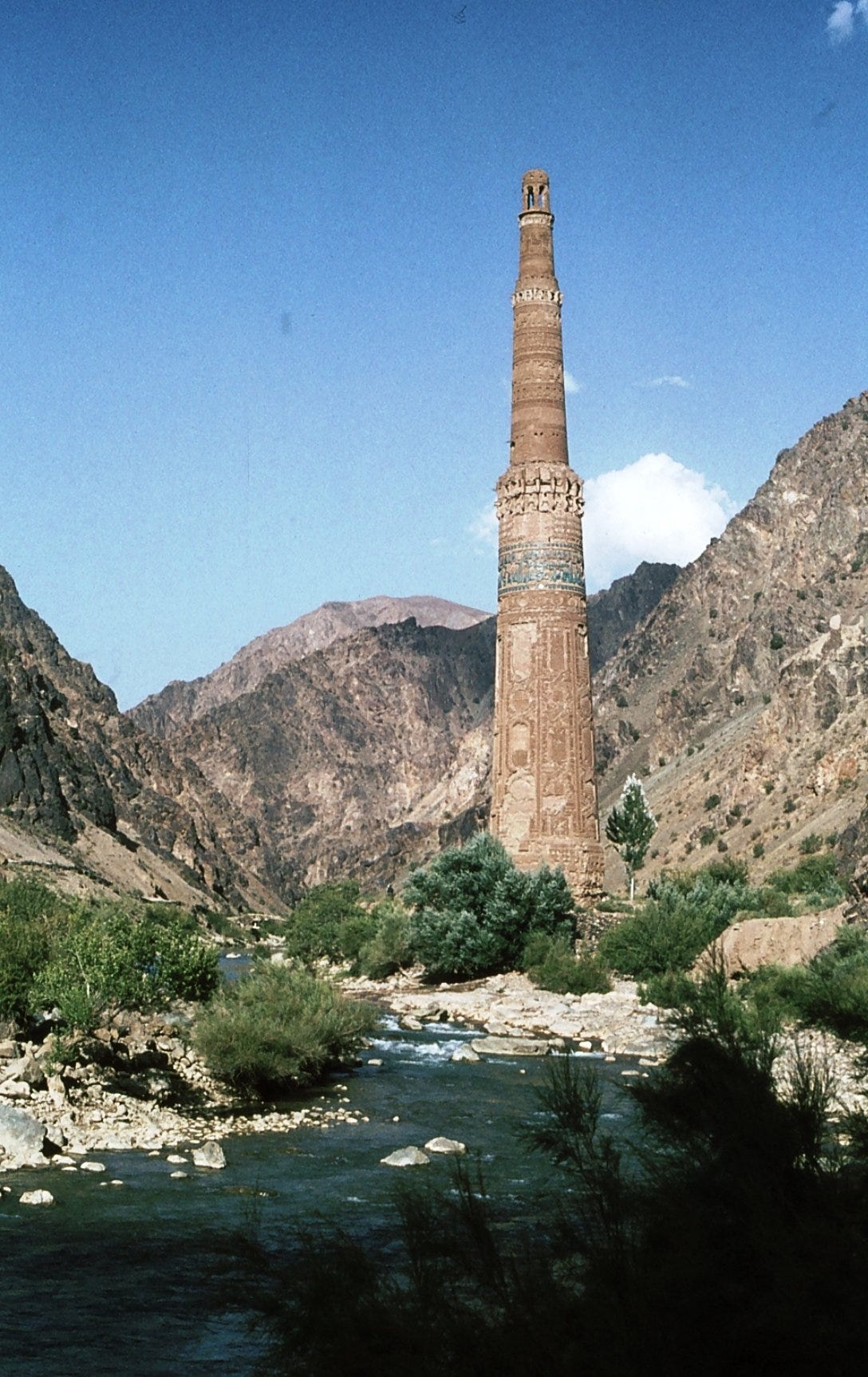 "...Through a long-term orientation and stewardship, this is the time for active investment managers to show their worth. It starts with asking the right long-term business questions. Some companies are giving us answers, but are we really listening?"
My full opinion article in the FT. (3 mins, behind paywall, but you get a free article or email me and I can send you a copy)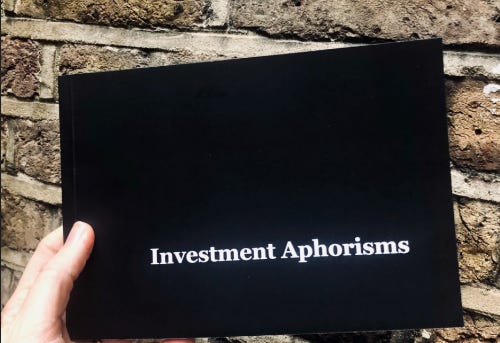 Find out more about my aphorism book and contact me for a copy.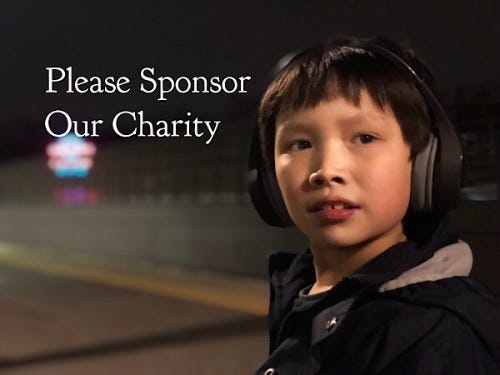 We've help found Focus West London, a Saturday club for autistic children. Children learn vital play, social and language skills in a fun and child-centred environment. Every child is provided with a volunteer therapist trained in a highly effective behavioural intervention. It's a difficult climate for charitable organisations like Focus, so your donation really matters.

Details are here. THANK YOU!
Notes from a conversation with former Royal Court Lit. Manager.