Hi
↠Mingle, 9 May - Do come.
↠My Performance-Lecture, Thinking Bigly, 17 June.
--->Booking open here, FREE. Code = Bigly.
↠Stephen Jeffrey: How to write plays
↠Climate Change: Mercer updated report
↠How to do a book reading: Viet Namh Nygen
↠Maoism by Julia Lovell
↠Amazon Shareholder Letters by Jeff Besos
↠Lawyer, David Buckley, set himself on fire to protest climate change
↠Generational Battles in Japan
↠Travels with a chicken, sailing round the world
↠My radio play: Places In Between
I have a large amount of reading on my list. It does seem to have ballooned of late. Reading has always been a primary information source for me. I spend several hours or more a week reading and have done for 30 over years now. My TV watching is close to zero. Sadly no Game of Thrones (although I read some of the books way before the TV) or Fleabag for me. It helps having a somewhat atypical night owl child, but being on duty means its reading over TV.
Three current reads fascinating in different ways are:
-Stephen Jeffrey's Playwriting: Structure, Character, How and What to Write
-Maoism by Julia Lovell
-Amazon Shareholder Letters by Jeff Besos
Stephen Jeffrey's manual on how to write plays is brilliant. He had a celebrated series of workshops he used to do, although I never made it to one. The book covers character, form, structure and story in one of the most accessible, comprehensive and erudite fashion. Great for an enthusiastic beginner or seasoned writer alike.
One short passage "your characters do not necessarily understand their motivations, and that the gap between characters' stated intentions and their deeper motivations is a very fruitful area for the playwright. Indeed, you may not fully understand your character yourself. During rehearsals for the second production of my play The Libertine, I asked John Malkovich, who was playing the Earl of Rochester, what he thought the play was actually about. He replied by saying that he thought Rochester was a man who had been given every conceivable physical and intellectual gift and had quite deliberately proceeded to waste them. On hearing this for the first time, I not only understood my play, but realised for the first time why I had written it. In a sense, the characters you write will never be entirely knowable, just as you will never entirely understand the people you meet in life..."
If you are interested in the structure of plays (and also film and some similarities/differences), I can recommend it.
I've started reading Maoism. Wow. So much I didn't know or appreciate about modern history and the influence of Maoism. I had a soft spot for looking at this book as I knew the author at University a very little and I've read her translations before. I'm only a little way through but it is fascinating. She's also married to a celebrated travel/nature writer Robert MacFarlane.

Her Guardian essay here: https://www.theguardian.com/books/2019/mar/16/onward-march-maoism-julia-lovell
The culture and processes are somewhat unique at Amazon and its rise to the top of the global corporate ladder has been astonishing.
An understanding of why that might be, where it is heading and some of the broadly libertarian philosophical worldview comes across in the annual Amazon shareholder letters.
Besos has not been as accessible to the wider public as a Warren Buffet or Bill Gates, or even accessible to most other Amazon shareholders.
Debates on tax, technology, workforce labour, globalisation, inequality, sustainability and consumerism can all be filtered through an Amazon lens.
A careful reading of the letters can tell you an awful lot, I think. If you simply want three highlights I suggest looking at (1) the 6 page memo decision making technique used at Amazon (no power point slides allowed) and (2) the articulation of type 1/type 2 decisions (crucial big decisions hard to change vs nimble decisions that can easily be reversed or course changed) and (3) a reflection on corporate culture. Plus the problems with surveys and proxies.
As an aside, while the concerns eg on the temporary labour force at Amazon are on-going, one should recognize some of Amazon's recent environmental commitments. Shipment Zero is the company's vision to make all customer shipments net zero carbon, with 50% done by 2030. This would be significant. We'll get a first look at how it thinks about its carbon footprint later this year too.
Short blog (3 mins) on 3 highlights from the letters and links: https://www.thendobetter.com/investing/2019/4/26/besos-amazon-shareowner-letters-excerpt-thoughts
***
Lawyer, David Buckley, set himself on fire to protest climate change.
In the last few months, I've come across self-immolation 3 times. Twice in plays and once in this article on David Buckel.
The attraction to dramatists is clears. It's symbolic and visceral amongst other things. It plays on the mind and imagination of what it would take for someone to do such an act.
So extreme it seems to us that within fiction a certain disbelief with it can occur - it's hard to contemplate.
Intriguing as a dramatic device, it leaves real world examples as potentially potent symbols.
I'm surprised I didn't hear the David Buckley story earlier and I'm saddened to think he thought he would have a bigger impact dead than making a difference alive.

"Buckel hoped his death would catalyse immediate action. It didn't. By apparent coincidence, however, the anniversary of his death, however, will overlap with what could be the largest-ever direct action over climate change. Extinction Rebellion, an international activist group, is planning a global wave of civil disobedience the week of 14 April." Chance and truth often stranger than fiction.
Warning Graphic Content. Guardian Reflection on David Buckel's climate change protest by setting himself on fire.
***
"Am I the only one who finds literary readings boring? I usually avoided them. Then I had to go on book tour and tried not to bore people. I learned to think of myself as a performer rather than a reader." Author, Viet Thanh Nguyen https://www.thendobetter.com/arts/2019/4/19/how-not-to-bore-your-audience-at-a-reading-viet-thanh-nguyen
Here are some tips for writers who have to speak in front of audiences:
1. Do not be defensive and think that you are a writer and that writing is different from performing.
2. Perform from a script rather than just read your book.
… 4. Do not just read 20- to 40-minutes straight while never looking up from your book and
speaking in a soft monotone.
A look at all 12 tips in short blog here.
***
Recent reads:

Have hen will travel: the man who sailed round the world with a chicken

Me: You can't make this up. A touch amazing, funny, odd and touching. Also learnt many inuits have never seen a live chicken. Why would they, I guess?

https://www.theguardian.com/global/2019/apr/21/why-did-the-chicken-cross-the-globe-french-sailor-guirec-soudee-monique


Greta Thunberg teaches us about autism as much as climate change | Ian Birrell
Too many people with conditions such as autism still face cruel treatment, says Ian Birrell
Me: Greta has raised autism/aspergers awareness.

https://www.theguardian.com/commentisfree/2019/apr/23/greta-thunberg-autism
Working-age Japan's howl of rage against the elderly gains a name
'Rougai' reflects a feeling that the young are being outnumbered and harassed by the old
Me: Generational battles (along with Identity) are two of the major battles of our time. Interesting to read about one of its expressions in Japan. (Behind paywall, if you've used up free articles email me for a gift one)
https://www.ft.com/content/b1369286-60f4-11e9-a27a-fdd51850994c
***
It is shaping up to be another lovely Mingle. If free, do come. It's a great way to meet some cross-silo thinkers. It's much more like a party, and not so much like networking.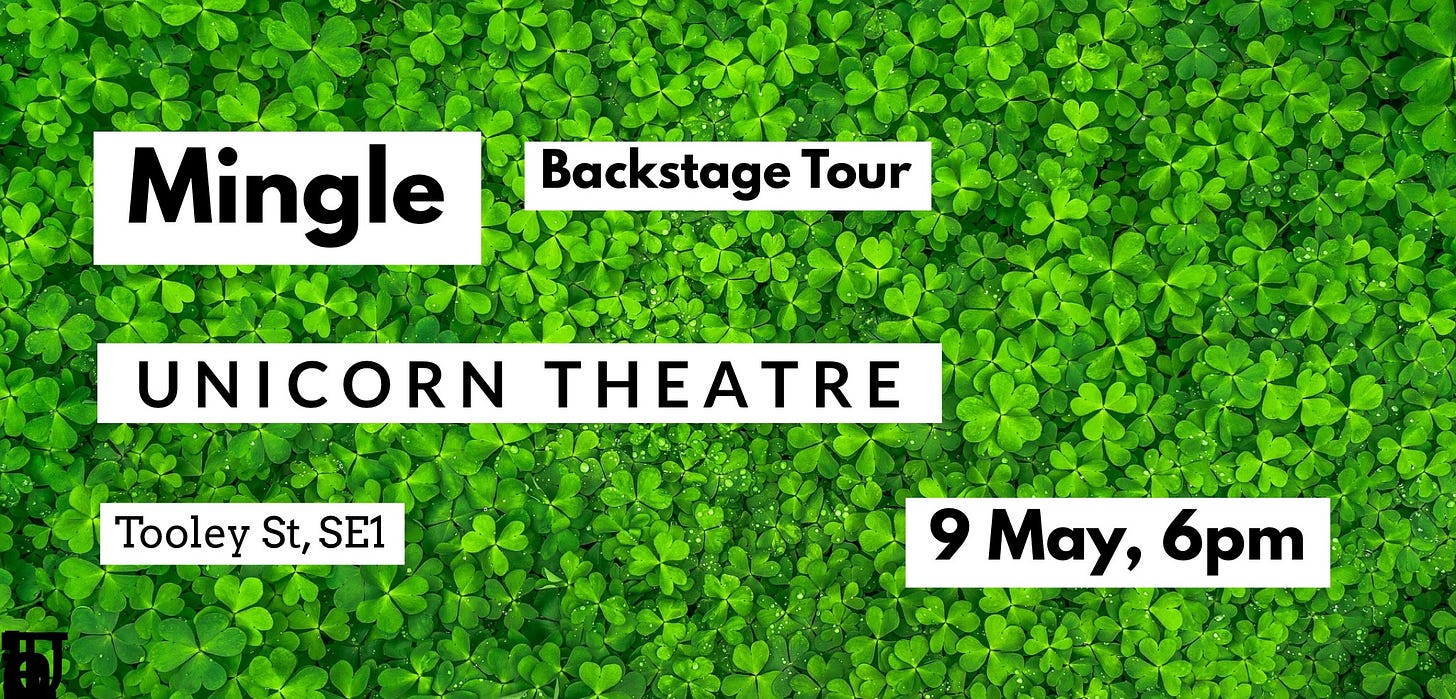 The next Mingle is on 9 May at the Unicorn Theatre. There will also be a backstage peek at 6,15pm. So if you've never been to one of Britain's leading theatres for young people, you should come check it out. Free sign up (feel free to send this link on to friends): https://mingle-unicorn.eventbrite.com

***
The billionaires continue to make the case for reforming capitalism but trying to highlight the benefits it has brought. These are Ray Dalio's charts below from last time.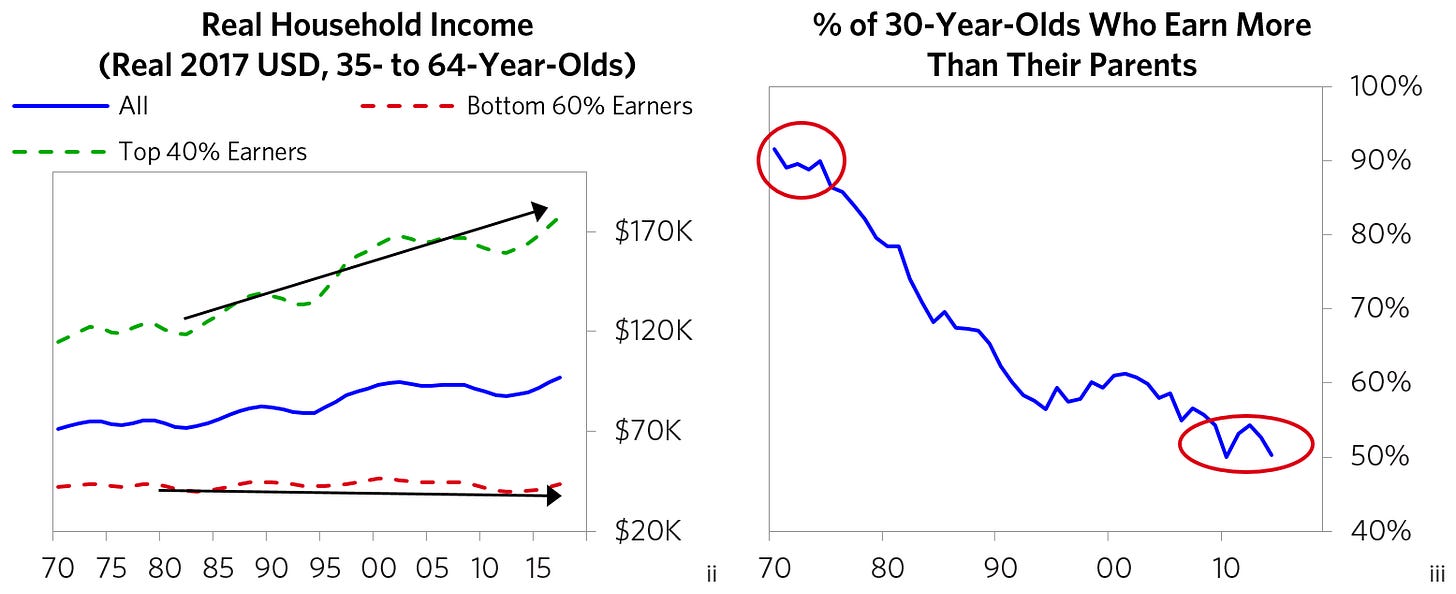 And I've now taken a look at Jamie Dimon's latest letter/essay in his JP Morgan Annual report. He notes: "...I highlight our strong belief that building shareholder value can only be done in conjunction with taking care of employees, customers and communities. This is completely different from the commentary often expressed about the sweeping ills of naked capitalism and institutions only caring about shareholder value....One consistent theme is completely clear: Businesses, governments and communities need to work as partners, collaboratively and constructively, to analyze and solve problems and help strengthen the economy for everyone's benefit."

Sure, he is talking as a billionaire CEO but it's worth thinking about. Report here: https://reports.jpmorganchase.com/investor-relations/2018/ar-ceo-letters.htm?a=1
***
My friend Jillian Reid is a key author for the Mercer paper: a Time of Climate Change — The Sequel. It's a wonderful detailed calm and collected look at the disaster lying ahead.
https://www.mercer.com/our-thinking/wealth/climate-change-the-sequel.html
***

In a lovely and extraordinary gesture, the British library has accepted my autistic son's book. The Chief Exec took the time and effort to write to him.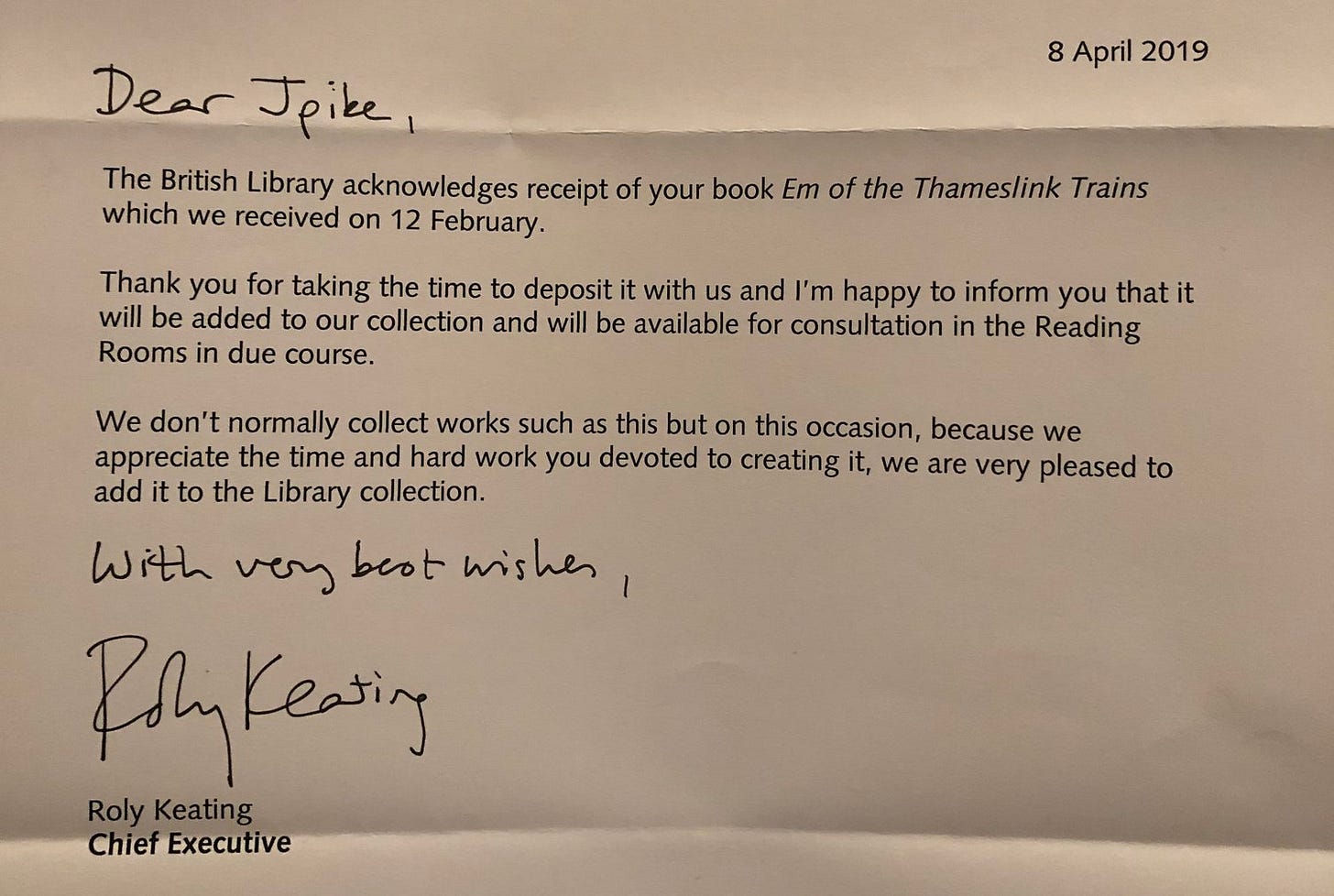 The book doesn't have classic "literary merit" but it's made me feel the openness and inclusivity that libraries embody.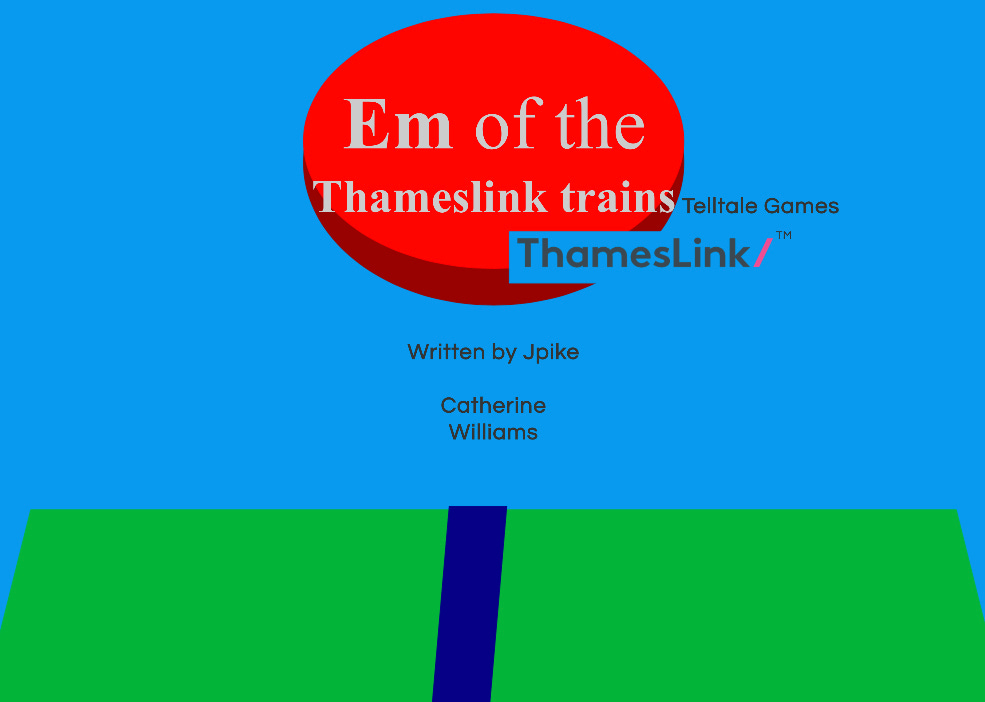 If you were to take the book on its own terms, then it uses many techniques of the "found poem" form but also mashes up or enjambs an old folk story trope with modern - hyper-modern even - characters.

Or, it's a young boy's spark of creativity given book expression.

***
My Performance=Lecture
Booking open here, FREE. Code = Bigly.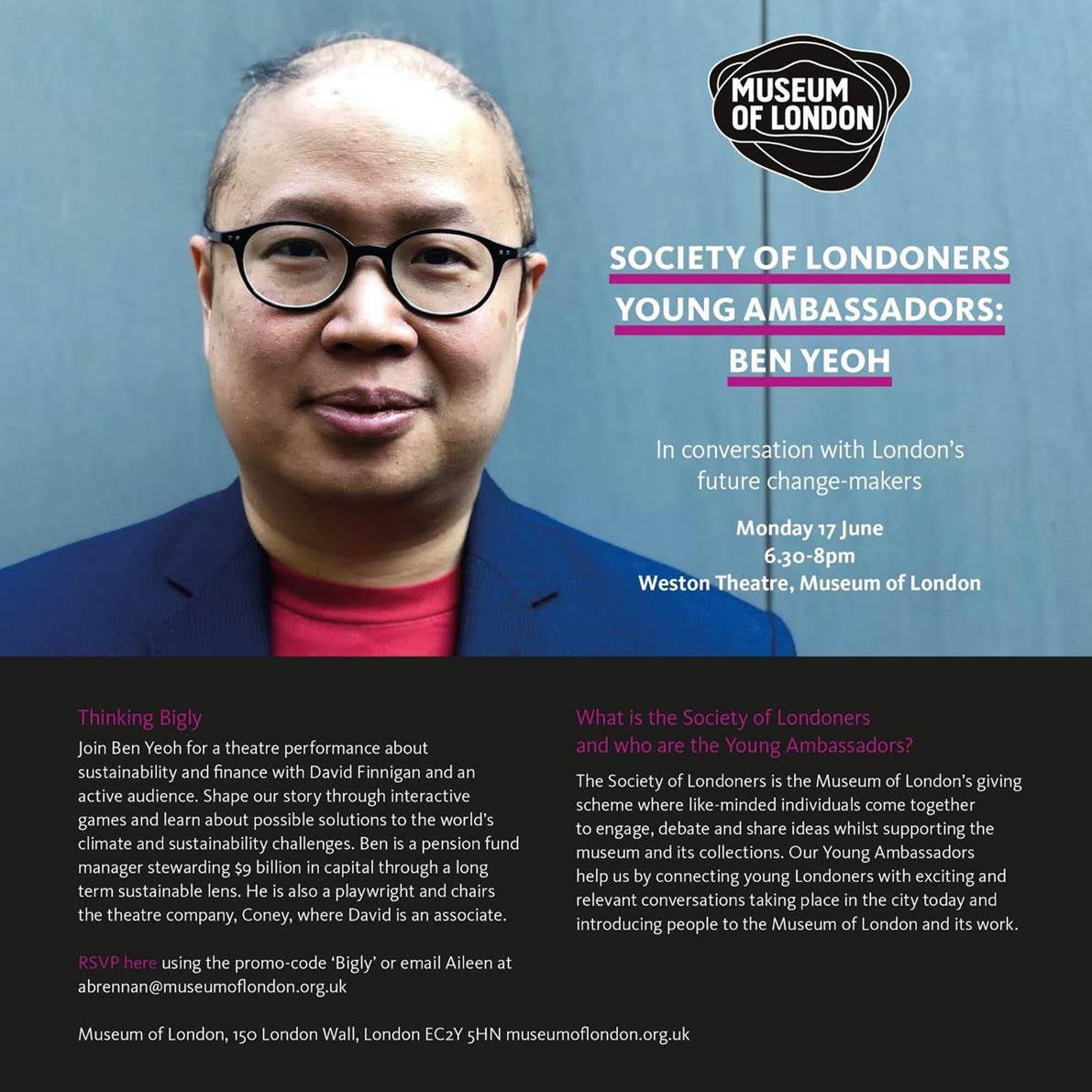 A theatre performance talk about sustainability and how you, finance and policy can be part of the solution. What reasons do we have to be hopeful in the current crisis moment?
Briefly details and a couple of pictures here: https://www.thendobetter.com/thinking-bigly

☪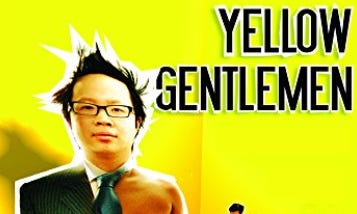 I've re-issued my 2006 play, Yellow Gentlemen (4 stars in Time Out and is one of my more personal works about the night immigrant Tommy Lee is dying). Buy it for laughs on Kindle for the price of a coffee. All profits to charity. I've only sold a few copies at the price of a coffee - 1.99.

☪
The Places in Between is a travel narrative by British writer and (as of 2018) UK Member of Parliament Rory Stewart, detailing his solo walk across north-central Afghanistan in 2002. The below is the Minaret of Jam that he came across. You can listen to my 45 min radio play based on his book here: www.thendobetter.com/places-in-between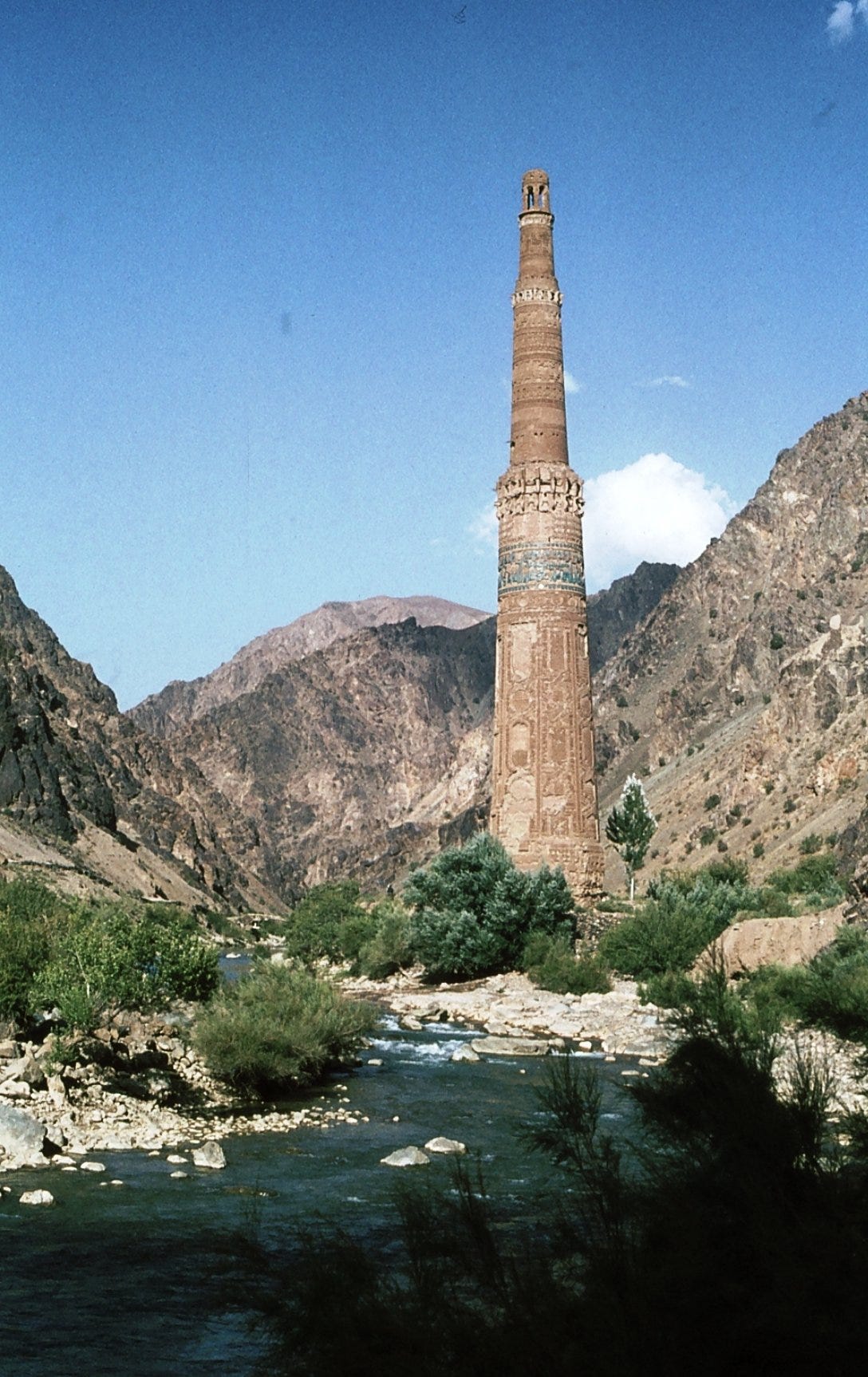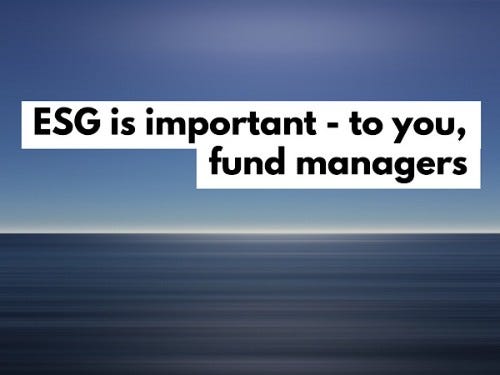 "...Through a long-term orientation and stewardship, this is the time for active investment managers to show their worth. It starts with asking the right long-term business questions. Some companies are giving us answers, but are we really listening?"
My full opinion article in the FT. (3 mins, behind paywall, but you get a free article or email me and I can send you a copy)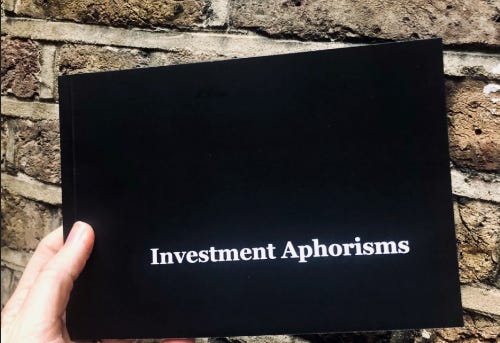 Find out more about my aphorism book and contact me for a copy.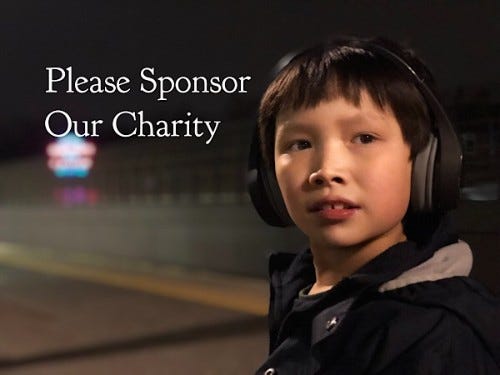 We've help found Focus West London, a Saturday club for autistic children. Children learn vital play, social and language skills in a fun and child-centred environment. Every child is provided with a volunteer therapist trained in a highly effective behavioural intervention. It's a difficult climate for charitable organisations like Focus, so your donation really matters.

Details are here. THANK YOU!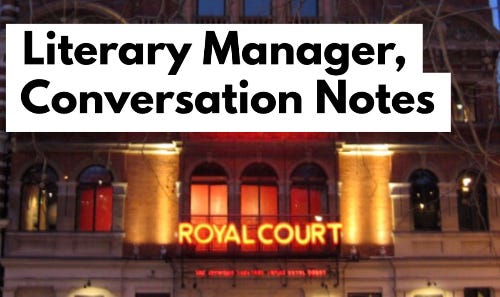 Notes from a conversation with former Royal Court Lit. Manager.