Son's Book in British Library | Reforming Capitalism | Green Washing |  Extinction Rebellion  |  NHS Poet  |  Mingle

Hi

↠British Library accepts my autistic son's book
↠Billionaire on reforming capitalism
↠Extinction Rebellion, a look inside
↠Mingle, 9 May - Do come.
↠Come see me perform in Thinking Bigly, 17 June
↠Limits of sustainability reporting + greenwashing
↠Top Girls: Still has it
↠Stories of energy transition
↠Molly Case, the NHS nurse who finds poetry on the wards
↠Winning the War on Poverty | The Canadians are doing it; we're not.
↠Horror on the Hudson: New York's $25bn architectural fiasco
↠The Day the Dinosaurs Died
↠My radio play: Places In Between

Thanks to those who came to see me perform with David Finnigan in Thinking Bigly. Very positive feedback and I feel we are well on track for the "premiere" at Musuem of London on 17 June.

We cover many of the contradictions, problems and possible solutions of sustainability with a big focus on second order thinking.

For instance, food best before dates may save some incidents of food poisoning (there are 500 deaths from food poisoning in the UK a year) but they are leading to a huge amount of unnecessary food waste (Est. 740m eggs wasted in the UK, for one food type alone). The balance between food waste and food poisoning needs a discussion, which we're not really having - and that's one small example.

More on this - mark it in your diaries and come on 17 June.

After my last piece on Racism, Pressed Duck and a Family Tradition, I can confirm that most (all the ones I asked) didn't have this type of experience, they've felt racism a lot. Similarly, all women I've spoken to on harrassment (admittedly only a handful) and the #MeToo movement have reported being harrassed on multiple occasions. Food for thought.
***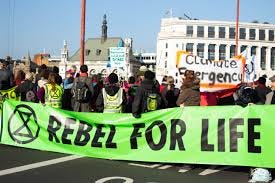 I have friends and friends of friends, loosely involved with Extinction Rebellion - it is a form of holocracy (self-organising). I think a middle of the road type of person's first instinct might dismiss this as somewhat crazy.

Borrowing from Nike's successful ad campaign (and Cf. Thinking Bigly) it's only crazy until you do it.

While I'm fairly uncommitted ideologically, I think supporting others in their strong views is valid.

This FT article looks at some of the prominent members of the Extinction Rebellion movement, and gives you an insight into their thinking. It's pretty coherent, even if you disagree.
"I had this really rude awakening where I realised that my career was completely pointless — it was irrelevant, it was meaningless," Green says. "Either I'm going to continue doing what I do and not sleeping well at night because of the crisis that we're in, or I'm going to jump ship. How can we knowingly educate students for a future that doesn't exist?" A friend of hers coined a phrase — "ecophany" — to describe Green's metamorphosis. She has since resigned from her job to support Extinction Rebellion, persuading hundreds of academics and scientists to endorse its principles.
https://www.ft.com/content/9bcb1bf8-5b20-11e9-9dde-7aedca0a081a
(Behind Paywall, I can send you gift articles, hit reply)
***
It is shaping up to be another lovely Mingle. If free, do come. It's a great way to meet some cross-silo thinkers. It's much more like a party, and not so much like networking.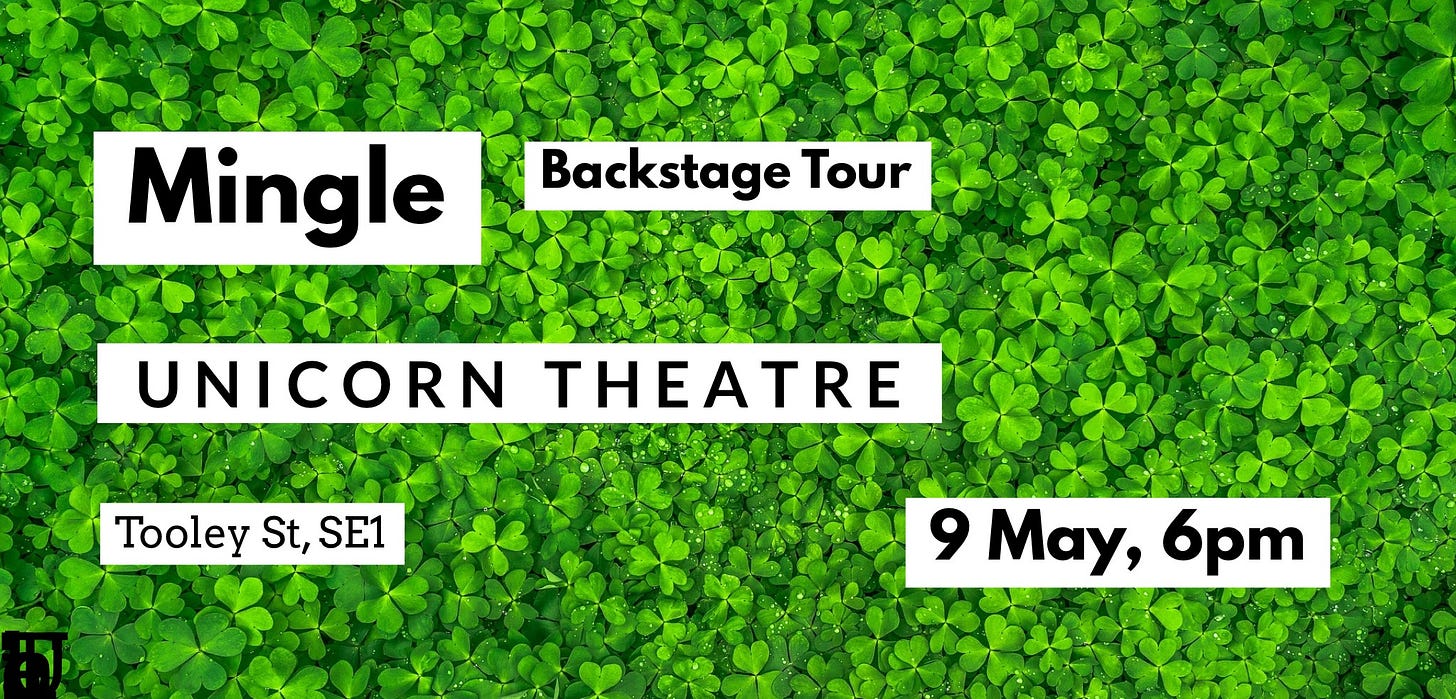 The next Mingle is on 9 May at the Unicorn Theatre. There will also be a backstage peek at 6,15pm. So if you've never been to one of Britain's leading theatres for young people, you should come check it out. Free sign up (feel free to send this link on to friends): https://mingle-unicorn.eventbrite.com

***
If a murderer cries "don't murder!" - do we disbelieve their advice because they were once a murderer? Cries of hypocrisy can come in the way of thoughtful advice.
Multi-Billionaire and capitalist cries that Capitalism needs reforming in a recent essay. Echoing other billionaires such as Jamie Dimon and the Davos set. That so many billionaires are out of touch with the bottom 60% and that philanthropy has a mixed record is unhelpful.

"Contrary to what populists of the left and populists of the right are saying, these unacceptable outcomes aren't due to either a) evil rich people doing bad things to poor people or b) lazy poor people and bureaucratic inefficiencies, as much as they are due to how the capitalist system is now working."
Still, Dalio's data insights are thought provoking even if you disagree with the diagnosis and the solutions. (2 min summary blog with link to longer 10 min essay)

***
The Chair of IASB - the International Accounting Standards Board - used to be a climate skeptic but no longer (being convinced by the evidence).
However, he thinks there is a lot "green washing" and he warns that sustainability reporting is only one piece of the puzzle and may not particularly impact companies behaviour.
Read his recent speech here:
https://www.ifrs.org/news-and-events/2019/04/speech-iasb-chair-on-sustainability-reporting/
(Note I am on an IASB Advisory committee looking at part of this area)
***
Caryl Churchill's Top Girls. There are strands of theatre which are conscious of the world they play in.
Some may argue that all theatre always reflects the wider world or at least the wider world reflects back on the theatre.
On occasion, I wonder how closely the world pays attention. In a month where the National Theatre is criticised for its lack of female playwrights, I'm unsure how much the outside world observes.
That's an argument - all the more - for our national theatres to pay attention to the world and tell us the truths we are wilfully blind too.
Top Girls, then, forcefully reminds us. Reminds us of the subjugated role of women in history. Reminds us of the socio-political clash that brought Thatcher's 80s and one woman's cry "I don't believe in class." And how that worship of the individual has now played out.
That an all female cast written in a politics of over 30 years ago still has fresh resonance in an age of MeToo, identity wars and a politics which echoes and rhymes and seems to again reflect today.
A structure that spans dinner with almost mythical historical women to a kitchen sink in the early 1980s.
Our best theatre can leave you thinking or being something different at the end to at the beginning.
***
They Grew Up Around Fossil Fuels. Now, Their Jobs Are in Renewables. / NY times

"Chris Riley comes from a coal town and a coal family, but he founded a company that could hasten coal's decline. Lee Van Horn, whose father worked underground in the mines, spends some days more than 300 feet in the air atop a wind turbine. They, and the other people in this story, represent a shift, not just in power generation but in generations of workers as well.

They come from places where fossil fuels like coal provided lifelong employment for their parents, grandparents and neighbors. They found a different path, but not necessarily out of a deep environmental commitment. In America today there is more employment in wind and solar power than in mining and burning coal. And a job's a job...."

Me: fascinating accounts of how the economics of wind and solar and the direction of energy markets is convincing a new generation to work in wind and solar over coal and oil

link here: https://www.nytimes.com/interactive/2019/03/26/climate/wind-solar-energy-workers.html

***
Molly Case, the NHS nurse who finds poetry on the wards | the Guardian
The student nurse whose impassioned poem about the NHS went viral talks about her new memoir.
Me: Rishi Dastidar told me poets mostly have other jobs too. Always Poet / [Nurse]
See how the spoken word is still powerful today.
https://www.theguardian.com/books/2019/apr/03/molly-case-nhs-nurse-finds-poetry-on-the-wards-memoir
***
Winning the War on Poverty | The Canadians are doing it; we're not. / NYT
Me: Combining local/regional bottom-up ideas to combat poverty.
https://www.nytimes.com/2019/04/04/opinion/canada-poverty-record.html
***
Horror on the Hudson: New York's $25bn architectural fiasco

It is a billionaires' playground where haircuts cost $800 and high-rise duplexes go for $32m. So why does the towering colossus of Hudson Yards feel so cheap?
Me: Wow, such a stunning critique of space and design I haven't read for a while.
https://www.theguardian.com/artanddesign/2019/apr/09/hudson-yards-new-york-25bn-architectural-fiasco
***
The Day the Dinosaurs Died, A young paleontologist may have discovered a record of the most significant event in the history of life on Earth.

Me: Well shared article, but a fairly gripping account. Makes me think high chance humans are extinct in next X hundred thousand years and from planet's point of view. That's OK. Like the dinosaurs.

https://www.newyorker.com/magazine/2019/04/08/the-day-the-dinosaurs-died

***

In a lovely and extraordinary gesture, the British library has accepted my autistic son's book. The Chief Exec took the time and effort to write to him.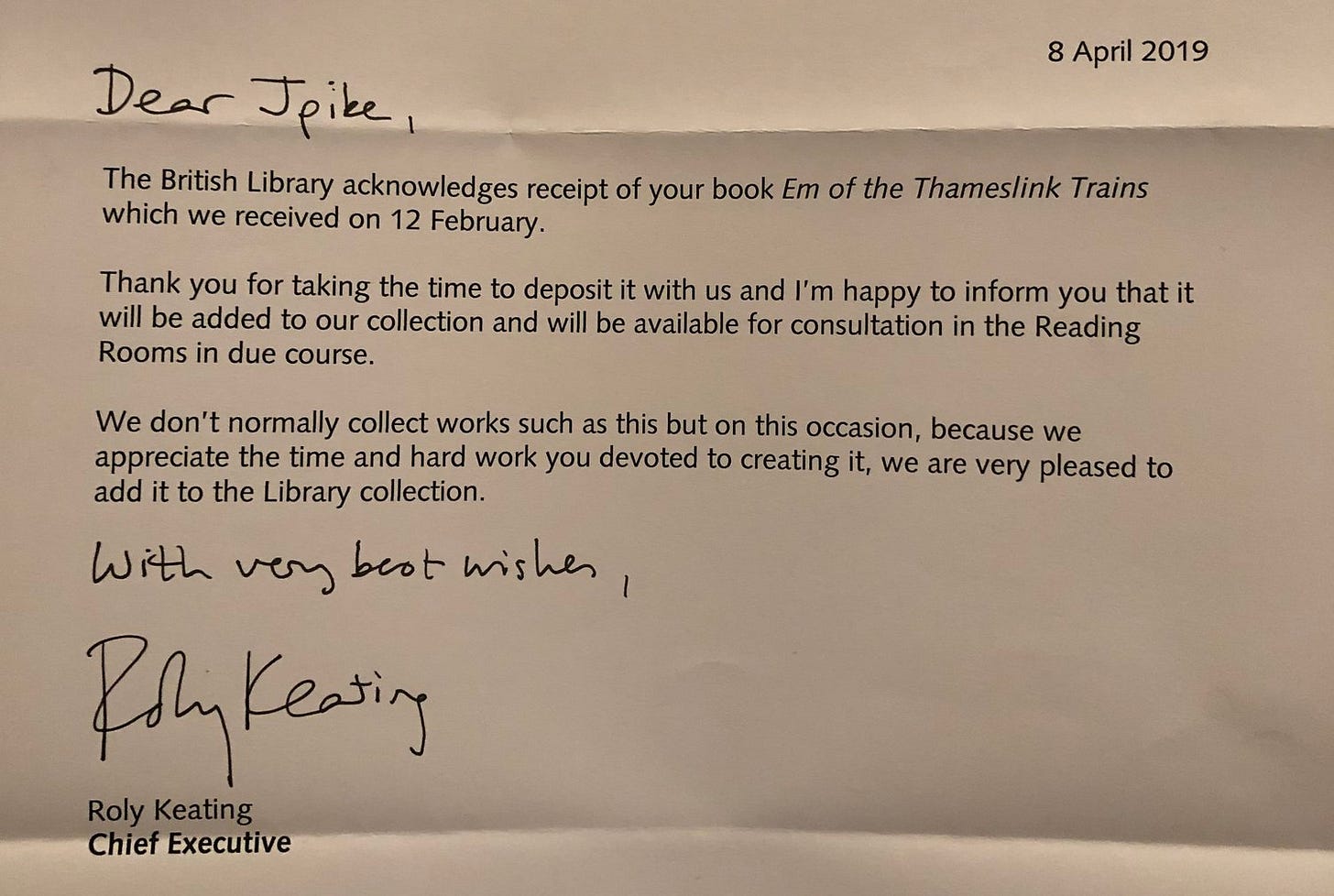 The book doesn't have classic "literary merit" but it's made me feel the openness and inclusivity that libraries embody.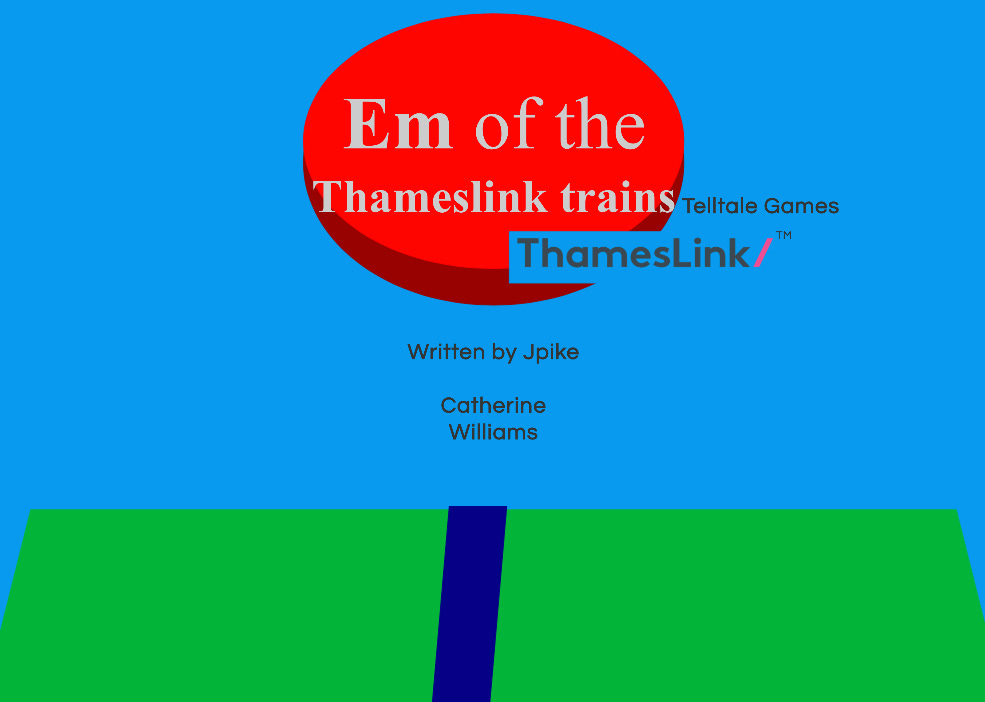 If you were to take the book on its own terms, then it uses many techniques of the "found poem" form but also mashes up or enjambs an old folk story trope with modern - hyper-modern even - characters.

Or, it's a young boy's spark of creativity given book expression.

☪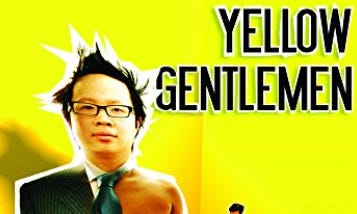 I've re-issued my 2006 play, Yellow Gentlemen (4 stars in Time Out and is one of my more personal works about the night immigrant Tommy Lee is dying). Buy it for laughs on Kindle for the price of a coffee. All profits to charity. I've only sold a few copies at the price of a coffee - 1.99.

☪
The Places in Between is a travel narrative by British writer and (as of 2018) UK Member of Parliament Rory Stewart, detailing his solo walk across north-central Afghanistan in 2002. The below is the Minaret of Jam that he came across. You can listen to my 45 min radio play based on his book here: www.thendobetter.com/places-in-between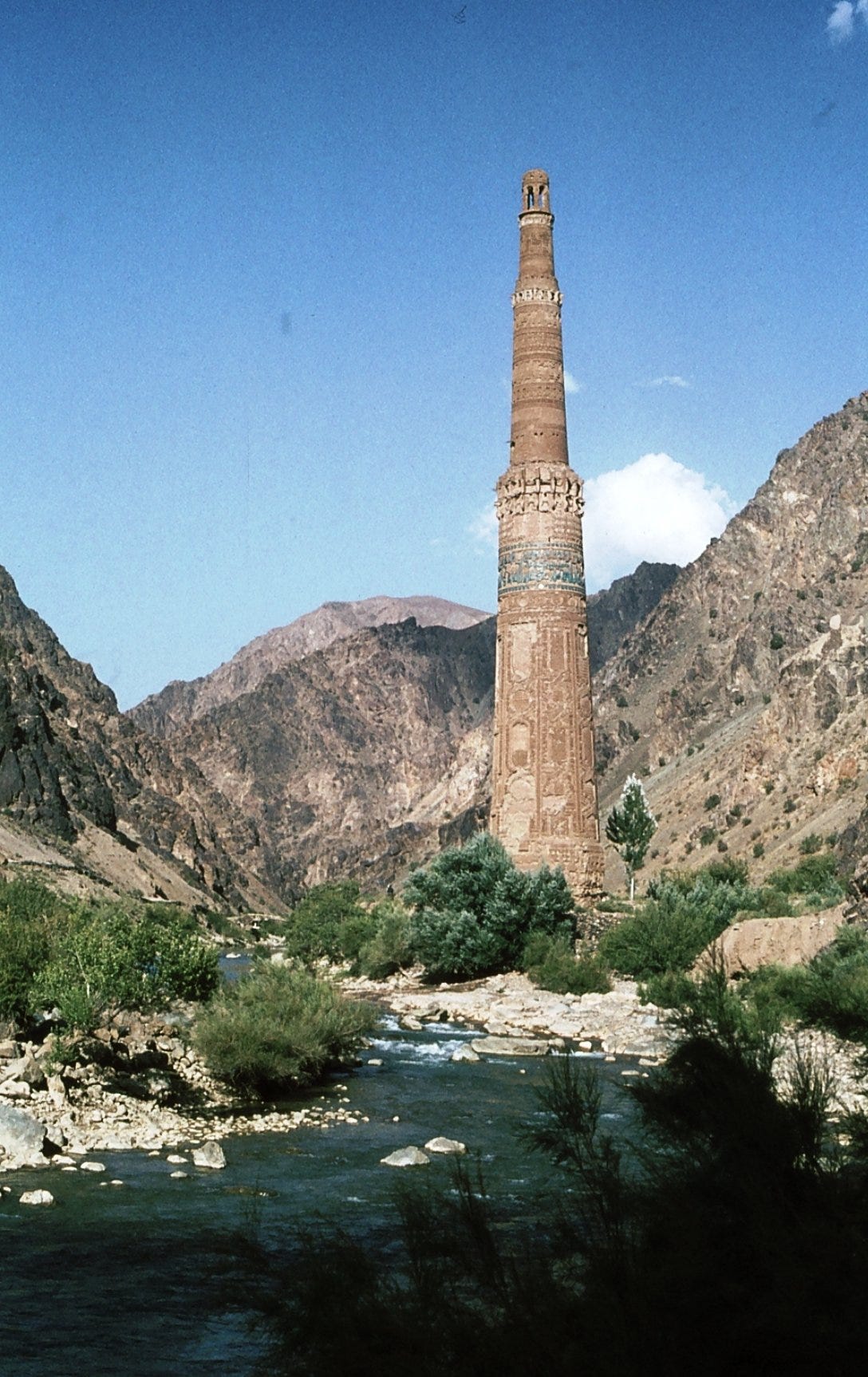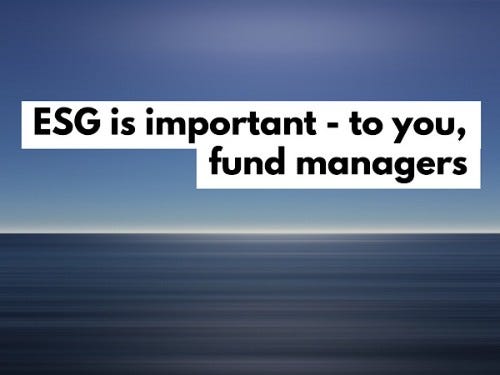 "...Through a long-term orientation and stewardship, this is the time for active investment managers to show their worth. It starts with asking the right long-term business questions. Some companies are giving us answers, but are we really listening?"
My full opinion article in the FT. (3 mins, behind paywall, but you get a free article or email me and I can send you a copy)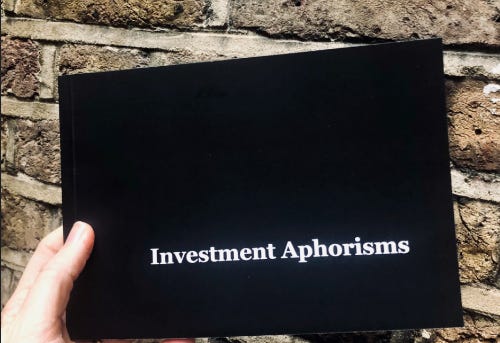 Find out more about my aphorism book and contact me for a copy.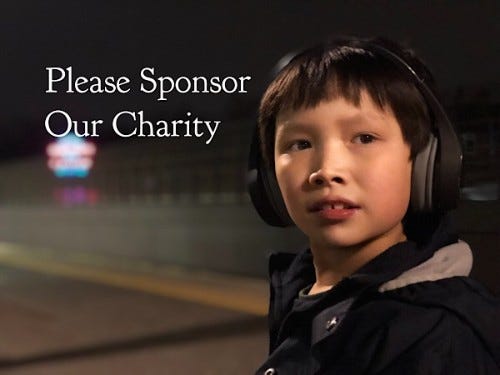 We've help found Focus West London, a Saturday club for autistic children. Children learn vital play, social and language skills in a fun and child-centred environment. Every child is provided with a volunteer therapist trained in a highly effective behavioural intervention. It's a difficult climate for charitable organisations like Focus, so your donation really matters.

Details are here. THANK YOU!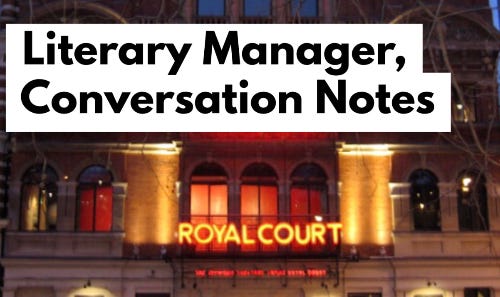 Notes from a conversation with former Royal Court Lit. Manager.