Mingle | IQ swindle |  Scratch  |  Playwright interview | NHS |  Boston trip  |  Do things that don't scale.

Hi
↠Mingle + Backstage Tour, Unicorn Theatre, May 9
↠Scratch performance, me, Apr 5
↠Interview with Bisola Alabi, writer
↠NHS good outcomes, on low amounts of money
↠IQ is a swindle, Nassim Taleb
↠Small win for ASD and DVLA
↠Do things that don't scale, Start-up advice
↠Being 97, a philospher short documentary
↠Link to my radio play: Places In Between
Links:
-He filmed the killing of Eric Garner—and the police punished him for it
-A conversation about writing novels that have roots in reality.
-The well-made play and the play made well
-UK Grants for Arts; Radio Drama funding,
-ShareAction needs Trustees

Here is your dose of life and thoughts completely not related to Brexit and other nonsense.
Deliberate practice. Practice is a major technique for becoming better at - well - almost anything.

I think it keeps us most alive when we challenge ourselves to do something new.

To this end I invite you to come and see a scratch performance of our performance lecture "A Guide to Saving the World". A scratch is a little like an open rehearsal where, you, the audience, can give direct feedback to me and David about what is good and not so good about our performance piece. I am pretty much never on stage, so it is something new for me which I will have to practice! It's likely to be 5 April (save the date), more details shortly or email me.

Other dates to note: On March 21 I'm holding a small Sustainability Meet up in London, sign up here. Unlike a mingle this is more for those with a Sustainability theme.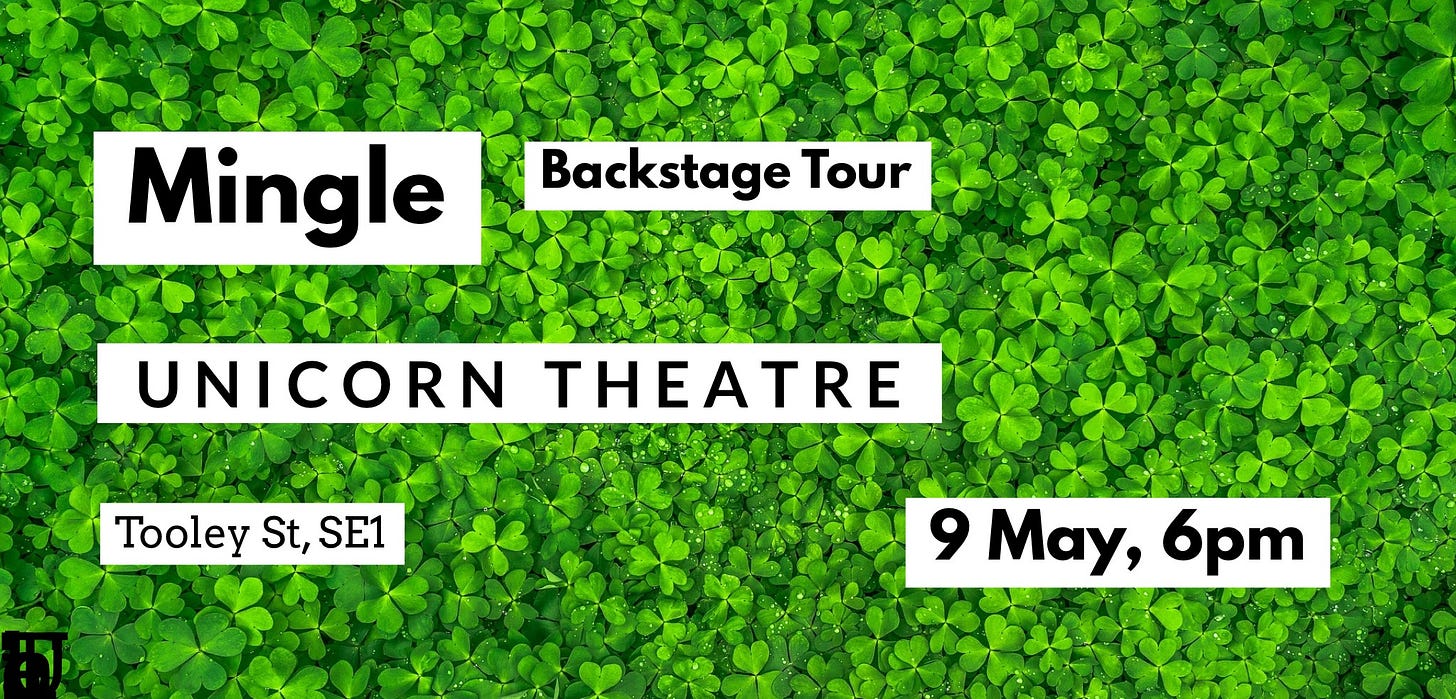 Talking about the Mingle, next one is pencilled in for 9 May at the Unicorn Theatre. There will also be a backstage tour. Amazing! So if you've never been to one of Britain's leading theatre's for young people, you should come check it out. Free sign up (feel free to send this link on to friends): https://mingle-unicorn.eventbrite.com
Date change: My performance lecture with David Finnigan is now scheduled for 17 June, 6.30pm, Museum of London. Guide to Save the World. (This is what I'm scratching for, keep the 17 June date free)
***
I was in snowy Boston this week. I was at a major investor conference for healthcare biotechnology. I also hosted a dinner with sustainability thinkers.
The world of biotech innovation continues apace. We are inventing techniques and products that 10 years ago we would have considered science fiction. Issues of cost aside, these inventions are going to enhance human health and well-being. This has been a multi-decade year trend and I remain hopeful that many of these technologies will continue to enhance human health for the next 10 to 20 years onwards. ...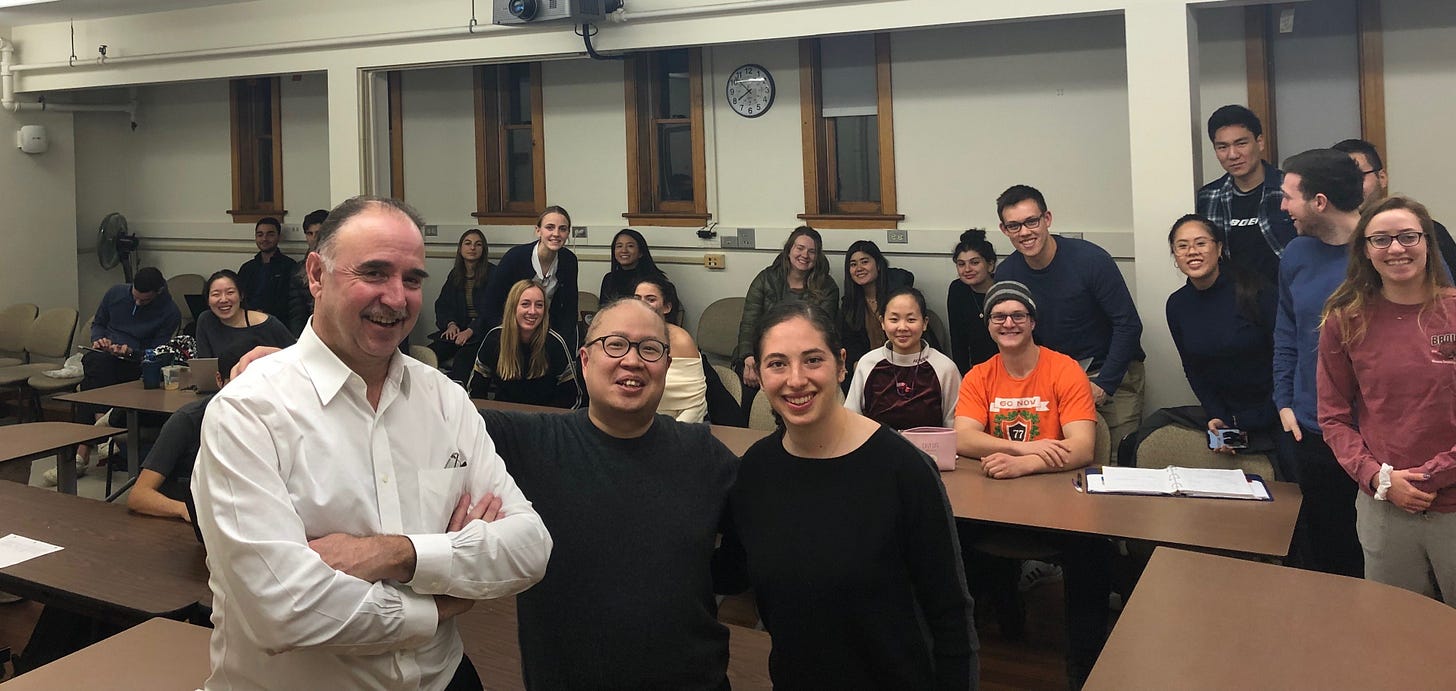 Back to School! I also gave a guest lecture as part of Cary Kronsinky's Brown University Class on Sustainable Investing. I believe the next generation will continue to surpass the one before, as it should be.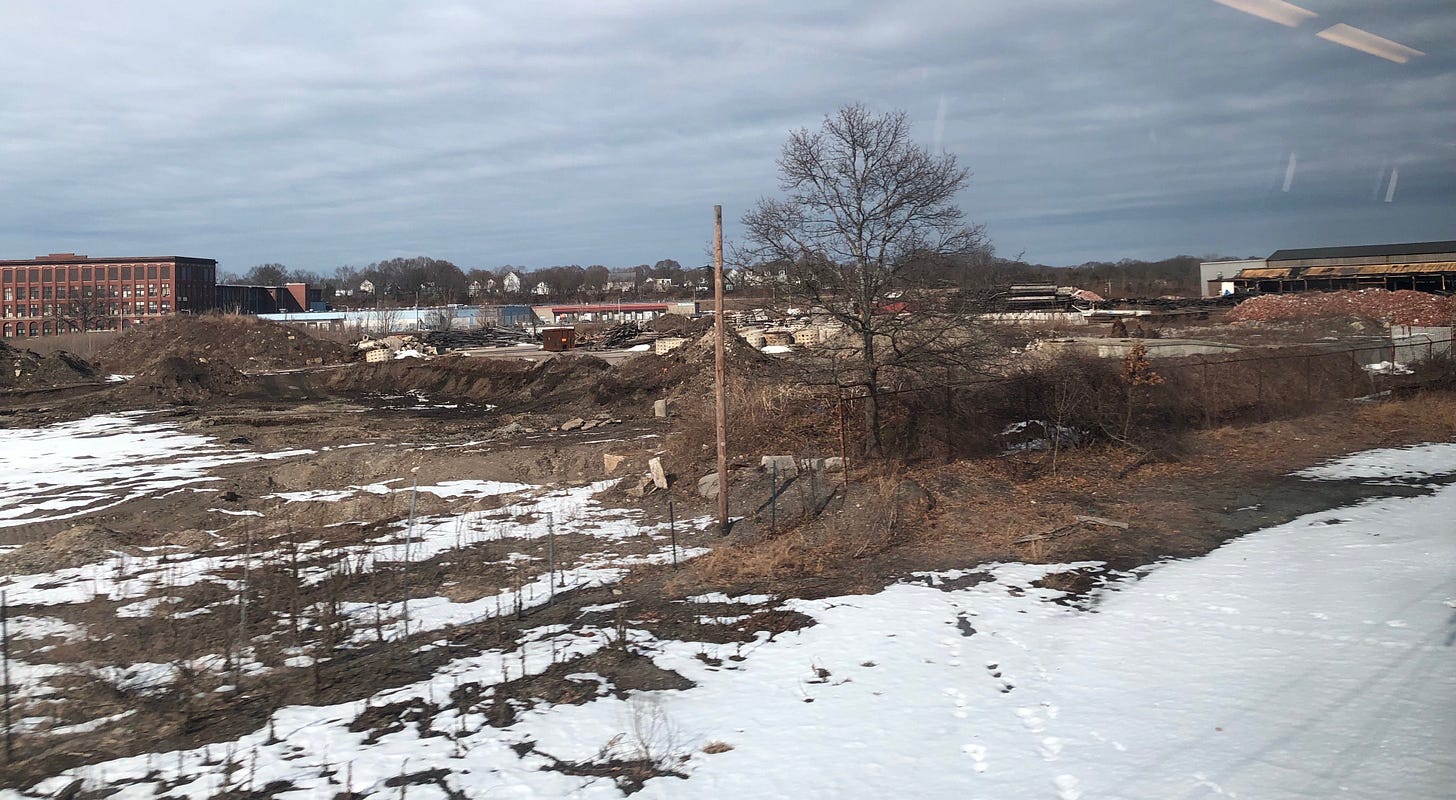 The train ride between Boston and Providence is conflictingly beautiful in the snow. Industrial complexes turned a clean white. Blue skies, painted wooden houses. Dilapidated factories. Cars and cars and cars. A glimpse of the American Dream.
***
I conducted an interview with playwright Bisola Alabi. This is ahead of her work in progress showing at the Bush Theatre on 21 March.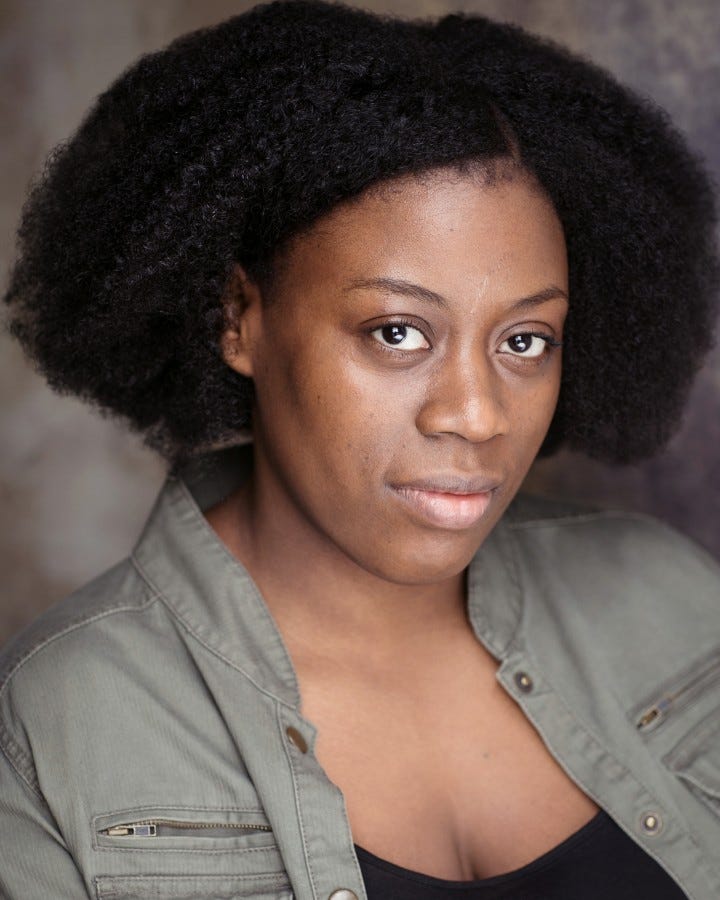 What would you say to a more dominant culture which may not authentically portray stories about black women, about disability, about themes which interest you ?
I would say - try to imagine being in our shoes and having all the amazing stories that they have created for themselves dwindled down to something that doesn't truly give you justice, full range and perspective of their experiences and seeing how that greatly affects them in the wider world. Our understanding of the world mainly comes from the media in all its forms. Imagine having all your stories taken away from you.
Check out the interview here 3-5 mins: https://www.thendobetter.com/arts/2019/3/11/bisola-alabi-playwright-interview
***
I was asked about how well I thought the UK's NHS has done in the last 50 years. Very well it turns out.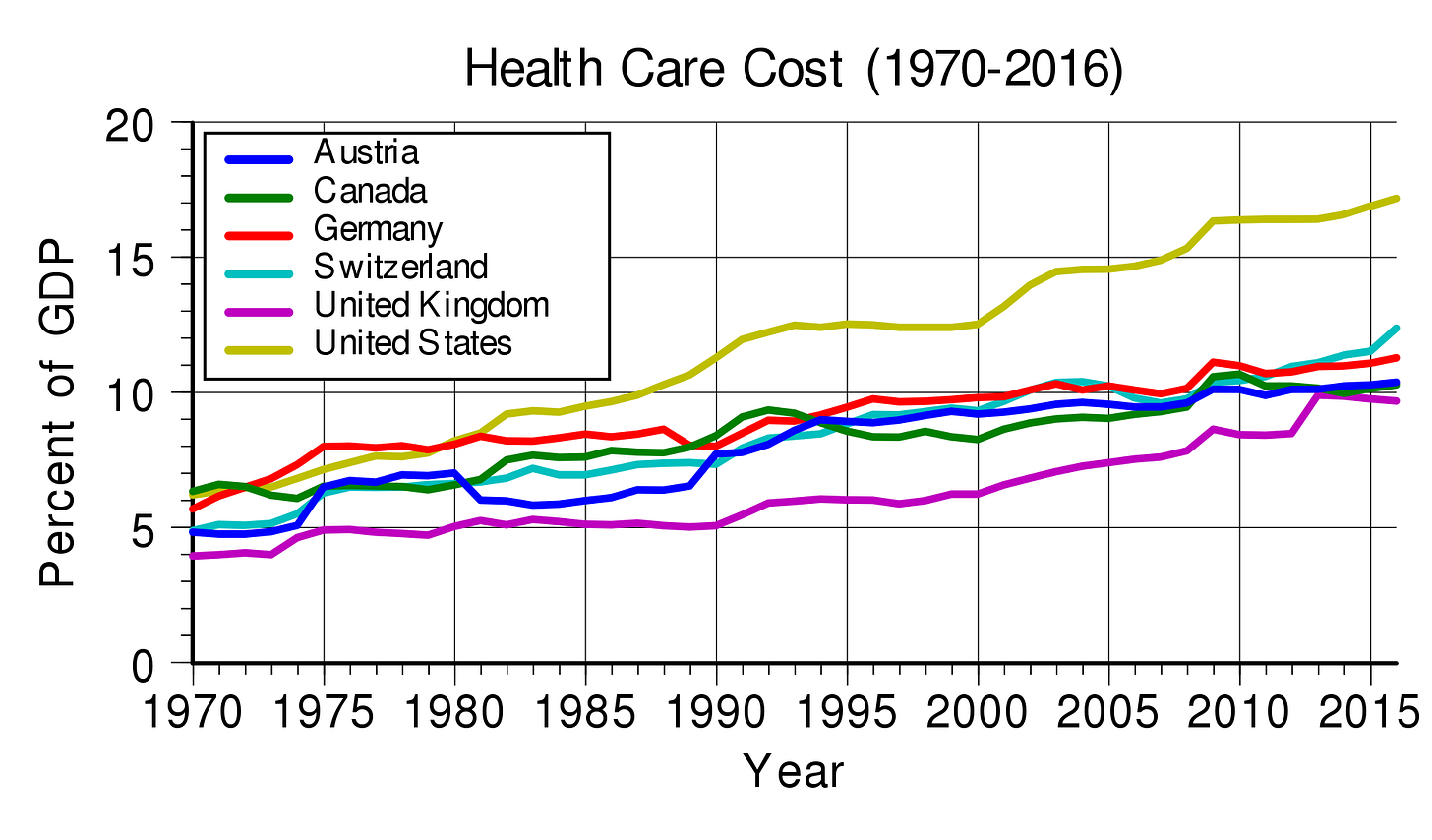 While exact comparative data is hard to find my overall conclusion is that the UK has spent somewhere between 2% to 4% of GDP less than other OECD countries but have achieved health outcomes that are at least average if not above average compared to the OECD. This is a lower amount of spend in the region of perhaps £1 trillion cumulative over 50 years. Going forward, I think it will be difficult to achieve similar, on such a low base although the NHS number system and population health programs could help.

2 min blog on some high level data here.
***
I am largely with Nassim Taleb on IQ. It is largely a Swindle, at least in how proponents typically use it.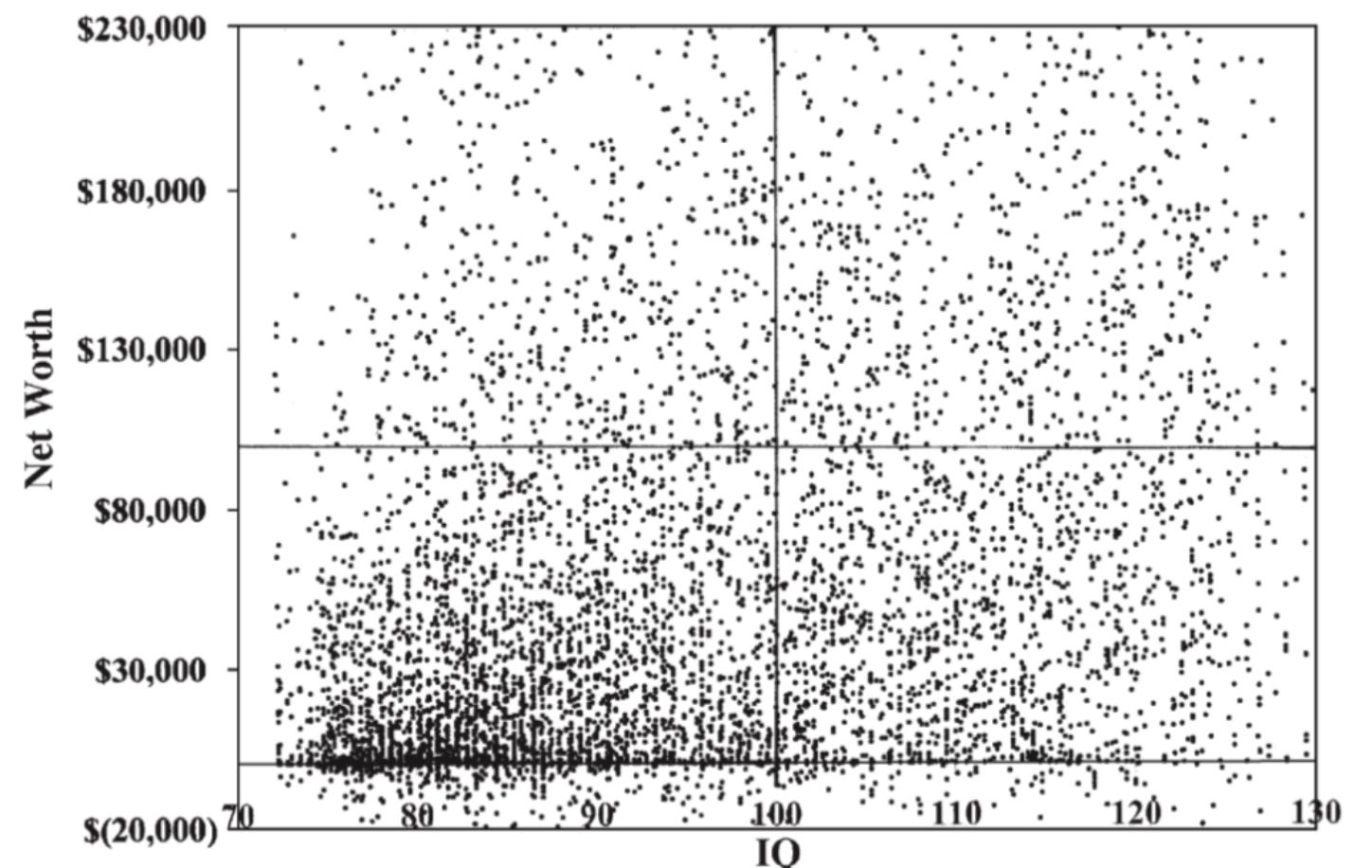 ""IQ" is a stale test meant to measure mental capacity but in fact mostly measures extreme unintelligence (learning difficulties), as well as, to a lesser extent (with a lot of noise), a form of intelligence, stripped of 2nd order effects.
Designed for learning disabilities, and given that it is not too needed there [ ] it ends up selecting for exam-takers [note I am one of these, being very good at exams!!], paper shufflers …
The concept is poorly thought out mathematically by the field (commits a severe flaw in correlation under fat tails; fails to properly deal with dimensionality; treats the mind as an instrument not a complex system), and seems to be promoted by racists/eugenists…psychometrics peddlers looking for suckers … It is at the bottom an immoral measure that, while not working, can put people (and, worse, groups) in boxes for the rest of their lives... 3 min blog here.
***
In a small win for people power, the UK driving license authority recently retracted the wording on its policy that suggested that autistic people had to disclose their autism even if it did not impact their driving. Yay.
***
Do things that don't scale: If you are interested in start-ups here is some super thoughtful advice from Paul Graham who runs Y-combinator.

"One of the most common types of advice we give at Y Combinator is to do things that don't scale. A lot of would-be founders believe that startups either take off or don't. You build something, make it available, and if you've made a better mousetrap, people beat a path to your door as promised. Or they don't, in which case the market must not exist.
Actually startups take off because the founders make them take off. There may be a handful that just grew by themselves, but usually it takes some sort of push to get them going. A good metaphor would be the cranks that car engines had before they got electric starters. Once the engine was going, it would keep going, but there was a separate and laborious process to get it going...." read his whole piece here: http://paulgraham.com/ds.html

***
The Verge | He filmed the killing of Eric Garner—and the police punished him for it. The story of Ramsey Orta is one of continued and unending police harassment.
Me: Wow. What an investigative story and worrying about US police culture.
https://www.theverge.com/2019/3/13/18253848/eric-garner-footage-ramsey-orta-police-brutality-killing-safety
Longreads | Sari Botton, The Truth About Writing Fiction From Your Life
A conversation about writing novels that have roots in reality.
Me: Thoughts from writers on the non-fiction narrative process crossed with the fiction from life way of writing. https://longreads.com/2018/03/02/the-truth-about-writing-fiction-from-your-life/

The well-made play and the play made well, by Maddy Costa. Me: Maddy Costa, critic and maker, explores in conversation the "well-made" play. An insightful long read from maker and critic Maddy Costa, into what many theatre makers think about the "well made" play structure today taking into accounts ideas about what makes that traditional concept (although I find it interesting no one mentioned Artistotle's Poetics) and how other play forms and collaboration forms work.
It also recalls the podcast between David Eldridge and Chris Goode and the series of blog they had going over 10 years ago, where Chris makes work typically not from a writer-centric view.
https://www.thendobetter.com/arts/2018/6/23/david-eldridge-chris-goode-in-conversation
https://www.writeaplay.co.uk/the-well-made-play-and-the-play-made-well-by-maddy-costa/

***
Sorry To Bother You by danhett | a videogame about technology and journalists. "When Dan Hett's younger brother Martyn was killed in the Manchester Arena bombing, he embarked on a trilogy of autobiographical experimental video games about the experience and its aftermath" Play the game: https://danhett.itch.io/sorry

Read insightful Guardian review: https://www.theguardian.com/games/2018/apr/26/dan-hett-indie-games-designer-manchester-arena-bombing

Me: I recall making a moving poem in flash to express the grief and loss I felt, when I used my father's old shaver (he had died in the last year, now almost 20 years ago) and I believe games and game making art both technology enabled or analogue are an important part of human expression and art.
***
'Being 97 has been an interesting experience.'By the time of his death, the US philosopher Herbert Fingarette (1921-2018) had lived what most would consider a full and meaningful life. His marriage to his wife, Leslie, was long and happy. His career as professor of philosophy at the University of California, Santa Barbara was both accomplished and controversial – his book Heavy Drinking (1988), which challenged the popular understanding of alcoholism as a progressive disease, was met with criticism in the medical and academic communities. In a later book, Death: Philosophical Soundings (1999), Fingarette contemplated mortality, bringing him to a conclusion that echoed the Epicureans: in non-existence, there is nothing to fear. But as Being 97 makes evident, grappling with death can be quite different when the thoughts are personal rather than theoretical. Filmed during some of the final months of Fingarette's life, the elegiac short documentary profiles the late philosopher as he reflects on life, loss, the many challenges of old age, and those lingering questions that might just be unanswerable.

A provoking short video documentary (17 mins): https://www.thendobetter.com/arts/2019/3/7/on-being-97-years-old

***
Funding for radio drama / Audible
Audible has announced the establishment of fund up to $5 million ("Theater Fund") dedicated to the commission and development of innovative English-language works from playwrights around the globe. The fund will support the creation of one- and two-person audio plays driven by language and voice, in keeping with Audible's core commitment to elevating listening experiences through powerful performances of brilliantly composed words.

Me: I think radio drama can be a very powerful form. (I have 2 radio plays which went on BBC Radio, BBC World Service). Radio drama output is done and although podcasts are up, I think this project could yield some interesting work for audible. Plus, writers, it's another possible gig!
https://www.audible.com/ep/audible-theater
☪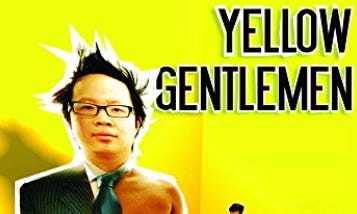 I've re-issued my 2006 play, Yellow Gentlemen (4 stars in Time Out and is one of my more personal works about the night immigrant Tommy Lee is dying). Buy it for laughs on Kindle for the price of a coffee. All profits to charity. I've only sold a few copies at the price of a coffee - 1.99. I will perservere but some good learnings here.... such as not time to leave the other job! (though I see no reason not to run them in parallel).

☪
The Places in Between is a travel narrative by British writer and (as of 2018) UK Member of Parliament Rory Stewart, detailing his solo walk across north-central Afghanistan in 2002. The below is the Minaret of Jam that he came across. You can listen to my 45 min radio play based on his book here: www.thendobetter.com/places-in-between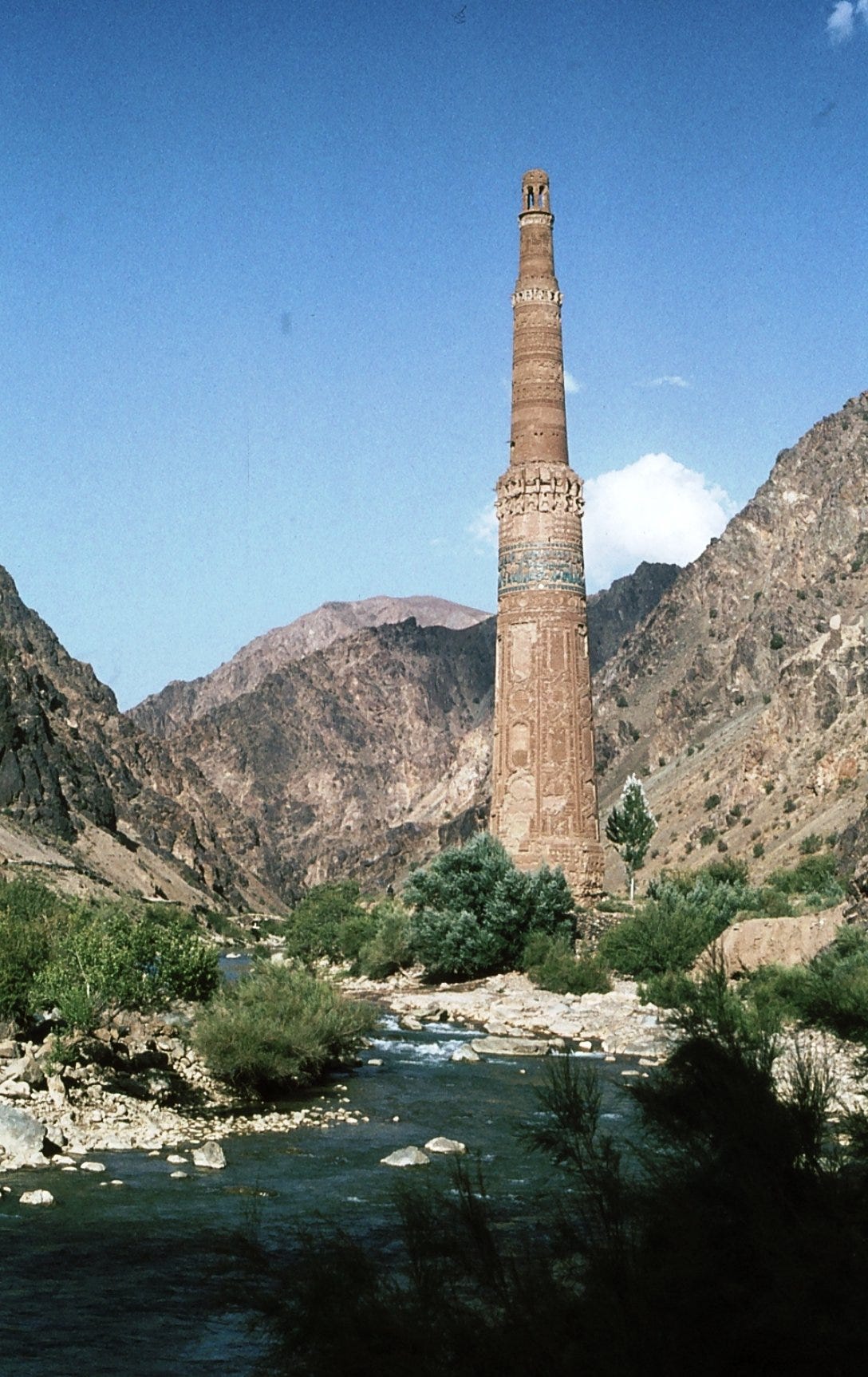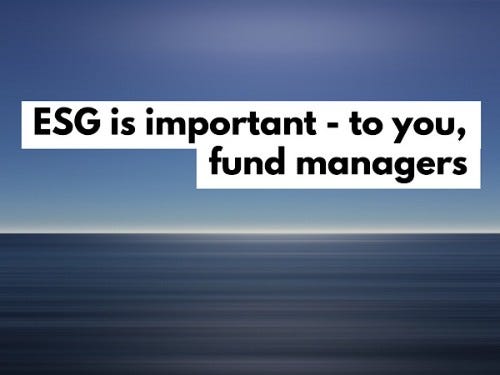 "...Through a long-term orientation and stewardship, this is the time for active investment managers to show their worth. It starts with asking the right long-term business questions. Some companies are giving us answers, but are we really listening?"
My full opinion article in the FT. (3 mins, behind paywall, but you get a free article or email me and I can send you a copy)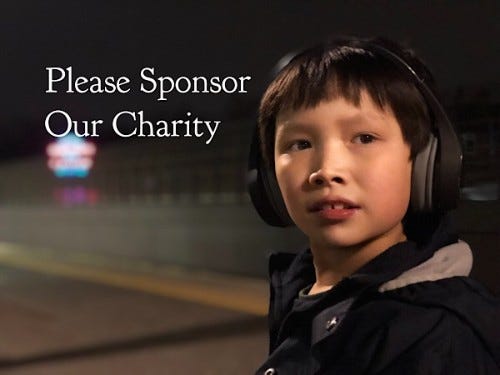 We've help found Focus West London, a Saturday club for autistic children. Children learn vital play, social and language skills in a fun and child-centred environment. Every child is provided with a volunteer therapist trained in a highly effective behavioural intervention. It's a difficult climate for charitable organisations like Focus, so your donation really matters.

Details are here. THANK YOU!