Hi
↠Creativity: Slow-motion multi-tasking
↠Greta Thunberg, climate activist, #ASDAwareness
↠Forty-Five Things I Learned in the Gulag
↠Papers: Climate change impact, human capital assessment
↠Jobs: Stewardship Job, UK;
↠UK govt small funding grants for business and small organisation productivity
↠Links of note: Check for Data Breaches
-Pneumonia & Public Health
-13 years as a Dance Critic
-Billionaire Seth Klarman's Investor letter, NYT
-Why start a start-up?
-80,000 hours to have an impactful career
In honour of of my wonderful different thinking boy (pictured writing in the sand above) I note the passing of the Wii shop channel.

What??!! I hear you think. What's that? The Wii for many millions of people was a break out form of social family gaming with quirks and joy and fun and creativity often at the core.

A vast number of current games in social gaming are tilted to preying on nascent addictive behaviour and predatory designs that tap into strongly wired human learning mechanisms and behaviour. Not that any game is free from inducing dopamine or stimulating the nucleus accumbens of our brains but the Wii for me was a part of gentler age of gaming and its quirky interactions with physical movements and its broader appeal to females made it a positive part of social and relationship "capital".

The Wii was quirky. The Wii shop was a quirky interface. And in terms of design thinking rather than function over form or form and function - I think it embodies the idea of fun for fun sakes and to celebrate the quirky individual of creativity as seen by Miis.
I honour that difference and acknowledge some of us may have lost a tiny part of our souls. (2 min blog) https://www.thendobetter.com/blog/2019/1/31/farewell-wii-shop-channel
***
Of the last couple of weeks, ignoring Brexit, I'm intrigued by how out of touch Davos elites seems to us - 3,500 private jets…. a couple of posts around it. Ray Dalio gives a glimpse of what it's like for him (which is positive: https://www.thendobetter.com/investing/2019/1/25/what-is-davos-like ) but there are plenty of critiques critique (see here:https://foreignpolicy.com/2019/01/22/inside-the-strange-bubble-world-of-davos/ and a speech and critique by Greta Thunberg (below).
Also less we forget we had holocaust awareness recently.
Plus a thought on how very creative people work and various papers and links now back in body of text. Plus stewardship job and funding grants and my typical eclectic range of reading. I also learnt about Spatial Data applications and started reading the FCA/FRC consultations on Stewardship.
***
Tim Harford: ""Different researchers, using different methods to study different highly creative people have found that very often they have multiple projects in progress at the same time, and they're also far more likely than most of us to have serious hobbies. Slow-motion multitasking among creative people is ubiquitous."
"...Slow-motion multitasking feels like a counterintuitive idea. What I'm describing here is having multiple projects on the go at the same time, and you move backwards and forwards between topics as the mood takes you, or as the situation demands. But the reason it seems counterintuitive is because we're used to lapsing into multitasking out of desperation. We're in a hurry, we want to do everything at once. If we were willing to slow multitasking down, we might find that it works quite brilliantly."
Harford has a new Ted Talk address creativity. Harford's recent FT article has already persuaded me to delete a few social media apps and partially take back control.
His arguments on creativity I find persuasive - because I essentially practise what he advises. I have multiple projects slowly on the go (short summary here) and they range across arts, investing and connecting. I have serious hobbies as well.
It is not multi-tasking in the sense of trying to - in the moment - do more than one thing, but it is switching between many projects over time. It also ties into my thoughts on breaking or working across silos of expertise.
2 min blog plus ted-talk
https://www.thendobetter.com/arts/2019/1/27/creativity-be-a-slow-motion-multi-tasker
***
One trait that autistic thinking seems to have more than typical thinking is stubborn focus. This focus borders on what typicals would find too difficult. It can manifest on an insistence on only doing something one way, for instance only drinking out of a certain cup but also an insistence on, say, fighting for the truth.
Autistic thinking can sometimes have a concrete consistent logic that defies the niceties of typical thinking - either social niceties or the (wilful) blindness that typicals exhibit - a tendency to tell the truth as they see it - for example "you are fat" as statement of fact or "we are destroying the planet"
Typicals obviously can display these traits, but I find it notable in the atypical population.
Perhaps, it is unsurprising to note Greta Thunberg, 16 years old is on the autistic spectrum (Asperger's diagnosis) and is a climate activist.
She finds the lack of progress by the Davos' elites as bewildering and the use of airplanes (and meat eating) by those professing to be combating climate change as inconsistent.
Thus displaying a consistent concrete logic by travelling by train, activist campaigns and turning her parents vegan. And with a disregard for Davos social niceties.

3 Min Blog on Climate Activist, Greta Thunberg.
***

Varlam Shalamov claimed not to have learned anything from the Gulag except how to wheel a loaded barrow. But one of his fragmentary writings, dated 1961, tells us more.
Me: Very sobering reading.
1. The extreme fragility of human culture, civilization. A man becomes a beast in three weeks, given heavy labor, cold, hunger, and beatings.
2. The main means for depraving the soul is the cold. Presumably in Central Asian camps people held out longer, for it was warmer there.
3. I realized that friendship, comradeship, would never arise in really difficult, life-threatening conditions. Friendship arises in difficult but bearable conditions (in the hospital, but not at the pit face).
4. I realized that the feeling a man preserves longest is anger. There is only enough flesh on a hungry man for anger: everything else leaves him indifferent….
…15. I realized that one can live on anger.
16. I realized that one can live on indifference.
17. I understood why people do not live on hope—there isn't any hope. Nor can they survive by means of free will—what free will is there? They live by instinct, a feeling of self-preservation, on the same basis as a tree, a stone, an animal….
More here. (Paris Review).
***
Notable recent links. Quick hits

The Department of Business, Energy and Industrial Strategy (BEIS) and Innovate UK have up to £2 million to prove and test ideas that enable small businesses to become more productive.
https://www.gov.uk/government/news/2-million-investment-to-help-small-businesses-to-grow

Me: This is a good idea, but the money given at £2m is appallingly small. Especially considering the admin needed behind the awards. A VC/PE type 3 person decision maker could give out say £50m to £100m (a still tiny drop of funding) better and more efficiently. Andy Haldane at Bank of England has suggest SME productivity may have been large cause of slow UK productivity (though I'm unsure of this), even so if correct then £2m amount is almost farcical. Esp. vs money being spent and the 10,000+ civil servants working on Brexit etc.

Have I Been Pwned: Check if your email has been compromised in a data breach. Have I Been Pwned allows you to search across multiple data breaches to see if your email address has been compromised
Me: Early LinkedIn users have all been breached and a big breach of data has been recently found by security people. This is a bona fide check website though it does also try to sell you more stuff. https://haveibeenpwned.com/

Action not words needed over biggest public health failure of our time: pneumonia Me: I think that antibiotic resistance (AMR) and use, as well as basic hygiene (toilets etc. cf Gates Foundation) are bigger health failures, but the idea is worth a thought. UK Action plan on AMR.
https://www.theguardian.com/business/2019/jan/20/action-not-words-needed-over-biggest-public-health-failure-of-our-time-pneumonia-davos-2019
Leaps and bounds: what I learned in 13 years as the Observer's dance critic. After filing his final dance review last month, Luke Jennings reflects on the transcendent highs and excruciating lows, and his hopes for the future of the art form.
Me: I missed many of these (caught the Pina Bausch). Unsuccessful dance is perhaps even more painful than seeing unsuccessful theatre, but successful dance is transcendent in ways which often defies words.
https://www.theguardian.com/stage/2019/jan/19/luke-jennings-what-i-learned-in-13-years-as-observer-dance-critic-leaps-and-bounds
The Investor Seth Klarman, in a Rare Interview, Offers a Warning. Davos Should Listen. Klarman, a low-key but highly influential investor, believes that shortsighted business practices are imperilling public confidence in capitalism.
Me: Klarman gives interviews rarely and is considered an influential value investor. His warnings chime with some other managers of late eg Ray Dalio (though not some others eg Paulson). Note, I have a copy of this investor letter, email me for a copy if you'd like to read it.
https://www.newyorker.com/news/daily-comment/the-investor-seth-klarman-in-a-rare-interview-offers-a-warning-davos-should-listen
Y Combinator | Why Should I Start a Startup? A lot of people ask themselves why they should start a startup. My answer to why you should start a startup is simple: there is a certain type of person who only works at their peak capacity when there is no predictable path to follow, the odds of success are low, and they have to take personal responsibility…
Me: I think Startups have huge possibilities for impacting the world positively and there are many types of people who don't fit mainstream corporate or NGO or public service world.
https://blog.ycombinator.com/why-should-i-start-a-startup/
80,000 Hours: How to make a difference with your career. You have 80,000 hours in your career. How can you use them to make a difference?
Me: If you're interested in impact, but want a wider pool of ideas to work on. Try the ideas in this non-profit company. Very detailed and thorough.
Stewardship Manager Job. An experienced and entrepreneurial Stewardship Manager will be a key hire in LGPS Central's Investment Team. Working in an RI-integrated investment function, the Stewardship Manager will have responsibility for the design and delivery of an Annual Stewardship Plan which supports the Company's investment objectives and delivers for our partner funds. Based London/Midlands. Deadline 20 Feb. Detailed job spec here: https://www.responsible-investor.com/images/uploads/reports/20190117_LGPSCentralStewardshipManager.pdf
***
Long-term impacts of exposure to high temperatures on human capital and economic productivity:
"Weather anomalies have a range of adverse contemporaneous impacts on health and socio-economic outcomes. This paper tests if temperature anomalies around the time of birth can have long-term impacts on individuals' economic productivity. Using unique data sets on historical weather and earnings, place and date of birth of all 1.5 million formal employees in Ecuador, we find that individuals who have experienced in-utero temperatures that are 1 °C above average are less educated and earn about 0.7% less as adults. Results are robust to alternative specifications and falsification tests and suggest that warming may have already caused adverse long-term economic impacts."
☪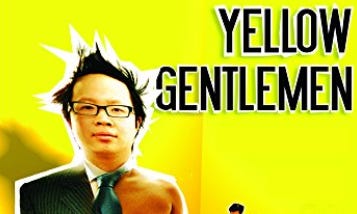 I've re-issued my 2006 play, Yellow Gentlemen (4 stars in Time Out and is one of my more personal works about the night immigrant Tommy Lee is dying). Buy it for laughs on Kindle for the price of a coffee. All profits to charity. I've only sold a few copies at the price of a coffee - 1.99. I will perservere but some good learnings here.... such as not time to leave the other job! (though I see no reason not to run them in parallel).

☪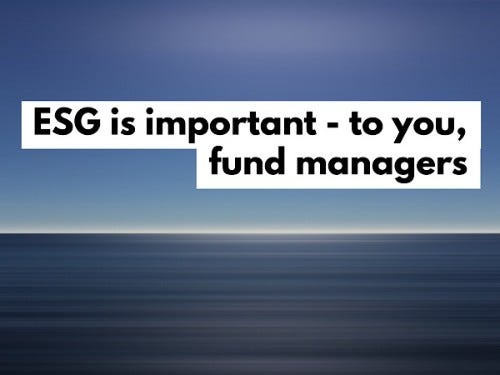 "...Through a long-term orientation and stewardship, this is the time for active investment managers to show their worth. It starts with asking the right long-term business questions. Some companies are giving us answers, but are we really listening?"
My full opinion article in the FT. (3 mins, behind paywall, but you get a free article or email me and I can send you a copy)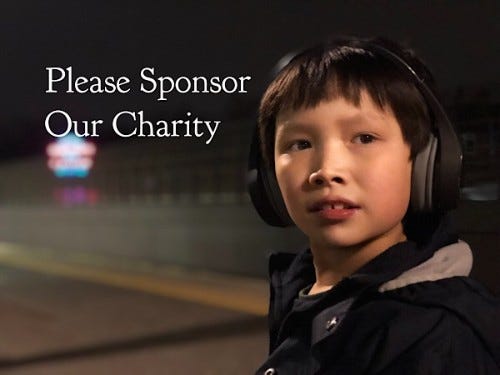 We've help found Focus West London, a Saturday club for autistic children. Children learn vital play, social and language skills in a fun and child-centred environment. Every child is provided with a volunteer therapist trained in a highly effective behavioural intervention. It's a difficult climate for charitable organisations like Focus, so your donation really matters.

Details are here. THANK YOU!