Hi
-Thanks for coming to the mingle
-Amazon 4* Physical Store
-Sushi master
-Purpose of theatre
-ESG & SEC
Thanks to all those who came to mingle. It was fun. If you know others who might like to join, ask them to sign up to the blog.

I'm going to slow down on blogs for the rest of the year as I'm going to spend some time on a few other projects. (1) Notes for a possible new play (2) Learning and experimenting with casting (I'd like to be able to cast this head, see below, and other objects) and (3) working on a part of a ESG teaching text and (4) finishing off some investment aphorisms. Happy to hear your ideas on any of that.
☪
I was in New York for the week. A little like San Francisco, I found it a city of contrasts and contradictions. These seem embedded in its physical architectural as well as its social structures along with the stereotypical ambition and energy.
I saw, in Brooklyn, visiting friends, the shiny new skyscapers and beautiful wooden floored apartments soaring up, and the human scale older houses, slowly retreating along with the antique bric-a-brac stores. Change is happening continuously here. In some ways, it's surprising it hasn't happened sooner in Brooklyn - with only a recession the likely temporary pause in potential sight that I forsee (I don't see a recession soon).
I noted all the table clearing bus-folk still are BME, like in San Francisco. Marketing for consumerism is all-encompassing. Food waste is rife. Food is no longer as cheap as I recall it against London prices, although that might be memory and currency.
The subway infrastructure is worse than anywhere I've seen in Europe for major cities (or for the developed parts of Asia I've been to). It needs investment.
South Manhattan is very exposed to climate-related physical risks. That's several billions of $ of unbudgeted for capex there.
I almost went to some comedy, but I was tired and it was a trek and there were almost no women on the bill. The race schism and the MeToo schism is a very live battle from where I could see.
It was busy! I don't see any signs of a consumer-led recession in NYC at least, I had the impression that labour remains tight (Amazon raising min. wage for many reasons). This puts us more likely late business cycle but not end of cycle yet. I did make 3 observations on (1) biotech investing, (2) new Amazon store and (3) a sushi master.
Medical and biotech innovation continues apace with new innovation still occurring. Some larger older segments (eg blood pressure) are not good innovation areas any more, but many segments still need innovation and it's happening.
☪
The new Amazon 4 Star store - not a revolution but still novel.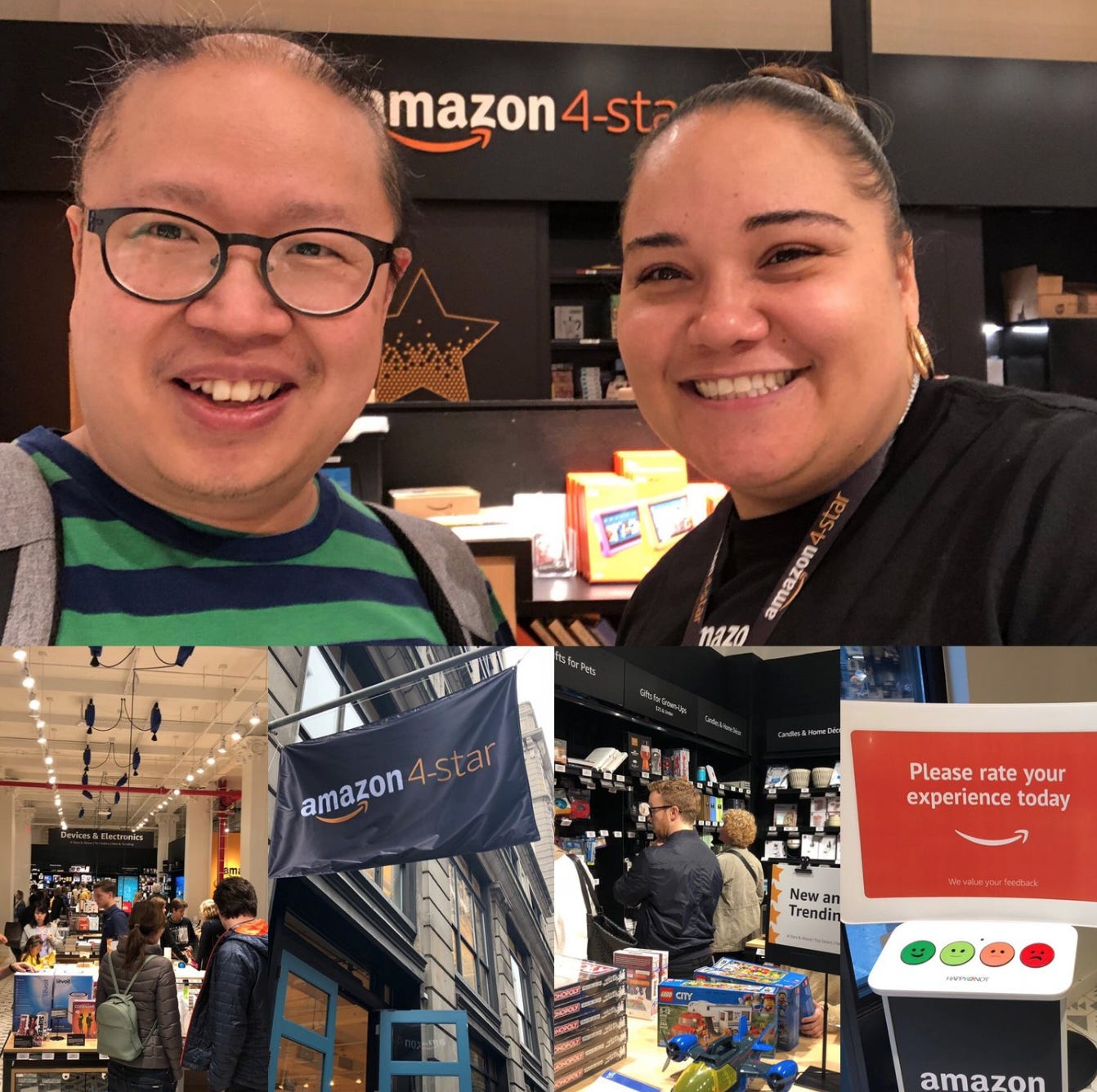 Revolutionary Store concept? No. Did I come away with ideas? Yes. Did I buy anything? Yes. The Amazon 4-star store has echoes of its website. It's been open a week or so in NYC.
A strength of the site, is how it nudges you to products you might buy/like based on other products or what you've bought before.
This mix brings new ideas to the idle browser (like me) but has little for the targeted shopper in store.
Amazon basics, products in full force along with an eclectic mix of best sellers. Sous-vides and air fryers near smart switches and kids toys. I've always wanted to see what the sous vide and air fryer looked like in real life and how much space they would take, so that was useful.
There was also a section for "trending in NYC" which seemed to be the Crazy Rich Asians book.
No fancy checkout or revolutionary store design. (In fact baskets and shelving seemed decidedly low cost Cf. No checkout grocery concept)
The customer service factor was apparent with a satisfaction machine present and helpful staff.
I sense there will be more evolutionary stores and an international offering coming soon. Shop was fairly full of people although not too much buying and nothing you couldn't get online!
☪
Sitting at a Sushi master's bar, I find it hard to begrudge the eye-watering price (I'm sure that will be later).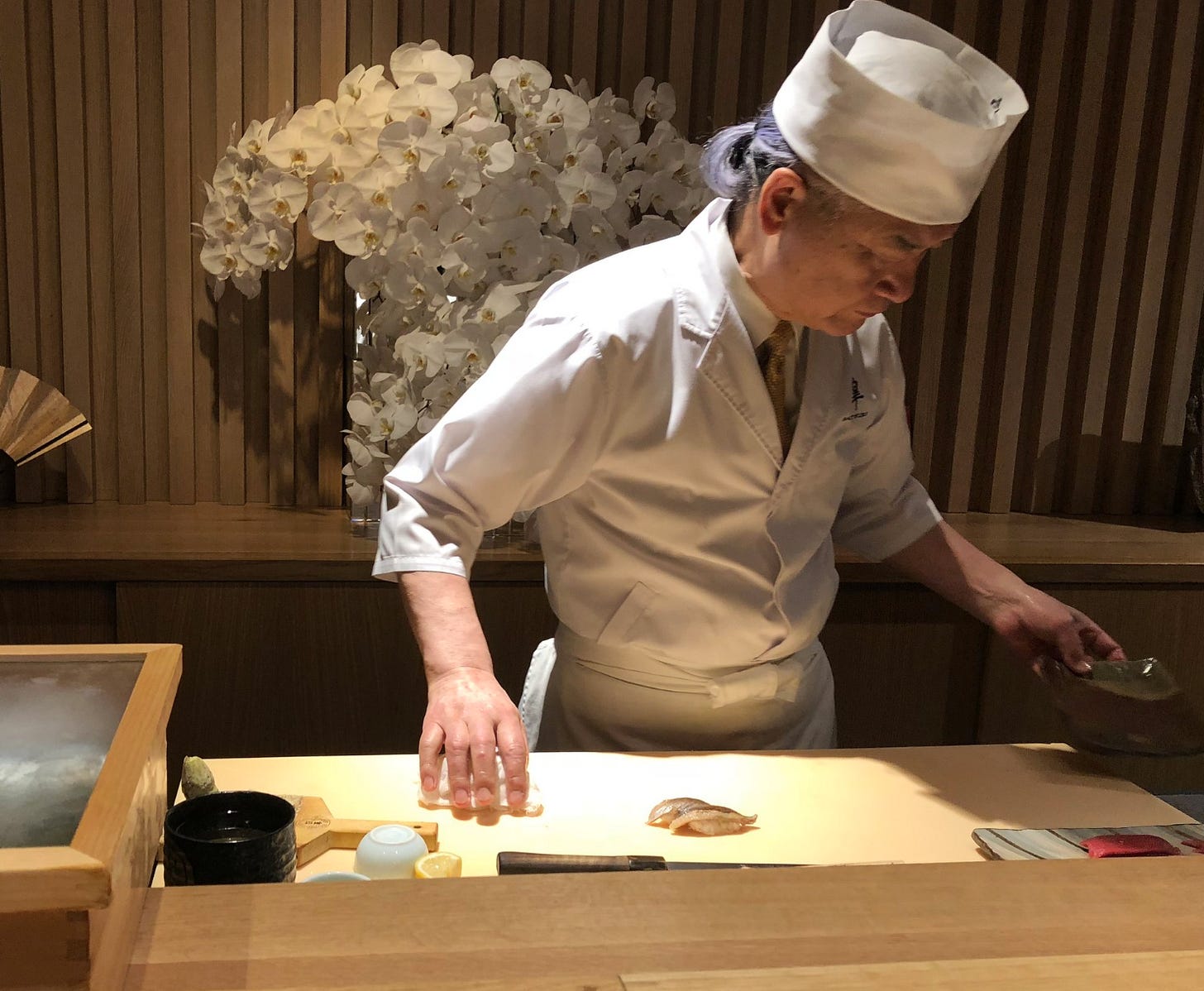 The dishes are art.
The making both theatre and art.
The personal interaction you have with the chef in conversation is unique, making it a two-way performance.
...I doubt I will have many more experiences like this in my life time. To speak with a sushi master chef, to eat such variety, so fresh, so expertly prepared right in front of me and handed, hand-to-hand - to have this understanding of how a fish is caught and handled from sea to boat to market to chef. There is also so little waste.

The art here is old, ancient old and after the experience it does trouble me that the money required for such a meal ($250 per person) is out of the world for the vast majority of people. Is it worth missing 30 MacDonald's meals for one meal here? I think if you like sushi and are really interested in the art and mastery of it, then yes I think it is. Experiences live long in the memory. (3 min blog at a sushi master bar in NYC)
☪
I picked up on this Simon McBurney (AD Complicite, world-class theatre ensemble) on the power of theatre:

"...But just as we live in a time of division, and fragmentation, we also live in a time of immense movement. More than at any other time in history, people are on the move; frequently fleeing; walking, swimming if need be, migrating; all over the world. And this is only just beginning....
The present moment is always theatre's subject. Its meanings are constructed in a communal act between performer and public. Not only here, but now. Without the act of the performer the audience could not believe. Without the belief of the audience the performance would not be complete.
We laugh at the same moment. We are moved. We gasp or are shocked into silence.
And at that moment through drama we discover that most profound truth: that what we thought the most private division between us, the boundary of our own individual consciousness, is also without frontier. It is something we share.
And they cannot stop us. Each night we will reappear. Every night the actors and audience will reassemble. and the same drama will be re- enacted. Because, as the writer John Berger says,
"Deep within the nature of theatre is a sense of ritual return", which is why it has always been the art form of the dispossessed, which, because of this dismantling of our world, is what we all are. Wherever there are performers and audiences stories will be enacted which cannot be told anywhere else, whether in the opera houses and theatres of our great cities, or the camps sheltering migrants and refugees in Northern Libya and all over the world.
We will always be bound together, communally, in this re-enactment...." Read his message for Wolrd Theatre day.
☪

Artistic Director, Kate Wasserberg in conversation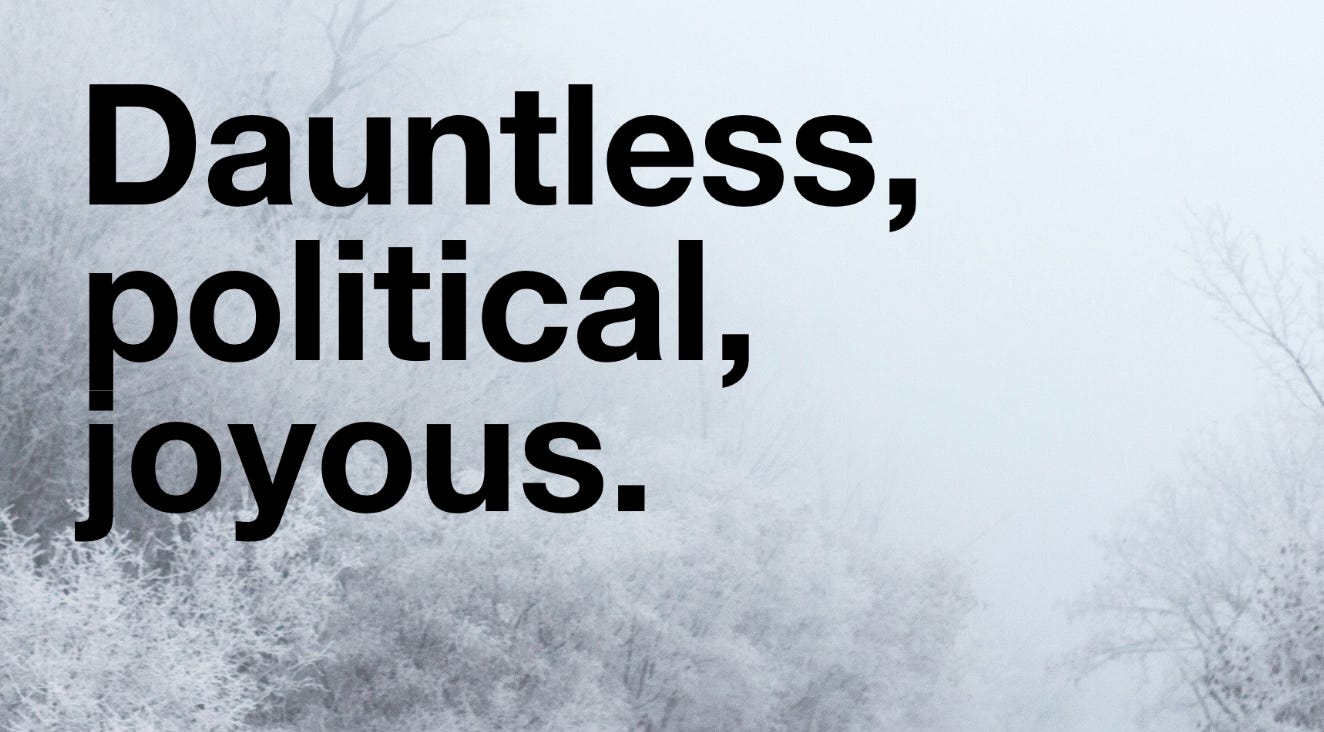 After some mixed feelings in San Francisco on sustainable investment - a mix of blah blah and some real passion and commitment, and a host of contradictions (wealth/homelessness; race) - it was inspiring to see a theatre director so committed and passionate in Kate Wasserberg, now AD of Out of Joint.
Kate was nurtured at Finborough Theatre (where I had my first play, Lemon Love, performed). She takes the ethos of "make it as good as it can be... as if it will be performed anywhere" a Finborough ethos of making work as best as it can be and not settling for "Ok" or "blah blah"... Coming to Kate's work now... it should be:
...without fear (Or what's the point?)
....political (Or what's the point?)
....joyous (Or what's the point?)
Theatre is made by teams.
Not one man. Not one person. It is bigger than that.
Read some fragments and notes on one artist's passion for theatre and the power of performing arts (2-4 min blog).

☪
Quick note on ESG world, the battle in the US is partly drawn on ideological lines as seen in a recent speech by SEC commissioner (Hester Peirce) digging at many ESG ideas although conceding material (ESG) factors should be assessed. She comes down heavily against (immaterial) social-political factors - although allowing for where ESG impacts business - which I think Milton Friedman also allows.
Indeed, academic Alex Edmans recent talk on the responsibility of business, Edmans (who'd be considered an ESG and Purpose advocate) puts emphasis on allowing a business to excel to best meet its responsibilities.

Making a business excel as its purpose - to my mind would be close to a Friedman view. I do think much of this is like light being a wave and/or a particle. It's both, depending on the lens you use. I've been challenged a bit about whether you can put profit/value ahead of eg. staff wages/living and there are trade-offs. You can't serve customers with good value-products if you give too much benefit to suppliers; and if you ding suppliers too much, you eventually end up not being able to serve customers well -- hence excelling at business can sum up that trade-off.
But ultimately serving long term "value" as opposed to simply "cash profit this year" does mean serving your employees, suppliers, stakeholders… well - so I continue to not see much practical difference between serving "value" as Friedman might see it, but not only in the lens of short term profit but through other glasses too, where intangible ESG factors might also be useful.
Link to Edmans talk and SEC commissioner talk.
☪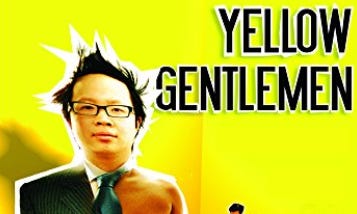 I've re-issued my 2006 play, Yellow Gentlemen (4 stars in Time Out and is one of my more personal works about the night immigrant Tommy Lee is dying). Buy it for laughs on Kindle for the price of a coffee. I'm also learning that maybe book sales aren't a good vehicle for raising money. I've only sold a few copies at the price of a coffee - 1.99. I will perservere but some good learnings here.... such as not time to leave the other job! (though I see no reason not to run them in parallel).

☪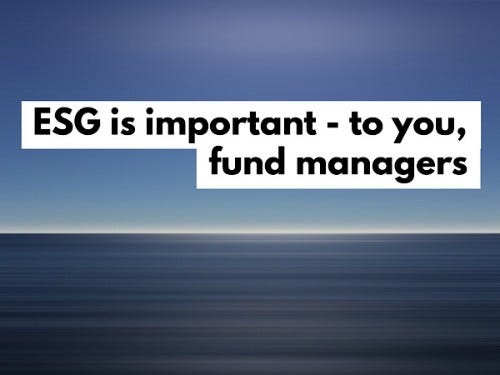 "...Through a long-term orientation and stewardship, this is the time for active investment managers to show their worth. It starts with asking the right long-term business questions. Some companies are giving us answers, but are we really listening?"
My full opinion article in the FT. (3 mins, behind paywall, but you get a free article or email me and I can send you a copy)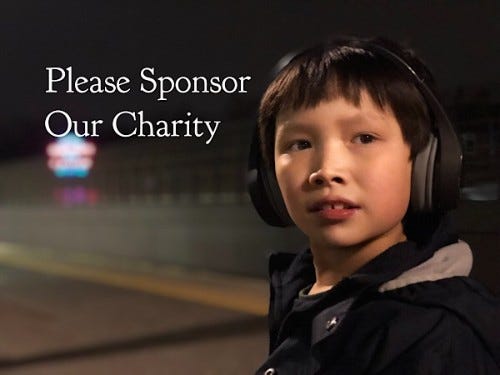 We've help found Focus West London, a Saturday club for autistic children. Children learn vital play, social and language skills in a fun and child-centred environment. Every child is provided with a volunteer therapist trained in a highly effective behavioural intervention. It's a difficult climate for charitable organisations like Focus, so your donation really matters.

Details are here. THANK YOU!