Dying well | Lymington | Literary manager notes | Quant ESG Study| My Book | Mingle

Hi
-Next Mingle 22 August, Young Vic Bar
-Buy my play, Yellow Gentlemen, all profits to charity (only £/$1.99! Um, only sold 4...)
-What is a good death? How to die well.
-Lymington, New Forest, Brexit reflections on local vs global.
-A group conversation with literary manager, Royal Court
-Quant ESG study, looking at tilts (Axioma)
-Arts, Trustee and ESG jobs (inc: Exec Dir, Eclipse Theatre)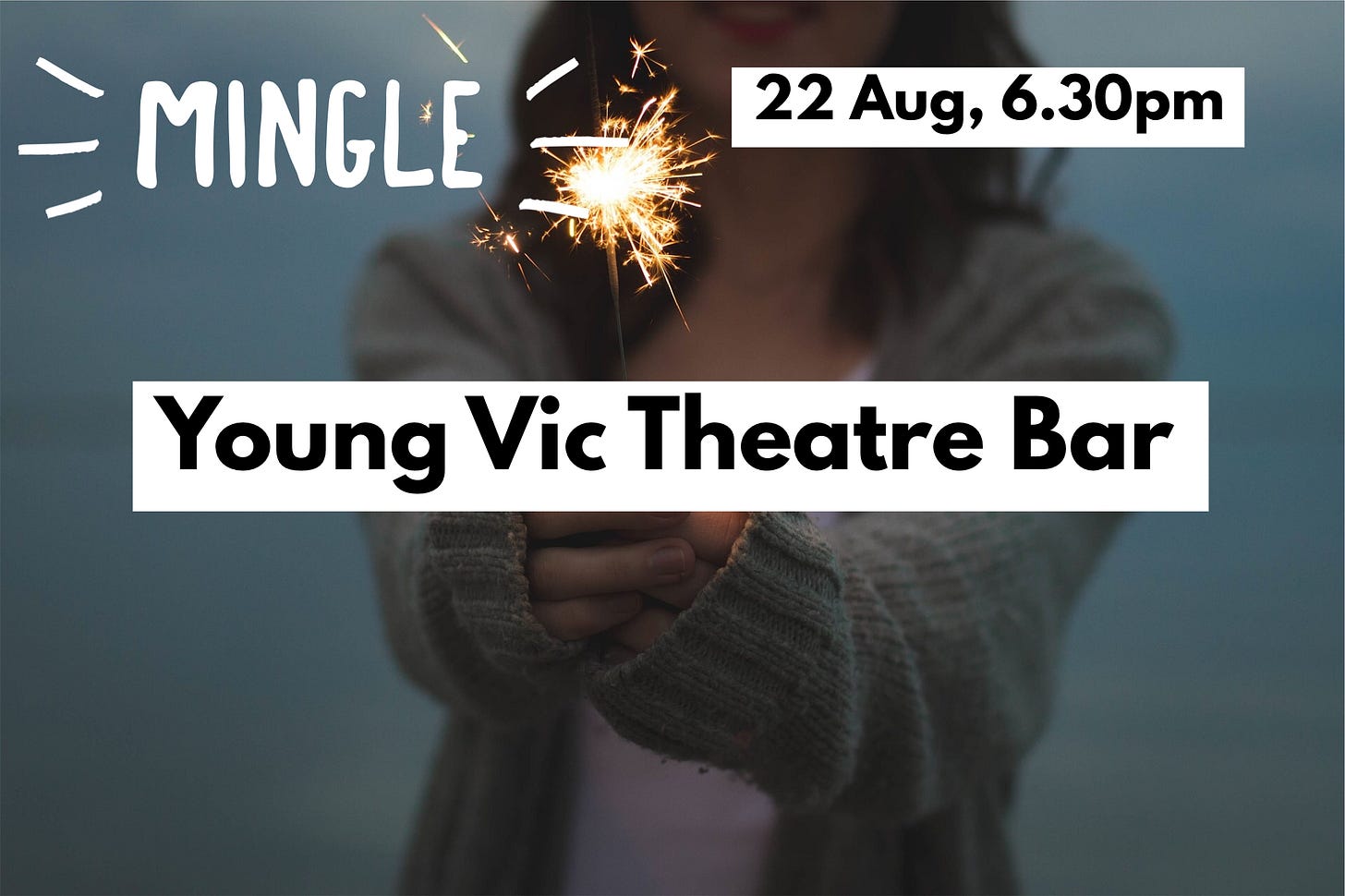 Next Mingle on 22 August, London.
Do come if free and about. Register FREE here. It's about breaking silos…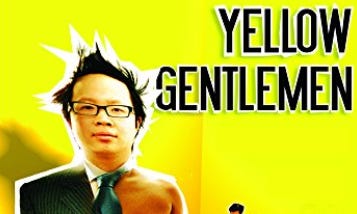 I've re-issued my 2006 play, Yellow Gentlemen (4 stars in Time Out and is one of my more personal works about the night immigrant Tommy Lee is dying). Buy it for laughs on Kindle for the price of a coffee. I'm also learning that maybe book sales aren't a good vehicle for raising money. I've only sold 4 copies at the price of a coffee - 1.99. I will perservere but some good learnings here.

Two small observations that need longer blogs some time. (1) While I have been somewhat skeptical of many parts of social media, especially Twitter, I've come to understand some of its specialisms, e.g. local news, theatre, nature are very good. I particularly think it is very good for "academic twitter" - very helpful and a good trove of otherwise hard-to-know-exist papers. (2) For all I am asked about climate and investment, especially on the supply-side, even clued up people are surprised that 60-70% of the problem is likely demand side e.g. food (go beef-lite or veggie), food waste (it's a big one), transport (fly less long-distance), refridgeration, cooling etc. Plastic is catching the imagination (although straws are not the problem, it's a useful signal) but other consumer behaviours not (yet).

This week's blogs are two personal observations: one on death and another on rural/city; notes from a theatre literary manager, and then a semi-technical look at an ESG study.
*
This book made me cry. Twice. I'm sure it did not mean to.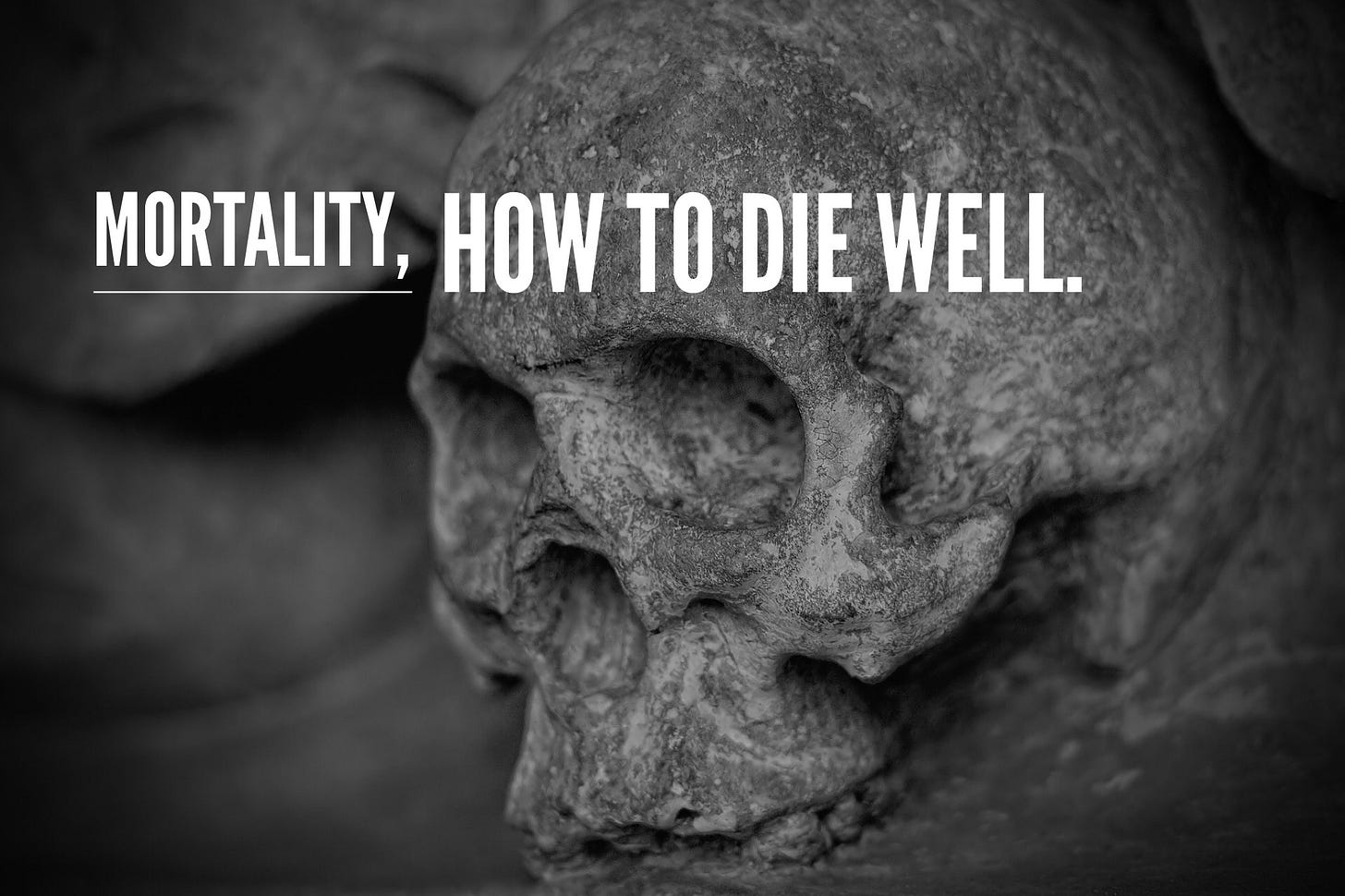 My father had a full life, but a mediocre death. Not a bad death by any stretch, but not a good death. In that he was at home for most of his final years, and that surgery/radiation defeated his cancer long enough to see me finish high school and university, made for a good death but that he spent some of his last days scared, and not easily at comfort, made the very final reckoning mediocre by my count.
When he lapsed into a coma, a harried doctor handed me a Do Not Resuscitate form and awkwardly suggested we consider it. I had no discussion of this with any doctor before but had recalled conversations with my father from several years before (at initial diagnosis). This lack of preparation on how to die well is common as I found in reading Atul Gawande's book Mortality.
"As recently as 1945, most deaths occurred in the home. By the 1980s, just 17 percent did. Those who somehow did die at home likely died too suddenly to make it to the hospital—say, from a massive heart attack, stroke, or violent injury—or were too isolated to get somewhere that could provide help.
People live longer and better than at any other time in history. But scientific advances have turned the processes of aging and dying into medical experiences, matters to be managed by health care professionals. And, we, in the medical world, have proved alarmingly unprepared for it. This reality has been largely hidden, as the final phases of life become less familiar to people.
Across the entire industrialized world, the experience of advanced aging and death has shifted to hospitals and nursing homes."
"Death, of course, is not a failure. Death is normal. Death may be the enemy, but it is also the natural order of things. I knew these truths abstractly, but I didn't know them concretely—that they could be truths not just for everyone but also for this person right in front of me, for this person I was responsible for.
The late surgeon Sherwin Nuland, in his classic book How We Die, lamented, "The necessity of nature's final victory was expected and accepted in generations before our own. Doctors were far more willing to recognize the signs of defeat and far less arrogant about denying them." But as I ride down the runway of the twenty-first century, trained in the deployment of our awesome arsenal of technology, I wonder exactly what being less arrogant really means. You become a doctor for what you imagine to be the satisfaction of the work, and that turns out to be the satisfaction of competence. It is a deep satisfaction very much like the one that a carpenter experiences in restoring a fragile antique chest or that a science teacher experiences in bringing a fifth grader to that sudden, mind-shifting recognition of what atoms are. It comes partly from being helpful to others. But it also comes from being technically skilled and able to solve difficult, intricate problems. Your competence gives you a secure sense of identity.
For a clinician, therefore, nothing is more threatening to who you think you are than a patient with a problem you cannot solve. There's no escaping the tragedy of life, which is that we are all aging from the day we are born. One may even come to understand and accept this fact. My dead and dying patients don't haunt my dreams anymore. But that's not the same as saying one knows how to cope with what cannot be mended. I am in a profession that has succeeded because of its ability to fix. If your problem is fixable, we know just what to do. But if it's not? The fact that we have had no adequate answers to this question is troubling and has caused callousness, inhumanity, and extraordinary suffering. This experiment of making mortality a medical experience is just decades old. It is young. And the evidence is it is failing.
This is a book about the modern experience of mortality—about what it's like to be creatures who age and die, how medicine has changed the experience and how it hasn't, where our ideas about how to deal with our finitude have got the reality wrong…"
I also draw parallels with autism. The parallel with autism is that you want to help autistic people have as a full a life possible, not by doing nothing but not by over medicalising them.
The voice of the terminally ill, their wishes are important - this is recognised and increasingly so. Similarly, we are increasingly aware of the autistic voice itself.

It's yet another area of life that humans would prefer to be blind to.
It's a longer blog read, 5 mins on how to die well, the medicalisation of death, how it impacts healthcare costs, some parallels with the medicalisation of autism.
☪

I took a family holiday break near Lymington, in the English New Forest and I observe and reflect on reasons perhaps why the majority here voted for Brexit.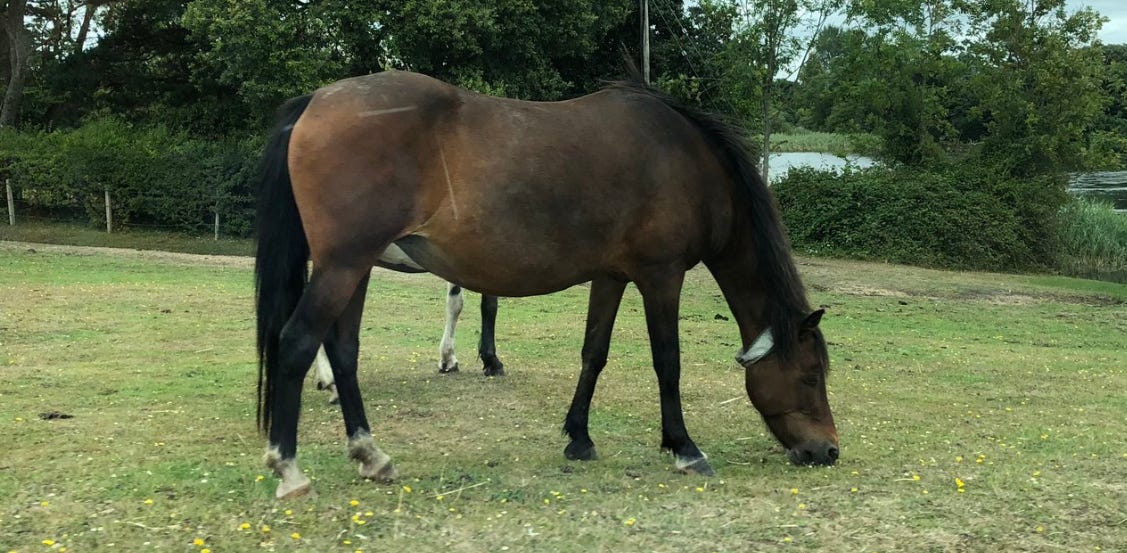 Lymington is a relatively wealthy town. Nestled at the edge of the English New Forest, it has traditions of rural life stretching back centuries. I walked down the high street and it was busy, thriving even - helped by British tourists, there were few spaces to rent, and a mix of independent and chain shops.
For a Londoner, the absences were notable. People of colour were absent. Different languages were absent. Different styles of dress and fashion were mostly absent.
The variety of food was absent. (True, Indian and Chinese were represented as they have been for decades in Britain; the fish and chips were good).
The wealth is based on a marine industry supplemented by tourism and to a lesser extent farming and forestry around the New Forest. … The rural culture is an area that city-dwellers especially Londoners are mostly blind too. In this case, I'm unsure it's wilful (as my Preventable Surprises friend Raj might say), but the concerns of Lymington are not the concerns of London. I draw a parallel with rural Japan, but perhaps rural US and its City coasts is just as apt...
… This is another dimension to what I think will be a defining theme of this century. A localism vs a globalism. Whether globalism will turn into multi-localist or federalist. And how societies end up (if they manage to at all) dealing with systemic externalities and systemic concerns eg climate change, water stress, mass migration, defence.
A 3 min read on some local reflections while on holiday, with a muddy beach picture thrown in.
**
I had the privilege of being part of a group conversation with the Royal Court literary manager, here some are some notes.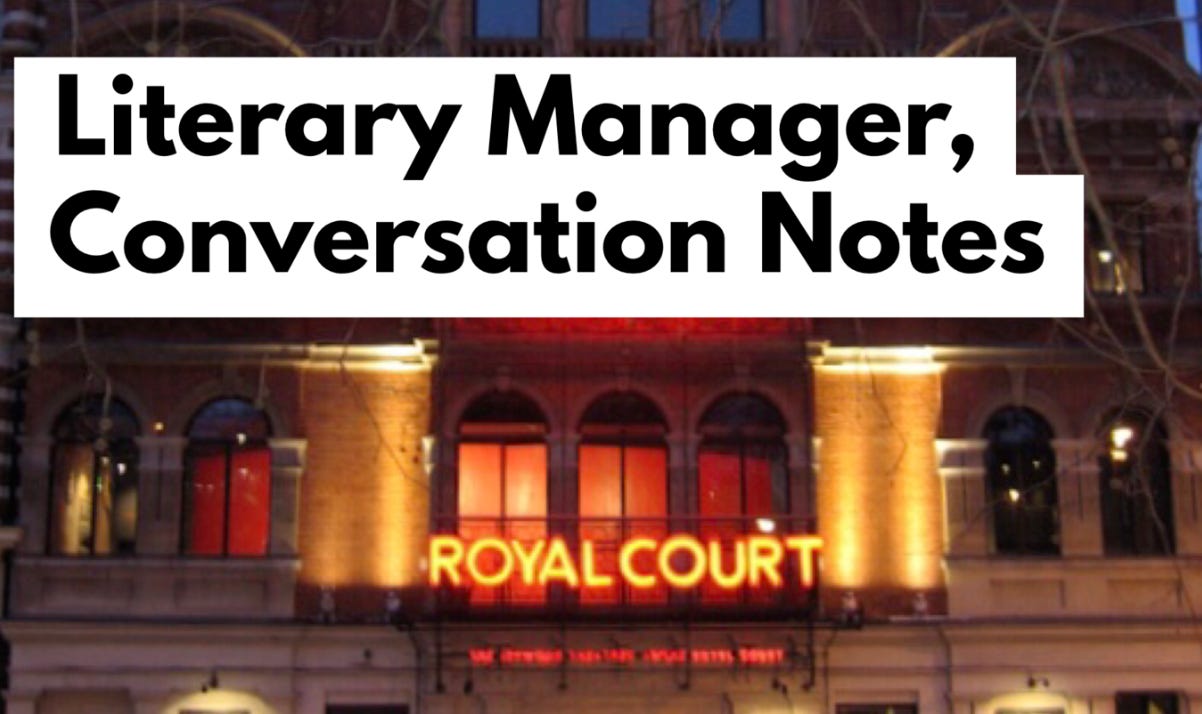 What do we look for in plays? In many ways, we look for, what you look for - a good play! It's fairly true to say Royal Court plays are concerned about "how we live now".
Another aspect of plays, the RC is interested in are plays that question ideas of form and "what is a play" - (Me: Historically this is a question the RC has often raised, and continues to raise under today's artistic management. I have heard it from more than one RC literary manager over my sporadic writing life).
What is policy? Policy is what you programme… one school of thought suggests all that matters is what you put on. But, perhaps, one might risk the work "urgency" when associated with plays RC is looking at - or, in other words, why put this play on now?
(While I hear this fear raised from some writers) Do not fear your work will be read only by a young graduate of a passing 2:1 degree from a respectable university. A panel of professionals will read your work, and we are incredibly excited to try and find brilliant new writing.
RC commissions writers not ideas.
A few notes on thoughts on listening to Chris Campbell, literary manager at the Royal Court (2 mins).
☪
From ESG world, I take a look at another Quant ESG study. This time from Axioma a major commercial quant model provider, who take a reasonably nuanced approach.
The study is also one of the first I have seen to differentiate between "residual" or specific/ idiosyncratic ESG and "factor" ESG.
...To the extent that ESG scores overlap with traditional factors, then ESG can be interpreted as beta ("smart beta" to the marketers); to the extent these scores do not overlap with traditional factors, then ESG can be interpreted as residual, idiosyncratic or company specific ("alpha" to the quants)..."
Me: company specific ESG theoretically should be a skill for fundamental managers. ESG is not time invariant in materiality or other domains.
The study suggests current ESG tilt indicies are potentially not well constructed: ESG indices often have considerable tilts to other factors, such as value and growth, which are just as large as the active ESG tilt, meaning it is difficult to attribute any outperformance to an ESG screen.
"A significant portion, if not the majority, of existing ESG indices are constructed using a simple sorting approach....While this approach is simple to implement and explain, it suffers from the defect that the active tilt on ESG is typically small. In many cases, the active tilts on other risk model factors such as value and growth are just as large."
It also notes "there is no standard, accepted methodology for combining separate E, S, and G scores into a composite ESG score. It is possible, indeed, likely, that ESG scores from different vendors will exhibit different performance characteristics. Hence, there is yet one more reason to be cautious when forming expectations about ESG: it varies across both time and vendors."
3 mins on a fairly technical look at a quant ESG approach with link to the study.
☪
Case Studies on Breaking Down Silos, and the benefits of an anthropological lens.
Part of the idea behind the Mingle is the notion of breaking down silos. Gillian Tett has written a book about it with an anthropologist lens threaded through it.

"Most of us have an uneasy sense that our world is marred by silos. We might not use that specific word to describe the problem. However, we encounter it all the time: in bureaucracies where one department does not talk to another; at companies where teams are fighting each other or hoarding information; in societies where rich and poor or different ethnic and political groups live in separate social and intellectual ghettos, side by side. Technology should help break these barriers down. In theory, the Internet could connect us all. However, social media will not do this automatically, or even easily. Silos exist in cyberspace too. We live in a world that is hyper-connected, yet often we barely know what is happening around us. That begs the question: what can we do?
....One lesson is that it pays to keep the boundaries of teams in big organizations flexible and fluid…. The most important point about anthropology, though, is that the discipline celebrates the idea that there is more than one valid way for humans to live.

(5-8 min read, well worth it on what we can learn from breaking silos)
☪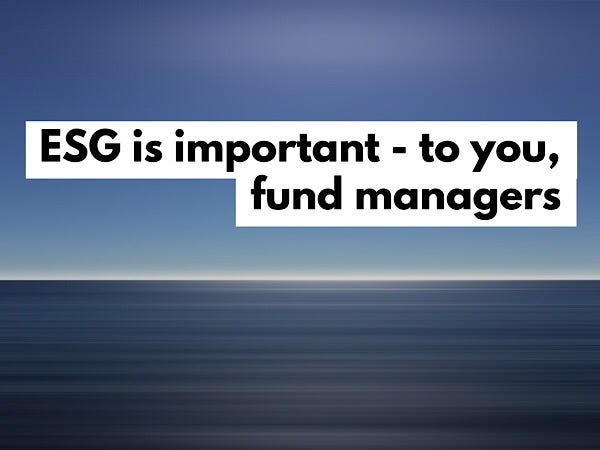 "...Through a long-term orientation and stewardship, this is the time for active investment managers to show their worth. It starts with asking the right long-term business questions. Some companies are giving us answers, but are we really listening?"
My full opinion article in the FT. (3 mins, behind paywall, but you get a free article or email me and I can send you a copy)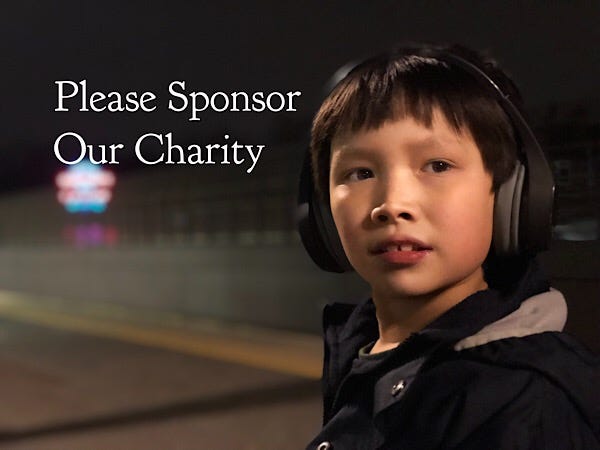 We've help found Focus West London, a Saturday club for autistic children. Children learn vital play, social and language skills in a fun and child-centred environment. Every child is provided with a volunteer therapist trained in a highly effective behavioural intervention. Families also meet, support each other and have access to experts. The therapists benefit, not only from the training and experience gained from volunteering, but through job opportunities arising with the families that use the Club.

It's a difficult climate for charitable organisations like Focus, so your donation really matters.

Details are here. THANK YOU!