Hi
-Notes listening to Mel Kenyon, legendary theatre agent
-Climate change, slavery and patents - One common thread
-Our National Rail Ultimate Family award for Transport Sparks
-Green Finance Initiative, Preaching to the converted?
-Next Arts/Business Mingle, Aug 22, register here
-Arts, Trustee and ESG jobs (inc: Exec Dir, Eclipse Theatre, RLAM, MAN, Bloomberg, UK National Autism, Fairtrade)

UK's Financial Reporting Council published its new UK Corporate Governance code. Most stakeholders were fairly positive, which perhaps took some by surprise. I was at the launch event.

The fundraising dinner at Coney went well. I made an impromptu speech, which likened small, nimble organisations to insects that pollinate the forest.... Thanks to all who supported us.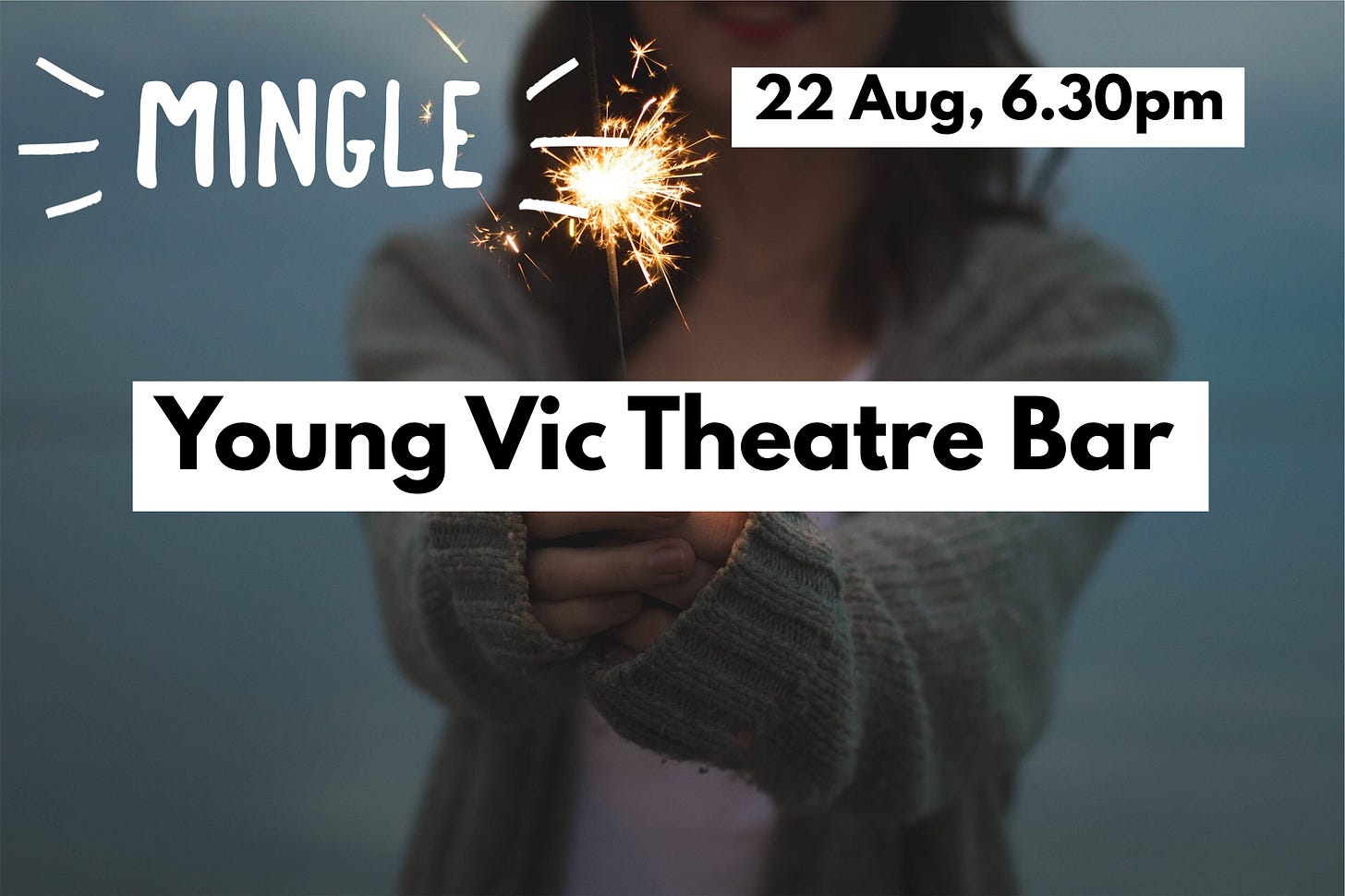 I've pencilled in the next mingle date, 22 August. Some Arts peeps will be in Edinburgh and quite a few of us are on holiday, but I thought I'd keep with the momentum. No harm it being slightly smaller than last time. By popular demand same venue at the Young Vic, although best to get there before 7pm this time, as there will be shows on. For new readers, if you are in London, do come. It's an event I host as I'd like to break down silos and I believe mingling leads to conversation leads to ideas leads to making the world a better place; plus arts and business thinkers don't meet enough. Free, but register so I can track numbers here.
☪
From Arts world, I listened to legendary theatre agent Mel Kenyon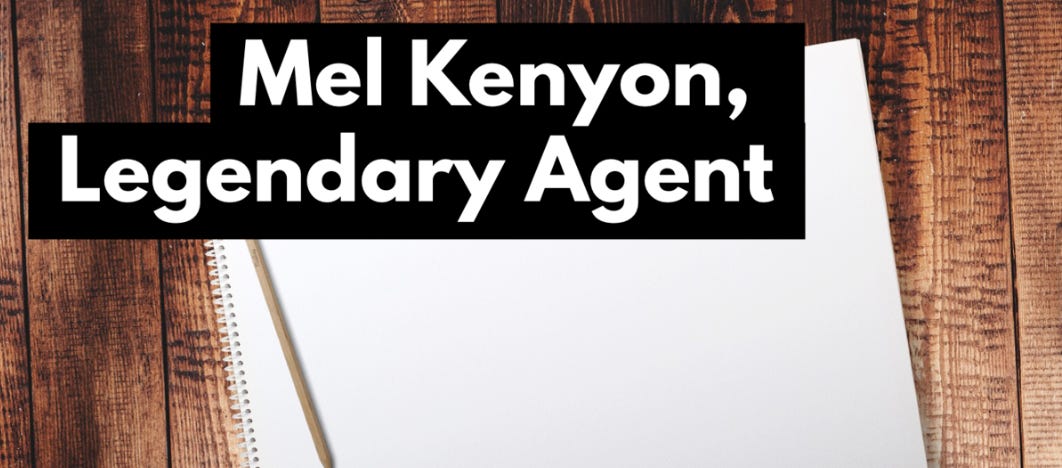 While I've never managed to get Mel to a play of mine, she is the agent to many writers influential to me. Early Ben was impacted by Caryl Churchill and Sarah Kane, to name but two.
I've tip-toed into a writers' talk group and listened to Mel in conversation. She didn't disappoint. Notes from the conversation (3 min read) are here.

Come to a play on its own terms – every play is like a little person – all different – there are no set rules, but you can't paint a dog green when it is brown.

Some qualities she finds in plays and writers she likes:
A play which is not static – not a static telling of a story – but one full of dramatic action – a play where every scene has dramatic movement.
Linguistically – a fascinating rhythm, not a plodding rhythm, it may not be poetry or heightened, but it won't be dull.
A play which is somehow bigger than the sum of its parts and (personal to her) one which has no moral vacuum. She knows admirable plays, where she senses a moral vacuum and those are unappealing. So much better for a play to tackle a metaphysical question of the universe, no?

(3 min blog here)
☪
I draw a parallel between problems of climate change, slavery and patent harmonisation. And express disappointment at falling levels of renewable power investment (see chart below) although likely a blip and overall energy investment is at below needed levels (according to IEA, International Energy Agency)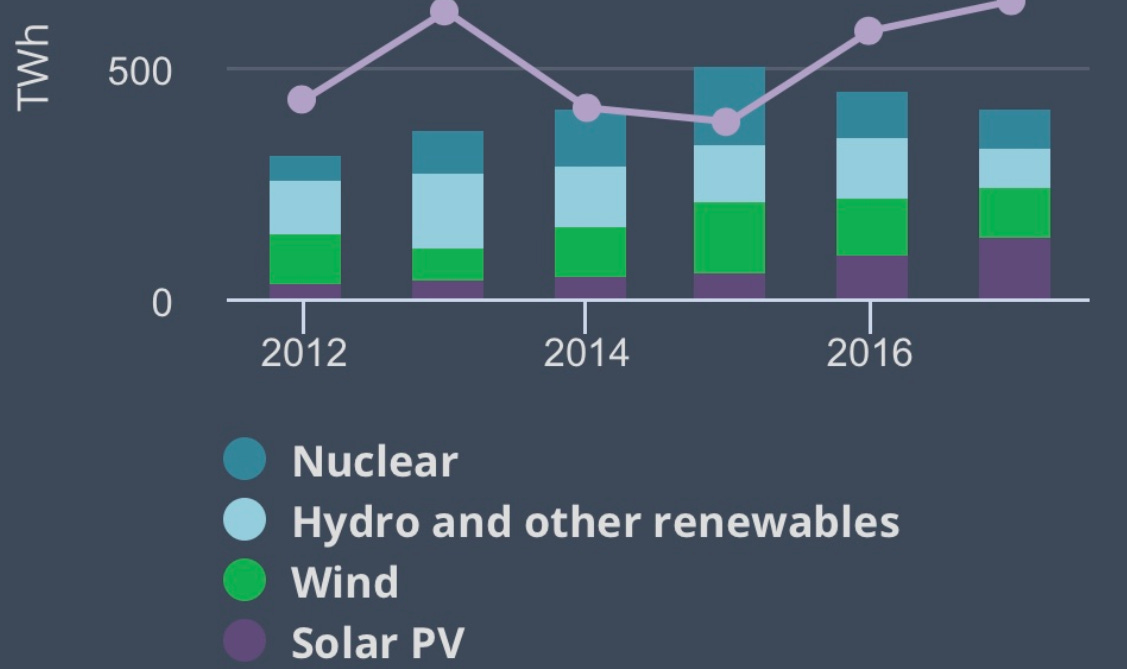 The structural similarity is that historically many practices around slavery which would be illegal today, helped build the wealth and legacy of many countries, and many families in those countries, and that has a parallel in developed world (Level 4 countries in Rosling classification) have produced most of the carbon pollution for the last 200 years (and this pollution stays around for 50 to 100 years+) and level 1/2/3 countries have not. And now when a country such as India, China etc. want to grow there's a sense that it is unfair for them to not be able to use the same fossil fuel resources as eg the US has done historically.

It's thought of as climbing up the ladder and kicking it away. And Level 4 countries did similar with patents and copyright (I briefly discuss this with Japan and patents in this blog on high drug pricing, also note the US did not grant copyright to foreign works for most of the 1800s and then from limited nations from 1891) where countries such as the US or Japan purposefully did not enforce patents until it was useful for them.

Interestingly, guru of the neoliberal free market right, Milton Friedman, was against long copyright terms (and viewed 50 years post author's death as counter-productive for society).

A 4 min post drawing this parallel and being disappointed in the recent slowdown in renewable energy investment.
☪
I listened to Nick Stern at the Green Finance Initiative Conference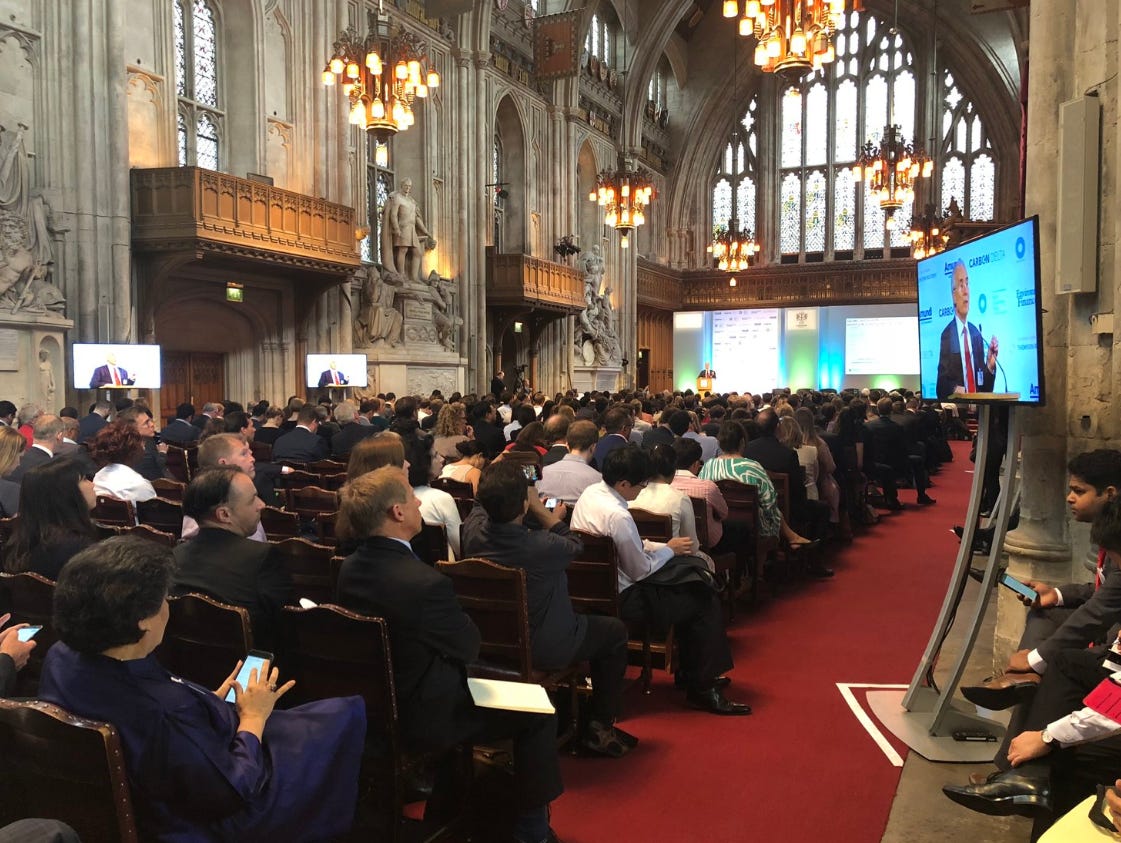 This week I was at the Green Finance Initiative annual conference in London. (Agenda here) I listened to Nick Stern (or Lord Stern) speak about the risks and opportunities of climate change and finance and investment. To be brutally honest, Stern was preaching to the converted and while everything he spoke about made sense I don't think it was new to anyone in the room.
That said, it did bring together a lot of professionals, experts, NGOs, regulators etc. To chat and the second order effects of mingling outside of a core expertise - I believe - is valuable.

I also learnt a little about the Belt and Road endeavour from China. A few people involved in projects around the endeavour spoke on a panel. It might be the largest infrastructure project in the world.

I had a quick catch up with Jakob Thoma from the 2 Degree Think Tank, which I still believe is one of the most interesting climate think tanks, with good scenario planning resources.
☪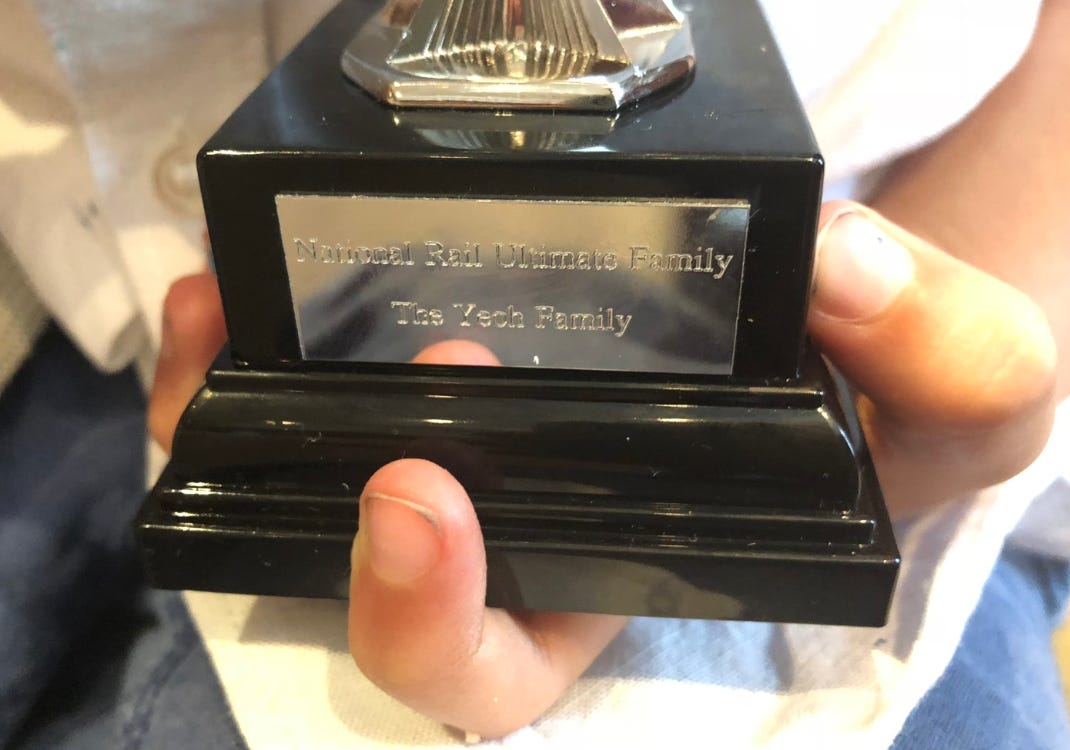 Our family (mainly Anoushka) won an award for her work in founding Transport Sparks. Transport Sparks is a charitable community group that helps young people with special needs (many autistic) access, meet up, explore and share a love of all things transport. From nothing, in a few short months, the group is now five hundred strong and doing Sparky things all over the country.

This is the joyful side of social media and community. Tiny 1 min post here with links to Sparks.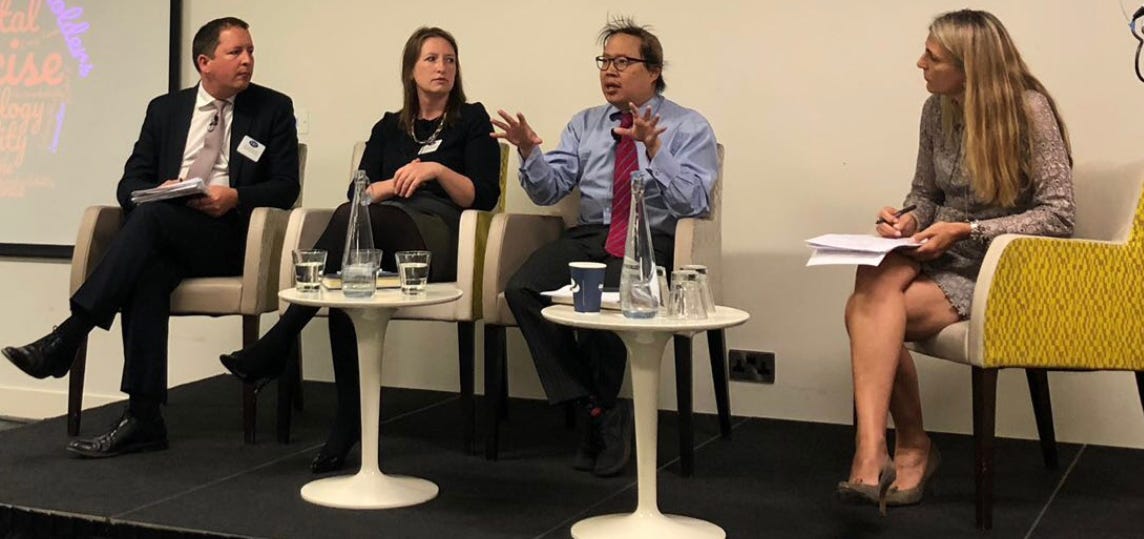 I've joined the investor advisory group (IAG) of the Financial Reporting Council (FRC). Recently I spoke at the FRC Lab conference.

The IAG aims to "provide a regular forum for the FRC to engage with representatives from across the investment chain on various issues, including our strategy and plan and new policies and standards, on governance, stewardship, reporting and audit matters."
Business has more than investors as stakeholders (it includes YOU and civil society etc.), so if there is any item in the corporate reporting agenda that you wish to communicate to the FRC – first, you can write direct to the FRC! But, second, feel free to tell me and I will pass the views on as part of my work in this area

I am also a member of the recently formed consultation group for the IFRS on "Management Commentary". This is the mostly qualitative narrative report seen at the front of Annual Reports and can tie in with Strategic reporting etc. If you have any strong views here please also do share them with me.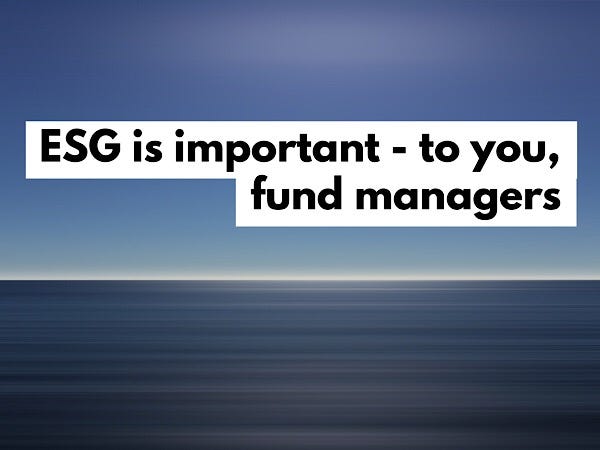 "...Through a long-term orientation and stewardship, this is the time for active investment managers to show their worth. It starts with asking the right long-term business questions. Some companies are giving us answers, but are we really listening?"
My full opinion article in the FT. (3 mins, behind paywall, but you get a free article or email me and I can send you a copy)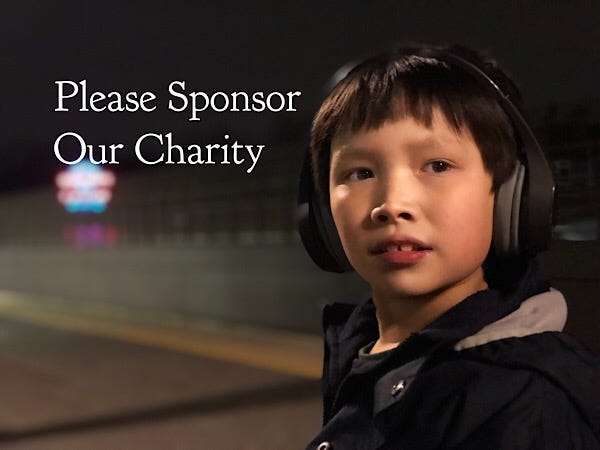 We've help found Focus West London, a Saturday club for autistic children. Children learn vital play, social and language skills in a fun and child-centred environment. Every child is provided with a volunteer therapist trained in a highly effective behavioural intervention. Families also meet, support each other and have access to experts. The therapists benefit, not only from the training and experience gained from volunteering, but through job opportunities arising with the families that use the Club.

It's a difficult climate for charitable organisations like Focus, so your donation really matters.

Details are here. THANK YOU!