Gen-Z, what? | Purpose of finance |  Football + Theatre  | ESG survey | ESG Jobs 

Hi
-Two master theatre practioners, Chris Goode and David Eldridge, in conversation
-A look at Generation Z: move over millennials, why Gen Z is different
-Another ESG survey of Asset Owners (Morgan Stanley)
-ThinkTank report on purpose of finance and regulation
-A day in the life living with disability in the FT office
-Some parallels between football teams and theatre teams

-Feedback to me on Financial Reporting Council or IFRS narrative reporting

-Several ESG related jobs (MAN, RLAM, Bloomberg, ShareAction) and Trustee roles (Fairtrade, National Autistic Society)
Limited blogging in the last few weeks. One (and maybe the only one) upside of children with sleep problems and late night clocks, is an end of day period for writing, blogging, reading etc. I pretty much don't watch TV. Despite, this extra time, there have been few blogs – partly as I'm limbering up my writing muscles in other ways. I'm also preparing to re-publish my 2006 play, Yellow Gentlemen – summary can be seen here. I'd like to raise some money for charity, Focus West London, and will donate any ebook sales for it. I'm hoping it is reformatted by end of July…

I'm supporting Coney at its fund raising theatre and game (if you'd like to come) 19 July.
☪
From arts world, I was delighted to hear Chris Goode and David Eldridge speak in conversation.
When I first left the world of blogging, when blogs were at their height – and theatre blogs were a proper avenue of discourse – one of the biggest on going debates – fights even, the language would suggest – was between Goode and Eldridge.
It was very meaningful to me, as I'm younger, my work less prolific and I had a foot in both the camps (writing or collaborating in both) where Goode and Eldridge sit. Of course, it's complex but at its heart was that Goode sat in a collaborative space, where the writer or text was not necessarily the focus of performance and might edge over into – what might be called – live or performance art; and that Eldridge more simplistically sat in a British tradition of theatre as the playwright of centre voice.
Those positions are fluid and any close observers of Goode's and Eldridge's work (in my view) would see perhaps they had a lot in common. I see a fierce thread of collaboration in Eldridge's work and I see it push the bounds of what play form is. And while, text often is not at the centre of Goode's work, at times I see it as a core lodestone (even if it might have been created from devised hands).
They are both to my mind, finer practitioners of theatre and performance than myself, and the passion that they held the various positives of their practice (and the weaknesses in others) was – and is – very vital. Especially, as I come back to my own writing work. Still hearing them speak about theatre practice is pretty insightful.
I do wish I had more time to see work, for theatre is still a live arts practice, but I don't think I'd sacrifice time with the family. I'm unsure if we can really have it all.
A short thought on Goode and Eldridge and a link to Goode's podcast (1 min post, 1hr+ podcast). Goode has a brilliant range of theatre podcast series.
☪
I take a look at a report on Generation Z, by Hiral Patel of the (new) Barclays Sustainable and Thematic team. "Sorry Millennials, your time in the limelight is over. Make way for the new kids on the block – Generation Z – a generational cohort born between 1995 and 2009, and larger in size than the Millennials (1980-1994)."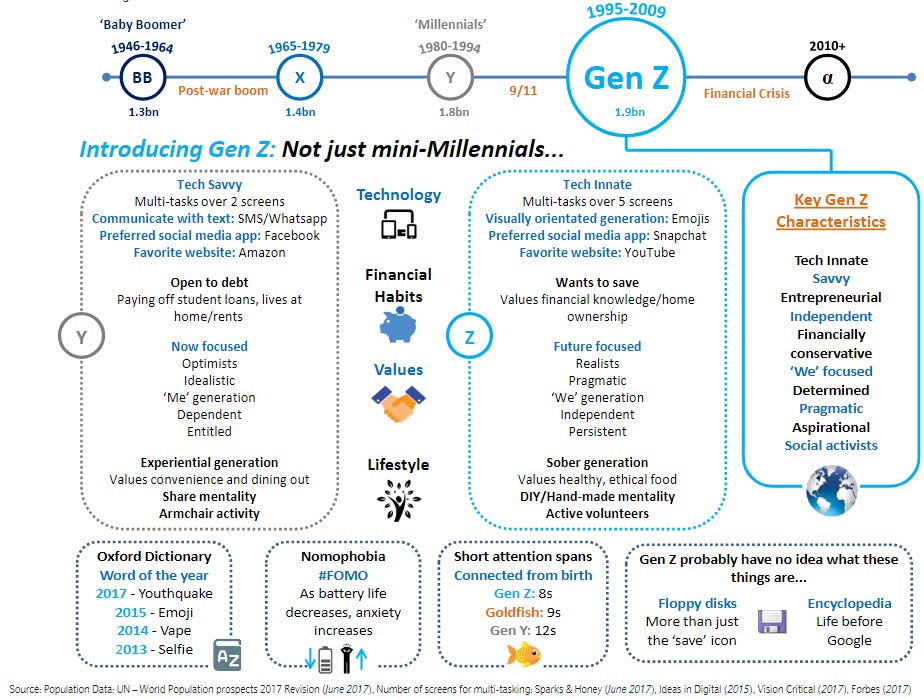 What Makes Gen-Z different?
1) Parenting & household dynamics
At the root of the discrepancy between the two current generations of youth (Generation Z and the Millennials) are differences in parenting & household dynamics, or more specifically the differing generations that raised them.

Coining the phrase 'helicopter parents', Strauss and Howe have argued that Millennials are in part a by-product of overprotective, indulgent parents (Ipsos Mori: Millennial – Myths & Realities). Millennials were raised by encouraging Baby Boomer parents during a time of economic prosperity and opportunity. This created a new set of middle-to-upper class parents that were desperate to maintain their family's escalated social standing (Quartz – How Baby boomers ruined parenting forever), using extra-curricular activities and hectic student schedules as a way to demonstrate their status as the parental elite.

On the other hand, Generation Z, it is argued, were raised by the more discerning Generation X, as they grew up in a recession, making them more conservative by nature. Generation Z witnessed first-hand the struggles their older siblings faced and resolved to do things differently…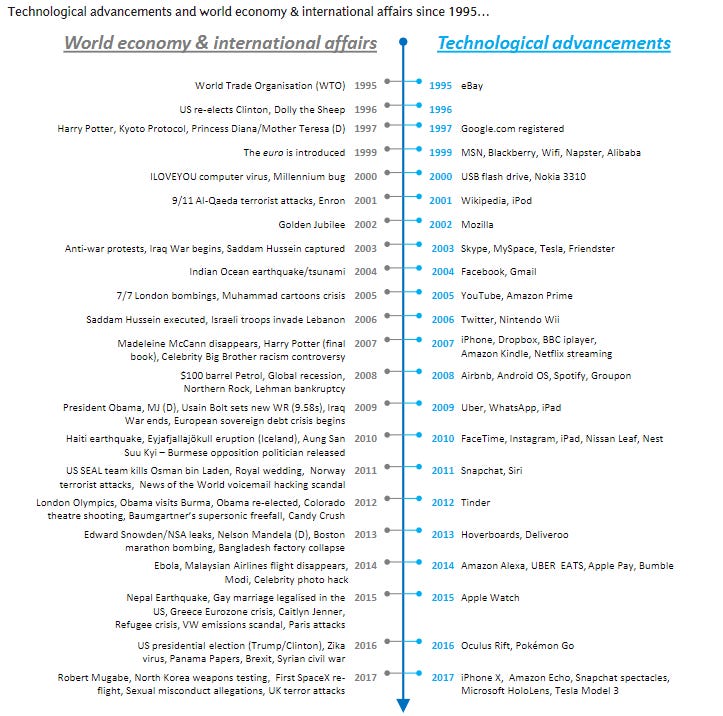 2) World economy & international affairs
Though Millennials were raised during a time of economic prosperity, they were old enough to understand the relevance of 9/11 in 2001. Generation Z were either too young or were yet to be born, and thus relate more to the global financial crisis in 2008. This was followed by a wave of global terrorism, which has led to Generation Z growing up during a time of increased existential threat (perceived, if not actual) compared with the Millennials (Guardian).
Furthermore, the internet and social media have significantly impacted the way global news is disseminated. Generation Z appear to be more affected by world events than the previous generation thanks to a 24-hour news cycle that relentlessly pushes out information.….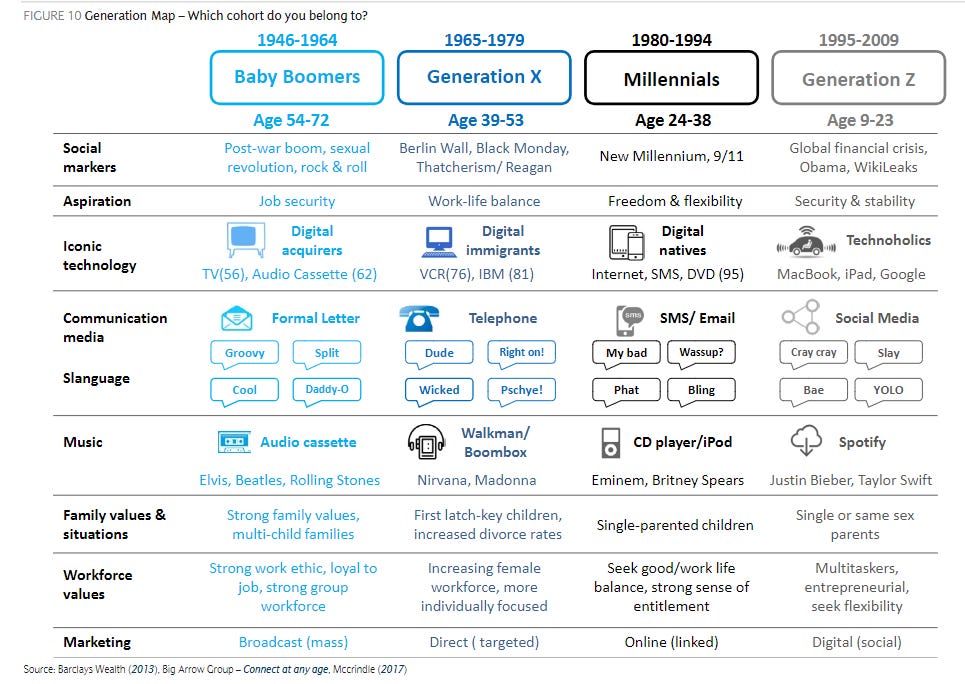 3) Technological advancements
While Millennials were digital pioneers witnessing the introduction of broadband internet, smartphones and social media, Generation Z are digital natives, not knowing a world any different to the hyperconnected one in which we live today. For example, a Millennial would remember the pain of experiencing a floppy disk error or having to experience the social pressure of maintaining an 'online' MSN messenger status using dial-up internet. However, Generation Z can't remember a time without technology at their fingertips. One of the biggest worries for this generation is whether or not they have enough battery life….
Some highlights of the report here and a link to Hiral (5 mins), if you'd want to read more.
☪
From ESG and investing world, another ESG survey pointing to the same trends and themes as most other recent ones….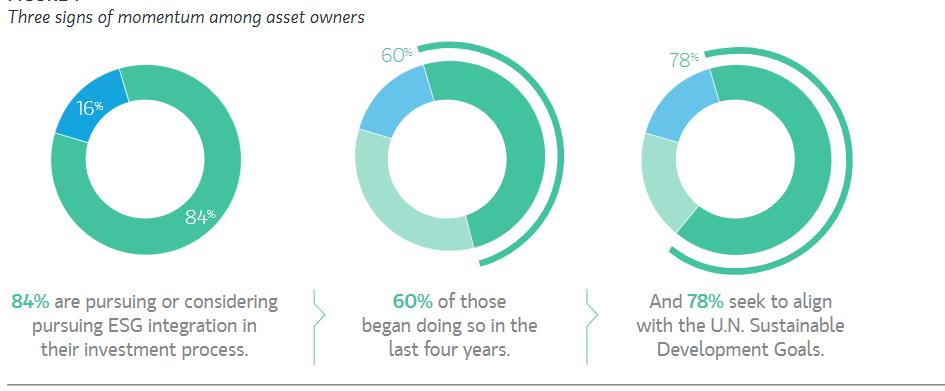 Morgan Stanley: "Sustainable Investing has gone from a niche investment idea to attracting enough capital to start having an impact on global challenges at a meaningful scale. The intensity of recent growth has been driven by a fundamental shift in how investors and asset owners view environmental, social and governance (ESG) factors."
MS polled 118 asset owners.
- 84% of asset owners surveyed are at least "actively considering" integrating ESG criteria into their investment process
- 60% of asset owners integrating ESG into their investment process have only begun doing so within the last four years and 37% within the last two
(Me: This suggests movement is still in early days, though MS argue it is moving mainstream, it's perhaps the only surprising statistic in the survey and suggests it may be a little more US orientated)

2 min blog on the report highlights.

☪
I found this think tank report provoking on the purpose of finance:
Purpose of Finance: "creating money, channeling money, looking after other people's money, sharing risk, and maintaining transaction and settlement systems"
-Data on the efficiency of the financial system suggests that the 'overheads' which the industry extracts from society for fulfilling these functions have not reduced in over a century.
-We need to dig deeper to understand the ultimate purpose of finance: how it creates, deploys and facilitates the movement of money in a way that best enables us to achieve our goals, as individuals, as communities, and as a society
-If we want a financial system that meets its social purpose, we also need to take much more of an interest in the purpose of individual businesses within that system...
A 3 min blog looking at the report.
☪
Why disabled people like me give up on careers (In the FT recently, Niamh Ni Hoireabhaird wrote, it gained her a visit to the Prime Minister's office - demonstrating the platform the FT can give you.):
"…When I was 13, I was diagnosed with a rare, progressive neuromuscular condition called Friedreich's ataxia. My condition means I find it hard to balance and my energy is low, so for the past two years I have relied on a wheelchair. My cognitive ability and aspirations of a career remain intact, despite the obstacles. In England and Wales nearly one in five people has some sort of disability, so the chances are you know somebody in my position — whether their condition is visible or not. So why do so few of us make it through mainstream education and into the world of work? Now I am 21, my attention should be focused on my degree in French and Italian, and my summer internship in London at the Financial Times. Yet, I am struggling with the practical and administrative problems that go with being disabled. Each day brings low-level difficulties that add up to an overwhelming sense of exhaustion and defeat. It's no wonder so many of us give up on our ambitions…." The article is behind the paywall, but I can send you a copy if you ask nicely. (1 min blog, not saying much more than the above)

☪
I draw a comparison with the team culture Gareth Southgate has created at the English football team, and the colloborative efforts of theatre.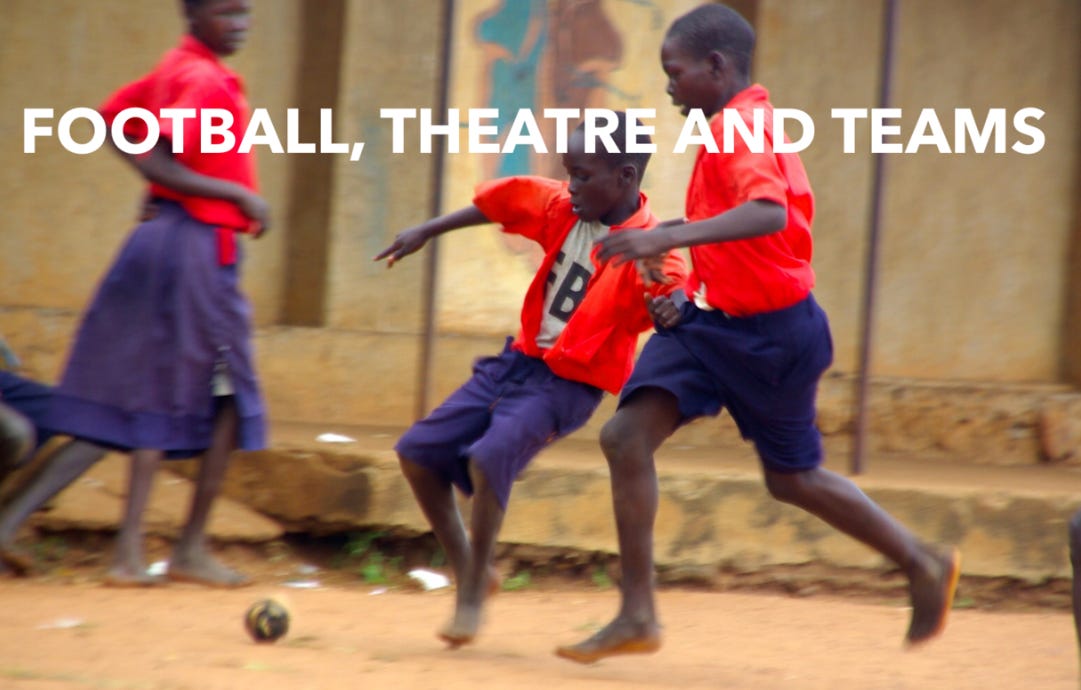 Many other arts celebrate the individual and while sculptors and artists (all the way back to old masters) may have assistants and their galleriests, and novellists have editors and publishers, and poets have… each other (?) mostly theatre is a collaborative effort.
While some strands of theatre may celebrate the writer, or the director, or an actor it is impossible to have most performances happen without design, lights, stage management, let alone the cast interplay, directing, writing and so on.
Even in traditions which might hold the playwright as the centre (cf. listen to the intro between the podcast conversation of Chris Goode and David Eldridge, referred to above), few writers would deem their script finished without a performance; and, arguably, a performance is unfinished without an audience.
This then makes the culture of a theatre, or of the team gathered together to make a performance, so critical - it's also one reason I found the MeToo movement within theatre so profoundly shocking.
It's perhaps why I'm drawn to working within investment teams. I like the collaborative nature of theatre and teams. I like how at their best, the parts make up more than the whole, and that the whole relies on so many parts and the synergy of those parts.
Perhaps that what makes theatre at its best so special. Like football. (Or even business teams).

(2 min blog on football teams and theatre)
---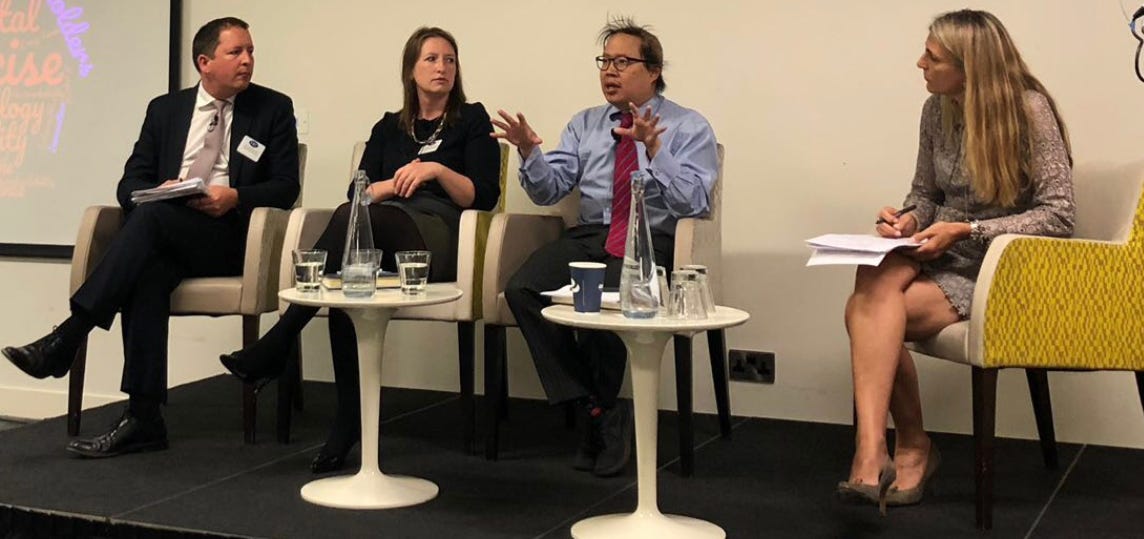 I've joined the investor advisory group (IAG) of the Financial Reporting Council (FRC). Recent I spoke at the FRC Lab conference.

And this week the IAG had its first meeting. Minutes should be available in the nexy few weeks.
The IAG aims to "provide a regular forum for the FRC to engage with representatives from across the investment chain on various issues, including our strategy and plan and new policies and standards, on governance, stewardship, reporting and audit matters."
Business has more than investors as stakeholders (it includes YOU and civil society etc.), so if there is any item in the corporate reporting agenda that you wish to communicate to the FRC – first, you can write direct to the FRC! but second, feel free to tell me and I will pass the views on as part of my work in this area

I am also a member of the recently formed consultation group for the IFRS on "Management Commentary". This is the mostly qualitative narrative report seen at the front of Annual Reports and can tie in with Strategic reporting etc. If you have any strong views here please also do share them with me.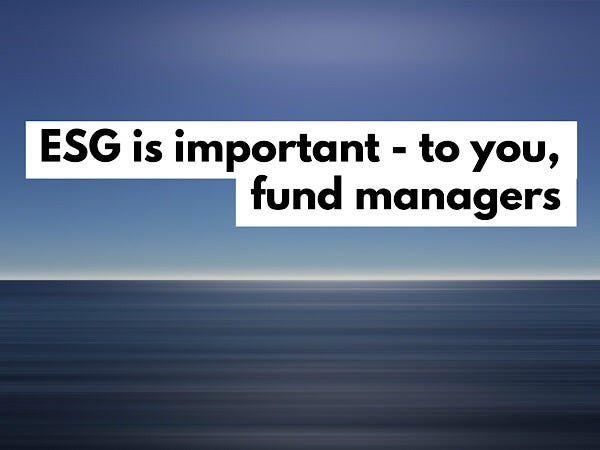 "...Through a long-term orientation and stewardship, this is the time for active investment managers to show their worth. It starts with asking the right long-term business questions. Some companies are giving us answers, but are we really listening?"
My full opinion article in the FT. (3 mins, behind paywall, but you get a free article or email me and I can send you a copy)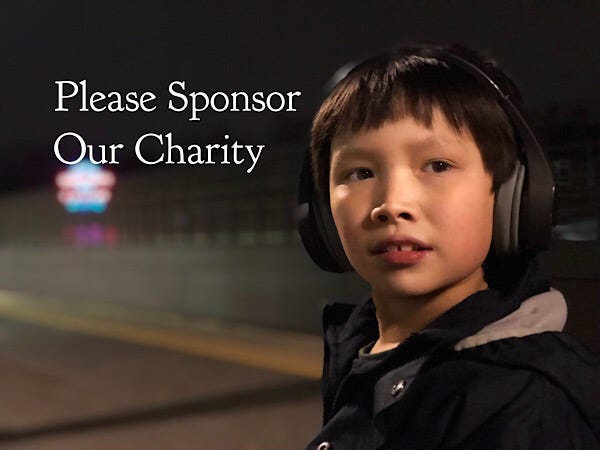 We've help found Focus West London, a Saturday club for autistic children. Children learn vital play, social and language skills in a fun and child-centred environment. Every child is provided with a volunteer therapist trained in a highly effective behavioural intervention. Families also meet, support each other and have access to experts. The therapists benefit, not only from the training and experience gained from volunteering, but through job opportunities arising with the families that use the Club.

It's a difficult climate for charitable organisations like Focus, so your donation really matters.

Details are here. THANK YOU!