Hi
-Visiting my old school 30 years later, when I was 7...
-Dinner with Coney, anyone for Groucho?
-Intangible Economy, new Bank of England MPC co-author
-Silent Walk, Grenfell one year on, in memory and a thought on causes
-Impact investing, UK efforts to grow
-Impact role, Unseen Film kickstarter, Dreams + death of loot boxes

☪
I'm helping out Coney who are doing dinner and a theatre game on 19 July, please come. It's a suggested donation of £45 but if you are needy, but interested in Coney, I will sponsor you. Invite here.
I'm a member of the Groucho Club (Dean St, Soho, London – maybe a NYC club in next couple of years). Groucho have asked me if I would like to propose any new members for the club. If you are interested, let me know and I could potentially propose you. Sadly fees have steadily grown, still it's in the same ball park as many London gyms - that's my excuse anyway and unlike Soho House, Groucho doesn't care how you dress - Be Yourself. (Under 35s £575 pa, Under 30 £350 - most others £950 – currently nominal join fee as an offer).

We're hosting work-related drinks in the City, London, on Tues 19 June. Hit reply for details if you'd like to come.
☪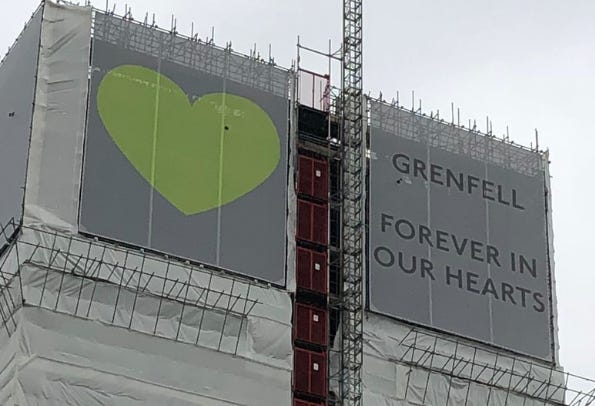 I was reminded about the power of silence when joining for a short time the silent walk in memory of the Grenfell fire. For all the disaster that it is, I can see how it has knitted the community in the North Kensington area together and while the divides ever-present in Kensington remain – I feel some people from all sides have crossed and those divides are being more critically examined.

Whether it will amount to much is harder to judge. However, the North Kensington library has been saved for a community value use and pressure post Grenfell has been reported to have played its part. A few pictures here.
It also reminded me of the power of silence used as rhetoric in Emma Gonzalez's remarkable speech advocating for gun control.( See post on the Gonzalez speech here. )
I briefly reflect on second and third order causes of the fire. The first order causes centre around the cladding, the advice to stay in vs evacuate, and the poor state of repair of parts of the building. There will be debate as to if a sprinkler system would have helped. Although interlinked, in my view, all of those factors will be implicated as a first order cause.
The second order causes relate to council management of social housing, the unheard voices of social tenants and the race to the bottom for pricing on maintenance and construction work.
This level of causality is interlinked with the problems that Carillion has revealed on the poor state of subcontracted work. (This FT article on Carillion (behind paywall), and also see my posts on it here, go over some of the factors in play; plus the government report).
… This then harks to a third order cause. The cultural and socio-political structures that can over-emphasise well funded, well articulated special interest groups (cf. gun lobby in America) and processes and political decision makers that find it hard to invest in long term intangible matters that don't relate to political cycles. (a 4 min reflection on Grenfell, 1 year on)
☪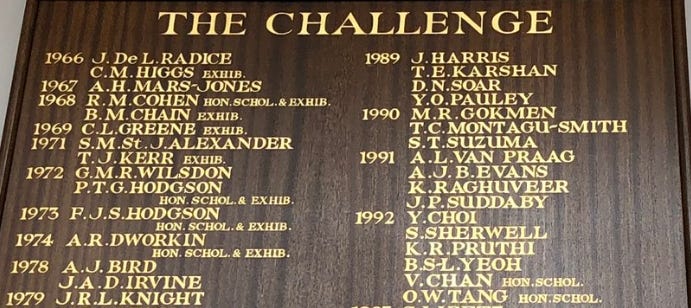 Back to school. Waiting in a line outside Vincent Square, with my parent hat on, it is a discombobulating experience to go back to your old school of over 30 years ago.
What makes great schools, great? Why is it perceived that it is so hard to replicate what great schools do?
How much influence do parents and teachers really have on children as compared to all the other forces cajoling, buffering and nurturing our children?
The qualities of curiosity, empathy and creativity - qualities I value in myself and others. How are they nourished in schools ?

How do you shape girls and boys into good women and good men? I don't have answers but I do have a few observations and some hope.
Here's a 3 minute cogitation sparked by visiting my old school. It's a personal reflection which dips into elite London education, flits through global literacy rates and ends up in thinking about the child's voice.

☪
Regular readers will know I'm a fan of this recent book, Capitalism without Capital, on the intangible economy. For the new readers post last mingle, I thought I'd put it up again – given one of the co-authors (Jonathan Haskel) is now going to be on the Bank of England MPC the which sets interest rates….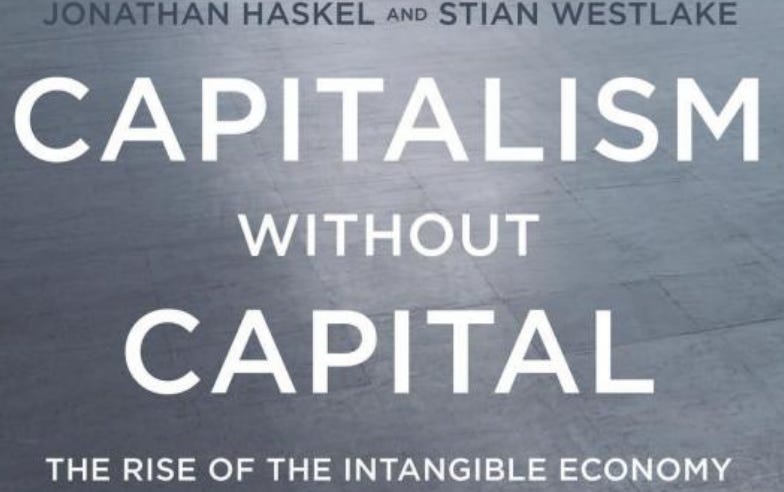 "Our central argument in this book is that there is something fundamentally different about intangible investment, and that understanding the steady move to intangible investment helps us understand some of the key issues facing us today: innovation and growth, inequality, the role of management, and financial and policy reform. We shall argue there are two big differences with intangible assets."
First, most measurement conventions ignore them. (Me: I examine this separately as it has important implications for investing – as most ESG intangibles are not easily seen in accounts).
Second, the basic economic properties of intangibles make an intangible-rich economy behave differently from a tangible-rich one.
They further argue:
(1) intangible investment tends to represent a sunk cost. If a business buys a tangible asset like a machine tool or an office block, it can typically sell it should it need to.
(1a) Intangible assets are harder to sell and more likely to be specific to the company that makes them.
(2) intangible investments generate spillovers.
"The tendency for others to benefit from what were meant to be private investments—what economists call spillovers—is a characteristic of many intangible investments."
(3) Intangible assets are also more likely to be scalable.
(4) intangible investments tend to have synergies (or what economists call complementarities) with one another: they are more valuable together, at least in the right combinations.
- intangibles are much harder to measure (as well as being ignored)
In fact long time readers will know two quotes I like to repeat:
Not everything that counts can be counted, and not everything that can be counted counts. (Not attrib. Einstein but probably William Cameron)
Do not fall for the McNamara Fallacy.
(The first step is to measure whatever can be easily measured. The second step is to disregard that which can not be easily measured or to give it an arbitrary quantitative value. This is artificial and misleading.
The third step is to presume that what cannot be measured easily really is unimportant. This is blindness.
The fourth step is to say that what cannot be easily measured really does not exist. This is suicide.)
☪
From ESG World: Impact Investment Opportunity in UK (1 min post) this week I was listening to Elizabeth Corley and expert speakers on the opportunities and challenges for impact at a social impact investing conference.
Some questions raised:
What are the dangers and advantages of speaking about ESG and Impact in the same breath? How important is a common language? Taxonomy? Standardised outcomes?
Fear of unintended consequences of regulation? "Backed by regulators" not equal to "regulated" ? Is it beyond the wit of the industry to find a better way to represent individuals wishes re: Impact ?
Will SDGs (Sustainable Development Goals) used as part of "SDG washing" - something that looks good for marketing but doesn't make real impact.
There is debate in impact world on if you can make market returns and still have measured deep impact. This notion of a continuum or spectrum of thinking about these ideas is one which is taking shape. (1 min post reflection here)
☪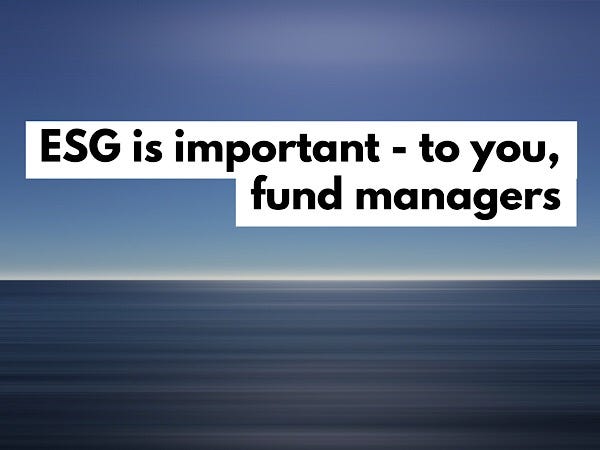 "...Through a long-term orientation and stewardship, this is the time for active investment managers to show their worth. It starts with asking the right long-term business questions. Some companies are giving us answers, but are we really listening?"
My full opinion article in the FT. (3 mins, behind paywall, but you get a free article or email me and I can send you a copy)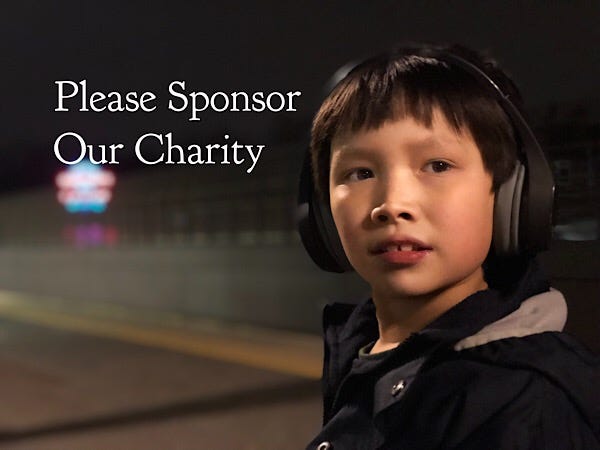 We've help found Focus West London, a Saturday club for autistic children. Children learn vital play, social and language skills in a fun and child-centred environment. Every child is provided with a volunteer therapist trained in a highly effective behavioural intervention. Families also meet, support each other and have access to experts. The therapists benefit, not only from the training and experience gained from volunteering, but through job opportunities arising with the families that use the Club.

It's a difficult climate for charitable organisations like Focus, so your donation really matters.

Details are here. THANK YOU!