Hi
-Stories that are seldom told
-Kwei-Armah on the new Young Vic season
-Me on ESG webinar plus MSCI ESG research
-Popular posts: Nassim Taleb on Climate change, Ruminations on Hair Loss and Black identity, Charlie Munger Life lessons, Unsustainable energy use of Bitcoin.
Been crazy busy and occupied the last 2 weeks, so only some brief updates this letter.
In theatre world, I saw Mountains: The Dreams of Lily Kwok adapted by In-Sook Chappell based on the memoir Sweet Mandarin by Helen Tse. I feel too close to the project to give a review as such (although not directly involved, I've been an informal advisor to Yellow Earth Theatre) but I wanted to note the importance of the "we should tell stories which aren't told" school of thought and also of the "we should see on stage a reflection of the community and humanity that we are".
To this end, a play which tells the story of 4 generations of Chinese women from China to Hong Kong to Manchester is important. There are likely close to 0.5 million Chinese (0.7% 2011 census) in the UK today, with a concentration in London (1.5% of London' population which would be around 130,000).
The story of Chinese women is not one I have seen often on stage (or screen). (I recall Alexandra Wood's adaption of Jung Chang's Wild Swans memoir back in 2012 – and of being a little bit jealous that she got to adapt it – that staged at the Young Vic).
Guardian review below and UK Tour dates until 2 June.
http://blacktheatrelive.co.uk/tours/mountains-the-dreams-of-lily-kwok/tour-dates

https://www.theguardian.com/stage/2018/mar/27/mountains-the-dreams-of-lily-kwok-review-royal-exchange-manchester-in-sook-chappell
☪
Of theatre specialist interest: Goldsmiths ICCE, Aurora Metro Publishing and Tara Arts, on April 26-27th, are organising the conference "Sight/Unseen: Amplifying Voices of Southeast and British East Asian Theatre Playwrights", with Day 1 (April 26th) happening at Goldsmiths (LG02) and Day 2 (April 27th) in Tara Arts. The Fence will also be represented and has Jonathan Meth on a panel.
Some interesting playwrights from Southeast and East Asia are part of this conference and they will be joined on the panels by academics discussing politics, policies and cultural issues surrounding their plays.
You can find out more about the conference here:
https://www.eventbrite.com/e/sightunseen-drama-conference-tickets-41948826068
☪
Kwei-Armah on the new Young Vic season. I think – as I blogged about earlier – that bringing Kwame Kwei-Armah as the Artistic Director of the Young Vic is going to be important for London theatre and perhaps the wider arts.
(Behind a pay wall but) his recent interview in the FT is a good read on his vision for his first season:
"I lived through the Brixton riots, the Southall riots, the Tottenham riots, the Wood Green riots. So I wasn't spooked by it. What I knew through them, however, was that art can be made irrelevant during times of social upheaval, unless it engages with the pain that happens."

If you want to read it, I can give quite a few copies of the article – hit reply and let me know and I will send.
☪

In ESG world, I did a webinar! For those who want to know a slice of what I do during the day – you can see the archive of it here. (free to register and view but to be honest you need to have an interest in investments...) I mention the work of Stian Westlake on intangibles which I've blogged about before.
☪

MSCI: "Among a universe of companies that have generated substantial value for their shareholders over the last decade (Jan. 2007 – Dec. 2017), we found that companies with strong management of industry-specific ESG risks and opportunities outperformed peers with poorer management of those same ESG risks and opportunities over the five year period from Jan. 2013 to Dec. 2017."
"In this paper we apply an ESG filter to a highly selective universe of 100 companies that have already been screened for value creation as measured by ROIC, economic spread, margins and asset turnover ratio. We found that, over the last five years, companies with higher ESG Ratings exhibited higher average return on invested capital, compared to companies with lower ESG ratings. They were also valued at a premium over their other top performing peers with lower ESG Ratings. …. the main additional value of our ESG ratings did not come from our governance assessment in this case, but rather from how well these firms managed their industry-specific environmental and social risks, which varied considerably across different business models."
You can download the paper through MSCI here. You can find the co-author Panos Seretis on Linkedin.
Caveats: Not peer reviewed, time frame limited and it has the ROIC-cost of capital framework as the economic value add but still an interesting and useful addition to the body of ESG research. (2 min blog post)
☪

Recent popular posts include:

Nassim Taleb (of Black Swan fame) on Climate Change. Given his perceived right wing leanings, it is of note he would be considered deep green on climate, advocating the precautionary principle on complex systems. (3 min post)

My own hair loss sparked an investigation into identity entwined with hair particularly with respect to female black hair identity. (2 min post)

Billionaire Charlie Munger has as many maxims as his business partner Warren Buffet, his speech to Harvard about using inversion to assess the strength of a proposition is witty and wise. Good for testing assumptions and also interesting applied to writing and editing. What would happen if a character says the opposite? Is it more powerful to say nothing at all.

Still barely touching public consciousness, is the energy cost of many cryptocurrencies particularly Bitcoin. It highlights to me that matters that don't readily intersect with our lives don't impact our thinking much. (2 min post)
☪
Randomness: I'm travelling on many random buses of late. One of my favourite remains the heritage bus route 15 between Trafalgar Square and Tower Hill. It has a conductor and is the only old double decker bus service still running.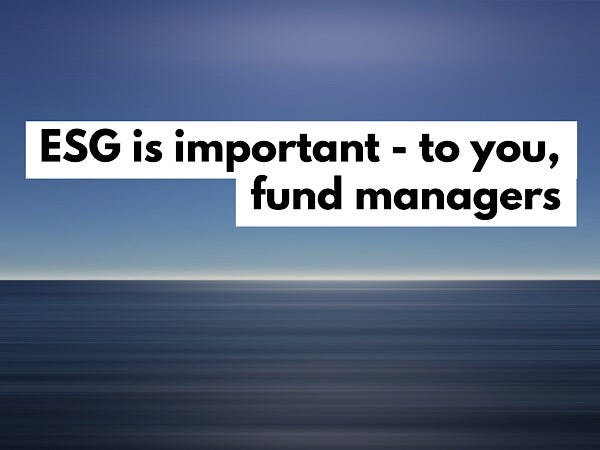 "...Through a long-term orientation and stewardship, this is the time for active investment managers to show their worth. It starts with asking the right long-term business questions. Some companies are giving us answers, but are we really listening?"
My full opinion article in the FT. (3 mins, behind paywall, but you get a free article or email me and I can send you a copy)
We've help found Focus West London, a Saturday club for autistic children. Children learn vital play, social and language skills in a fun and child-centred environment. Every child is provided with a volunteer therapist trained in a highly effective behavioural intervention. Families also meet, support each other and have access to experts. The therapists benefit, not only from the training and experience gained from volunteering, but through job opportunities arising with the families that use the Club.

It's a difficult climate for charitable organisations like Focus and this year they are facing a funding shortfall, so your sponsorship really matters.

Details are here. THANK YOU!