Feminism | Funerals | Inequality - inevitable?| Perils of Tick box ESG| Silence - a rhetoric tool | Art in offices | ESG/Trustee jobs

Hi
-How to raise a feminist child
-Inequality – is it inevitable?
-Looking beyond Tick Box G – in ESG
-Power of silence in the rhetoric of a shooting survivor's speech
-Art languishing in corporate offices
-Son Is Not Rainman – a Dad's journey with ASD
-Will Smith on learning from Failure
-Arts org Kazzum looking for trustees; Fixed Income ESG job, ESG sell-side role (Paris)
☪
This week, I went to a funeral. Our handbags were snatched from our front door. A stock collapsed 20%.
What do we learn when matters don't go to plan? It's corny and cheesy, but the ideas of learning from failure and continuous learning are strong. Actor, Will Smith combats this with a seemingly authentic recording while driving his car. See the post here. (1 min) I don't particularly want to live a life where you can't keep a front door open for a time and live in fear, but the learning would be to not keep the bags in snatchable distance, or maybe I do have to keep the door closed. Hm. Or is this only a one in 9 year experience. Wouldn't want to overstate the risk. The process for reviewing judgements on companies is surprisingly more straightforward.
*
The celebrant at the funeral reminded us a funeral is a time for farewells, love and remembrance, and gratitude for our lives touched. The gratitude part can be difficult. Sheryl Sandberg (Facebook COO) has written on how gratitude helped her with her husband's death.
Uncle E. was not a biological uncle. Chinese culture attributes uncle and auntie virtually to all elder family friends. In my early childhood, Uncle E also had a house in the suburbs of London, in the village of Ham. He was a film extra in James Bond's Dr. No and like my father, Derek, he loved his food and drink.
For the greater part of my childhood, I recalled three memories. (1) A striking curious stubborn white wolf dog called Lupo (2) A long running first hand view inside a professional photography developing lab and a look into what it means for a small business as it meets technological change that makes it unviable.
(I had another close look at this phenomenon as my parents travel agency also bowed to the pressures of the internet in a business that was not very profitable pre-internet)
(It has taken me almost 20 years to become comfortable with digital photography over analogue and I still miss a dark room).
And (3), The Thursday night gathering in the Hillgate pub in Notting Hill. This pub being a walk up the hill from both the photo lab and the travel agency (now a grooming beauty parlour and a chi-chi high end clothes shop).
For all the damage alcohol can do to people
[and I knew two alcoholics growing up, one who recovered and one who did not - I also witnessed the recovered alcoholic meeting the dying alcoholic in the street, in Ham (amazingly this same village), most unexpectedly, after a gap of over 10 years - a moment of men crying and saying farewell which is seared into me]
There is a bright light side in the social cohesion that pub gatherings can bring.
And for a period of 20 or so years, this gathering was a place to connect, re-connect and comment on the world.
I suppose we have social media for that now, but for all the ease of online connecting it misses the deeper links of those pub nights.
While Facebook has been amazing in connecting us with groups of young ASD transport enthusiasts (see Anoushka's blog below), I do think much of its power is enabling real world interaction.
My father passed away over 20 years ago. Still, the surviving Hillgate pub regulars (which went into decline a few years after Derek passed) remembered Derek fondly as we remembered Uncle E fondly too.
I was a tangential part of those gatherings. Mostly too young. And then, who wants to hang out with their parents drinking? But, I still recall the occasions fondly too.
We go forward, not back. It's good to do that in remembrance.
Turning to the blog summaries:

How to raise a feminist child... Chimamanda Ngozi Adichie writes in answer to a friend's letter…When a couple of years ago a friend of mine from childhood, who'd grown into a brilliant, strong, kind woman, asked me to tell her how to raise her baby girl a feminist… I decided to write her a letter, which I hoped would be honest and practical, while also serving as a map of sorts for my own feminist thinking. This book is a version of that letter, with some details changed….


In the on going spats on identity / race / gender / ... / all over social media, Adichie provides some thoughtful provocations.

Be a full person. Motherhood is a glorious gift, but do not define yourself solely by motherhood. Be a full person. Your child will benefit from that. …
Do it together. Remember in primary school we learned that a verb was a 'doing' word? Well, a father is as much a verb as a mother...
Teach [her] to read. Teach her to love books. The best way is by casual example. If she sees you reading, she will understand that reading is valuable.
...In teaching her about oppression, be careful not to turn the oppressed into saints. Saintliness is not a prerequisite for dignity. People who are unkind and dishonest are still human, and still deserve dignity.
Teach her about difference. Make difference ordinary. Make difference normal. Teach her not to attach value to difference. And the reason for this is not to be fair or to be nice but merely to be human and practical. Because difference is the reality of our world. And by teaching her about difference, you are equipping her to survive in a diverse world. (4 min post here, with links to the book/letter which is a 30 minute read)
☪
Philosopher Harry Frankfurt argues absolute poverty is more important than relative inequality. Schiedel argues in the Great Leveller only events such as war, famine, and epidemics have led to any substantial equality over history.

Inequality. Does it matter ? "our most fundamental challenge is not the fact that the incomes of Americans are widely unequal. It is, rather, the fact that too many of our people are poor ." Princeton philosopher Harry Frankfurt disagrees with Obama. Discuss.
In the Great Leveller, Walter Scheidel makes the case that in dev countries 1) inequality has risen over last 50 years despite policy, regs etc. Designed to produce equity of opportunity (2) it has only recently reached the levels of 100 years ago but, (3) only major wars, famine, plague have been "great levellers of equality"
"Even in the most progressive advanced economies, redistribution and education are already unable fully to absorb the pressure of widening income inequality before taxes and transfers. Lower-hanging fruits beckon in developing countries, but fiscal constraints remain strong. There does not seem to be an easy way to vote, regulate, or teach our way to significantly greater equality. From a global historical perspective, this should not come as a surprise. So far as we can tell, environments that were free from major violent shocks and their broader repercussions hardly ever witnessed major compressions of inequality. Will the future be different?"

As an aside, it seems both a universal basic income or a job guarantee would meet Frankfurt's requirements as policy ideas. There's also some thought that working on the very poor quartile would indirectly weigh against relative inequality as well (cf. Gates foundation work). (3 min read of the post here)
☪
A semi-specialist look at what Governance ratings miss, in their tick box approach.



I have a particular continuing interest in what long term ownership / stewardship means. I am increasingly of the conclusion that the UK has a somewhat unique problem of its stock market being so filled with what I view as "ownerless" companies. Companies that have no shareholders interested in the long term sustainability of that company. (It then falls to the Board to be stewards, and again evidence there is mixed).

The US has many more CEO-Founders and its cult of equity, means there is a different sense of ownership than the UK. In Europe, there are weighted voting rights, family ownership even of large companies (eg Roche) and many Foundations eg Nordic land, which give those companies ownership.

The downside to plentiful index tracking funds is - in my view - they have shown an inability to steward companies (although arguably many active managers have not been active either); it's useful to contrast this on why VC and part of private equity might remain good stewards even with dubious governance. A 3 min technical look at some G questions. H/T Paul Marsland.
☪
I take a look at the use of silence as a rhetorical tool in this speech by a survivor of a US shooting. I subsequently found the FT's Sam Leith also examined this (but his article is behind a paywall for most). I'm very fond of silence as a word-smith device. It's powerful. It's used by great playwrights a lot eg Caryl Churchill, Pinter, Beckett... with these also using the technique of unfinished sentences that Emma Gonzalez also employs. The speech is powerful and could be viewed as extraordinary piece of theatre on a grand scale (millions watching, live) which to some extent many great speeches are except that Gonzalez does more than that to her audience, both in remembrance, advocacy and empathy. (video speech is 2mins of speech, 4 mins of silence; link to post 2 mins here)
*

Much interesting art languishes in corporate corridors. It wouldn't make me sad, but I hardly ever see anyone stop and view. If this art truly brought different perspective to office workers, I'd be pleased. I'm unsure if I see that happening. Here is one recent piece: Anthony Gormley's Hinge. Sitting in a law office in Fetter Lane, London.
*
'I would like to travel the world with you twice. Once, to see the world. Twice, to see the way you see the world.' From John Williams' book: My Son's Not Rainman.
"Well, The Boy is a wonder. He's my wonder. Despite the challenges or maybe even because of them, he's the very best thing in the world. You could line up every precious diamond in Minecraft and it wouldn't come close to how precious he is. And, of course, I'm biased. But I want people to give him a chance. To look past some of the seemingly strange, challenging behaviours and the outbursts. To chip away at some of the rock and discover this brilliant, dazzling boy inside just waiting to shine. That's why I wanted to tell our story. We only really celebrate disability in this world when there is a skill involved. The Paralympics, amazing though they are, celebrate the ability and aptitude of the athletes. Well, sometimes just 'being' is enough. And we don't celebrate just 'being' enough. Yet often, it's in the smallness, in the everydayness of life that real beauty occurs. And that's what I want all this to be about: a celebration of the everyday, of 'being'. (A blog looking at his book, with link to book, 4 mins)
☪
Randomness:

An academic paper looking at emojis suggesting "the amount and diversity of emojis causally increases happiness during social interactions"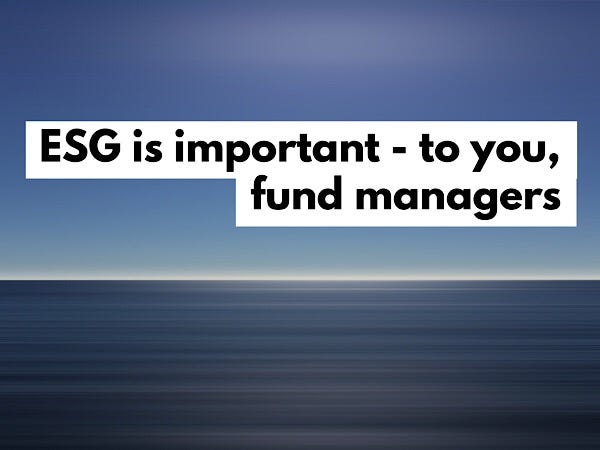 "...Through a long-term orientation and stewardship, this is the time for active investment managers to show their worth. It starts with asking the right long-term business questions. Some companies are giving us answers, but are we really listening?"
My full opinion article in the FT. (3 mins, behind paywall, but you get a free article or email me and I can send you a copy)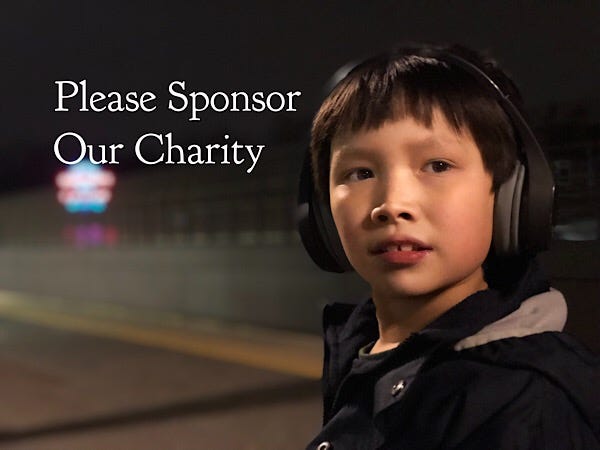 We've help found Focus West London, a Saturday club for autistic children. Children learn vital play, social and language skills in a fun and child-centred environment. Every child is provided with a volunteer therapist trained in a highly effective behavioural intervention. Families also meet, support each other and have access to experts. The therapists benefit, not only from the training and experience gained from volunteering, but through job opportunities arising with the families that use the Club.

It's a difficult climate for charitable organisations like Focus and this year they are facing a funding shortfall, so your sponsorship really matters.

Details are here. THANK YOU!