Skin in Game | Autism labelling | CEO pay quiz | Social Media Return | State of Markets and Risk |  Grief , Jazz, ESG job

Hi
-A quiz on top paid CEOs
-What is risk Warren Buffet-style? Greed and fear in the markets
-Review of Taleb's Skin in The Game and the cruel history of academics of autism
-On being back in social media after a break
-why this Mum dislikes high/low functioning ASD terms
-Call out for project on grief; Jazz Show; ESG job
☪


Out of the top 500 companies CEOs, do you know who the highest paid are? Of course, there are several problems with this simplistic look (length of CEO tenure) and there are several academics who warn of the danger of pay ratios (e.g. Alex Edmans). Still it is noticeable that so few CEOs presided over the best stock returns since 2010…. Click to take look at some of the charts (2 mins)
☪

A friend asked me about the state of the markets. But, I don't give advice. That way lies ruin. There's also complicated regulation. But, you are a professional. The professional system is mostly a relative institutional one. Their view of risk is very different to yours.
Hang on. What's my view of risk? You've spoken to a financial adviser. Yeah, but they are all rubbish. It doesn't make sense speaking about yields and downsides and tolerance for me.
OK. I can help you think about risk for you. It's always personal. You are delaying consumption for something today, to allow for greater consumption later. Your risk is you won't have that consumption later. Thus ensues a conversation over retirement, work, education, children and exactly what we might want to consume later….


A Fear --- Greed continuum is always in play.
On the fear side:
-Valuation metrics (longer term valuation metrics remain elevated such as Market Cap / GDP and CAPE)

-Geopolitics (eg North Korea, Trade wars)
-Length of positive returns in stock market
-Interest rates rising
-Black swans, unknown unknowns
-No catalyst needed for stock market downturns
-Low long term prospective returns from stocks forecast by some
On the greed side:
-Positive economic signals
-positive job signals
-US tax reform
-Trump pro-business rhetoric
-Signs of increased capital investments
-low chance of negative catalysts (eg recession)
Various reasonable experts have different views. Look them up (see picture).
But remember to focus on what your personal view of acceptable risk is in pursuit of your own goals. More on this (4 min read).
☪
The Less Obvious Aspects of Skin in the Game: Those Hidden Asymmetries and Their Consequences.


The book as Taleb suggests is:
1… ...bull***t identification and filtering, that is, the difference between theory and practice…
Don't tell me what you "think", show me your portfolio (and why investment managers should eat their own cooking).
It is also relevant to me in my interest in autism. If you've met one person with autism, you've met one person with autism.
So much theory vanishes in the face of meeting ASD people in practice.
And academic theory (of the bad kind) has been responsible for much pain, disaster and cruelty in this area. (Yes, I'm thinking of you Bruno Bettelheim - abuser of children, fraud of qualifications with the hugely damaging "theory" that "cold refrigerator" mothers were responsible for autism - the descendants of this theory are still very much alive in France and thus still causing immense harm to 0.5 million French and their families.
2..it is about the distortions of symmetry and reciprocity in life: If you have the rewards, you must also get some of the risks, not let others pay the price of your mistakes.
3...the book is about how much information one should practically share with

4 ...it is about rationality and the test of time.
This point chimes very well with Poor Economics by Banerjee and Duflo [Amazon link here]. They look at people (about 900 million) who live on 99c a day (15 small bananas) and the rationality of their decision making…
More on this thinking and what it sparks here (4 min read)
☪

After a social media break… Until relatively recently, I took about an eight year absence from social media. I didn't miss it. I don't miss items I don't know about and never had. I thought I would observe what I've seen coming back. … I've seen many short form tweets, as noisy and divisive. I have seen pockets of wonder there, Robert MacFarlane's words of the day. The story of Megan Phelps-Roper leaving her religious cult. The way you can dive down into one person's threads of thought. But, despite Phelps-Roper's story, I am with Ray Dalio that we've mostly lost the art of thoughtful disagreement.
The weaponisation of Facebook and its response (with links to thoughtful early investor and critic) was as surprising to me as it was initially to Mark Zuckerberg, but obvious in hindsight (perhaps the clearest but least useful of the 4 sights: oversight, foresight and insight).
Still, I see social media reflect humanity. The best of us, the worst of us. I've seen a post on the death of a partner, next to a birth of a child; the sorrow of a sudden infant death, the joy of a cancer cured; cake recipes next to diets; incredible generosity for a struggling homeless lady next to streams of hate. …
… Like does seem to connect with like, which leads to less thoughtful disagreement and less creativity to difficult problems; and my small contribution leaning against that is in the Mingle and in pushing for real world connections. Minglers have really enjoyed it. Maybe end March or April for next mingle,TBC.


Taking a step back, like so many tools of human ingenuity, it can be used for good, or used for ill; or used for cat memes.
But, if those who know better, or can do better – if those people step away – then the eco-system will be poorer.
Social media embodies many facets of humanity, it's not going away, and it will be what we make of it, for better or worse. (read more 3 mins)
☪

This mother speaks to the complexities of labelling in her Washington Post article. It chimes with the David Mitchell piece I blogged on recently.
When labels do not come close to describing what they are attempting to describe perhaps they become unhelpful?
From Washington Post: "...My 10-year-old son can change from an adorable, quirky little dude to an aggressive screamer in a second. He sinks so far, so fast, that I forget about his strengths and drown in his weaknesses. I wish I could make it stop.
There's a diagnosis that explains it: autism... A child with an autism diagnosis, no matter how intelligent, charming, or funny, has challenges, and they aren't mild. According to a recent article in The Economist, Britain's National Autistic Society survey found that only 12 percent of so-called high-functioning people with autism in that country have full-time employment. As reported in Science, another study found that autistic adults without a learning disability were nine times more likely than control subjects to die by suicide....
Modifiers have no place in a home where a child aces 20 math problems, builds a stuffed animal fort with his sister, devours a plate of meatloaf, shoots 20 baskets on his closet-door hoop and then sparks instant chaos without warning. Over mouthwash. Only strong effort makes James as competent as he is — most of the time. And sometimes even that isn't enough. ... Blog on it here (2 mins)
☪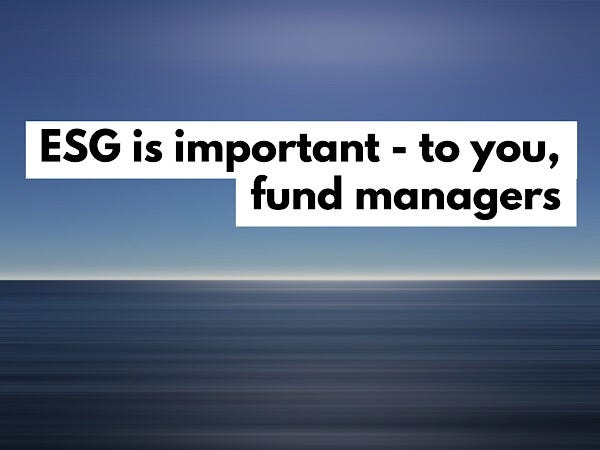 "...Through a long-term orientation and stewardship, this is the time for active investment managers to show their worth. It starts with asking the right long-term business questions. Some companies are giving us answers, but are we really listening?"
My full opinion article in the FT. (3 mins, behind paywall, but you get a free article or email me and I can send you a copy)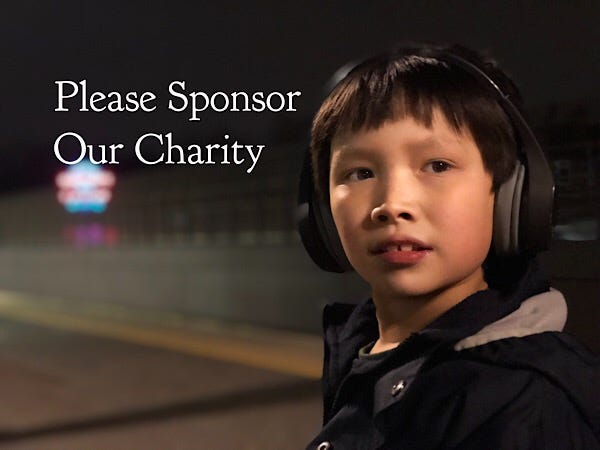 We've help found Focus West London, a Saturday club for autistic children. Children learn vital play, social and language skills in a fun and child-centred environment. Every child is provided with a volunteer therapist trained in a highly effective behavioural intervention. Families also meet, support each other and have access to experts. The therapists benefit, not only from the training and experience gained from volunteering, but through job opportunities arising with the families that use the Club.

It's a difficult climate for charitable organisations like Focus and this year they are facing a funding shortfall, so your sponsorship really matters.

Details are here. THANK YOU!