Hi Arts - Investing - Personal/Autism
In a fairly rare scheduled evening outing for me (see twee story about disability and seeing Holland not Italy or other ASD lessons here), I am going to see the Droves at 8pm on Sunday Feb 18.
Do let me know, if you'd like to come? And I will see you there.
The Droves is an immersive theatre show, designed by kids, for adults.
You're invited into a secret community of children living deep beneath a derelict carpet factory. For decades they've hidden from adults, growing strange in the darkness – but now they're asking you in… Unsettling dilemmas, mushroom forests and at least one gorilla await you at the door.
Full disclosure, I chair theatre company, Coney which is behind the Droves.
It's unique and ground breaking and only has a short run. But with many time slots. The Droves will be at COLAB Factory from the Sat 17 – Sun 25 February 2018 from 6:30pm (Matinees from 1:30pm). BOOK TICKETS HERE
☪
Buying friends and followers. This is a dark art. It raises many questions, but (what should have been unsurprising) is how the market has developed.

"Manufacturers" create Twitter bots. These come in high-quality form, usually copied from an inactive Twitter account (but sometime an active one), with a copied picture and ID. There are also low-quality bots which do not copy a real-life person and are super-easy to spot.
These are wholesalers (e.g. Peakerr) and some are not available to individuals only "retailers".
The NY Times exposed one such retailer Devumi, which has a large number of celebrity and political clients.

These bots can then be used to amplify your message or any message (realnews or fakenews), or denigrate other messages. (see 2 min post on it with link to NYT article here)
☪


Beaches that were covered with pristine sand in the 1990s are today littered with plastic debris, washed up from countries around the Pacific Rim and beyond — an estimated 37 million pieces, weighing 18 tonnes.

"This is just the tiniest snapshot of our problem with plastics. Every year an estimated eight million tonnes of the material flow into the oceans. And, over the past few months, there has been a huge increase in public and political concern about this marine pollution, to a level where it is approaching climate change as an environmental issue."

I continue to be amazed at humans' poor skills in thinking long-term (I include myself here) or perhaps simply valuing short-term convenience (packaging?!) over unseen consequences. This applies to investing, as to much of life.
Along side many other problems, we seem to have been sleep walking into a plastic ecological disaster. Let's hope human ingenuity can bend this problem away. (2 min thoughts with links to articles)
☪
More noise on US healthcare as JP Morgan, Berkshire Hathaway and Amazon form a venture to look at lowering healthcare costs (Bloomberg article). I've been meaning to write a long series of pieces on health, given it is one of my specialties and I can talk about health for almost as many days as I can talk about theatre or investments and sustainability.
But, it's hard to compress those thoughts succinctly.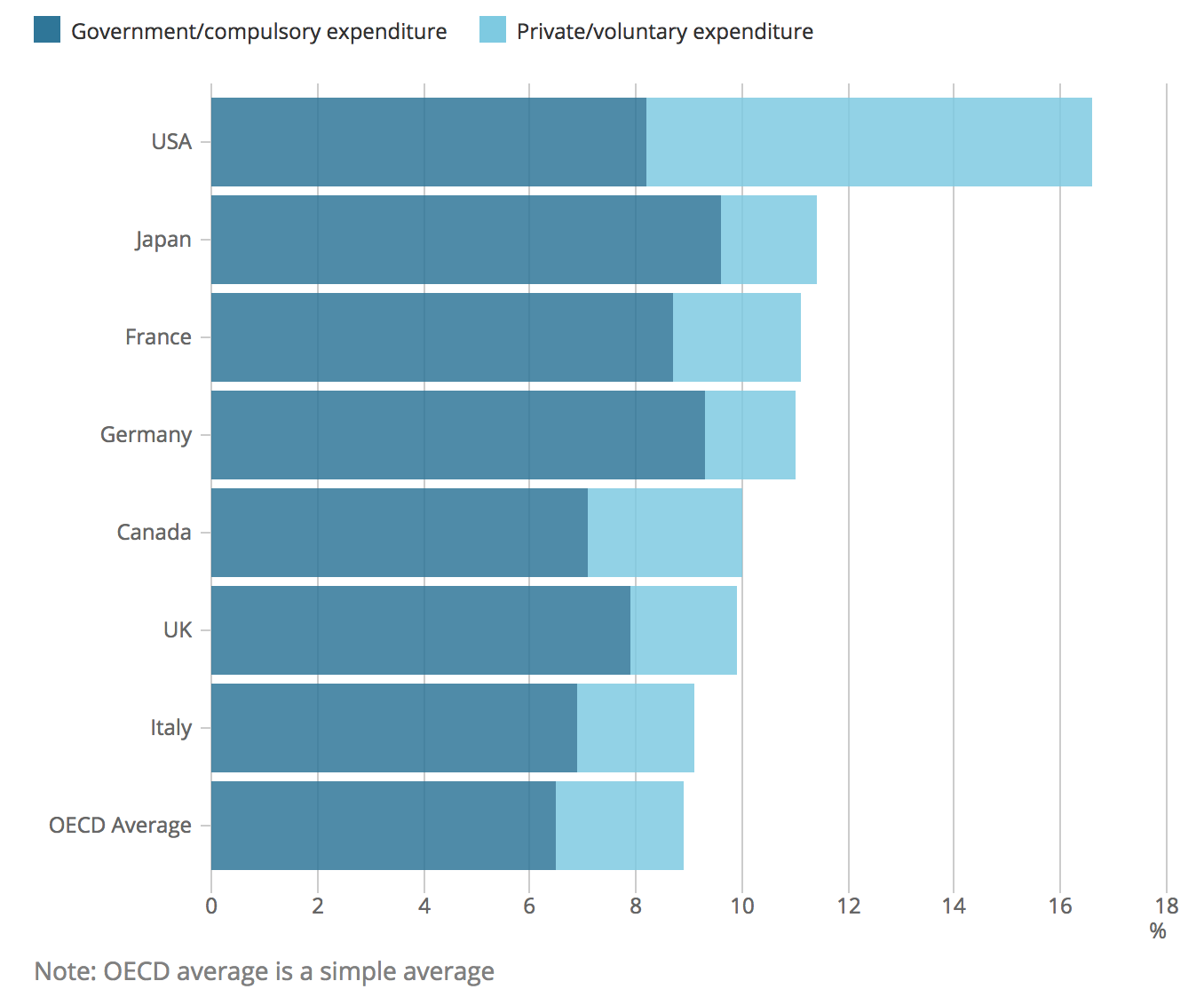 So, I only wanted to mention 2 points. First, US healthcare spend is at around 16.6% GDP (in 2014; but close to 18% in 2017 and likely 20% in 2025!) and now vs UK at 9.9% (2014 adjusted) and Germany at close to 11% and China at about 6%.

(Noticeable for the UK, its health spend is one of the lowest in the G7 on this measure, although higher than the OECD average for now - it probably falls to average in next few years; UK data here and more and world bank data here; US govt analysis here)
These averages disguise a huge amount, which is a discussion for another time, but it is much larger than other developed nations and on balance the average result in the US (again the mean and median disguising many items) are not as good as other developed nations, across many health measures (see a balanced view on key measures here from Kaiser. I've also seen data where items such as socio-economic status, smoking, obesity and other key factors have been balanced and US is still worse at the mean).
One of the problems in the US, is that there is no socio-political consensus that healthcare is a human right, in the same way it is in Europe.
Ultimately funding healthcare is as much (or if you follow Cambridge economist Ha-Joon Chang's line of thinking, the politics is everything (23 Things They Don't Tell You about Capitalism) political as economic. Some of the US population believes healthcare is a right and should be public funded, but others in the US do not believe it is a right. (3 min blog post on it here)
☪
Randomness:

Beyond wrong and right
A field of grass grows over dreams
I will meet you there

--My Haiku after Rumi
☪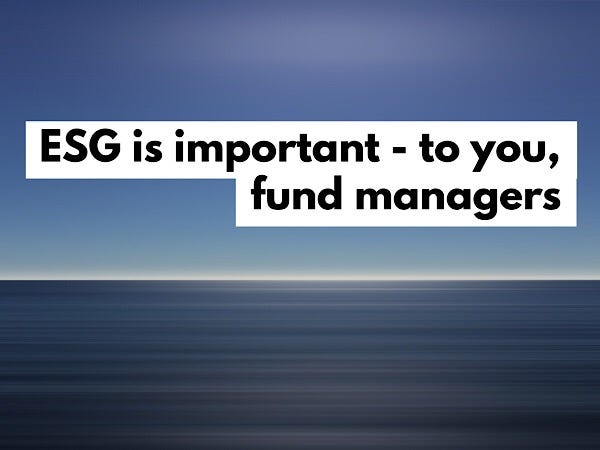 "...Through a long-term orientation and stewardship, this is the time for active investment managers to show their worth. It starts with asking the right long-term business questions. Some companies are giving us answers, but are we really listening?"
My full opinion article in the FT. (3 mins, behind paywall, but you get a free article or email me and I can send you a copy)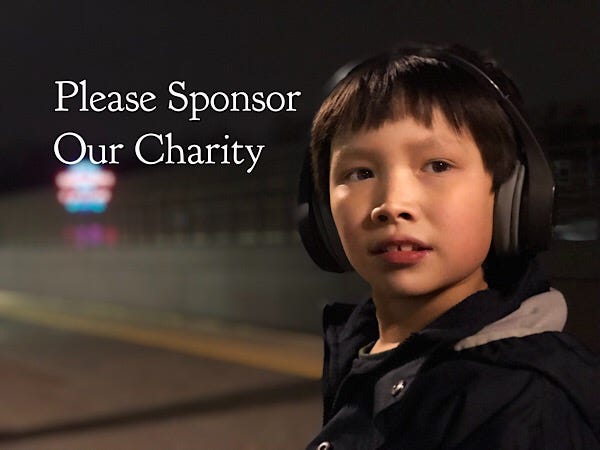 Anoushka is doing a Digital Detox will be on behalf of Focus West London, a Saturday club for autistic children. Children learn vital play, social and language skills in a fun and child-centred environment. Every child is provided with a volunteer therapist trained in a highly effective behavioural intervention. Families also meet, support each other and have access to experts. The therapists that we train also benefit, not only from the training and experience gained from volunteering, but through job opportunities arising with the families that use the Club.

It's a difficult climate for charitable organisations like Focus and this year they are facing a funding shortfall, so your sponsorship really matters.

Details are here. THANK YOU!