In case you missed it.... Lego House | Travel Thoughts | Lost Einsteins, cost of unequal opportunity | Danish Trains, Nordic Energy

Hi Arts - Investing - Personal/Autism

I'm tentatively thinking about arts/business mingle meets pub quiz event (perhaps loosely based around Coney's We the People) as a fundraiser for a local autism charity, (Focus West London, ASD Saturday clubs) I support. It will be early next year, but any other ideas welcome.
☪
I spent most of this week travelling Stockholm-Copenhagen-Billund (Lego!) but before some travel thoughts, I did come across this study from http://www.equality-of-opportunity.org/ on how, in the US, gender, race and income impact ability to obtain patents:



"...children from high-income (top 1%) families are ten times as likely to become inventors as those from below-median income families. There are similarly large gaps by race and gender. Differences in innate ability, as measured by test scores in early childhood, explain relatively little of these gaps." Read a 3 min post with charts on it here.
☪
My parents oft repeated this refrain in my childhood "To travel is to be educated, school is only learning" and my mind is swirling with new experiences and ideas from a few days in Sweden and Denmark. I'm still trying to gather the thoughts together: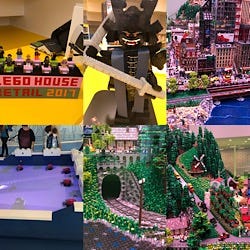 Lego House - Amazing. I can confirm the Lego House in Billund is pretty amazing. What would you do if you had infinite bricks and a Lego fan? I think this Lego House comes close to answering some of that. You can shoot your own films, build mini-figs (and take photos), build flowers (and take selfies), build animals (and put them on a vibrating landscape), build cities (and put buildings in an interactive landscape); play on a rescue mission Lego robot machine; see a Lego manufacturing machine and receive a unique combination of bricks from it. You also order food via Lego… Short post with pictures here ( 3 min)
☪
Copenhagen Uber ban: when Copenhagen banned Uber (due, according to 3 locals I spoke to, from strong taxi labour union) this causes transport difficulties at peak times as not enough transport is available, particularly for visitors (Chinese tourists going to miss their plane). But cycles continue to flourish - lots of cycle shops, too. Outside of peak times there are limited complaints except potentially for cost of taxis.
We need more demand-side pressure on train travel over flight: accounting for all-in travel time, a train ride plus public transport from Copenhagen towards Billund is about the same time as flying. Yet many still seem to prefer plane despite the heavy environmental cost, there seems limited incentive otherwise. Short post on the carbon cost here.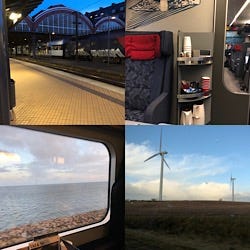 There is a much more noticeable push on energy-related concerns running through what I can see. From electric cars at companies, to turbines in what is a windy country.
☪
Speed and size of immigration has real world social integration impacts in Sweden. A story I was told: after one refugee crisis, some refugees ended up in Sweden, some in Minneapolis, US.
The narrative I heard was that the refugees in Minneapolis (on average) have integrated better (in a shorter time) as more of them had to seek jobs and employment, helping social integration (although given time, integration and jobs can be achieved in Sweden). Whereas the refugees in Sweden didn't find / weren't forced to seek jobs under the same type of pressure - This recalls to me psycho-social studies that show working together increases harmony (esp. re: race) - a whole set of studies and questions found here at the Oxford Centre for Intergroup Conflict.
It is also anecdotal evidence in support of a job guarantee policy idea as suggested in a paper by James Montier (see GMO site) and by the left libertarian mmt economist Bill Mitchell (see Bill's blog, with comprehensive left libertarian economic thinking, an advocate of Modern Monetary Theory).
This idea is potentially stronger than universal basic income because a job gives you skills (both intangible, and measurable) and experience, plus it can promote social harmony. Still, there did seem to be broad hope that given time, the new Swedish immigrants will also integrate. The newly-arrived need to learn the skills, language, etc. to help them find jobs - there are seemingly many who arrive unable to read/write well and that's a problem.
The anecdotes I heard were not studies. I found a study here and an in-depth reporting here on the issues, the two pieces did seem to align broadly with what I heard, suggesting some Swedes at least are abreast of the issues.
☪
Randomness: London Snow!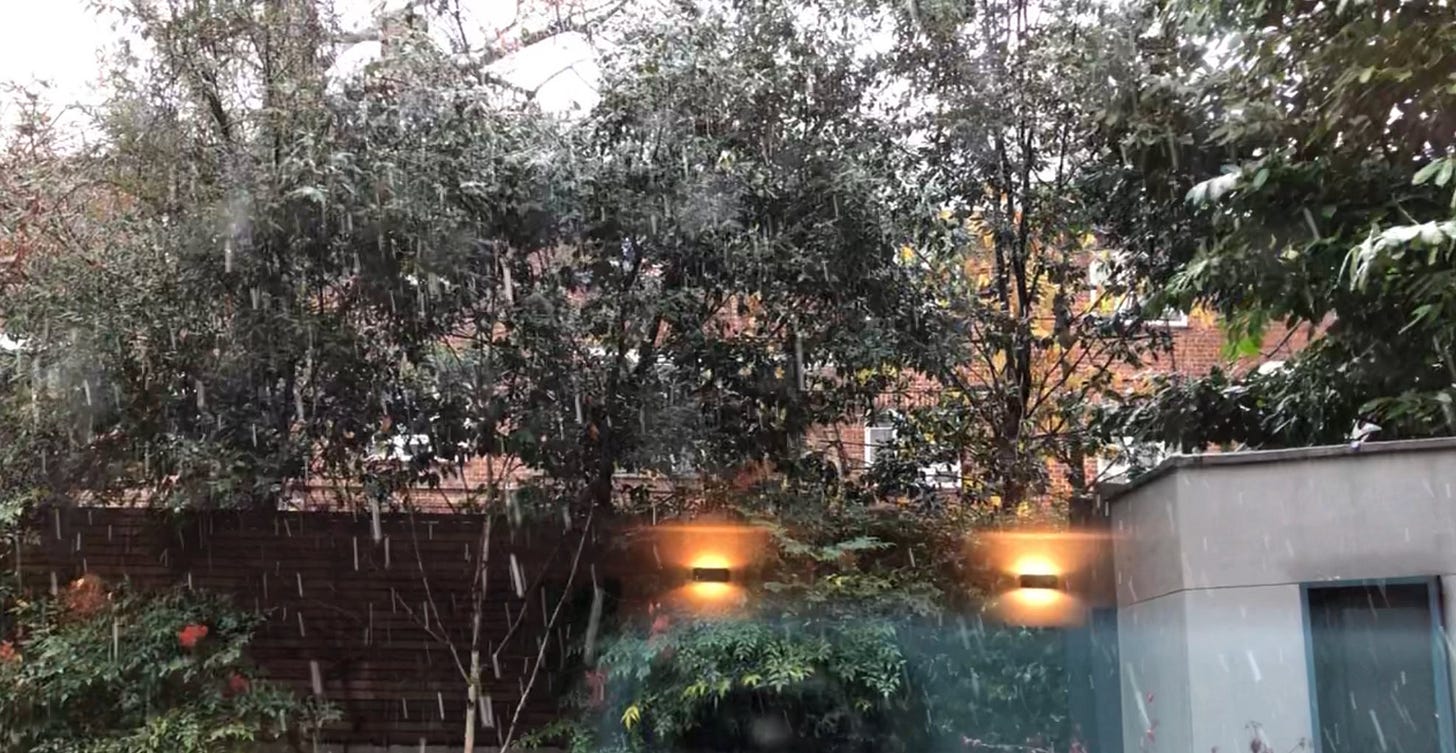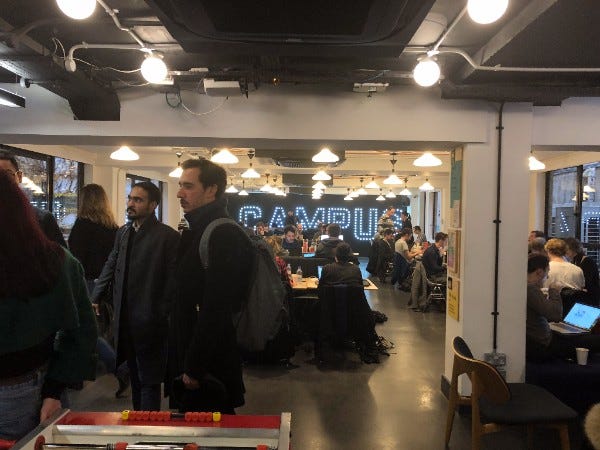 Visit to Google Campus, London You get a decent amount of intangibles for free. There's no silver bullet but you get access to a co-working café-space, events, mentoring and advice; plus that all-important network and start-up, go-getting vibe. All of that means, I recommend you sign up if you are at all interested in the start-up area.
A few pictures and a couple of thoughts in this post here.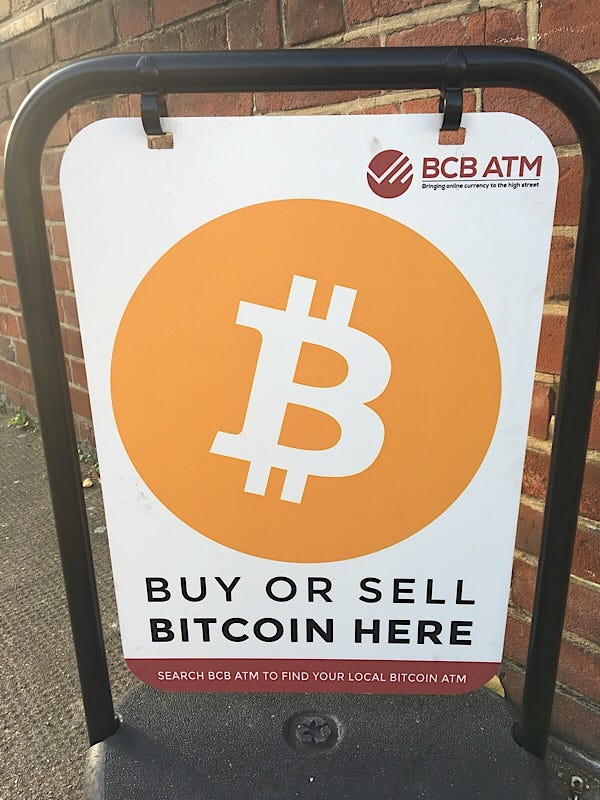 Bitcoin - a mystery quest story "I can calculate the movement of stars, but not the madness of men."
A Blog thought on the story of Bitcoin is here (2- 3 mins).