Hi Arts - Investing - Personal/Autism
Come to mingle (invite here), this Thursday 23 November at Marlborough Contemporary Arts, London W1. Last mingle of the year and pretty much my birthday drinks as well.
Banana and a sandwich with that antique statue, please? I viewed the Tony Matelli work at Marlborough Contemporary Arts. It sparked thoughts on found art, absurdism and the nature of art.
The impermanent made permanent. The fragile cast into bronze. The real and hyper real being not what you see.
The permanent being found. Made and remade. The old made a new. Sandwiched and juxtaposed.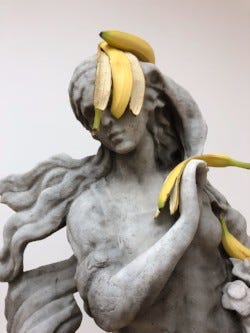 A 2 min read quoting toilets, Donald Trump, funny poetry, absurd and verbatim theatre and quite a lot of banana. Click here for more.
☪
The rise of intangibles. Why the stuff you can not touch or measure is the dominant force today. I take a look at Stian Westlake's arguments for the rise of intangibles.
Out of many, these two points strike me.
Intangibles are difficult to measure, sometimes impossible to quantify.
Intangibles now make up more of the value of a firm than ever before.
We know 27% of investors ignore material ESG (the intangible Environment Social Governance factors) completely, only 35% of investors look at ESG systematically (this is examined in this post here).
ESG factors are part of the intangibles that are (1) difficult to measure, sometimes impossible to quantify and (2) now make up a significant value of a firm.
If an active investor can identify positive or negative value in these ESG / intangible / sustainability factors, that market consensus has missed (and it seems market consensus will continue to overlook these factors as many investors still ignore them and do not value them) then she can outperform.
This aspect of the intangible debate I examine here.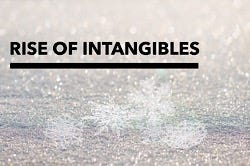 The Westlake argument for Why Intangible Investment Is Different, from his book Capitalism Without Capital: the rise of the intangible economy.
I look at this in this post - intangible investment
(1) tends to represent a sunk cost
(2) are harder to sell and more likely to be company specific
(3) generate spillovers
(4) more likely to be scalable
(5) have synergies / complementarities
...The shift to intangible investment helps us understand four issues of great concern to anyone who cares about the economy: secular stagnation, the long-run rise in inequality, the role of the financial system in supporting the non-financial economy, and the question of what sort of infrastructure the economy needs to thrive... ( this post 3 min read)
☪

I went to an investment bank conference on healthcare. This is what it looks like. I posted on Linkedin. One commentator noted the lack of women. So, I looked up the stats. This is true across financial services where only about 25% are women who are currently registering as authorized. Hmmmmm.

☪
The first digital pill was approved this week.
The NY Times raises privacy and coercion concerns. The FT and NYT both discuss problems around compliance and adherence* of taking drugs. Adherence to prescription drugs is remarkably low at only about 50%. Although a tracker might only address one part of the myriad of problems with adherence.
There are other two points, I view, as more intriguing.
The two other aspects not picked up are (1) branded drug defence [generic makers won't have this] and (2) The historic (arguably still present) use of anti-psychotic drugs to keep patients sedated in care homes to make it easier for the patients to be handled but not in the patients' best interests. This has included patients with autism, learning disabilities and dementia. (2 min read here: first digital pill was approved)
☪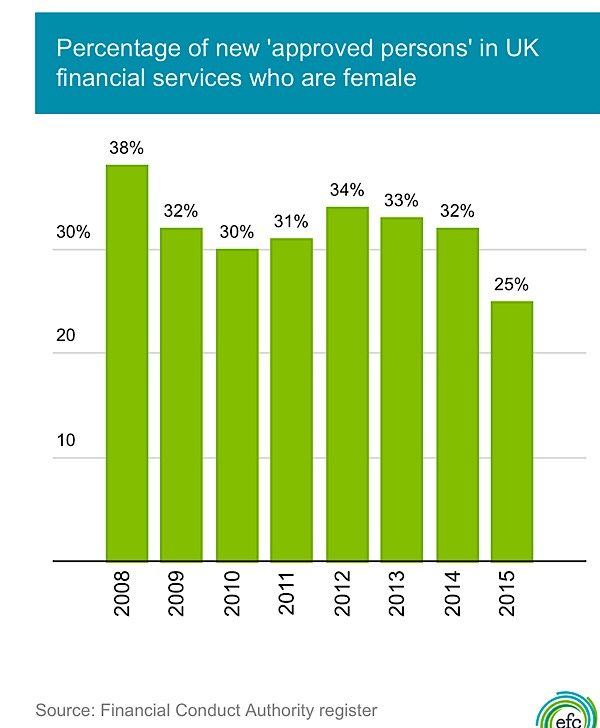 Few women in UK financial services. Only 1 in 4 new FCA authorised persons are women.... hmmmmm. (tiny post here)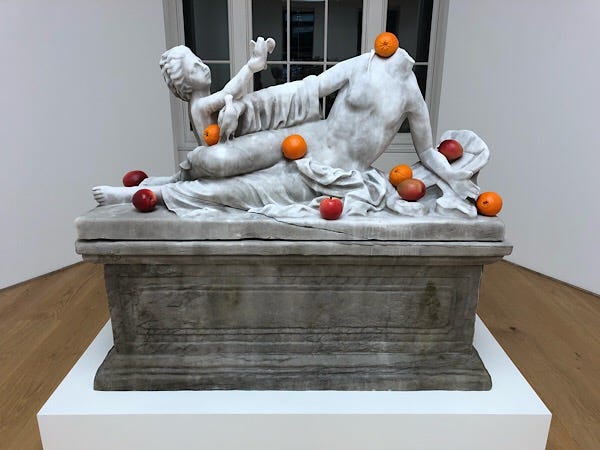 Absurd art: Looking at a banana which is not a banana on an old statue that is not old found in a place where it is not found and as the absurd builds on the absurd - that's part of the human condition as expressed in art. (Short 2 min post here)