Hi Arts - Investing - Personal/Autism
Please sign up to Mingle 23 Nov, if you haven't already and think you might want to come.

Iphone X review: TLDR If you like Apple you should feel relief that the phone mostly lives up to expectations.

Pros: brilliant screen, great camera, good battery life, water resistant; minor: wireless charging, Face ID works ok, Apple Pay works OK, sound is good.

Cons: no headphone socket, no fingerprint scanner, glass will break if dropped so need case, expensive vs S8/Pixel, the notch for some, some new gestures.

The battery lasts at least a day! I had not appreciated how annoying the battery packs or the I'm losing battery I will be out of contact soon moments of stress. (Running late with children - Ugh). Full mini review here (If you like Apple you should feel relief that the phone lives mostly up to expectations. 2min)
☪
Healthcare thoughts: I continue to have some deeper thinking about the philosophy of healthcare. I'm not yet reaching any conclusions, but I'm increasingly convinced that surface examination of average numbers is misleading. The "bottom 60%" are having such a different experience of health, nutrition, economy - well, everything - I think it is hard for the top 40% to comprehend. The big people news in pharma land is Hal Barron (ex Genetech/Roche) leaving Google's Calico to join GSK. Bye, Art (Calico CEO), Hello Emma. Trust me, it's big news for those who follow that type of thing.

I noted Thomas Cueni, appointed earlier this year as director-general of the International Federation of Pharmaceutical Manufacturers and Associations, said to the FT:

"Suing Nelson Mandela to defend HIV drug patents in South Africa was about the dumbest thing the industry ever did."

I might put it in the top 10, but perhaps there are other items to challenge it.
The whole area of drug pricing and patents in Africa was one of the earliest catalysts for my involvement in the sustainability / ESG / responsible investing / whatever you want to call it.

Cueni noted his top 3 priorities:

"(1) The biggest health threat right now is antimicrobial resistance. If we don't get our act together, instead of 700,000 people dying each year we may have 10m by 2050. (2) Universal health coverage. You will not be able to make much progress unless you address the funding issues. You need functioning health systems. But as long as two-thirds of the world pays out of pocket, you will struggle to reach universal health coverage. We as an industry can contribute. (3) Ethics and integrity.

I think most of us are not super-aware of (1) the antimicrobial resistance, apart from registering the odd super-bug headline. (2) is simply not happening in the US. And (3)… well it's better than before but these surveys do not paint a good picture of trust.

Click here for the survey charts and blog post (2 mins)
☪
Happiness 2.0 / meaning / deeper happiness: careful readers may have noticed the thread of commentary on happiness research. This originated in Martin Seligman's work, closely followed by Tal Ben-Shahar, and in what is now referred to as 'positive psychology'. It offshoots from my university work in behavioural psychology and neuroscience, so I remained interested. The concepts and related ones are: Gratitude / work as a calling / journaling / flow / meditation / mindfulness / flow / grit / resilience (with psychological safety and teaming, different but interesting and related in my mind – more on this in another post).

Social psychs are still arguing over all of this area, while the likes of Nassim Taleb are dismissive overall (although his notion of anti-fragile in my view fits some of this thinking well, which it should do having some similar roots in stoic philosophy cf. Seneca)
Still, there is an emerging line of thinking there is a more surface happiness, and a deeper one. [I say emerging, but the greeks and probably before them as well, were certainly there first … hedonism (Epicurius) vs stoicism (Seneca) or eudomonia (Aristotle) ]

This is most easily seen in parenting. Parents (self) report a drop in many measures of surface happiness e.g. tiredness, grumpiness, sleep, physical well-being etc, but also report higher levels of deeper happiness along the lines of e.g. purpose, meaning, fulfilment, life satisfaction.
The Power of Meaning a book by Emily Esfahani Smith. argues "They are the four pillars of meaning: belonging, purpose, storytelling, and transcendence."
I take a look at some of Smith's ideas. Parts of the book are a touch too self-help for my taste but the overall thrust is provoking and draws on some of the later positive psychology work and a little philosophy.
There's also a short story via Moth, it's a thoughtful read, if you have 5 minutes. blog post here.
☪
Bill Clinton called Tony Blair when he heard of Diana's death. These pieces of "found dialogue" recall a whole set of art practise with found objects, found sound (cf. Dickie Beau).

"Blair: I will personally miss her, it's like star falling. She was a star for them."

Read my transcription from the transcript of that conversation here. (1 min)
☪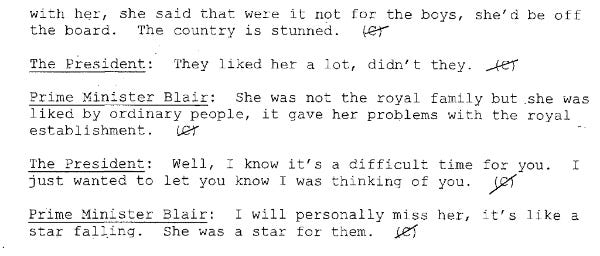 Bill Clinton / Tony Blair on Diana's death
-Hi, Bill. It's a grim business, a very grim business.
-It's awful, it's really awful. We're up here on Martha's Vineyard vacationing, and we're with a lot of people who knew her.
-We saw her again just weeks ago when we hosted her for lunch with Prince William, he's a great kid. ~
-Yeah, I worry a lot about those kids now[ ]
-The problem was the way she lived, in a press frenzy. It's impossible to contemplate how intrusive it was, into every single aspect of her life. The last time I spoke with her, she said that were it not for the boys, she'd be off the board. The country is stunned.
-They liked her a lot, didn't they. ~
- She was not the royal family but she was liked by ordinary people, it gave her problems with the royal establishment.
-Well, I know it's a difficult time for you. Just wanted to let you know I was thinking of you.
-I will personally miss her, it's like star falling. She was a star for them.
Pharma Federation priorities: (1) The biggest health threat right now is antimicrobial resistance. If we don't get our act together, instead of 700,000 people dying each year we may have 10m by 2050. (2) universal health coverage. You will not be able to make much progress unless you address the funding issues. You need functioning health systems. But as long as two-thirds of the world pays out of pocket, you will struggle to reach universal health coverage. We as an industry can contribute. (3) ethics and integrity. (not scoring well here.... read more)