Hi ~ I made a set of 58+ Trend predictions around COVID.
These are not "super forecast" predictions that need specific dates and numbers but a starting point for a debate about where we will go. Let me know if you have some good predictions to add. Some sample predictions…

56. Globalisation ↓

56.1. Some off-shore jobs return

56.2. Food security ↑, Other "essentials" have increased localisation
57. Cities ↓ in short-medium term

57.1. This will spur innovation in a complex way over long-term
58. Gum sales continue to falter

58.1. Gum used for in-person meeting for "nice" breath, this is ↓

58.2. Same for perfume
Take long at my Predictions around COVID (3 min blog here.)

There's definitely some interest in a small group for a Zoom BookClub/Podcast/Essay club.
Now we need a topic/book/essay ? Any ideas from anyone? I had a thought about the future of City planning but it's bit esoteric maybe. I was also thinking Ursula Le Guin - a book or essay - but do people have enough time to read a new book? Or series. Who hasn't read Wizard of Earthsea?
**
In last two weeks, I've had chats with the Head of Strategy at UK's National Grid, Claire Dykta, and the head of Sustainability at Roche. Let me know if that's of interest and we can chat or exchange notes.
**
Podcast of the week is Phillip Tetlock of Superforecasting fame and Tyler Cowen, most read economics blog fame. (Links below)
Cowen is hard to exactly label. I find him interesting as he is open-minded, reads an incredible amount (more than me, which is relatively rare) and articulates many views which would be typically put in the Right and Free Market camps, although he might say he was closer to a State Capacity Libertarian (his book on his philosophy, blog here). He's also much more interested in culture, ethnic food and autism than the average economist.
Tetlock is fairly wide-ranging as well, although prediction markets and forecasting within the social science domain - and a long standing argument with Nassim Taleb are perhaps what he is most famous for. Although there are other great research topics that he is a leading researcher on, such as Taboo Cognition.

Two points among many in the podcast were on "Diversity of Thought" and the effort needed to be a good forecaster. There's a temperament needed (that Tetlock himself claims he is not best suited too). The temperament seems perhaps to have much in common with what Charlie Munger (billionaire business partner of Warren Buffet) has spoken about. It's an open-minded view, even-minded temperament and a curiosity that leads you to focus on incremental information to gain a better insight.
The book with its 10 rules make super-forecasting seem easy at first glance. E.g. "Strike the right balance between inside and outside view" or "Break seemingly intractable problems into tractable sub-problems. Channel the playful but disciplined spirit of Enrico Fermi" but the part of this which is missed, is the hours a day/week needed to put all these techniques to work. That's partly the theory why liquid markets - those with many participants - are thought of as mostly efficient due to the millions of hours that people spend on them.
It's hard to beat those hours although if you are putting in those hours then i) applying the forecasting rules and ii) working in teams will improve the forecasts.
The second point, of diversity in teams is intriguing. It's not so much "diversity" as now commonly debated in the identity and culture wars, but of approach and opinion such that two people who think differently - and often disagree with one another - if those two people on your team end up agreeing on a point or forecast that's a much stronger signal than between those who agree often.
You can use this insight in several ways. In my own team, there's someone who I disagree with often. But, when we agree then it's a point the team need to seriously consider - even if everyone else disagrees with us. Our combined signal is probably our strongest bet.
It's also a key insight on why certain type of successful forecasting or creative teams can carry so much tension. There's a high amount of emotional stress in disagreeing a lot. It can seem like you are not progressing and it's not fun. The tension is a side effect of the diversity of thought.
However, I believe you can use this insight - if you are open minded enough - in combining your own views with expert views especially those you disagree with often. Or combining views with experts who often disagree. I find it notable when Left / Right thinkers can agree on matters or when noted libertarian thinkers will agree certain regulations or externalities do need addressing.
This happened around COVID. I noted Cliff Asness - noted libertarian (and quant hedge fund manager) I follow on Twitter - stated that COVID was exactly a time for governments and not markets. You can see it in some thinkers who are generally anti-regulations but who express concern around environment.
The ability to express a different opinion is an important part of the "Psychology Safety" insight that Amy Edmondson looked at for Google. This is the culture in high performing teams of letting anyone speak up with a view point and not fear embarrassment and repercussions. It's thought of in "the whistle blowing pointing out poor behaviour" sense but it's important in expressing opinions around decision making and forecasting within teams.
Why would anyone want to spend so much time playing forecasting tournaments if not part of a job or business? I'm unsure. It's part of that curious temperament.
I played for a few weeks earlier this year and I'm keeping track of a few questions. If you are going to attempt them fully. It involves (surprisingly, but unsurprisingly) a lot of work.
To give one example, one question asked was would New Zealand pass a gun control law in March. The exact phrasing "Before 15 March 2020, will the parliament of New Zealand pass a bill that would create a national gun register?" In figuring out a forecast on this, I spent several hours studying how New Zealand passes laws, the typical time parliament takes to read bills (NZ can pass laws quickly historically. I learned that many considered this too quick and more deliberation has been added in recent years), and watching the speaker of the house explain the forthcoming debates of the week. Then in understanding this, I became aware that the NZ Prime Minister, while she typically come across very strongly in the international arena (particularly amongst centre and centre left) is weaker at home, as her party is propped up by a smaller party which she needs to pass laws. This smaller party - New Zealand First - acted as "Queen Maker". It turns out on a reading of the NZ press that there's a significant lobby which is concerned about the gun register part of the gun control law. And by late April / early March knowing the opposition and the time for Bill reading in NZ (and by then the encroaching concerns on COVID), I judged the bill would not pass by 15 March (the anniversary of the shootings) which was significantly different from the consensus judgement (although not too many people were answering - not that "liquid" a market).
I took a few insights from this. One was on opinions of politicians (and/or political power) domestically vs internationally. Another one was on the workings of the New Zealand parliament!

Here are various Tetlock / Forecasting links and blogs.
General principles and top 11 rules here plus the link to the podcast.
Blog on (Super) forecasting in practise - how it relates to pharmaceutical development here.
Paper on Tetlocks (2003) summary on Taboo Cognition and how for some people there simply are no trade-offs vs the spiritual.
Charlie Munger Life lessons: the slightly less famous Billionaire partner of Warren Buffet.

Google Teams - What Amy Edmondson found on psychological safety.


**

Moving on to Arts. A couple of YouTube videos to highlight. Mark Ravenhill (highly-rated English playwright, although he has spent time and been performed in Europe a fair amount, too) on Improvisation (and Keith Johnston book).
Notable for theatre practitioners and thinkers.
**

Anoushka made a book explaining autism to JP. It's awesome. Short video link here.
**
I'm mainly giving the onslaught of COVID a break, again, this week.

But here are few posts from the archive worth a read:

Sheryl Sandberg on Grief and Gratitude:
"It is the greatest irony of my life that losing my husband helped me find deeper gratitude—gratitude for the kindness of my friends, the love of my family, the laughter of my children. My hope for you is that you can find that gratitude—not just on the good days, like today, but on the hard ones, when you will really need it."
Sheryl Sandberg (Facebook COO and LeanIn author) has given two commencement speeches (2016 to UC Berkeley, 2017 to Virginia Tech) both deal with the aftermath of loss (her husband died suddenly in 2015) and touch upon resilience and gratitude. Both are thought provoking reading. The gratitude practice (which is echoed by Oprah Winfrey, and has evidence backing it from positive psychology; also noted by Anoushka in this post) along with journaling can be a powerful ritual/technique to foster resilience and happiness. I know she take a lot of criticism in the last few years, but this is still worth considering - perhaps as part of stoic philosophy in practice.
"And when the challenges come, I hope you remember that anchored deep within you is the ability to learn and grow. You are not born with a fixed amount of resilience. Like a muscle, you can build it up, draw on it when you need it. In that process you will figure out who you really are—and you just might become the very best version of yourself."
**
On Atul Gawande's Mortality:
My father had a full life, but a mediocre death. Not a bad death by any stretch, but not a good death.
He was taken in an ambulance to hospital suffering from complications from his recurred cancer.
He was somewhat scared but partially comforted by his family. The hospital was about as hospitable as you'd expect. After not too many days, he lapsed into a coma and shortly afterwards I witnessed his last heartbeats.
It was the second set of final heart beats I had witnessed. One of my best friends had died at university 2 years earlier.

"Death, of course, is not a failure. Death is normal. Death may be the enemy, but it is also the natural order of things. I knew these truths abstractly, but I didn't know them concretely—that they could be truths not just for everyone but also for this person right in front of me, for this person I was responsible for...." A blog on mortality
**

I've had 100+ submissions and have backlog of 50+. Sorry if you are waiting for a response, I'm caught up to approx end Jan. Micro-grants. £10K for positive impact people.

➳UK Science: Where did it go? Can ARPA save it?
➳Me on ESG investing / YouTube CFA UK
➳Micro-grants. £10K for positive impact people.


***
A 2 min view clip of Thinking Bigly you can now see here.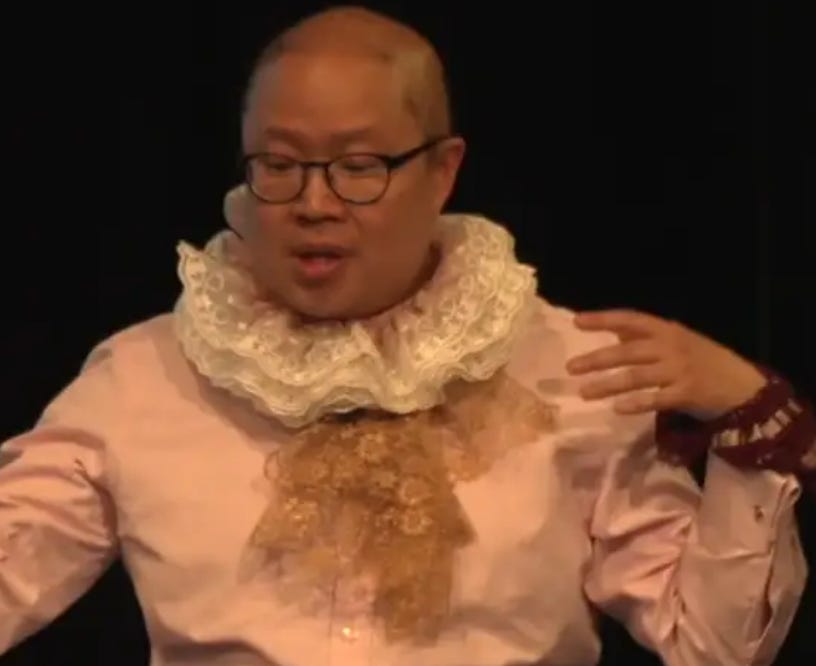 * ☪ *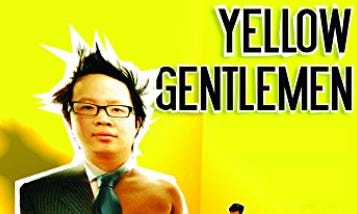 I've re-issued my 2006 play, Yellow Gentlemen (4 stars in Time Out and is one of my more personal works about the night immigrant Tommy Lee is dying). Buy it for laughs on Kindle for the price of a coffee. All profits to charity. I've only sold a few copies at the price of a coffee - 1.99.

* ☪ *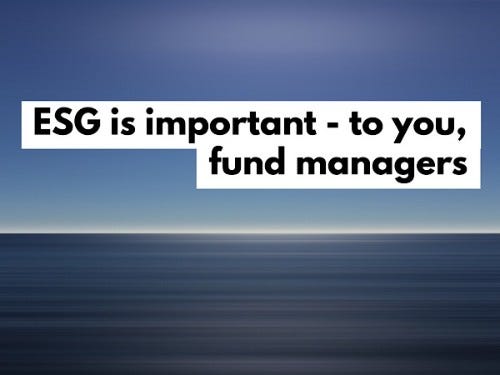 "...Through a long-term orientation and stewardship, this is the time for active investment managers to show their worth. It starts with asking the right long-term business questions. Some companies are giving us answers, but are we really listening?"
My full opinion article in the FT. (3 mins, behind paywall, but you get a free article or email me and I can send you a copy)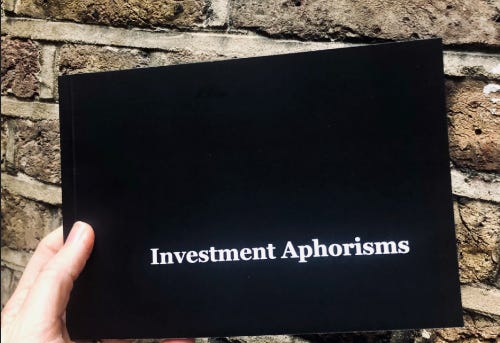 Find out more about my aphorism book and contact me for a copy.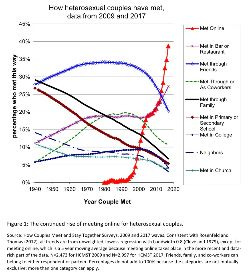 The move to online dating has potentially empowered women as the cost to ghosting is so low.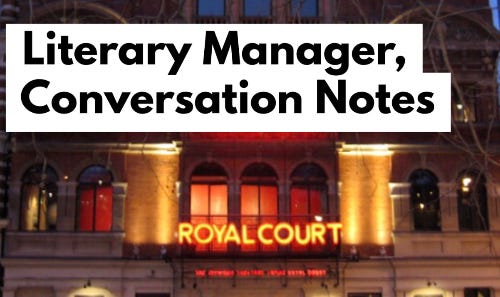 Notes from a conversation with former Royal Court Lit. Manager.