Hi ~ The thought echoing in my head this week is on How To Fail, and Malcolm Gladwell's failures.
This week I hosted a webinar with Alex Edmans on his book arguing great companies provide both profit and social value. I spent much of my non-work time re-reading Alex's book and papers. My blog on his book is here.
Welcome new readers, do check out my micro grants programme (any applicants reading, sorry I'm very behind in reviewing) and feel free to Follow me on Twitter @benyeohben.
If I organise a small Zoom Mingle / Bookclub/Podcast club type thing? Anyone interested in joining in? Reply if interested.

**

Anoushka made a book explaining autism to JP. It's awesome. Short video link here.
**
I'm mostly giving the onslaught of COVID a break this week (previous blogs at the end). But for a list of open questions on COVID including (1) why men seem to be more at risk of severe disease (2) why children are at lower risk (3) why certain countries / states / areas are performing really differently? (heterogeneity eg Austria vs Italy) (4) how and whether this crisis will spur innovation ? Any thoughts let me know.
**
I find podcasts too slow, but I am trying them out. Elizabeth Day has hit upon a *winning* podcast formula. She has a rather amazing host of guests coming on and discussing their failures. Or rather, of course, discussing their learnings that "failure" has revealed.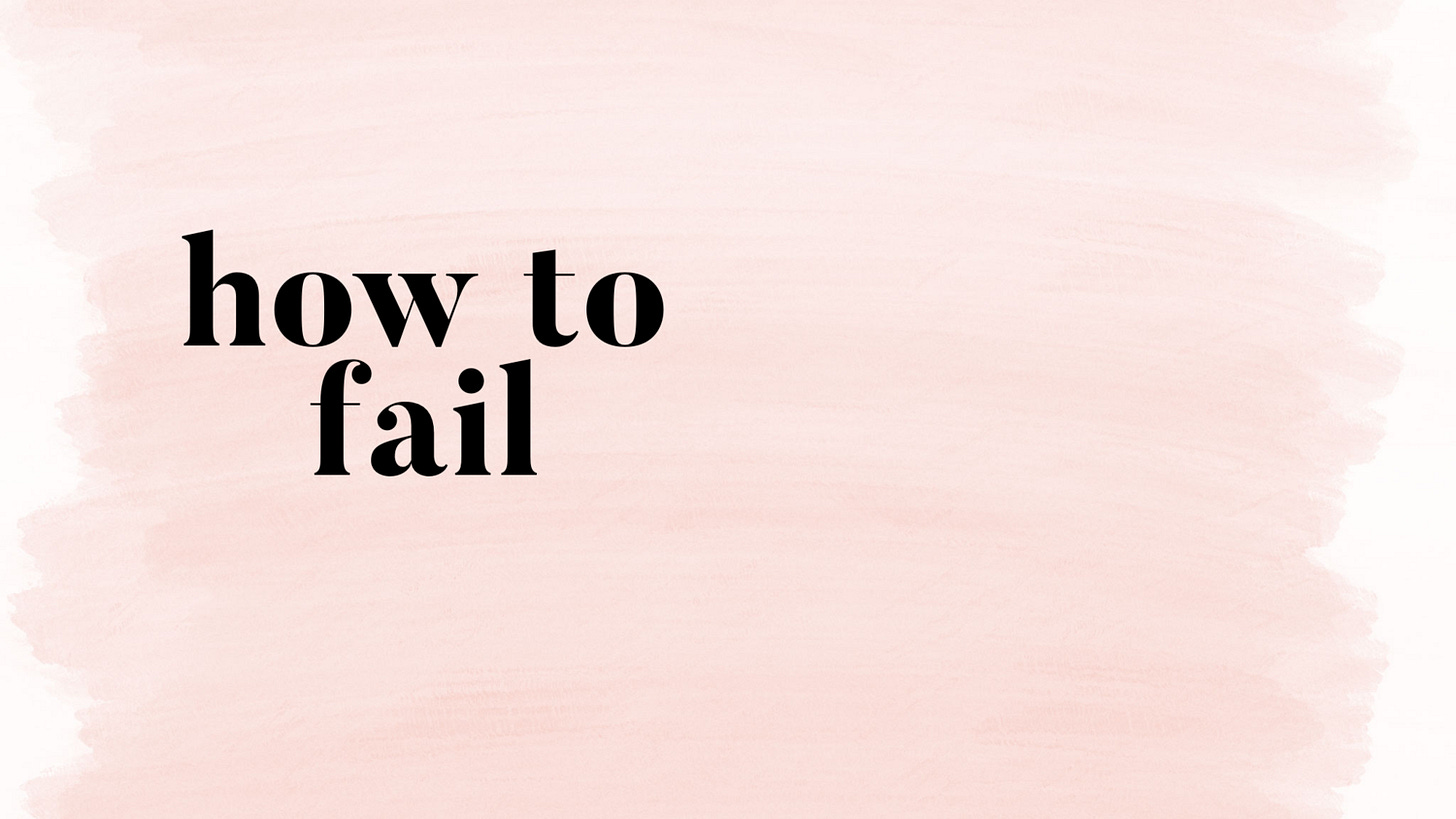 One episode has been echoing with me all week. Malcolm Gladwell spoke of three learnings amongst other rather thoughtful matters.
Gladwell was a high performance runner aged 16. But, at that age, he already knew - or thought he knew - he wouldn't go on to be an ultra elite runner. So, he gave up running. Thinking that the point of running and races was to win and be the best. Decades later, Gladwell started running again. He found he really enjoyed running. He considered not learning that earlier as a failure. The goal of running was not winning and Gladwell missed out on an activity that would have given him much pleasure over the decades…. My blog on How To Fail here.
***
I was recently reminded that pink was not the colour pink we think it is today.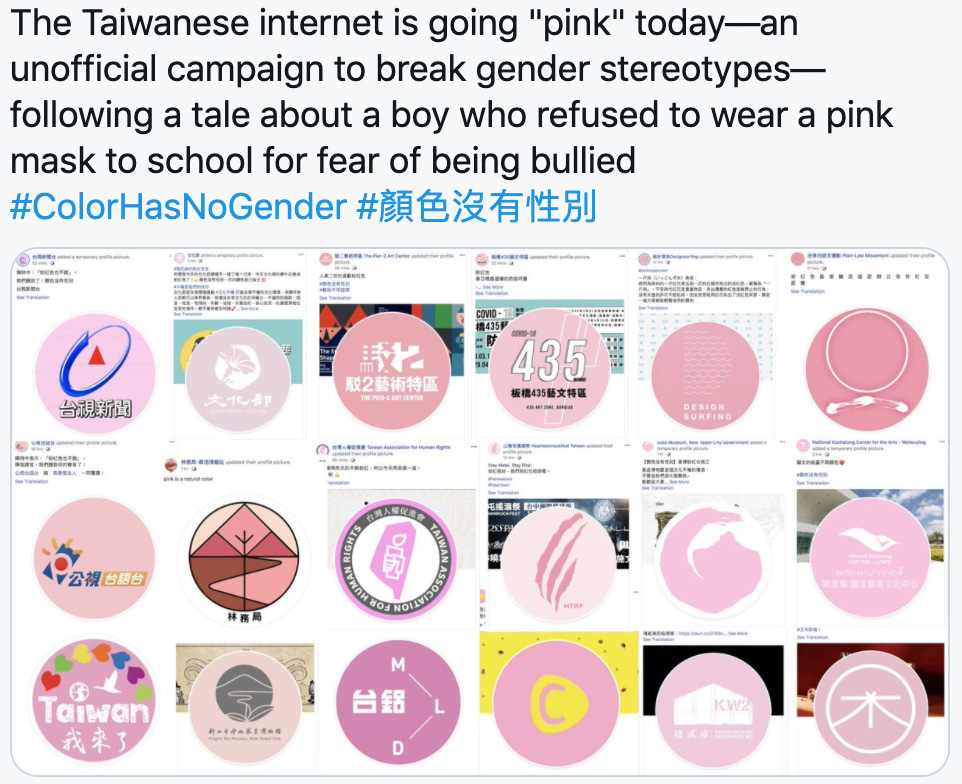 Plus, my friend Kaboo shares a story of pink masks in Taiwan - as it echoes the idea in Thinking Bigly that cultural change can come quickly and that pre 1900s pink was not a girl's colour.
**

From theatre world, Dan Rebatello has recorded a few chats with some well known playwrights in lockdown. Check them out here. Moira Buffini. Zinnie Harris. Alistair McDowall. Lucy Kirkwood. Tim Crouch.
***
10 years ago, this week, I was married. Like most things in life, love and relationships are things you need to work on - paraphrasing Le Guin - like bread, it's best made daily. A blog on Things about love.
Love can be fireworks and sparks. Holding hands tight at a New Year's Party - the feeling of never letting go - the exhilarating thrill of shouting your love over too loud music and spinning around and around and around oblivious.
Love can be kindness and care. Stifling your laughter as they fall off the toilet drunk, and carefully holding their hair as the food poison sick flows out. Sitting by their bed as they sleep and you watch over.
Love can be bursting with pride and joy as they make all your friends laugh and you seem smart and lovely for being the other half.
Love can be owning the world and daring all things as the all of you together are so much more powerful than apart. Walking the streets of Tokyo at night, not needing to know where you are and excited that you've never been.
Love can be adventures and quests as you seek out rare yarn in undiscovered suburb towns in countries you've never been to. Trying untested foods together conquering unknowns.
Love can be still and soft. Coffees on the sofa, head down in books, eating croissants, discussing what to have for lunch and at lunch what to have for dinner and where does the best poached eggs. Noting down a pattern they would like, a scene that only they would think funny….
**
Professor Alex Edmans makes the case for a pie-growing mindset. Acknowledging the challenges and trade-offs in pie-splitting, Edmans argues that pie-growing creates the most welfare for the most people. Core ideas Edmans argues for (along with pie-growing) are: the importance of "omission errors", the multiplication principles, the importance of materiality judgements and comparative advantage. If I were to pick out two other principles that weave throughout the densely-argued book, they would be the ideas of personal agency and a reliance on fact-based evidence over ideology. Blog here.

***
COVID archive below. There's a daily letter that goes out on all matters COVID here, by Nicolas Granatino, which if you are after lots of COVID news is a good resource.

There's a huge amount out there on COVID, so pick carefully what to weight. I also assembled some early blogs looking at a few less covered aspects.
A recent blog was on COVID and climate(1), another was the Imperial College model which forms a key piece of UK government advice (2), another on how people (44% as of early March) ) were believing the media are overhyping COVID, and the brutal maths of how bad it will get in the UK (3) and another on thinking about how to speed up drug development. I developed that blog and submitted a policy paper to George Mason University (Mercatus Center) which is now published.

Archive COVID thinking...
➳Key UK epidemiologist, Neil Ferguson, notes and video
➳Michael Liebreich on climate post-COVID
➳UK critical care patient characteristics
➳My policy thoughts (echoing Bill Gates?!)
➳Bill Gates to build vaccine manufacturing (video on daily show)
Key UK epidemiologist, Neil Ferguson, notes and video
-Current England strategy = <20K Deaths from COVID (vs 500k no strategy)

-Peak ICU demand in 2.5 to 3 weeks

-With current strategies + recent surge in NHS capacity = ICUs will have enough capacity though may get close on local level.

-Testing needs significant ramp for strategy shift in 3-4 weeks

-Current strategy => 5 - 10% London is infected, will vary across country.

-Without suppression/current strategies, Ferguson et al model still suggests 500K deaths and overwhelmed health service

-Original modelling did not include much on testing + contact tracing as Public Health England made clear that testing was not going to be anywhere near sufficient in Feb/March.
UK epidemiologist, Neil Ferguson, notes and video (3 min blog + link to video)
***
Michael Liebreich (climate/energy thinker) on climate post-COVID "...Epidemics are not the only systemic risks to which we have been oblivious. In the run-up to the Great Financial Crisis we were oblivious to the systemic risks to our financial system posed by extreme levels of leverage and risky, opaque derivatives. And most people are still complacent about the systemic risks to our planetary environment posed by thoughtless economic development. Is it fanciful to hope that that as a result of Covid-19 the world pays a bit more attention to those urging us to respect our planetary boundaries, and a bit less to those pretending they do not exist?
In summary: Covid-19 is causing a massive drop in emissions this quarter, perhaps as much as 20%; after that, emissions will rebound, but remain significantly down until a vaccine enables a full recovery; even after that, they may well remain depressed for some years by an economy again hobbled by a colossal mountain of debt; and in the longer term, the stickiness of some of the new behavior, business models and technologies will certainly accelerate the transition to a low-carbon economy. Out of this terrible period, some good will come..." 4 min op-ed piece for BNEF here.

***
➳UK critical care patient characteristics
Mechanical ventilation: 79% of COVID vs 43% (viral pneumonia, VP)

Survival: 52% (COVID) vs 78% (VP)

Of those who received advance respiratory support 34% survived still low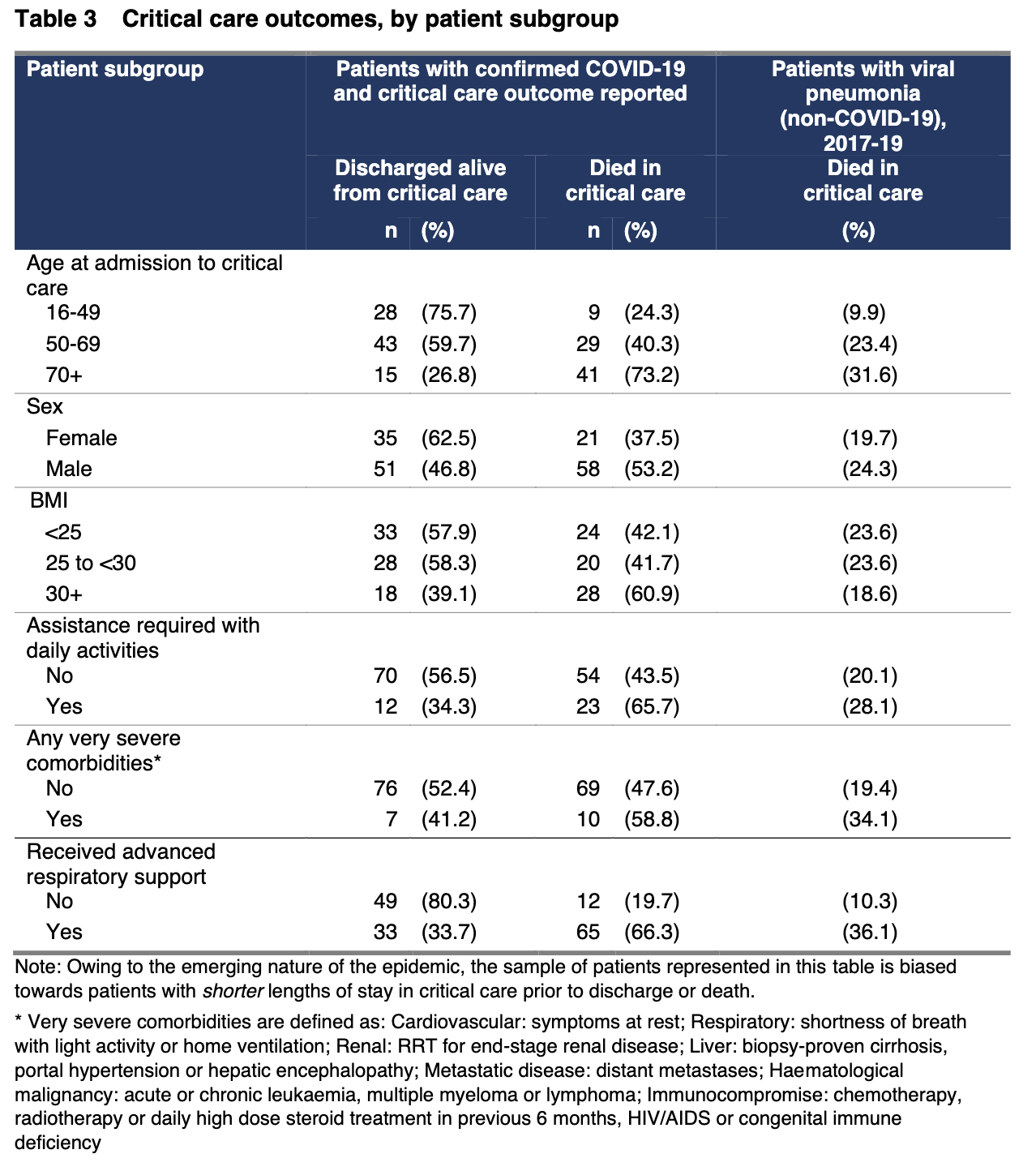 A 4 min blog looking at cytokine release syndrome and patient characteristics.

***
My paper was accepted by the Mercatus Center at George Mason University:
Quickly developed therapeutic, prophylactic, and vaccine treatments will be essential to defeat the COVID-19 pandemic. Standard regulatory and development protocols typically yield drug development in 6 to 11 years. However, experimental vaccines and prophylactics against COVID-19 are in development and currently in trials, making deployment after safety trials feasible within months. Though efficacy of these treatments is uncertain, with probability of success, on average, at just 16 percent, efficacy can still be tested in real-world settings by adopting an approach that allows patients to begin drug treatments earlier in the regulatory process.

After phase I trials have been completed and data have been gathered, an expert committee should be convened to advise on the risk, benefit, and chance of success of the novel agent with a view toward distribution to the public through patient choice. There is limited downside risk and a good chance of a positive outcome with this approach. The US Food and Drug Administration (FDA) has the authority to approve pharmaceuticals requiring further trials, but the success of this approach will depend on coordination between sponsoring research organizations, trial designers, and regulators. International pharmaceutical regulators, such as those in the United Kingdom, Europe, or Japan, can also adopt this approach.

At this point, a clear indication of regulators' openness to this approach would provide certainty for organisations and accelerate development of possible vaccines and treatments. When adjusting for probability, this approach may save hundreds of thousands of lives in the United States and more globally.
More here at this link at Mercatus. Or full PDF here.
Under a traditional approach, a 50 person phase I trial might not be considered enough data to make strong judgments on safety and efficacy. It's considered exploratory. However imagine…
10 separate Phase I trials (or trials with adaptive design) start in April 2020 across multiple countries. Patient numbers and characteristics (eg age, presence of COVID-19 antibodies, sex) are careful considered. The statistical power of multiple trials is stronger than one or two trials. 10 trials of n = 50 (say, up to 100) could be run in US, China, Italy, UK, Germany, France, South Korea to name a few countries with R&D capabilities with either commercial or non-profit led organisations that could run such trials. Results could be available in July. These data would include safety data, and preliminary measurements of efficacy such as COVID-19 antibodies.
Each interested country could convene its own expert and stakeholder committee. That committee could vote on if tentative approval should be given based on a benefit and risk assessment of the data. This meeting should be held in public and take submissions from stakeholders potentially replicating FDA advisory committee meeting processes or similar. A citizen's jury process could run given the state of public interest.
In an optimistic scenario of no safety signals and strong efficacy signals, this would allow a September 2020 launch with high risk populations such as over-65s and healthcare workers prioritised. This is subject to commercial scale up of manufacturing. Funding for this should be given in April in hope of a positive scenario. In a pessimistic scenario, negative safety signals would not warrant tentative approval. The downsides would be limited to the volunteer trial participants and the investments taken.
The cost of running 10x phase I/II trials now is perhaps between $200m to $1bn. Given that this could solve the problem - it seems to be something that governments should be doing or incentivising. Especially vs fiscal bail outs which are 1000x this amount.
It echoes what Bill Gates is suggesting in this video ( 5 mins with Trevor Noah) and more extended with CBS. (25 mins)

*

The below is from Nicolas Frantino letter - check it if you want a daily COVID fix - a daily letter that goes out on all matters COVID here

A picture is worth a thousand words:
---
Notable tracking projects



Stay safe, stay well.


Graphics and links:
1https://www.thendobetter.com/investing/2020/3/12/no-impact-seen-on-atmospheric-co2-in-q1-2020 - COVID + Climate
2 https://www.thendobetter.com/investing/2020/3/17/covid-uk-imperial-college-team-modelling-scenarios. The Imperial Model
3 https://www.thendobetter.com/investing/2020/3/13/covid-brutal-maths-and-counter-factuals - The alarming maths and the reluctance of many
4 From Dalio's commentary on COVID and hitting 0% interest rates. https://www.linkedin.com/pulse/implications-hitting-hard-0-interest-rate-floor-ray-dalio/
5 https://www.thendobetter.com/investing/2019/8/23/forecasting-primer. On forecasting drug success
6 https://www.thendobetter.com/investing/2019/7/13/superforecasting-tips. On Superforecasting tips
7 Form for my small loans scheme. https://forms.gle/JYpNJCpHXxm83z7u7
8 Non-standard advice: https://www.thendobetter.com/investing/2018/12/14/non-standard-financial-advice
9 https://80000hours.org/covid-19/. On one page COVID links
10 UK Advice documents: https://www.gov.uk/government/groups/scientific-advisory-group-for-emergencies-sage-coronavirus-covid-19-response
11Imperial College modelling again: https://www.thendobetter.com/investing/2020/3/17/covid-uk-imperial-college-team-modelling-scenarios
I've had 100+ submissions and have backlog of 50+. Sorry if you are waiting for a response, I'm caught up to approx end Jan. Micro-grants. £10K for positive impact people.

➳UK Science: Where did it go? Can ARPA save it?
➳Me on ESG investing / YouTube CFA UK
➳Micro-grants. £10K for positive impact people.


***
A 2 min view clip of Thinking Bigly you can now see here.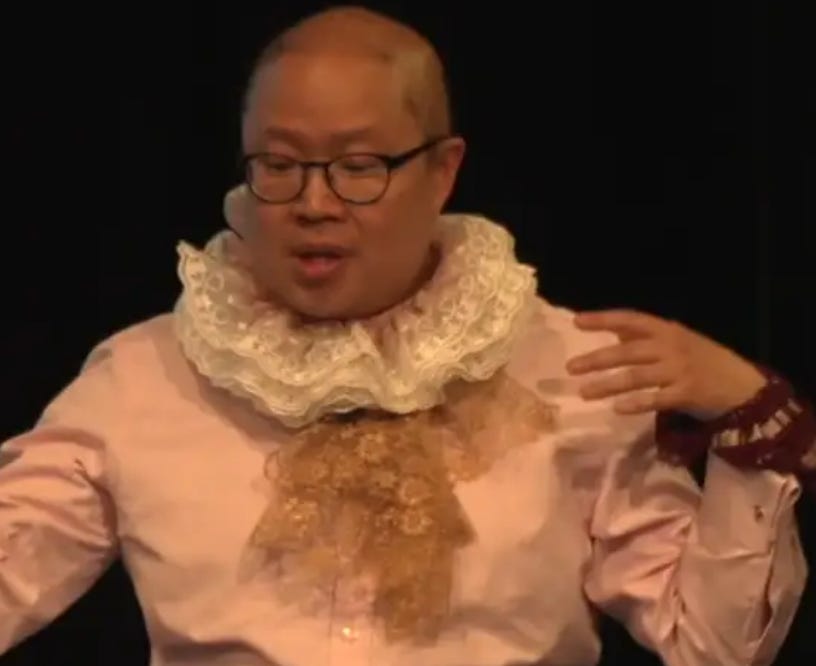 * ☪ *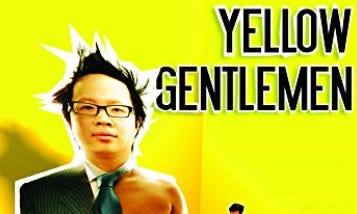 I've re-issued my 2006 play, Yellow Gentlemen (4 stars in Time Out and is one of my more personal works about the night immigrant Tommy Lee is dying). Buy it for laughs on Kindle for the price of a coffee. All profits to charity. I've only sold a few copies at the price of a coffee - 1.99.

* ☪ *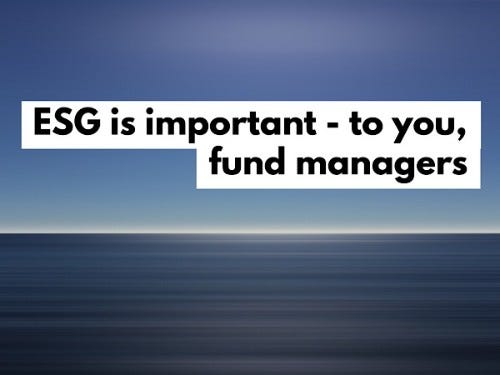 "...Through a long-term orientation and stewardship, this is the time for active investment managers to show their worth. It starts with asking the right long-term business questions. Some companies are giving us answers, but are we really listening?"
My full opinion article in the FT. (3 mins, behind paywall, but you get a free article or email me and I can send you a copy)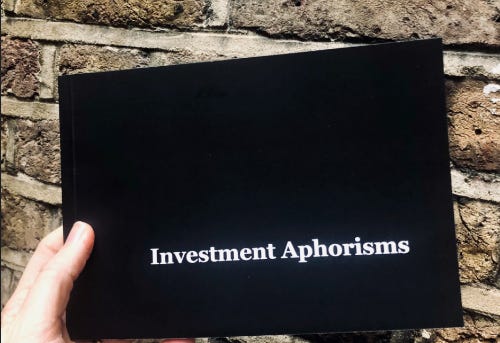 Find out more about my aphorism book and contact me for a copy.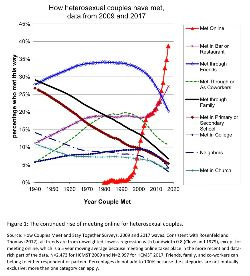 The move to online dating has potential empowered women as the cost to ghosting is so low.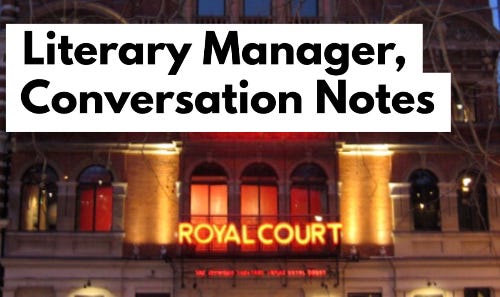 Notes from a conversation with former Royal Court Lit. Manager.