Hi ~ All the world is COVID and I will come to that. First, I thought I'd share a gentler piece about how Chicken Rice is one of my favourite dishes in the world, cooked amazingly well by my Mum, and what the dish tells us about culture, life and migration. It's a work in progress but a celebration of UK Mother's Day for all the Mums we won't go and visit: How to eat Chicken Rice a 5 min blog.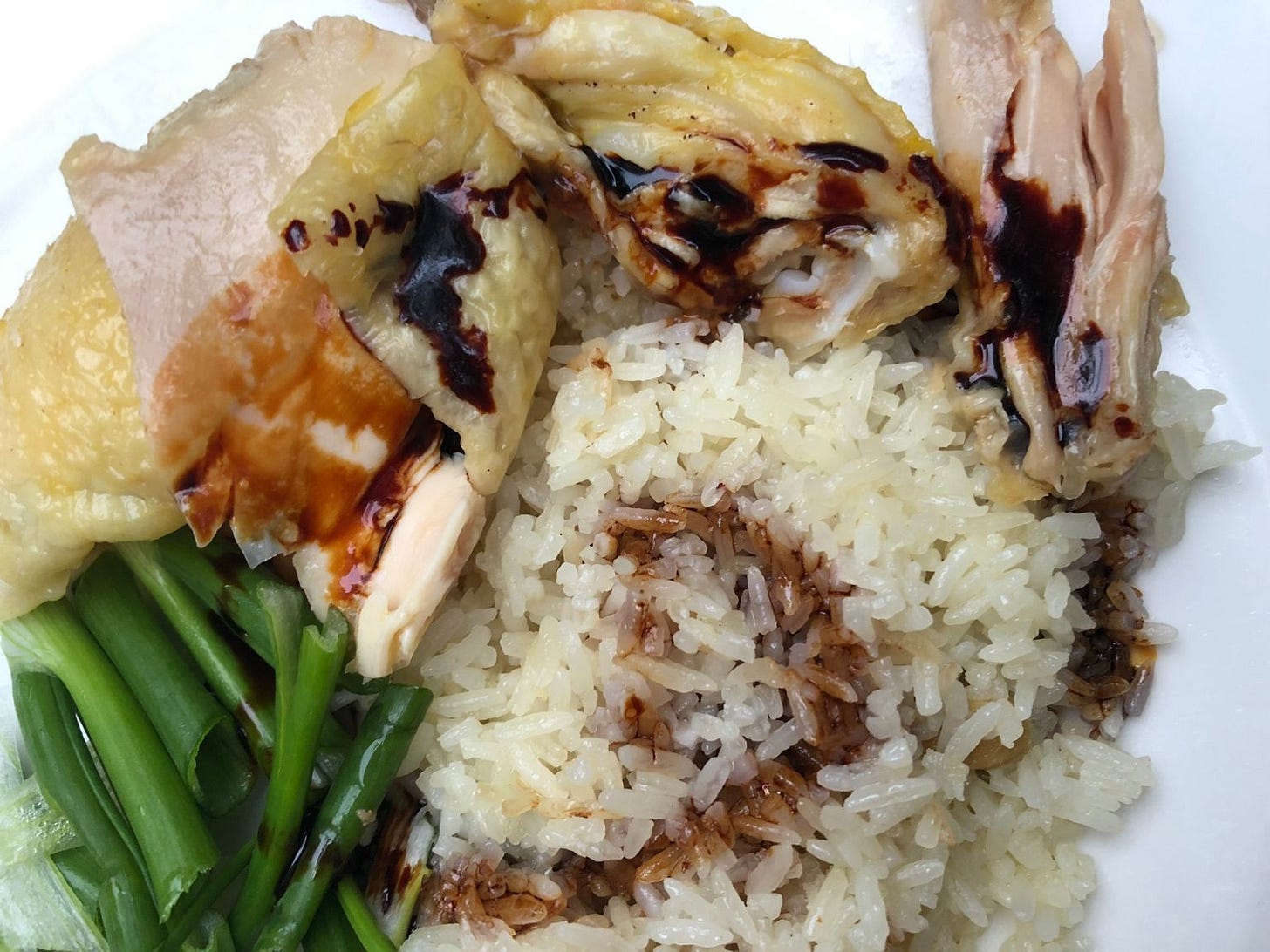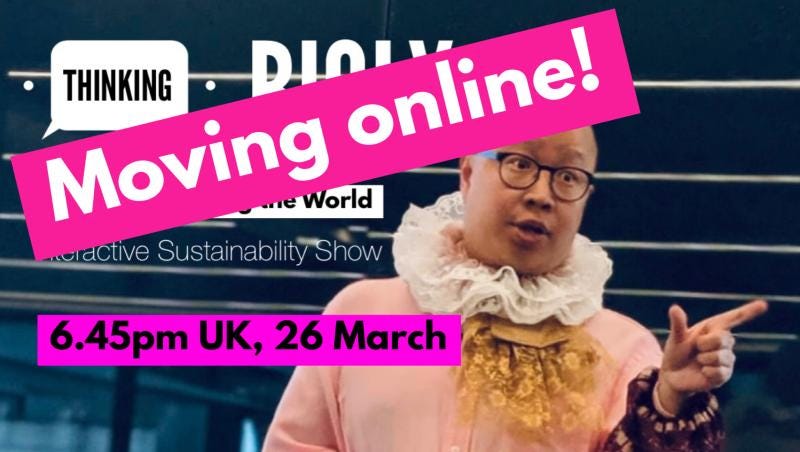 Our show, Thinking Bigly is moving online. 26 March, 6.45pm UK time for 7pm start. Consider a donation to Theatre Deli if you sign in to watch. Register here.
***
There's a huge amount out there on COVID. I consistently post on Twitter and Facebook. If you want the day-to-day, follow me @benyeohben. I also assembled some early blogs looking at a few less covered aspects.
A recent blog was on COVID and climate(1), another was the Imperial College model which forms a key piece of UK government advice (2), another on how people (44% as of early March) ) were believing the media are overhyping COVID, and the brutal maths of how bad it will get in the UK (3) and another on thinking about how to speed up drug development. I developed that blog and submitted a policy paper to George Mason University (Mercatus Center) which they will publish next week. Reply to me if you'd like to see the draft.
I'll put a few more links below, but I thought I'd give you an insight as to how my couple of weeks have been. …
Starting with a Ray Dalio(4) quote "…While I'm going to pass along my thoughts to you, I want to emphasize that I wasn't, and still am not, able to anticipate the most important things happening in the markets because of the extremely rare nature of the circumstances. While what I don't know is much greater than what I know, I will tell you what I think for you to take or leave as you like…."
I wasn't as early as some, but one of the things I started in Feb was looking at the Good Judgement (GJ) Open and the forecasting games that were happening. This led me to think very seriously about forecasts - plus make them, write down why I thought of a certain forecast and review it when data changes. As an aside, this led me to correctly predict that New Zealand were not going to pass Gun Reform legislation by 15 March. It taught me a lot about how the NZ parliament makes laws and the fragile position the NZ PM is in (not reflected on the world stage, but her govt is propped up by a minority party). But the GJ Open also had/has many questions relating to COVID, for instance how many cases or deaths would be reported on certain dates.
To do well amongst other things, you have to seek out and rely on authentic information and assess what might be true or not. Twitter is full of great information, and dis-information as well. I've written about forecasting before both for Pharma drugs (5) and, in general, what super forecasting suggests (6).
Also, in being forced to try and predict Covid cases/deaths numbers - it was (and still is) very challenging dealing with exponential growth models. If an item is doubling every 3 days then, for eg with 300 cases, if doubling occurs every 3 days = 20,000 + in 21 days. It also means that the UK might reach 5000 deaths in 9 days from today vs about 200 today. It also told me that many others were also struggling with forecasting - as people with good judgment are somewhat self selecting.
Closer to home - whilst the immediate and personal changes are apparent - schools - shopping and the like - friends falling ill - it was also very clear that a large number of us do not have savings to help us through a difficult time. I started a small loan programme to help with this as governments continue to dither. If you think you might need a small loan and it will help you - reply to me or check out my Facebook post or the form here. (7) It's open to your friends too.
Partly because I deal with financial markets that can be fickle, we have a great deal of "redundancy" (as in cash) in order to be resilient / hedge against career risk and savings for my vulnerable son - as I've discussed before, it's a non-traditional hedge. (8) Still… my week was filled with everyone in my team moving to Slack (on line chat community) and WebEx (like Zoom and video conference) . I've advocated Slack (or Teams) before but it's taken a crisis to move us. Moving my performance piece online - and see all my theatre friends hit extremely hard.
On the other hand, I was at an investment committee meeting talking about sustainability and long-term investment. I was on a conference call talk about about what purpose means to companies and how we can support them.
It's going to be a big challenge on items like climate. On the one hand COVID is showing certain areas where we can co-operate but it's demonstrated many fragilities in our system and I'm unsure if this bodes well for long term climate challenges - see blog again.
I've been in contact with many of my investment companies. I'm in healthcare, as most of you will know. There's a lot of redundancy built into healthcare as well as it's so critical. For instance, companies have large stock piles of critical drugs (often 2 years or more, not only weeks) and they run with a lot of cash on their balance sheets (partly as they know they could have blow up litigation at some stage, and because of the risky nature of many of their R&D activities). Many industrial businesses in China are up to 80%+ activity but consumer is still very down. Still there are plenty of companies that are resilient.
Long term COVID is going to be generation defining. Perhaps more so than 9/11 or the 2008/9 financial crash. It's going to impact every part of many people's lives. It's very hard to know how the long-term plays out but here are some items to consider:
-Immigration, travel and open borders - less supported. Parts of globalisation will retreat?
-Wealth transfer - will this be less supported, as middle (and all) classes will be poorer.
-The UK conservative chancellor has enacted the largest ever UK fiscal policy. This takes out an argument for the left. In the UK, maybe it cements part of the red—>blue shift ? (I know most of left friends will hate this, don't shoot the messenger) OR maybe Boris will be judged to have handled this badly...
-Will this energise the climate movement? Or will it halt it for a generation leading to aggressive adaptation as mitigation becomes impossible? Will we consume less…? But, global co-operation and future planning…
-On-line vs in person. The nature of in-person events might take a change, restaurants too. I don't know how easily this bounces back.
-What will countries make of refugees? I suspect countries will be more hostile.
-What will we make of education? I suspect home education and online will prove better than expected in many cases, but also more burdensome. I think there will be a stronger move in places like the US to continue more home ed or unconventional ed.
-Communications - what will we make of that? Governments seem to have done a poor comms job and generally clear communications seem be if not undervalued, increasingly hard to stake out. District of mainstream media is likely to continue and increase.
I've posited:
-The root causes = public health crisis + lack of information + low trust in western governments + uncertain responses = emotional fear and focus on short term thinking
-On top of this you add the complexity of oil shock, and China as large part of supply chain + volatile US govt leader + Italy horror stories
So public health —> an oil, bank, liquidity, credit, financial, political + economic crisis in a complex fashion, as we are seeing
People retiring now and unlucky recent retirees have seen 30% hits to their retirement pots.
So…. While what I don't know is much greater than what I know, I will tell you what I think for you to take or leave as you like…
I do think that keeping a flexible mind-set as we roll with the punches, being open-minded, curious, empathetic and an ability to communicate clear narratives will be useful to us, if that doesn't feel platitudinous.
More COVID….
As a one stop shop this 80,000 hours page has a lot of COVID resources. (9)
For the UK - the papers that government are relying on are published. (10)
And specifically, Neil Ferguson's group at Imperial College has one of the important baseline modelling papers for the pandemic - short extra here with link to paper. (11)
And lastly today - the start of my chicken rice essay:
…Sic Fan Sic Fan (looor)
Kai Fan Kai Fan !
My Mum hollers
Calling out the dish to be served is superfluous. A gentle aroma of sweet chicken smells have been wafting for some time.
I've already stolen a selection of the best pieces from the kitchen.
Namely,
-a small sprinkle of crispy chicken fat crackles
-the backbone of the chicken
-Gloopy knuckles and scraped jellied bits
Many western friends don't understand the joy of these edibles. The joy arises from a mix of cultural, texture and flavour.
The stories I was told in my youth emphasised the value of rare items. In ancient China, meat was relatively rare and reserved for the wealthy and elite. One of the first food stories I was told was how elite Chinese would only eat fish cheeks when presented with a fish and that's how kidnappers distinguished between valuable kidnaps and less valuable.
There is only ever a small amount of crispy fat left. There is little meat on the backbone. That makes them rare and enticing.
I value texture. Crispy skin, gelatinous cartilage or the very smoothness of backbone skin and meat. Many Asian eaters overweight texture vs modern western eaters who've not been brought up eating food for the pleasure of texture.

The dish is presented in three essential parts: Rice, Chicken and Soup.
Condiments and sauces essential accompaniments.
The use of the chicken infuses all three parts.
Today, western cooks speak of "nose-to-tail" eating and throughout history when food was scarce all human cultures minimised food waste. Fat, proteins, bones and marrow, all sources of high energy and useful minerals.
This kind of eating speaks to an older, longer time. Not so long ago in human history, only a few decades, but signalling now a richer, wealthier faster time.
When I eat such complete nose-to-tail food a part of me is sensitive to this cultural history as well as sensitive to the sustainability implications of limited food waste. I suggest fans of nose-to-tail food instinctively understand this.
There is an intellectual and visceral satisfaction knowing an important ingredient threads throughout the meal.
The rice is soft and rich with chicken essence.
The chicken is delicate and what my Mum would call "waat" - Smooth textured. ["waat" (滑) smooth, moist & slippery, like the belly or collars of freshly steamed fish or steamed chicken's feet.]
The soup is refreshing and cleansing.
The condiments when required are sweet, salty, ginger-spiced, savoury (umami), garlicky and chili-hot. All the flavours in all the combinations you might like.
A meal in itself - and we don't really serve desserts. Maybe a piece of fruit - but no heavy sweet stodgy needed to fill you up. The meal is complete in itself.
While this dish is famous in stalls and restaurants around east Asia, you can find its match or even better at home - well - at least in my mum's home….
Happy UK Mother's Day.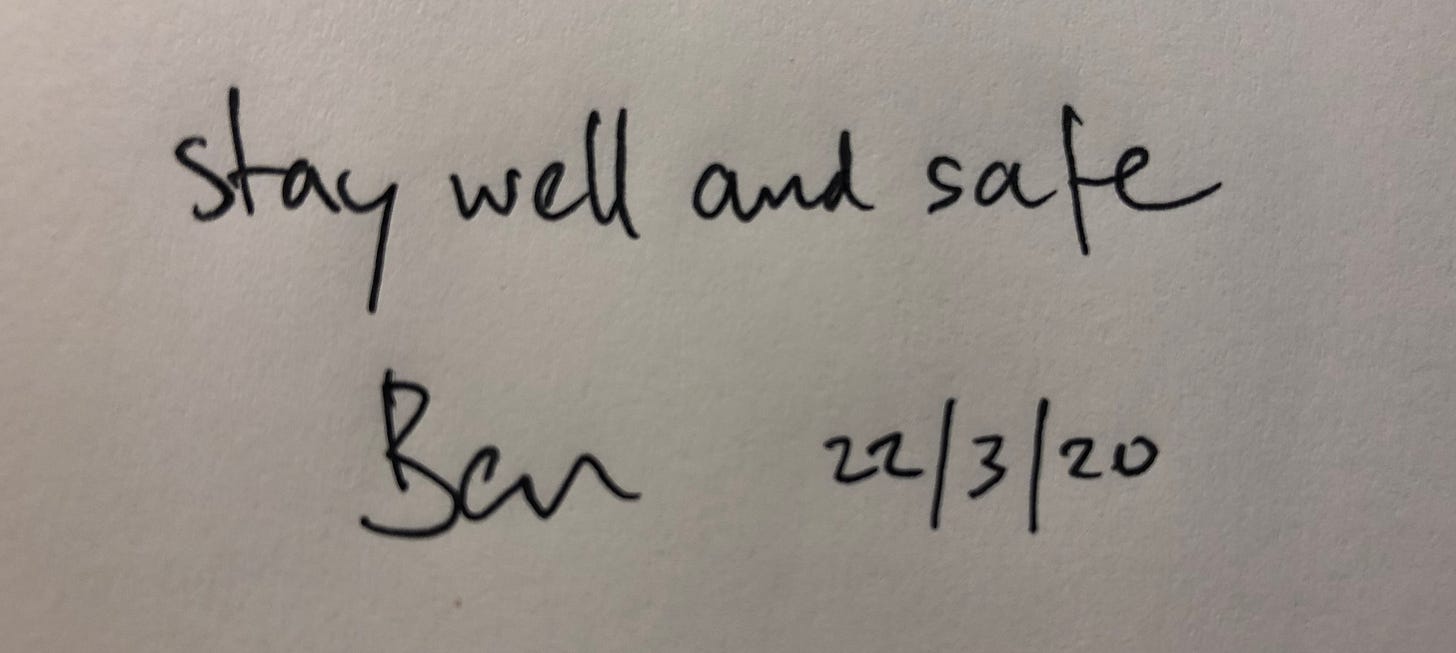 Graphics and links:
1https://www.thendobetter.com/investing/2020/3/12/no-impact-seen-on-atmospheric-co2-in-q1-2020 - COVID + Climate
2 https://www.thendobetter.com/investing/2020/3/17/covid-uk-imperial-college-team-modelling-scenarios. The Imperial Model
3 https://www.thendobetter.com/investing/2020/3/13/covid-brutal-maths-and-counter-factuals - The alarming maths and the reluctance of many
4 From Dalio's commentary on COVID and hitting 0% interest rates. https://www.linkedin.com/pulse/implications-hitting-hard-0-interest-rate-floor-ray-dalio/
5 https://www.thendobetter.com/investing/2019/8/23/forecasting-primer. On forecasting drug success
6 https://www.thendobetter.com/investing/2019/7/13/superforecasting-tips. On Superforecasting tips
7 Form for my small loans scheme. https://forms.gle/JYpNJCpHXxm83z7u7
8 Non-standard advice: https://www.thendobetter.com/investing/2018/12/14/non-standard-financial-advice
9 https://80000hours.org/covid-19/. On one page COVID links
10 UK Advice documents: https://www.gov.uk/government/groups/scientific-advisory-group-for-emergencies-sage-coronavirus-covid-19-response
11Imperial College modelling again: https://www.thendobetter.com/investing/2020/3/17/covid-uk-imperial-college-team-modelling-scenarios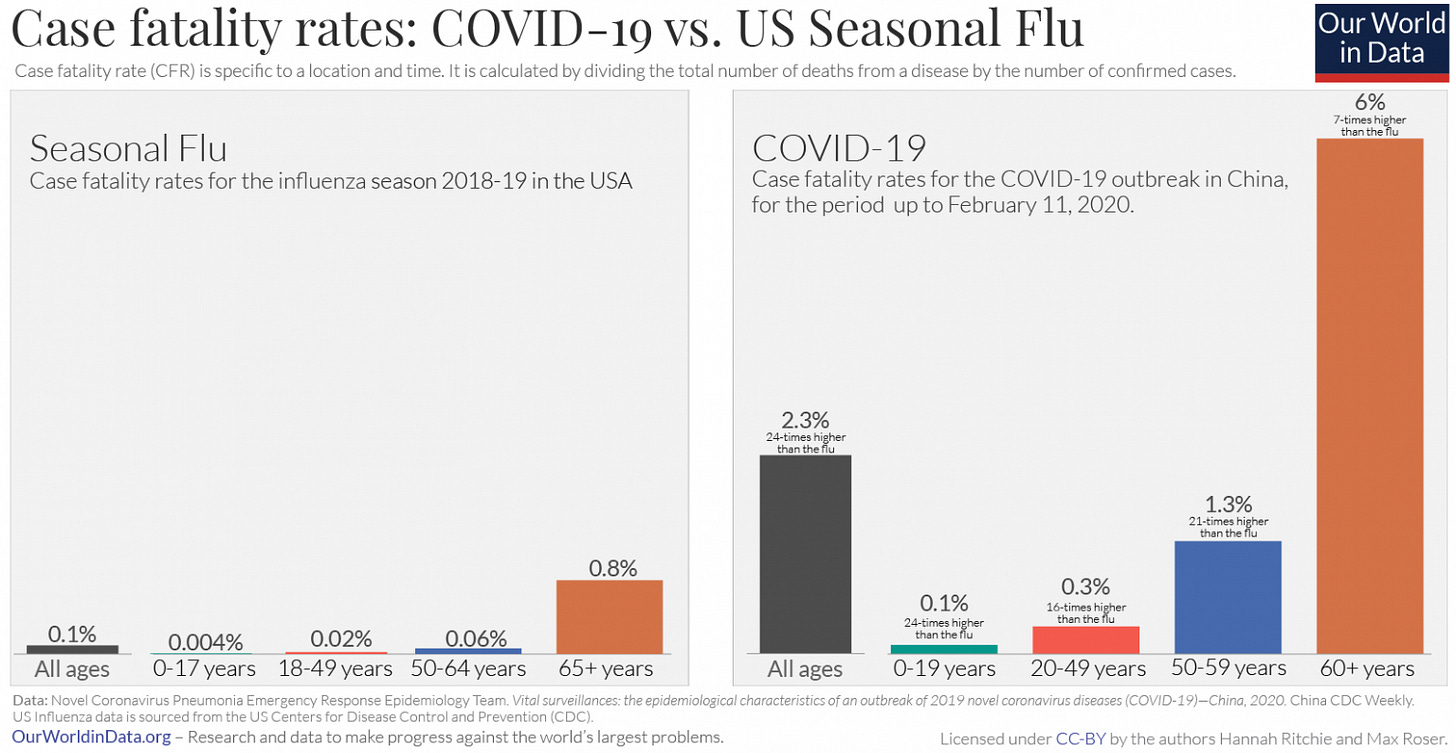 COVID is worse than seasonal flu by 10x - 20x and Pandemic flu (Swine Flu) by 4x, but the worse case panic is potentially overstated because treatment is likely (60% chance IMO) coming in 6 months and there is decent chance (but not overwhelming) that hot weather will slow progression. Still, there will likely be >100,000 elderly deaths over at least 2 waves over 2 years. The young and adult don't need to worry so much.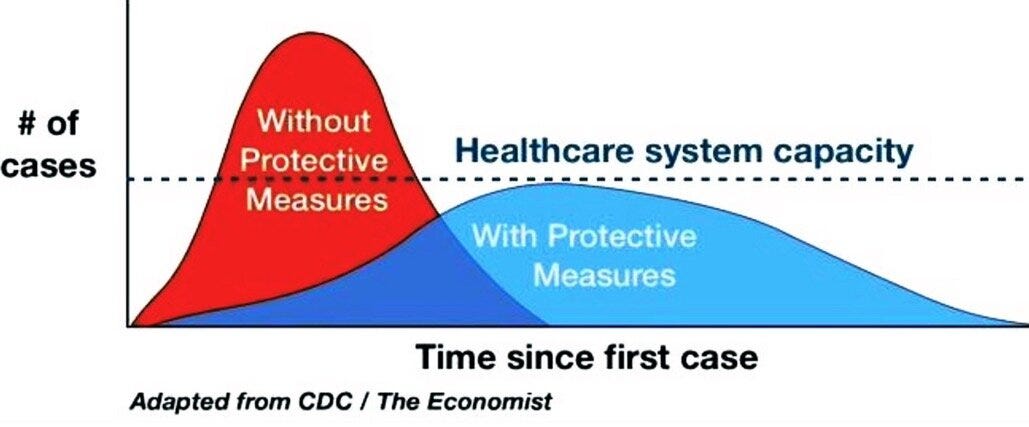 Risk is around healthcare services being swamped by exponential growth of critical cases before treatment is approved. This is because 5% to 15% of cases need hospitalisation, and in a short period most countries eg UK, US do not have enough ICUs / hospital beds to cope, so elongating the period matters.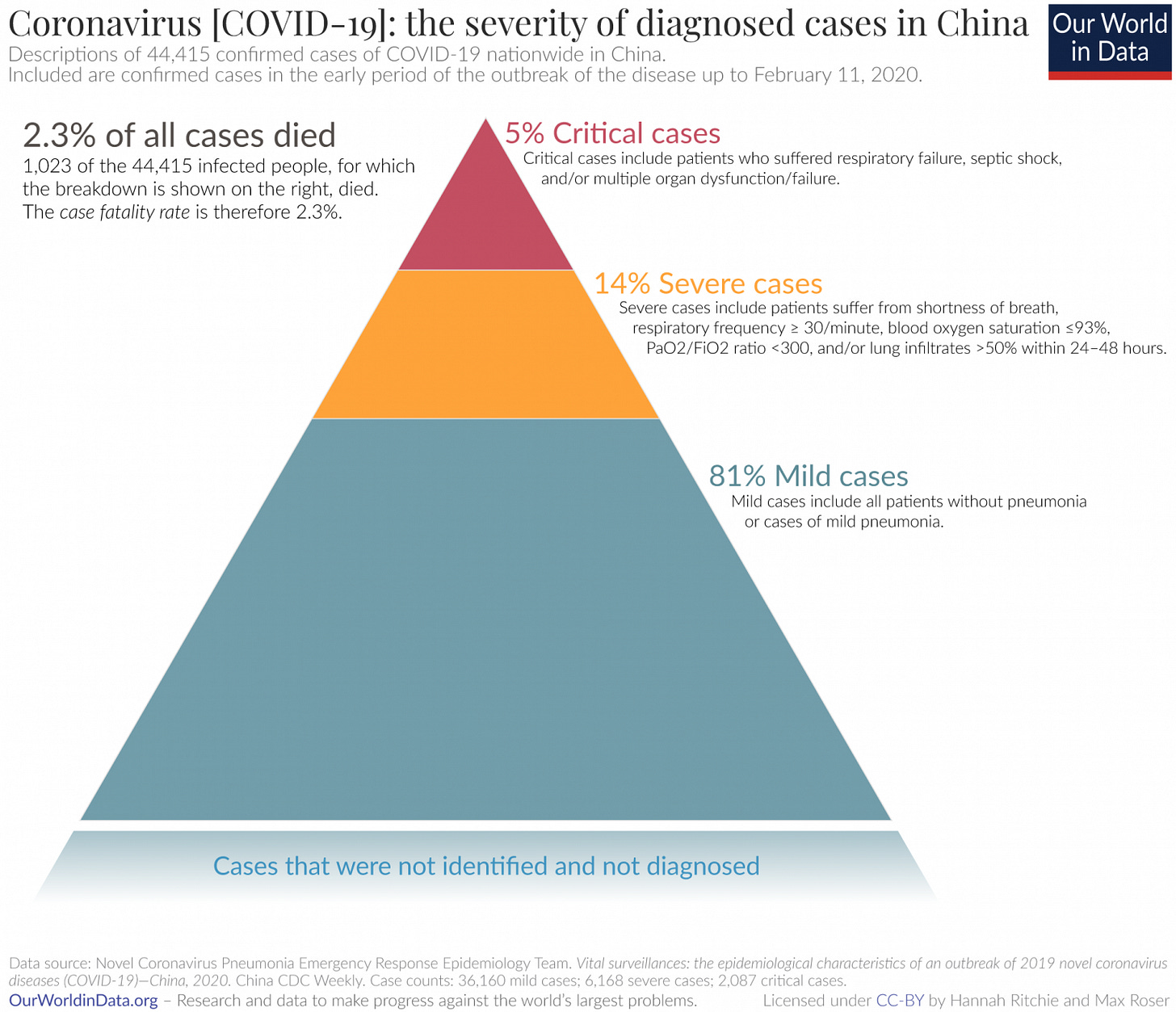 I've had 100+ submissions and have backlog of 50+. Sorry if you are waiting for a response, I'm caught up to approx end Jan. Micro-grants. £10K for positive impact people.

➳UK Science: Where did it go? Can ARPA save it?
➳A profile of Coinbase Billionaire: Crypto Guardian
➳Me on ESG investing / YouTube CFA UK
➳Micro-grants. £10K for positive impact people.


***
A 2 min view clip of Thinking Bigly you can now see here.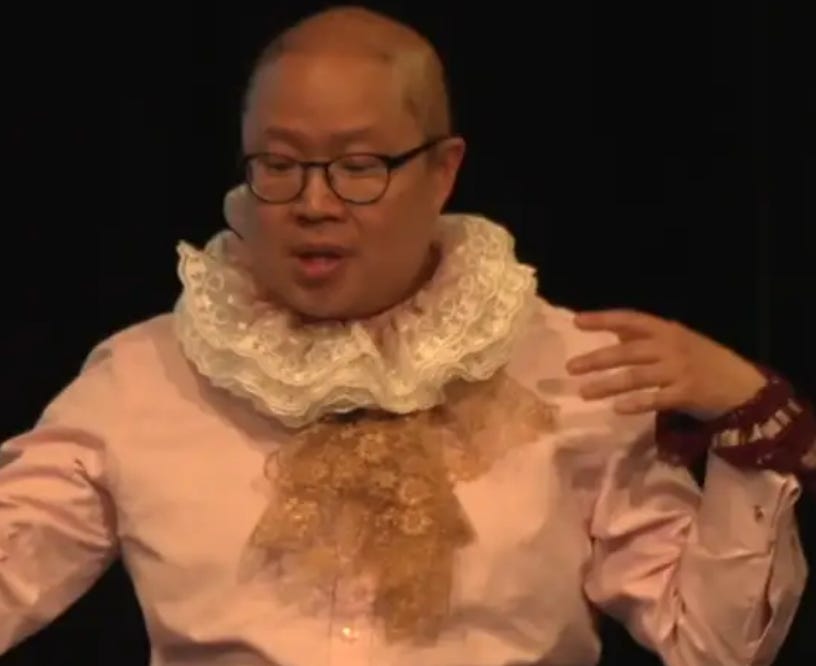 * ☪ *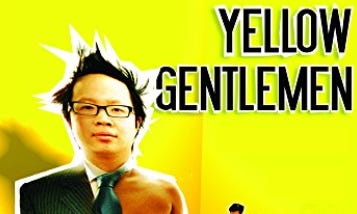 I've re-issued my 2006 play, Yellow Gentlemen (4 stars in Time Out and is one of my more personal works about the night immigrant Tommy Lee is dying). Buy it for laughs on Kindle for the price of a coffee. All profits to charity. I've only sold a few copies at the price of a coffee - 1.99.

* ☪ *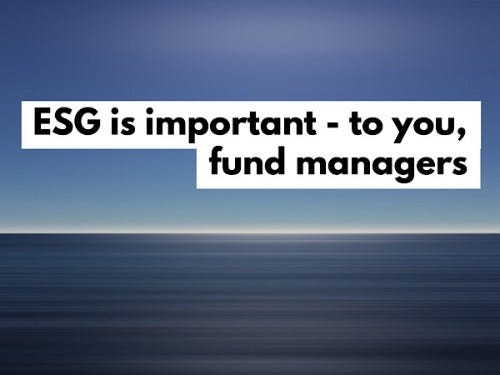 "...Through a long-term orientation and stewardship, this is the time for active investment managers to show their worth. It starts with asking the right long-term business questions. Some companies are giving us answers, but are we really listening?"
My full opinion article in the FT. (3 mins, behind paywall, but you get a free article or email me and I can send you a copy)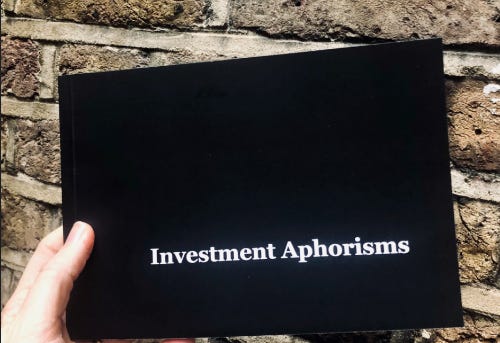 Find out more about my aphorism book and contact me for a copy.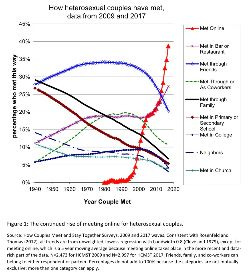 The move to online dating has potential empowered women as the cost to ghosting is so low.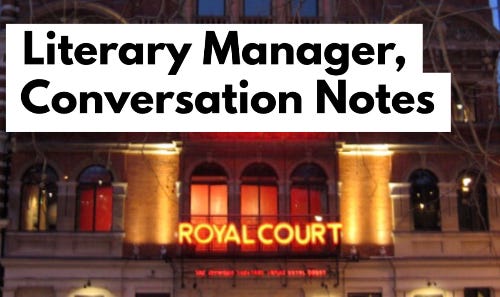 Notes from a conversation with former Royal Court Lit. Manager.