£10K Grants | What is progress? | What Theatre teaches business | Viewing time backwards | Sustainability noise | Next Bigly

Hi ~
Happy holidays! If you've joined the newsletter because of the microgrants. Welcome. If you've missed it as a regular reader do check out the £10,000 in grants I'm awarding for those looking to make a positive impact. Please forward to your networks. Mini-update: there are currently around 40 applications and I hope to make a first round of awards by end of January/early Feb.
Jan Events: Thinking Bigly my sustainability show is back Jan 15, London, 7pm. Drinks after for a Mingle. Do come, last one sold out early. Or only the drinks is fun too, register link for Mingle.
Two long form blog meanderings this month amongst a few thoughts. One on reflections sparked by Tyler Cowen et al. paper and talks on the science of progress and another on what theatre teams have taught me on teaming/business.
Reflections this month on: sustainability noise, customer service, Progress, the flow of time and theatre/elite teams, and happiness...
➳Micro-grants. £10K for positive impact people.
➳Thinking Bigly. Jan 15th, interactive sustainability show, 7pm
➳Mingle, Jan 15th, 8pm after Bigly
➳Happiness. Not a fixed amount? Like a stock price.
➳Carbon tax and GDP, a critique from Smil
➳Growth/Progress. What is it? Is it slowing.
➳The Aymara view time backwards
➳Theatre/Elite teams. What Theatre teaches business.
What theatre teaches business about teaming, trust, failure and speaking up.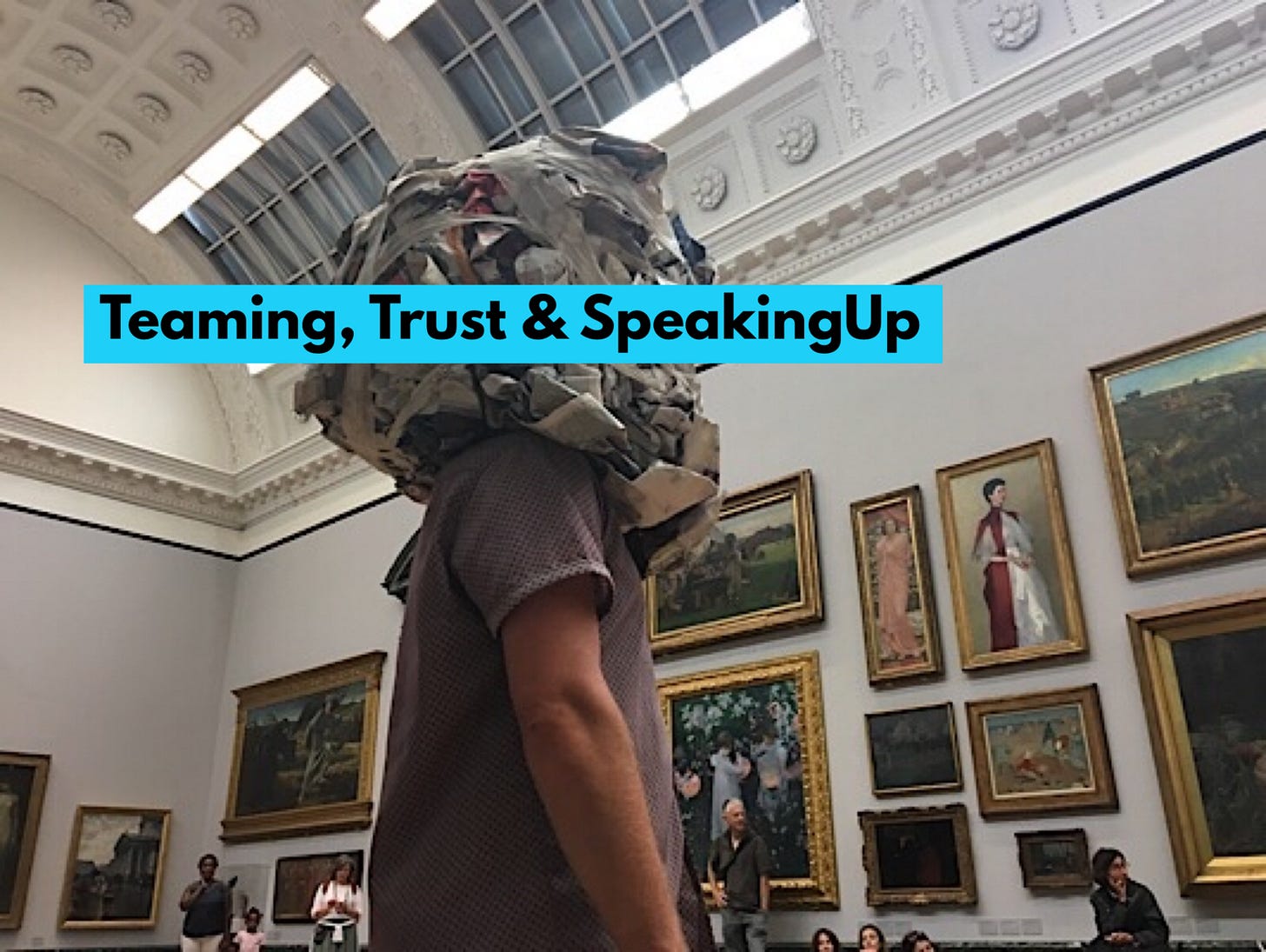 I work in a high performing team within investing. This is a very competitive "sport". There are many smart teams also competing and it's a mix of skill and luck, which is complex. It's very hard to beat the benchmark and competitors over time. There is a large amount of noise and bias.
In my view the best teams learn from other "sports" and industries. I'm fortunate that I've been part of elite teams within theatre.
Theatre has taught me about how rehearsing and "failure" in the rehearsal room is simply practise for innovation and improving. The importance of teaming, trust and being able to speak up. A 5 min blog here on the topic.

***
A long blog on the science of progress and what is progress?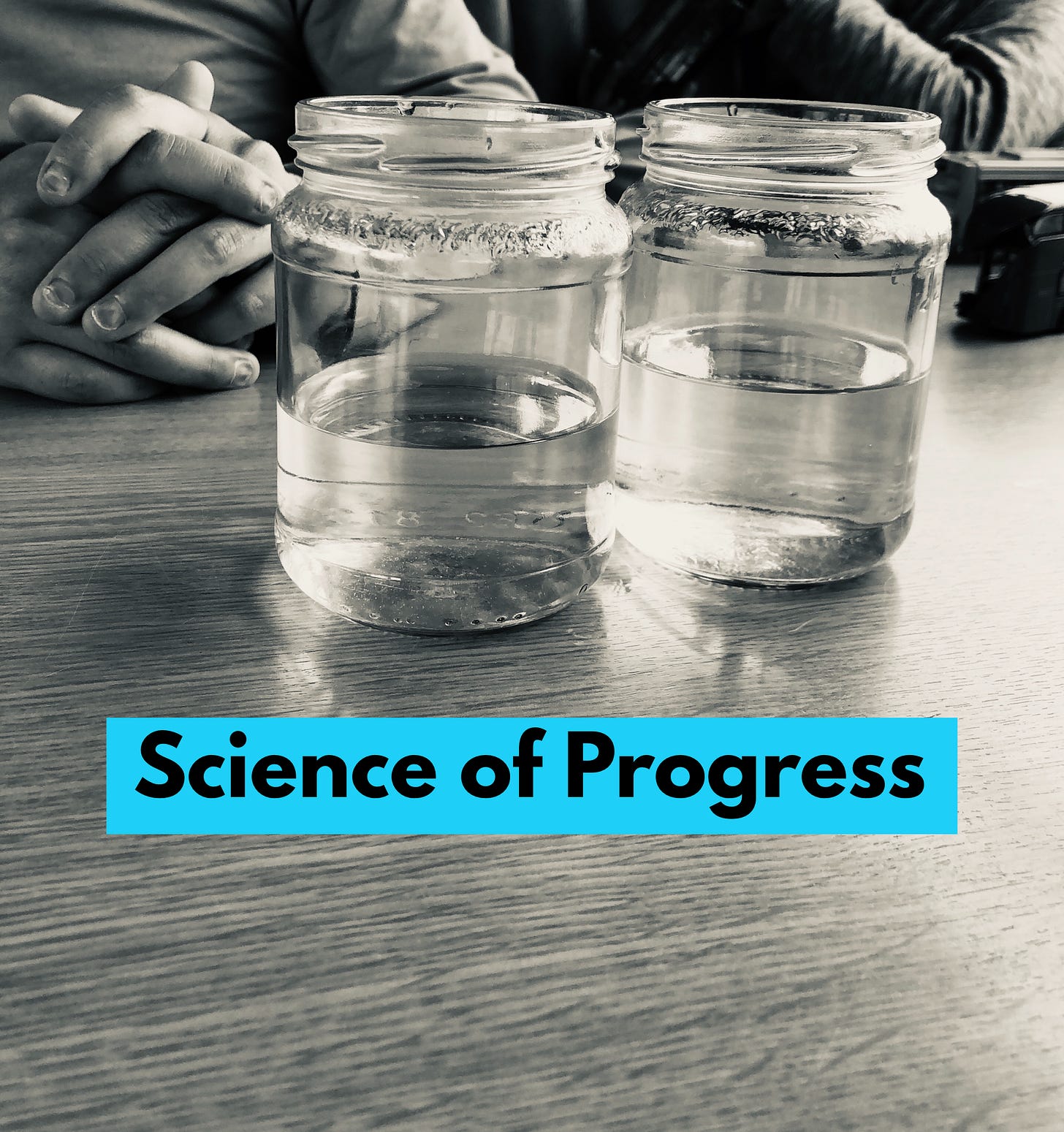 We don't have a robust framework for "what is progress" and our current framework may too narrowly emphasise GDP type financials over peace, social, human, natural, ideas, innovation type progress capitals. While GDP seems to correlate with other indices of these progress capitals eg peace, happiness I speculate it is still not capturing major elements of progress. I suggest some frameworks of other progress capitals may be helpful.
There's evidence that innovation is slowing down. Commercial air travel speeds have reached a plateau.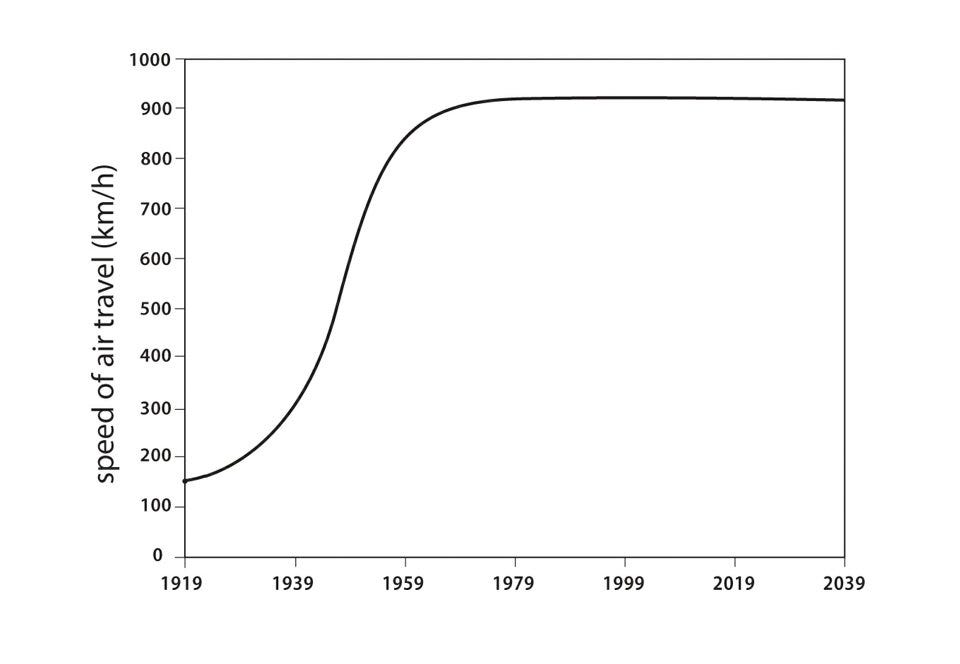 General ideas (general purpose inventions) can provide wide enablement, but it seems our innovations are increasingly narrow. In the long history of growth provided by Smil, this is unsurprising and there is evidence that innovation 2 generations ago was a greater step change. But, I contend that there remain some system-wide innovations which are ripe for taking - such as obesity - which are potential market failures and others such as human capital and culture which could bring great progress still but are unclear on prescriptions. So a science of science or a science of progress seems important and intriguing to me and I hope some very smart people to decide to work on it. A 8 min blog on the area plus some thought's on Smil's Growth.
***
The complexity of sustainability noise. The noise on sustainability investing has steadily built over the last decade and has exploded this year. I started my own journey here back in the early part of last decade winning the then Thomson Reuters Extel award for Integrated Socially Responsible Investing – SRI – as it was known then back in 2003. I mostly didn't bother to tell anyone.
As the movement has grown, we now have a serious debate on what sustainability means to people and what it means when applied to investing. We also have a large industry of people who are very good at talking. Unfortunately, I don't think this is matched by an equally large (or ideally larger) number of people doing or executing to use business speak. There are significant pockets of impact investing or deeply integrated sustainability thinking but I'm unsure it currently matches the scale of challenges we face. Many people I know have been working longer here, but as I enter my third decade of working in this space, I hope we continue to build to solve real challenges. My own micro-grant programme is a small personal lean-in towards these ideas.
***
Customer Service as a competitive advantage and low barriers to start ups. Over the year, I have received exceptional service from SquareSpace (blog/website) and Slack (messaging). Very mediocre service from Lime (ebikes). A plethora of ups and downs from various companies. I also recently connected to Stripe as a payments system and within 30 minutes I was ready to take credit cards online and start up a shop.
This was an astonishingly low barrier to starting an online business. I was aware of this but going through the process and seeing how simple it was as a no-coder still astonished me. If you'd like to buy my aphorisms book, you can place an order here!
Businesses often seek a connection with their customer. Customer service – even a complaint – provides that connection. The very high service from Squarespace turns me into an advocate for them as well as keeping me a customer. I'm not a huge Slack user, but it would be the same there. The opposite is true for Lime. I quite like the ebikes although they are expensive, but I am reticent to recommend them or even sometimes use them as I have such a poor response in gaining back refunds for faults in the system. Customer service costs money, but it's obvious to me that in most cases this is an investment as it drives retention and future sales – look at Amazon's relentless focus on this. Small businesses may only start with a few customers. Shower them with love for as long as you can it may be one of the only enduring competitive assets you have.

***
Aymara view time backwards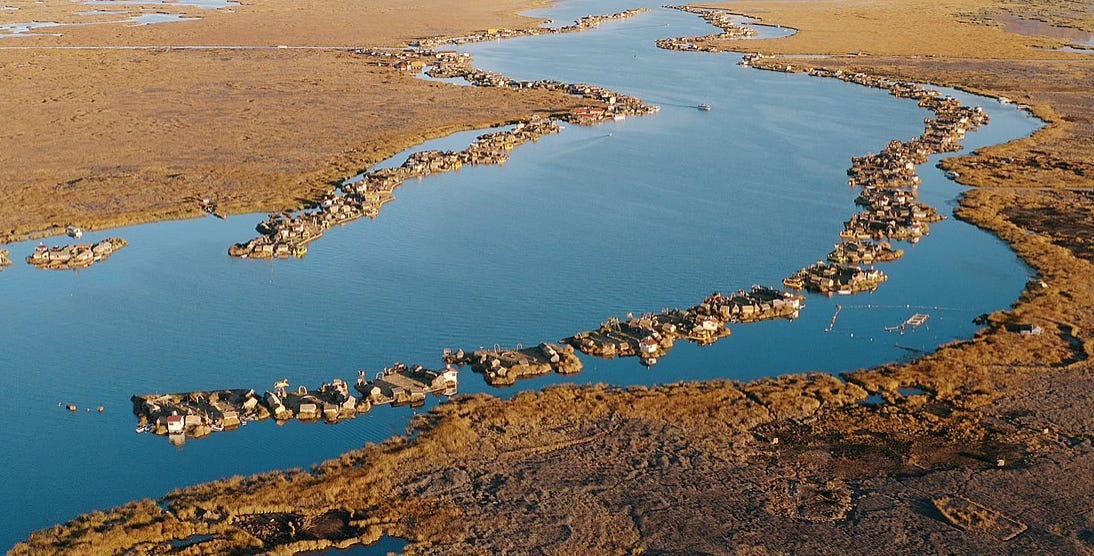 Sam Bowman had a tweet about unusual geographies and cultures. This reminded me that I once met the Aymara/Uru people in Peru/Bolivia. In the year 2000, I journeyed to the borders of Bolivia and Peru. I visited lake Tititaca, where the Uru people - who merged with Aymara a few hundred years ago, before being conquered by the Inca, who were conquered by the Spanish - still live on reed islands in the lake and sail in reed boats, although mostly supported by tourism nowadays.

The Aymara language - still spoken by 2 million odd people - seems to reveal an interesting feature of the Aymara people. That is they view time flowing backwards, whereas most people view time flowing forwards. A 2 min blog on viewing time flowing backwards.
***
I had a reflection on whether we should think about long-term happiness as not a fixed pie.
Why is happiness like a stock price? Maybe, we are asking our questions about happiness wrongly. We don't separate ideas of short term happiness (a good meal, a good sleep, a funny film) with long term happiness (eudaimonia, fulfilment of having children, higher purpose). We seem to think or be asked about happiness in a way that suggests happiness is finite. It seems we don't want to maximise for "happiness" in any case (a reason why Danny Kahneman left the happiness field)
As I look to my last decade, I believe we should re-think happiness or life satisfaction more like a growing pie. It may have no end. It will have ups and downs, but it can and should continue to grow through life.
Strangely, the best businesses can also have stock prices which - in theory - don't have a maximum value.
Happiness - particularly long-term eudaemonia happiness - is hard to tackle directly. You can't say I am going to be 23% more happy in a month. You have to work on the matters that give you long term happiness - relationships, meaningful work, creativity - and as a by-product on working on these matters, happiness accumulates. 2 min blog on happiness like a stock price.

***
Few quick hits:
-Slow reading more useful for deeper learning
This author argues that speed reading is unhelpful for comprehension. I agree.
-Billington (UK Theatre critic) on 10,000 nights of theatre
Younger theatre makers may find MB a little too "old white man" but I think he's been honest and he has slightly moved with the times, and he's been reviewing a long, long time.

-Worse case climate scenarios look very unlikely
David Wallace-Wells updates his view. Core case looks currently 3 deg in 2100 or so. Bad. Worse for the poor. But, many rich countries can cope - well - if the potential mass migration is managed. Still might have negative tipping points, but humanity straggles on. For the technical among you the IPCC RCP8.5 seems like a worse case and not a business as usual scenario like if you ask climate scientist. Climate Twitter has been all over this.

-CIO of Japan's GPIF $1tn fund on stopping short selling
Heavily debated, but makes a challenge on long-term stewardship vs lending income.

-A look at what modern dating trends might imply. It's all online, which has lots of implications for modern life.
-I met Ellen MacArthur, who gave a captivating speech about her achievements (fastest solo sail round the world) and where they have led her to the circular economy.

-Start-up accelerator programs for Social Impact and Google. https://www.blog.google/around-the-globe/google-europe/supporting-social-impact-startups/

***

"...The months passed and there was still no Mama or Mummy. In its place, at about a year old, there was Undee....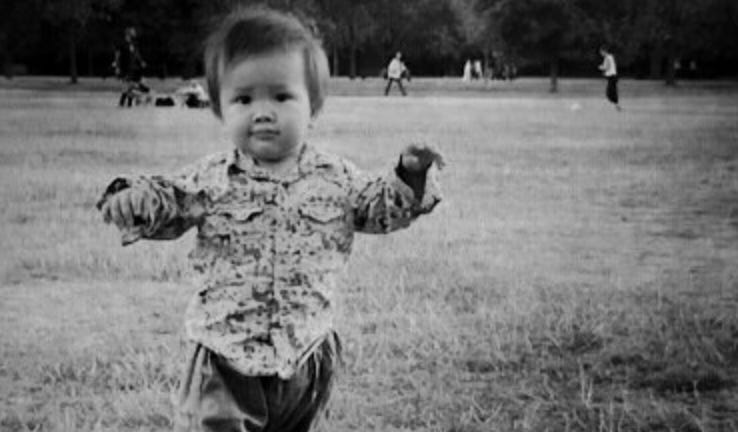 ..."It took some time to realise that this odd combination of his favoured consonant sound (his speech was liberally peppered with misplaced /d/ sounds) and the "uh" nestling among the sonorants of mama, was me. At first, I felt embarrassed to claim it, fretting that others might think I had fabricated a name for myself, or was seeking a verbal indication of my primacy. But I was not mistaken. I had a name - I was Undee. So what if it was a little peculiar; it was mine...." An AutismAware Blog: poignant and wondrous and challenging (5 min read)
***
A 2 min view clip of Thinking Bigly you can now see here.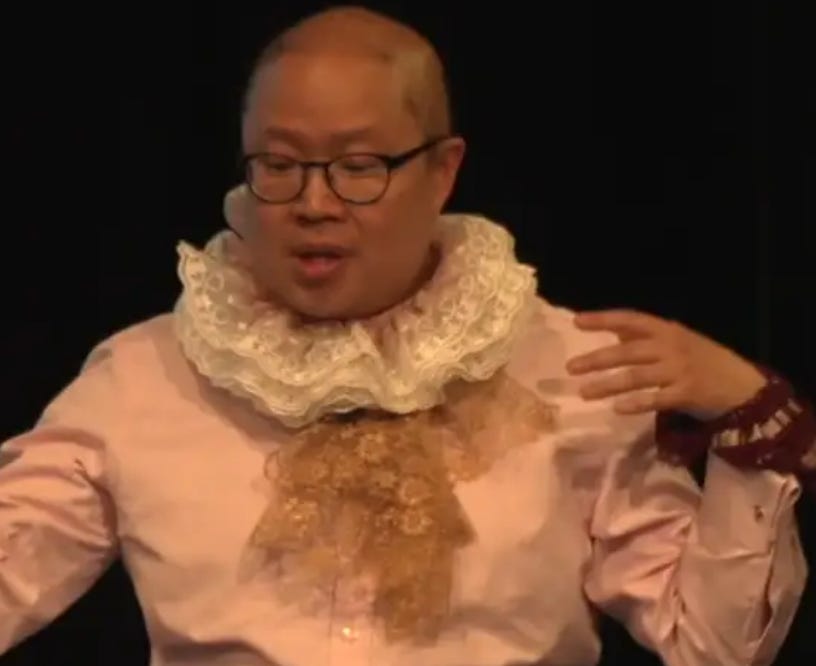 * ☪ *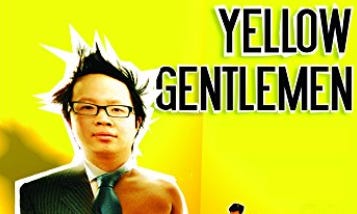 I've re-issued my 2006 play, Yellow Gentlemen (4 stars in Time Out and is one of my more personal works about the night immigrant Tommy Lee is dying). Buy it for laughs on Kindle for the price of a coffee. All profits to charity. I've only sold a few copies at the price of a coffee - 1.99.

* ☪ *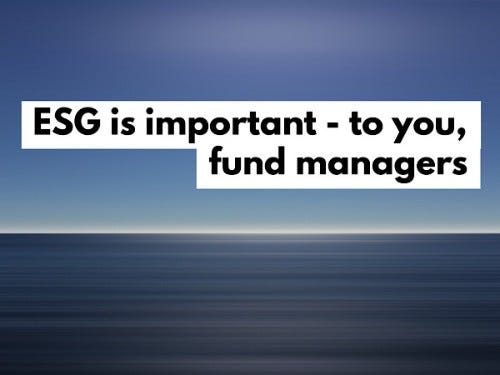 "...Through a long-term orientation and stewardship, this is the time for active investment managers to show their worth. It starts with asking the right long-term business questions. Some companies are giving us answers, but are we really listening?"
My full opinion article in the FT. (3 mins, behind paywall, but you get a free article or email me and I can send you a copy)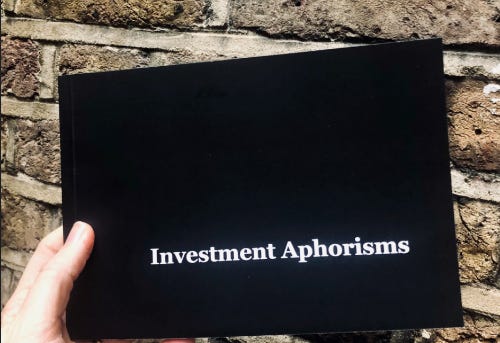 Find out more about my aphorism book and contact me for a copy.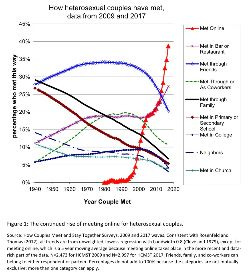 The move to online dating has potential empowered women as the cost to ghosting is so low.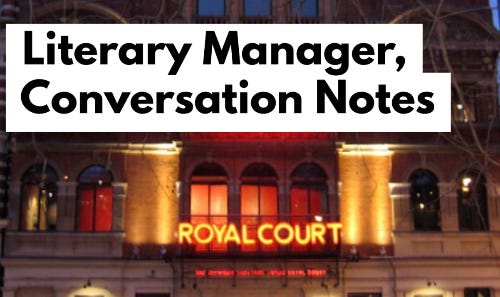 Notes from a conversation with former Royal Court Lit. Manager.