NYC v. London | FB Political Ads, here to stay? | Nassim Taleb's Extremistan | Miami Impressions |  Bill Gates Doc

Hi ~
Life has been incredibly full of late with recent trips to Miami and New York. Increasing demand for sustainability thinking (CFA ESG conference, ICGN) and the typical company reporting of Q3 plus family time taking in Minecraft (blog) and visiting various hand dryers (Zen and the Art of Toilets).

One blog to read this week would be the cost of living in NYC v London.
Groceries are 80% more expensive.

One thought about the world - there are several pivotal debates taking place in national and global discourses. The leaders of business are uniquely influential. Some in particular, but all to a large extent. I suggest you read what they are saying in their annual letters, their quarterly reports. Any you have an interest in. But there are some which are crucially vital: Amazon, Facebook and the like. Of recent note is a pivot by Amazon in its sustainability strategy aiming for net zero 2040 with a host of other matters. Believe it or not, it needs to be assessed.

I believe people thinking about the long-term (and all the intersectional thinking on sustainability, society and the like) need to have an understanding about what critical CEOs are thinking.

Of current importance are the debates over free speech, privacy and - of the moment - political ads. The summary of views can be seen in Aaron Sorkin's NYT open letter to Mark Zuckerberg. And Mark's recent response seen in his quarterly update and recent speech. Check them out.
I'm abseiling down the side of a hotel in Cardiff for RNLI. Looking to rasie £100. I'm currently at Zero. If you feel minded donate here please (justgiving).

➳Public Performances of Thinking Bigly, Nov 13/14 at Theatre Deli, Broadgate London (Almost SOLD OUT)
➳Next Mingle 14 Nov, Theatre Deli, 7.30pm
➳Fleeting Impressions of Miami
➳Cost of Living in NYC, groceries expensive!
➳Bill Gates documentary, brief observations
➳Nassim Taleb his work on distributions, fat tails
➳FB political Ads: Sorkin vs Zuck
➳➳Autism: On not being called Mummy (Anoushka)
Links: (reading list)
Alex Edmans on BRT/stakeholder capitalism
Wendell Pierce, actor, interview
Maersk, eco-shipping
Paul Romer on innovation and progress
Why SF Transit Center cracked, building mechanics (this building shouldn't have cracked given the $bn spend)
Lyrical observations on menopause, Granta
Thinking Bigly 13/14 Nov (12.30pm/6.30pm) is almost sold out! Last chance. You can catch it booking: Thinking Bigly, Nov 13/14 at Theatre Deli, Broadgate London. If you can't make it, still come and book the mingle on 14 Nov at 7.30pm.
***
I fleetingly travelled to Miami for a conference. Miami is on the front lines of climate change.

My taxi driver was from Hiati. My sushi maker was from Honduras.
I heard almost as much Spanish as English and other languages.

It's very wealthy in parts. It has an unofficial segregation in that neighbouring municipalities might be very rich / high life expectancy next to places that are very poor.
The Four Seasons hotel has a particular clientele. I see chi-chi dogs. Very manicured people. Few non-whites who aren't staff.
I see hardly anything else. My Uber driver wasn't convinced about climate change. "What about the rivers…?" I end up talking about the water cycle but am interested in what he thinks. His challenges are much more immediate, and I can see why climate is not on his agenda. A short blog on some Miami impressions (2 mins)
***
I drop into Boston for a few hours. It could be another country in climate, language, geography and everything else. The hotel concierge suggests UberEats if I'm interested in in-room dining.

One meeting later, and I'm flying to New York. Offsetting these trips still seems far too cheap. Still. NYC traffic is jammed. La Guardia is under construction and it's hard to move about.
I end up in a taxi. I discuss the state of the taxi medallion market. He's very harsh on those who'd bought taxis at the top of the market. "Everything has value, man… don't buy high, buy low…" he owns his car, prefers it to Uber and is instructive in the values of the free market.
The concentrated humanity is as intense as always but the divides seem to be growing here too. On my subway train going to JFK, the carriage is mostly non-white and probably poor. The subway seems to have deteriorated again in a year in the part I travelled, although there no delays.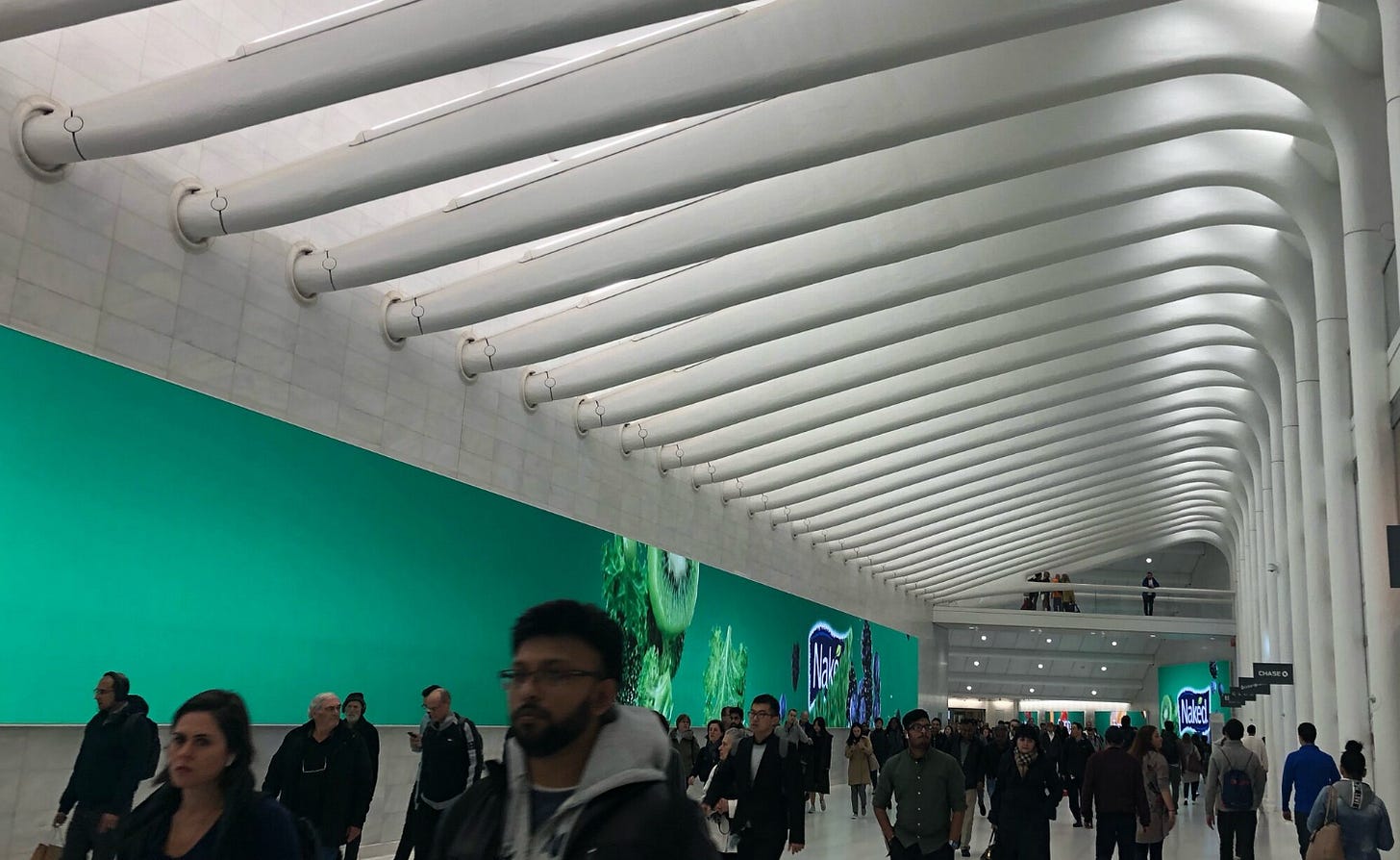 The shiny white newness of the development by the World Trade Centre stands out. A futuristic feel. I'm there near rush hour as hoards of humans tramp past. A concentrated flow of humanity.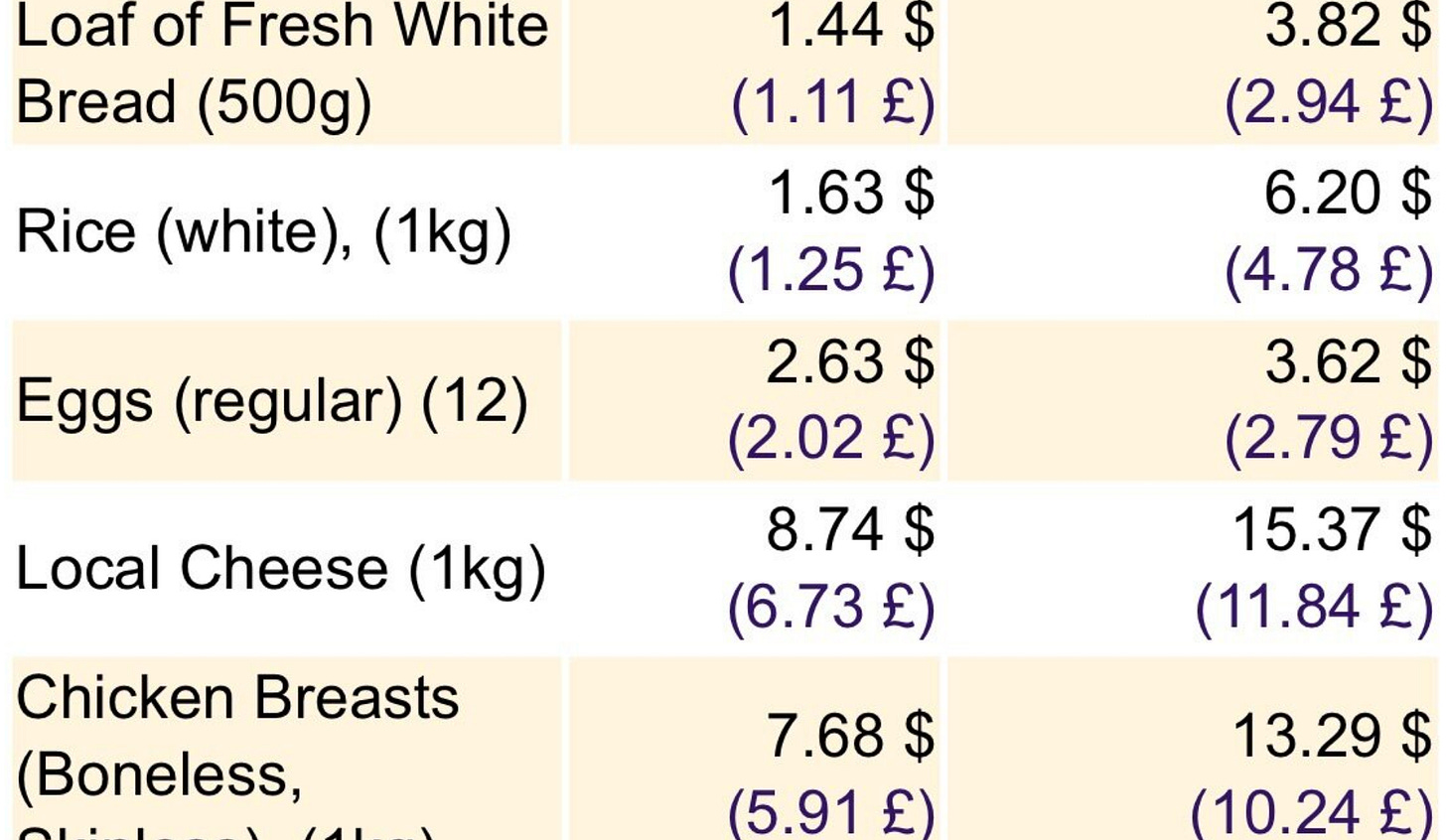 Meeting with old friends, I was surprised to learn about how much the cost of living in NYC has risen (pic, London column left) - especially in terms of groceries. This was only anecdote about the price of milk and chicken and the like but I went to check it out on comparison websites. These show that NYC is almost 80% more expensive on groceries than London. The gap between restaurants and groceries is closer - perhaps one reason why there might be more takeout culture in NYC than cooking at home (many NYCers don't cook much). A short blog on NYC living (2 mins)
***
On reading some Nassim Taleb... On understanding different types of distribution:
"…Let us randomly select two people in Mediocristan; assume we obtain a (very un- likely) combined height of 4.1 meters – a tail event. According to the Gaussian dis- tribution (or, rather its one-tailed siblings), the most likely combination of the two heights is 2.05 meters and 2.05 meters. Not 10 centimeters and 4 meters."
"Let us now move to Extremistan and randomly select two people with combined wealth of $ 36 million. The most likely combination is not $18 million and $ 18 million. It should be approximately $ 35,999,000 and $ 1,000.
This highlights the crisp distinction between the two domains. A 4 min blog on Taleb's non-technical chapter of his draft Incerto work.
***
I watch little TV, but I manage to see the Bill Gates documentary on Netflix.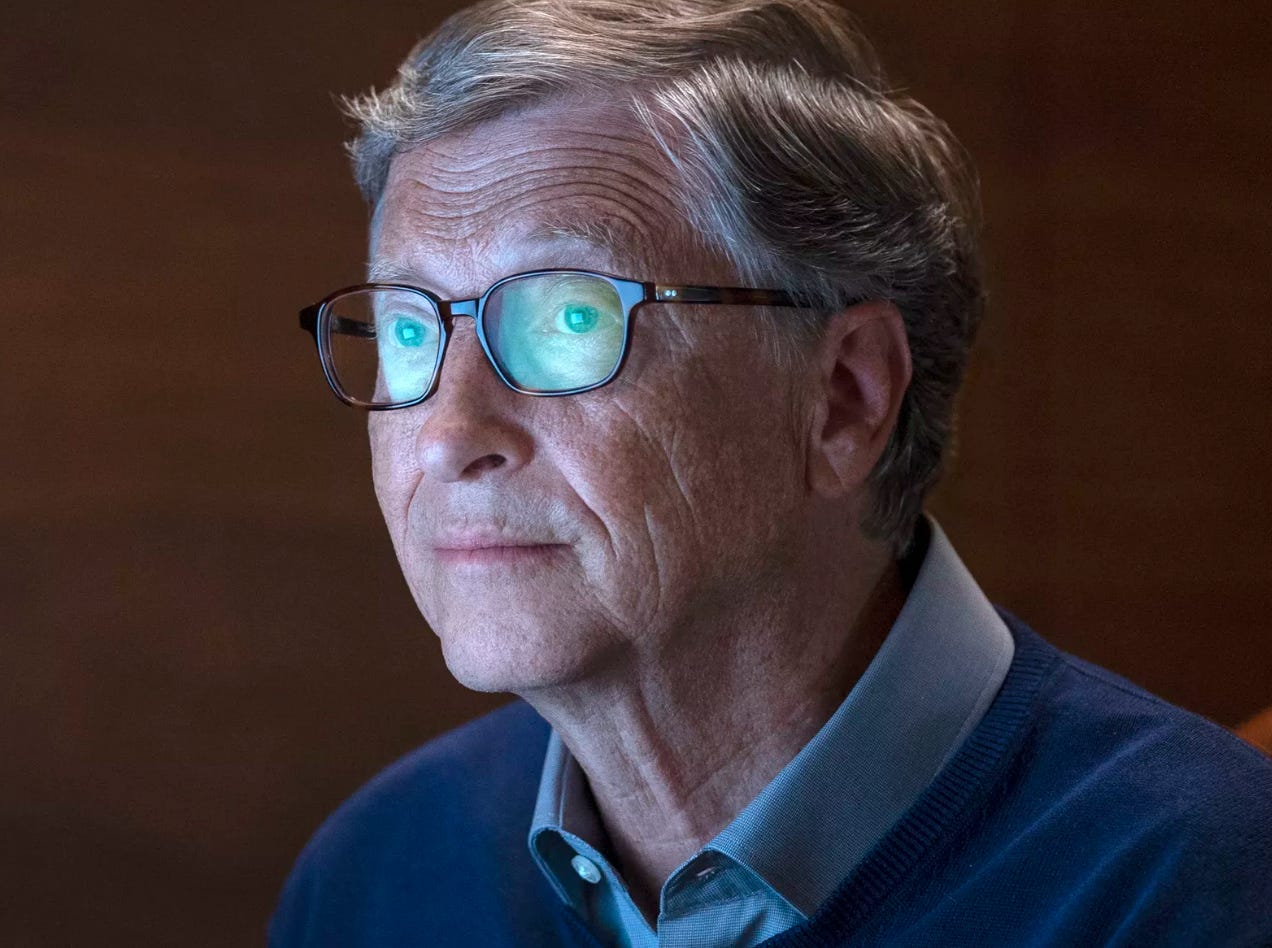 One observation out of several on watching the documentary on his life (which is mostly uncritical and simply lays out most of the brightside of his life) is that certainly in his early life, he had a high degree of social awkwardness.
The story suggests if it wasn't for his mother pushing him into many social situations (against his desires) he wouldn't have learnt the social skills he needed in later life. There were these arranged dinners and social occasions. Certainly, these would be traits of many on the spectrum.
Even so, it was revealing the pushing and "learning" needed here and the major role his mother played.
Another observation was that Bill was (and is) extremely clever and able - not only in coding and maths ability, but from a young age an interest in business acumen. (Seemingly having picked up enough social skills by mid/late teens, and going on to learn other presenting skills).
(2 min blog on a couple of observations about Bill Gates)
***
Wendell Pierce on the transformational potential in art:
…In Pierce's vision, art "changes people's humanity, it changes the air in the room, it changes everything. People always ask me, 'Well, give me an example of that.'" Then, sat in an armchair, with a coffee in one hand, Pierce embarks on the story of Charles L Black, a white lawyer from Texas, who saw Louis Armstrong play jazz in 1931, and two decades later joined the legal team that would help tear down racial segregation. "He always talked about how he had never seen genius in a black man before. I like to think that moment of art was the thing that changed his humanity — that it was not just an intellectual decision."…
From FT interview of actor, Wendell Pierce. (behind paywall, I can gift) Pierce is currently in Death of a Salesman in London. Me: I thought this example of the power of art - and the second order power of connections was a striking anecdote.
***
"...The months passed and there was still no Mama or Mummy. In its place, at about a year old, there was Undee....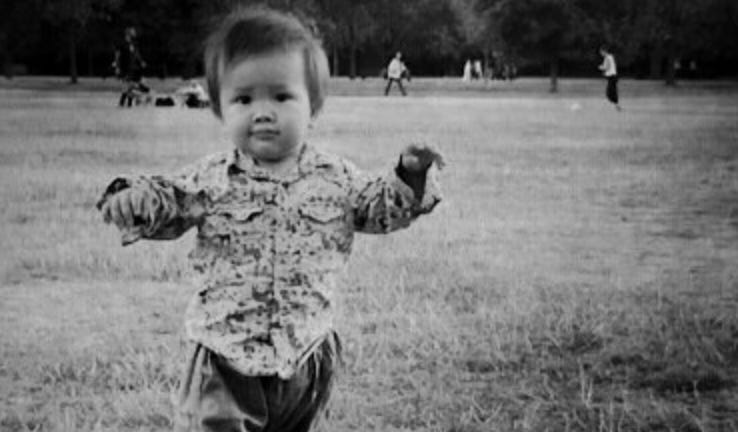 ..."It took some time to realise that this odd combination of his favoured consonant sound (his speech was liberally peppered with misplaced /d/ sounds) and the "uh" nestling among the sonorants of mama, was me. At first, I felt embarrassed to claim it, fretting that others might think I had fabricated a name for myself, or was seeking a verbal indication of my primacy. But I was not mistaken. I had a name - I was Undee. So what if it was a little peculiar; it was mine...." An AutismAware Blog: poignant and wondrous and challenging (5 min read)
***
A 2 min view clip of Thinking Bigly you can now see here.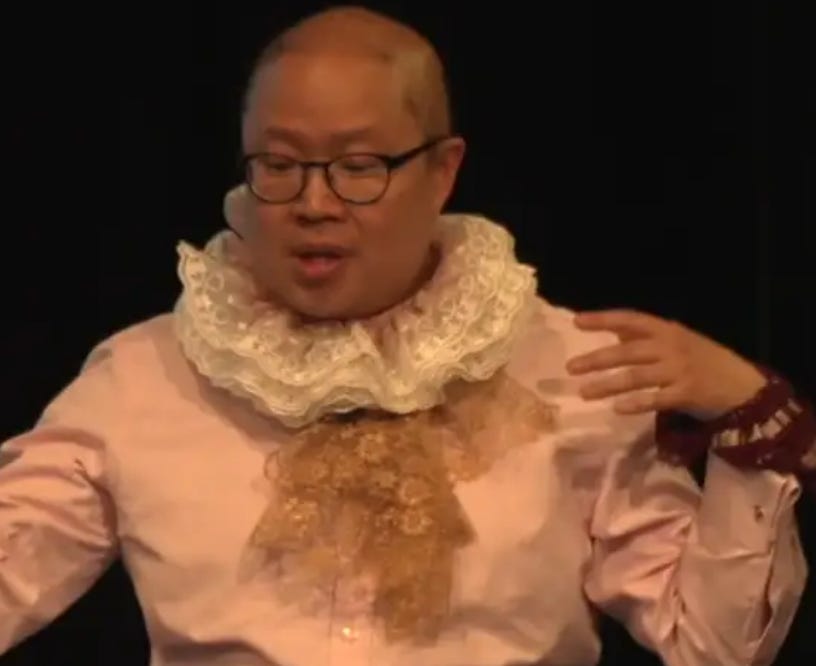 * ☪ *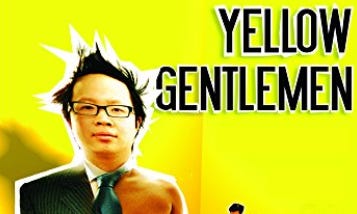 I've re-issued my 2006 play, Yellow Gentlemen (4 stars in Time Out and is one of my more personal works about the night immigrant Tommy Lee is dying). Buy it for laughs on Kindle for the price of a coffee. All profits to charity. I've only sold a few copies at the price of a coffee - 1.99.

* ☪ *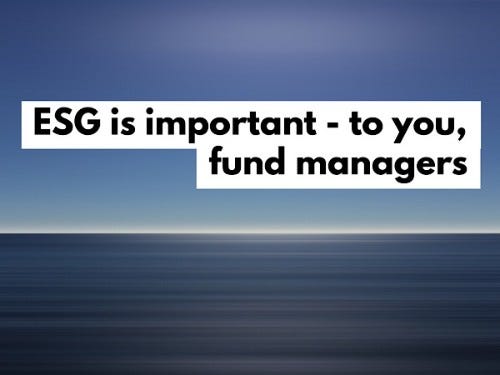 "...Through a long-term orientation and stewardship, this is the time for active investment managers to show their worth. It starts with asking the right long-term business questions. Some companies are giving us answers, but are we really listening?"
My full opinion article in the FT. (3 mins, behind paywall, but you get a free article or email me and I can send you a copy)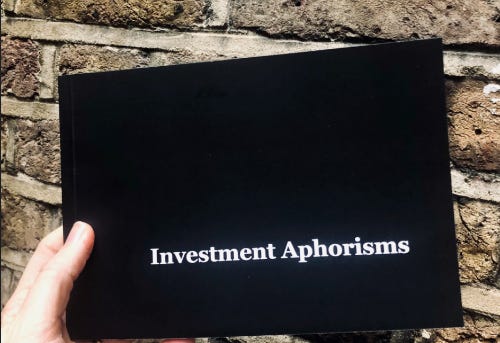 Find out more about my aphorism book and contact me for a copy.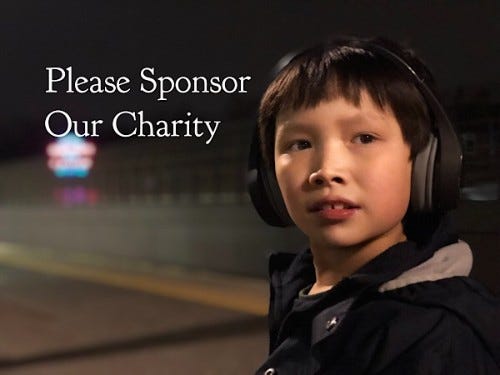 We've help found Focus West London, a Saturday club for autistic children. Children learn vital play, social and language skills in a fun and child-centred environment. Every child is provided with a volunteer therapist trained in a highly effective behavioural intervention. It's a difficult climate for charitable organisations like Focus, so your donation really matters.

Details are here. THANK YOU!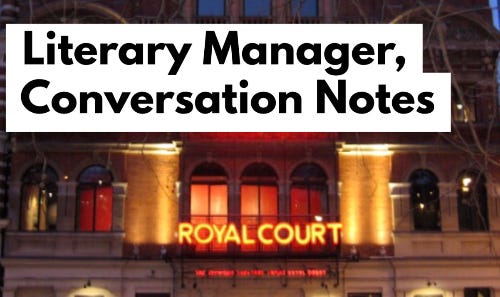 Notes from a conversation with former Royal Court Lit. Manager.